Valaika called up; surgery possible for Anderson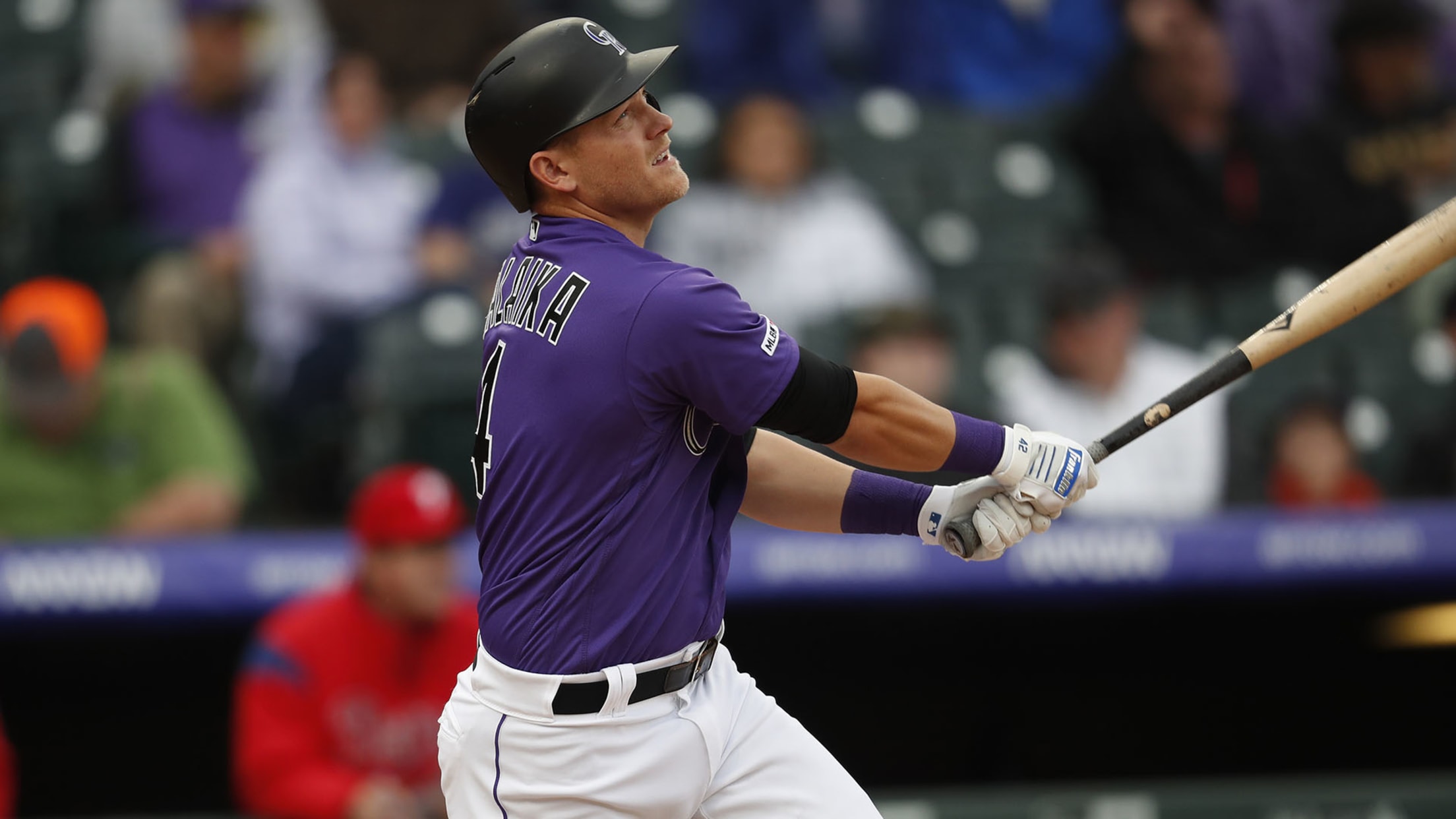 BOSTON -- Pat Valaika is back in the big leagues after executing the Rockies' to-do list in the Minors. The Rockies recalled Valaika from Triple-A Albuquerque and optioned infielder Garrett Hampson to Albuquerque on Tuesday. The second baseman batted ninth in the series opener against the Red Sox. "Excited to
BOSTON -- Pat Valaika is back in the big leagues after executing the Rockies' to-do list in the Minors.
The Rockies recalled Valaika from Triple-A Albuquerque and optioned infielder Garrett Hampson to Albuquerque on Tuesday. The second baseman batted ninth in the series opener against the Red Sox.
"Excited to be here," Valaika said.
Valaika hit .074 (2-for-27) in his first 15 Major League games of the season. The Rockies tasked him with improving his offensive production, and he batted .333 with 23 hits, 16 RBIs and eight home runs in 17 games with Albuquerque.
"Pat was here and went through some hard times," Colorado manager Bud Black said. "[We] sent him back and right away, some of the things we talked to Pat about, he put into play in Minor League games. Right off the bat [he] hit with power, was hitting well over .300, so he's in a good spot to come back and hopefully contribute here in the short term."
Valaika made a concerted effort at the plate to follow the goals that the Rockies outlined for him.
"Staying with my approach and swinging at the pitches I wanted to swing at," he said of his game plan. "That worked out pretty good for me, so I'm just going to carry that over."
Valaika struck out in both of his at-bats in the Rockies' 5-4, extra-innings win over the Red Sox Tuesday night. He was pinch-hit for by Ryan McMahon in the eighth inning.
The Rockies would like Hampson to find his rhythm in the Minors, too. He is batting .194 with 18 hits, one home run and four walks over 31 games.
"Hampson, it was kind of the other way," Black said. "As time went on in the big leagues, he sort of got in some bad habits with his swing, wasn't playing a ton at the end. And we just felt it was time for him to go play and [do] some things that we identified with his swing."
Latest on Anderson
Tyler Anderson met with a specialist on Monday about his ongoing left knee issue. The lefty, who missed two weeks last month because of left-knee inflammation, was optioned to Triple-A on May 4.
"[He] saw a specialist yesterday in Chicago," Black said. "They're still sort of formulating a game plan with Tyler. But I think a decision on some surgery is in the works here, probably in the next couple days. Tyler's going to consult obviously our people, and he's going to wade through this a little bit and come up with a decision on what to do."
Anderson is 0-3 in five big league starts this season with an 11.76 ERA.
Black takes a trip down memory lane
Nearly 40 years ago, Black made his Major League debut for the Seattle Mariners on Sept. 5, 1981, at Fenway Park. He also made his first start at the ballpark.
"I can still remember coming in from the bullpen my very first big league game," he said. "My knees were shaking, but man, what a place to make my debut."
The Rockies manager remembers those initial appearances in Boston vividly. An early matchup against a Hall of Famer still stands out to him.
"My fifth day in the big leagues, I walked Yaz," he said. "I walked Yaz on strike three -- 3-2 fastball right down the middle. Ball four. He dropped his bat, walked to first. I'm waiting for the umpire to ring him up. No chance. Five days in big league, left-handed rookie pitcher, Carl Yastrzemski. It was ball four."