Wisdom slugs Memphis to PCL crown
Redbirds take on Durham Bulls Tuesday night for Triple-A title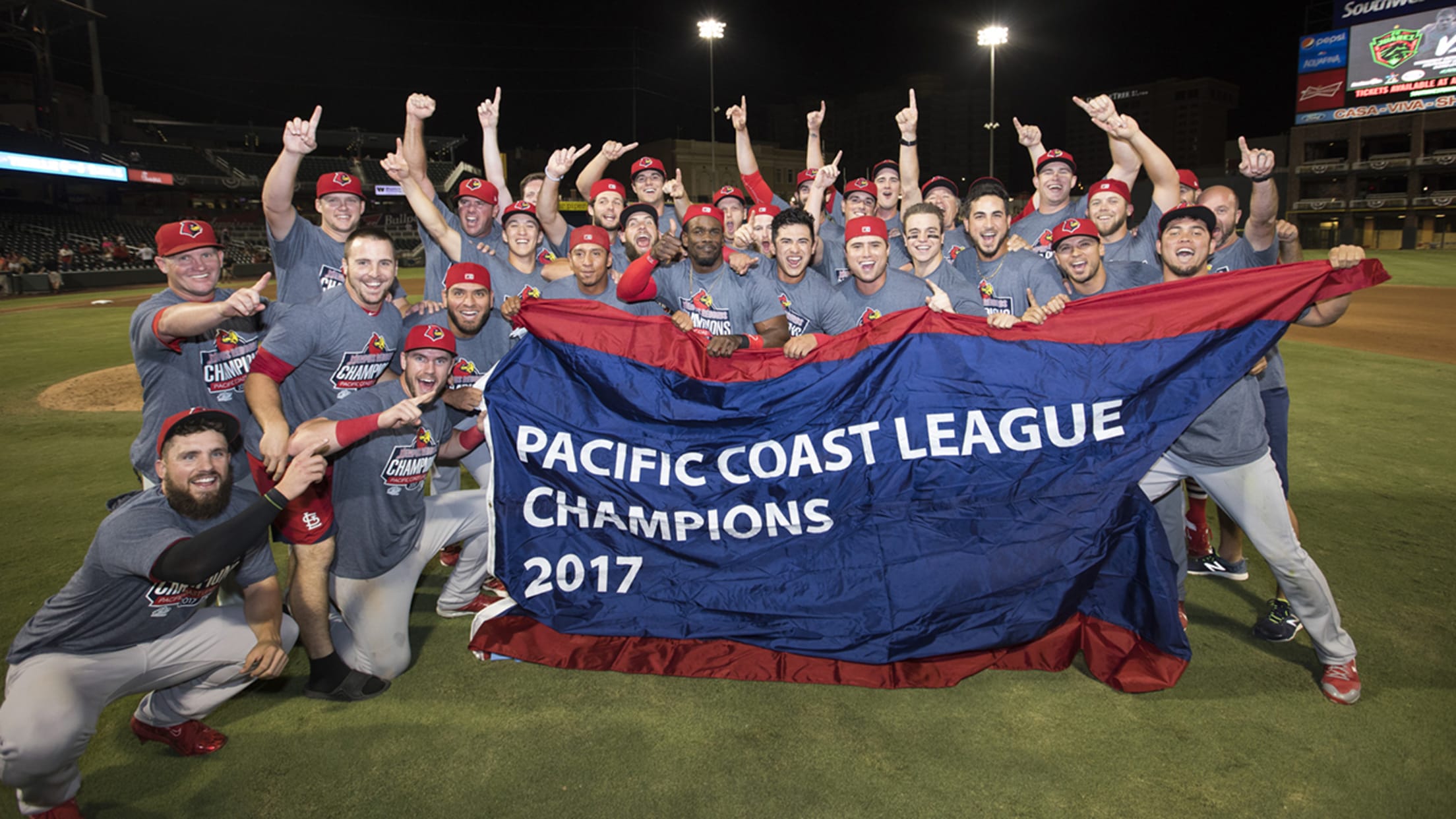 Triple-A Memphis celebrates the Pacific Coast League title after its 3-1 win over El Paso (photo: Ivan Pierre Aguirre/El Paso Chihuahuas). (Ivan Pierre Aguirre)
Patrick Wisdom hit a career-high 31 homers this season, but Sunday night's blast may be his most memorable as it helped lift Triple-A Memphis to a Pacific Coast League championship.After posting a league-best 91-50 record in the regular season, the Redbirds topped El Paso, 3-1, to capture the franchises' third
Patrick Wisdom hit a career-high 31 homers this season, but Sunday night's blast may be his most memorable as it helped lift Triple-A Memphis to a Pacific Coast League championship.
After posting a league-best 91-50 record in the regular season, the Redbirds topped El Paso, 3-1, to capture the franchises' third PCL championship and its first since 2009.
MILB Video - Title: Watch: Wisdom crushes two-run homer - Url: http://www.milb.com/r/video?content_id=1838771583
The Redbirds looked as if they were going to cruise to a championship after taking a 2-0 series lead in the best-of-five PCL Finals. However, the bats suddenly went cold as the Cardinals' affiliate was shutout in Game 3 and scored just one run in Game 4.
Through four innings of Game 5, it looked to be another rough night as Padres' prospect Kyle Lloyd was spinning a shutout, but Wisdom broke the scoreless tie with a two-run homer.
Chase d'Arnaud hit a solo homer of his own in the bottom half of the frame as El Paso attempted to claw back, but the Memphis pitching staff wouldn't let that happen.
MILB Video - Title: Watch: Wisdom makes run-saving stop - Url: http://www.milb.com/r/video?content_id=1838757583
Matt Pearce, 23, got off to a shaky start as he walked the first two batters he faced, but after a visit from his pitching coach, the right-hander settled down.
• Box score
Pearce retired the next seven batters he faced and left the game after six innings of one-run ball. The right-hander fired 60 of his 96 pitches for strikes, gave up five hits and struck out eight.
Memphis tacked on an insurance run in the sixth inning when Cardinals' No. 4 prospect (No. 91 overall) Tyler O'Neill, who finished 1-for-4, crossed the plate on a forceout.
MILB Video - Title: Watch: O'Neill scores third run for Memphis - Url: http://www.milb.com/r/video?content_id=1838761983
The Chihuahuas made things interesting as they put a pair of runners on to lead off the ninth, but Josh Lucas, who converted 17 of 20 save opportunities during the regular season, retired the next three batters to preserve the win.
The Redbirds have one game left in their season as they now face off against Durham in the Triple-A championship on Tuesday at 7:07 p.m. ET on MiLB.TV.