Around the Horn: DeJong, Wong solid up middle
Cardinals have Gyorko, Munoz, Robinson as backup options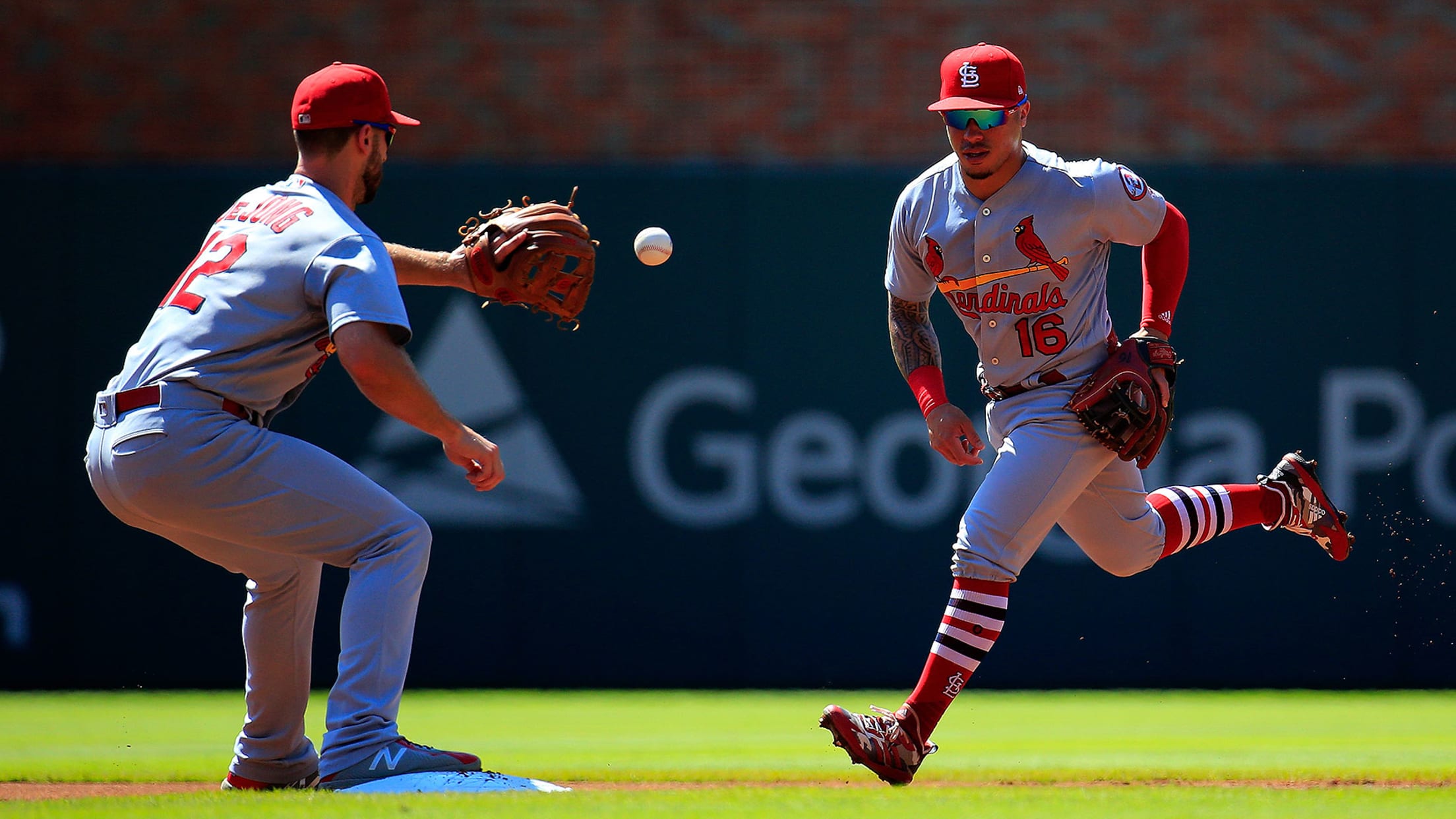 Kolten Wong tosses a ground ball to Paul DeJong for an out during the first inning against the Braves at SunTrust Park on Sept. 19, 2018. (Daniel Shirey/Getty Images)
ST. LOUIS -- This is the third piece in a five-part Around the Horn series that is taking a position-by-position look at the Cardinals' projected starters and backup options heading into the 2019 season. After examining the club's catching depth and corner infield options in recent weeks, let's move on
ST. LOUIS -- This is the third piece in a five-part Around the Horn series that is taking a position-by-position look at the Cardinals' projected starters and backup options heading into the 2019 season. After examining the club's catching depth and corner infield options in recent weeks, let's move on to the middle infielders.
Projected starters: Kolten Wong (2B) and Paul DeJong (SS)
It's the same duo the Cardinals hoped would anchor the middle of their infield last year, though injuries hindered DeJong and Wong at different points in the 2018 season. For DeJong, the aim is to merge the offensive production he had his rookie season with the defensive leap he took as a sophomore. He's one of nine players in franchise history to have double-digit home run totals in his first two seasons, and he ranked second in the National League with 14 Defensive Runs Saved last year. Wong, a worthy Gold Glove finalist, will look to build upon the .317 average he posted after the All-Star break.
Other candidates/reserves: Jedd Gyorko, Yairo Munoz, Drew Robinson
Gyorko has never finished a season with fewer than 400 plate appearances, though this year he doesn't have a clear path to nearly that many. Still, he'll be a backup option behind both Wong and DeJong, as will Munoz. The unknown for Munoz, who was a valuable and versatile piece as a rookie, is how he will push his way on to the active roster with so many other right-handed options. Robinson, acquired via trade in December, projects to be the only left-handed hitter on the bench.
Prospect to watch: Max Schrock
The Cardinals took a gamble by not placing Schrock on their 40-man roster and therefore leaving him exposed in the Rule 5 Draft. But he did not get chosen, which means the Cards will have another year to evaluate a player they acquired before the 2018 season. Schrock, the club's 11th-ranked prospect by MLB Pipeline, played mostly second base for Triple-A Memphis last season. His offensive production, though, was underwhelming. Schrock's OPS dropped from .801 as a Double-A player in 2017 to .627 in '18.
Biggest lingering question: Can Wong stay on the field?
A series of nagging injuries, as well as inconsistent offensive production, have kept Wong from making more than 100 starts each of the past three seasons. He does have the backing of manager Mike Shildt, who does not intend to utilize a platoon at second. But one could become an option if Wong stumbles early and the Cardinals find themselves in need of more offense.
Notable number: 44
With 44 home runs over his first two seasons, DeJong is tied with Ken Boyer and Johnny Mize for the second highest total by a Cardinals player in his first two years with the team. Only Jose Pujols, with 71, hit more. DeJong is also the only Cardinals shortstop to hit 19 or more home runs in consecutive seasons.
Statcast™ note: Wong's 84.4 mph average exit velocity was not only the lowest of his career, but also ranked 213th among the 227 Major League hitters with at least 250 plate appearances last season. Wong has actually seen a steady decline in exit velocity each of the past four seasons -- from 87 mph in 2015 to 86 mph in '16 to 85.1 mph in '17. There was also a noticeable dip in launch angle, which dropped to a season-low 6.8 degrees last year. Despite the launch angle drop, Wong posted his best home run rate since 2014.