To Dolan, 2 keys make Indians a contender
Owner keeps expectations high thanks to young talent, creative front office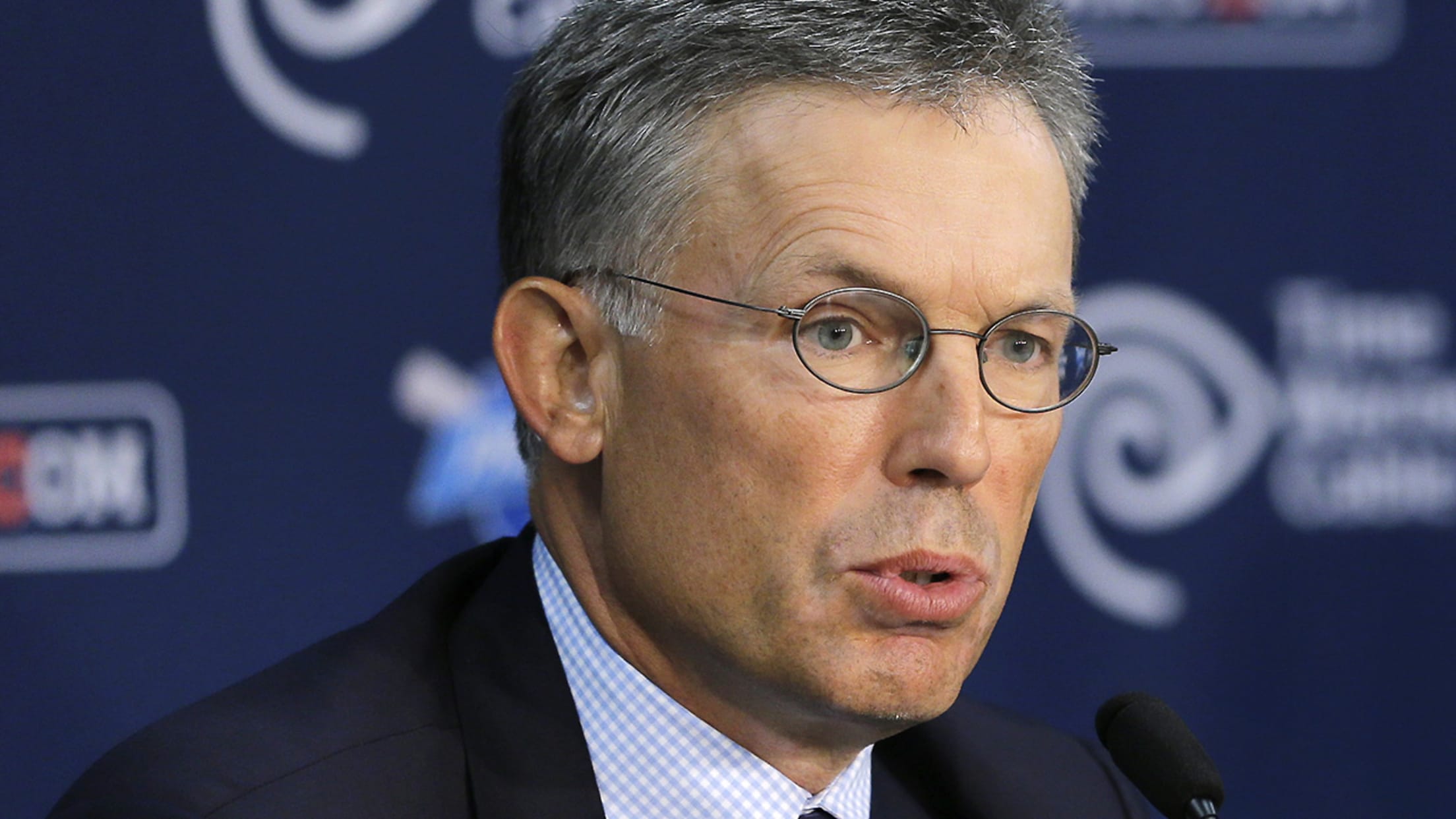 Indians owner Paul Dolan said "expectations are comparable" to last season, pointing to the team's talented young core. (AP) (Tony Dejak/AP)
GOODYEAR, Ariz. -- At the Indians' spring complex, Field 1 shares the same dimensions of Progressive Field back in Cleveland, and it serves as the main practice field for the big league club.Paul Dolan --- the team's owner, chairman and chief executive officer -- wears a red pullover with a
GOODYEAR, Ariz. -- At the Indians' spring complex, Field 1 shares the same dimensions of Progressive Field back in Cleveland, and it serves as the main practice field for the big league club.
Paul Dolan --- the team's owner, chairman and chief executive officer -- wears a red pullover with a blue Block C logo emblazoned on the chest and peers out at the field through his dark-rimmed glasses from his second-floor office. A year ago, he watched his team train under the public spotlight, when the Tribe was a popular pick to win it all. And that made what took place in the first half of the season so painful.
"The first couple months of the season," Dolan said, "may very well have been the worst stretch in our tenure as owners, in terms of our emotional reaction to it. The good news is the team turned it around. We finished with a winning year, and we did it with young talent. So this year, the expectations are comparable."
• Spring Training:Tickets | Schedule
Dolan points to the talented rotation, the young core peppered with leaders on the field and in the clubhouse and the fact that many of those players are signed for multiple seasons. He notes the emergence of shortstop Francisco Lindor and the front office's recent track record of success in trades and the Draft. These are reasons for optimism.
The team's owner is realistic, though. Dolan -- a native of Chardon, Ohio -- understands the frustration of the fan base after experiencing only two playoff berths in the past 14 years. He commends the front office for avoiding a decade-long drought in order to pile up top Draft picks, and instead trying to field a competitive roster year in and year out while working with financial limitations of Cleveland's market size.
Dolan also recognizes that the strategy has not worked yet.
"Rather than entirely strip it down, we've tried to put the best product on the field, while thinking long term," Dolan said. "But we don't have a World Series ring. In the last decade-plus, we've only been to the playoffs for an extended period once. That's not a record of success. And that's what fans and what we expect of ourselves."
The Tribe's rotation is the main reason many outlets feel the team is a World Series contender. Dolan sees two things when he looks at the assembled cast of arms: a young and talented foundation that will keep Cleveland competitive for several seasons, and a group that is a testament to the diligence of the front office and player development staff.
Corey Kluber -- the American League Cy Young Award winner in 2014 -- was an unheralded prospect acquired from the Padres as part of a three-team trade in '10. Carlos Carrasco, who was a key part of the '09 trade that sent Cliff Lee to the Phillies, has blossomed. Danny Salazar was signed as a non-drafted free agent in '06. Trevor Bauer was obtained via trade. Josh Tomlin (19th round in '06) and Cody Anderson (14th round in '11) were drafted and developed.
"This is how we're going to succeed, by making smart decisions and developing," Dolan said. "Even the ones that we traded for, I think you can give our staff a lot of credit for developing them into solid Major League pitchers, and certainly the ones we drafted and developed fall into that category, too. We have to be good with that. There's no substitute for that, because we're not going to compete in free agency."
The cost of blockbuster free agents always has been high, but Dolan watched this offseason as teams spent wildly on the top names. Cleveland, which projects to rank 25th in baseball with a payroll of around $90 million this season, simply cannot compete in that arena. Free agency will be even more unrealistic as the team's current core players become more expensive either through arbitration or the extensions already in place.
This offseason, the Indians settled on one-year contracts for veterans like Mike Napoli, Rajai Davis and Juan Uribe to supplement the core in place. Dolan said the team did not set out to only do one-year deals -- he noted that a few two-year contracts were discussed -- but the long-term contracts being doled out were not going to be part of the Tribe's vocabulary.
"I don't think you're going to see us looking at long-term deals for anybody but our own players," Dolan said, "where the bulk of it is tying up the arbitration years. I don't see us doing six- or seven-year deals with pure free agents, with the way the market is. And the reality is that those are usually bad deals for the teams."
Dolan feels something will give eventually.
"There's going to be, at some point, a reckoning," Dolan said. "The large-market teams can't be very happy with the deals that they're striking. Whether it's a $20-million or $30-million-a-year deal with some of these guys, they're really like $40 million or $50 million, because the back end of those deals are not going to be productive. They're feeling the pinch of those kind of deals, too. There's clearly an issue with our pay scale. How it's going to play out? I don't know."
Before the 2013 season, Dolan approved spending $104 million combined on free agents Nick Swisher and Michael Bourn. Injuries and age took a toll on those deals, which paid off in the form of an AL Wild Card berth that season hindered Cleveland's roster and production in the following two campaigns. That led to the decision on Aug. 7 last year to deal both players to the Braves in a trade that was based more on creating roster flexibility than financial flexibility. The Indians will still be paying money to the Braves next year as part of the swap.
"This was a solution," Dolan said. "Was it ideal? No. Ideal would've been for both of them to return to form, but that option went away a long time ago. So this was a solution that allowed for some of the younger guys to step up and become leaders, and it provided roster spots."
This offseason, the Indians also released Chris Johnson, who was acquired in the trade with Atlanta and still owed $17.5 million over the 2016-17 seasons. Dolan said the priority is winning, and not fielding a team based strictly on contractual obligations.
Dolan said Cleveland needs to continue to excel on the trade market and in drafting and developing players. Over the past several years, the front office's success in those realms has positioned the current Major League roster to make a potential run at October baseball.
Until something changes with baseball's structure, that is the reality of Cleveland's operating protocol.
"Right now, we are not able to really play meaningfully in the free-agent market and we're really not able to play in the international market, outside of what's covered by the pooling system," Dolan said.
Dolan's search for a minority owner is ongoing, but he said that even if someone is brought into the fold, it will not drastically alter the Indians' structure.
"Operating a franchise is not just about the ownership," he said. "It's about the revenues that the organization can generate in its market and then put back into the team. We put everything back into the team. We have never, ever had a distribution to ownership. More often than not, we lose money. When we make money -- which doesn't happen that often -- it goes back into the team. And that's not going to change with whoever owns the team."
The good news is that the Indians have a formidable roster not only for this season, but for the foreseeable future.
"We're in a position where we can compete this year," Dolan said, "and hopefully end that drought."