Konerko: Thome the best kind of Hall of Famer
White Sox legend lauds fellow slugger's legacy, on and off the field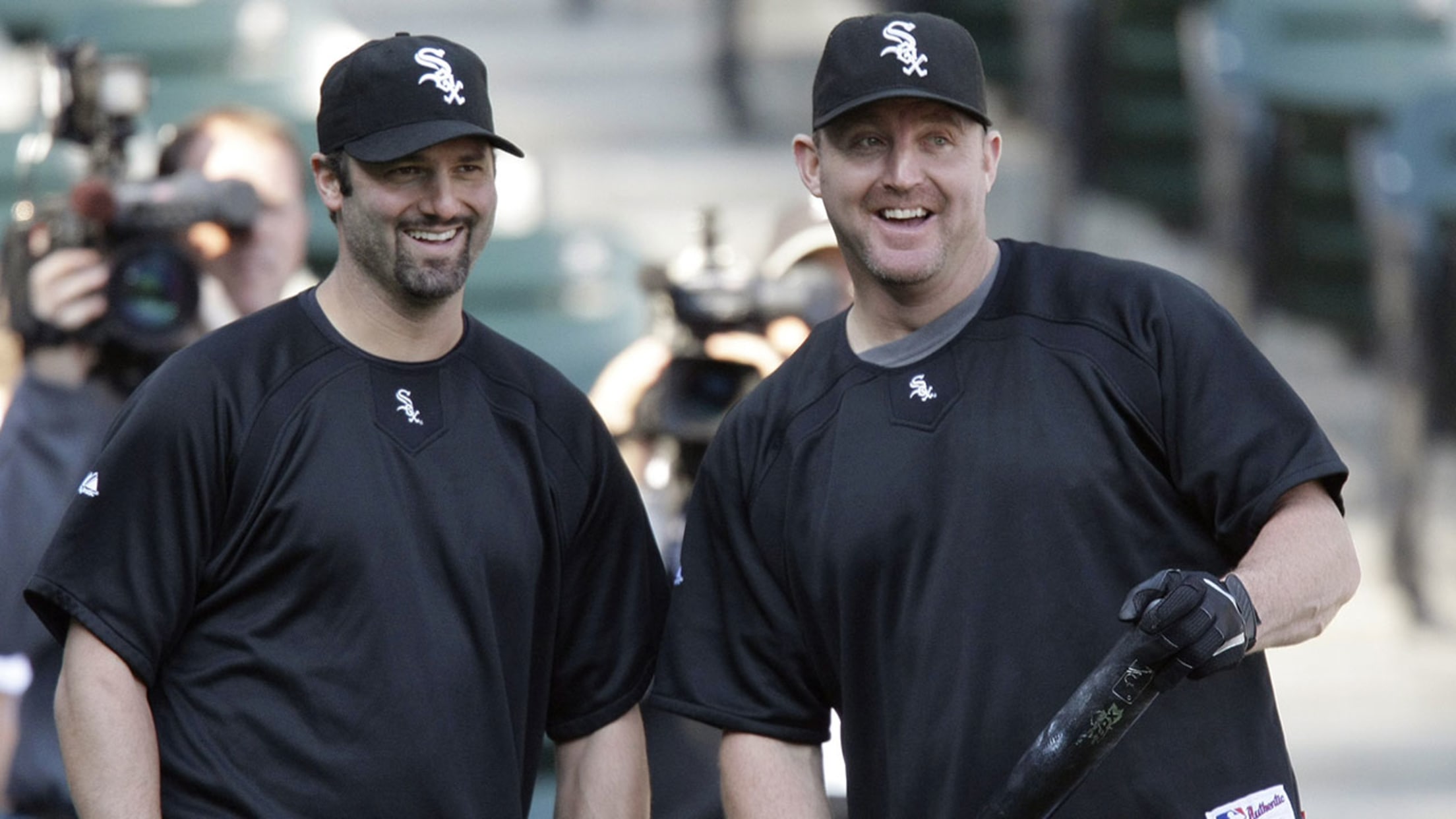 CHICAGO -- Paul Konerko believes Jim Thome represents the "best of both worlds" as baseball Hall of Famers go. Thome's friend, teammate and longtime White Sox captain is focused on the high level of excellence both on and off the field displayed by the slugger with 612 home runs."He's just
CHICAGO -- Paul Konerko believes Jim Thome represents the "best of both worlds" as baseball Hall of Famers go. Thome's friend, teammate and longtime White Sox captain is focused on the high level of excellence both on and off the field displayed by the slugger with 612 home runs.
"He's just a different kind of guy," Konerko told MLB.com during a recent phone interview. "When you really start breaking it down, statistically and how he is as a person, he really gets on a short list.
"I don't know everybody in [the Hall of Fame], but as we all know, a lot of times what makes a guy really great is you have to kind of be a jerk about it. I've heard guys say that, and I know it's the truth. Some guys have to handle their business a certain way to put up those numbers.
"For some reason, Jim could be a gentleman about it, be respectful of everybody and treat everybody great and still go out and do what he did. He was an animal in the box; don't get me wrong. But he was just a really great person on top of putting up those numbers. Sometimes that combination is tough to come by."
• Thome's power leads to Hall of Fame election
Konerko knows quite a bit about that "best of both worlds" theory, featuring it himself during an 18-year-career -- 16 with the White Sox -- and finishing with 439 home runs, 1,412 RBIs, a .279 average and an .841 OPS. But Konerko explained how Thome took that concept to a different level.
Thome struck out 2,548 times over his 22-year-career. He also could strike out four times in a row and come back to the dugout feeling as if he was right there close for connecting, turning a potential negative into a positive.
"And I strike out once or twice and I'm ready to jump off of a building," Konerko said with a laugh. "The way he could spin anything into being positive, to change the momentum of what was going on, was pretty incredible.
"That's something you find with most Hall of Fame guys. You had to start doing that when you were young. You can't really give away any years to be a Hall of Famer."
Thome also showed Konerko, an ardent student of the game, about preparation for success as your career and age advances.
"So it was a good thing for me to be able to look at somebody who was a great player, still hungry to do it, but also the amount of work he had to put in," Konerko said. "You are going to spend more time getting ready to play than actually playing, so it's going to seem not that fun, but if you want to have the career you want to have, you've got to do that, and he did."
Konerko pointed to Thome's swing, his power, his eye and pretty much "everything he did" as early and ongoing earmarks of a Hall of Famer, adding the fences at Major League ballparks weren't big enough for a guy such as Thome. He also favored the quality of Thome's character, consistently shown to those around him in good times and bad.
"I played with a lot of great players that were Hall of Fame caliber, but nobody did it like Jim when it came to treatment of other people at the stadium, around the stadium, in restaurants, everywhere. He never missed on it, which was amazing. He's just got it. That's the only way to describe it."