Alvarez out to prove himself, despite long odds
Orioles' offseason roster moves leave veteran a longshot to make club, but he's seeking every opportunity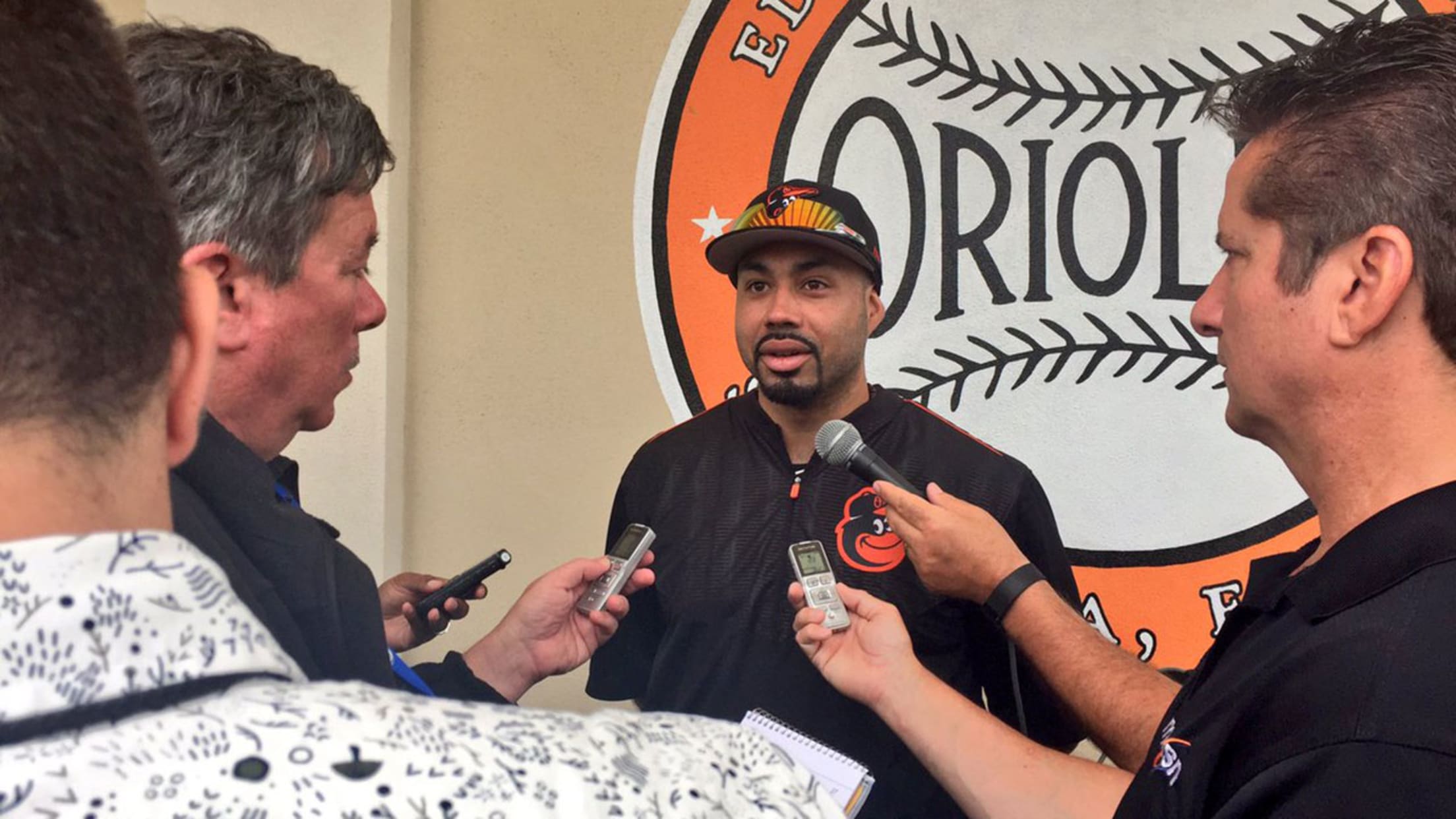 Pedro Alvarez hit .249/.322/.504 with 22 homers last year with the Orioles, but will be hard-pressed to make the team out of camp after signing a Minor League deal. (Orioles)
BRADENTON, Fla. -- Just two days after he was signed to a Minor League deal with the Baltimore Orioles, Pedro Alvarez made his spring debut with the team in Wednesday's 6-5 loss to the Pittsburgh Pirates.Alvarez went 0-for-4 as the Orioles designated hitter, a role he filled last year."He had
BRADENTON, Fla. -- Just two days after he was signed to a Minor League deal with the Baltimore Orioles, Pedro Alvarez made his spring debut with the team in Wednesday's 6-5 loss to the Pittsburgh Pirates.
Alvarez went 0-for-4 as the Orioles designated hitter, a role he filled last year.
"He had a couple pretty good swings. I was surprised. We talked about it, he wanted to come over, good spot for him," manager Buck Showalter said.
But designated hitter is not the role the Orioles have in mind for the 30-year-old Alvarez. At Showalter's suggestion, Alvarez is taking fly balls in practice and he'll attempt to make the team as an outfielder.
Showalter said that he would play Alvarez in the outfield at a "B" game against the Pirates on Friday.
Pedro is back in black (and orange). #OrangeSpring ⚾️🌴 pic.twitter.com/GVmDhIHBf2

— Baltimore Orioles (@Orioles) March 14, 2017
The Orioles re-signed Mark Trumbo, who started 95 games in right field last year, but because they traded for Seth Smith, Trumbo, the Major League home run leader a year ago, is set to be the primary DH.
When Alvarez was with the Pirates, he played first and third base. Chris Davis and Manny Machado have those positions filled for the Orioles. And because the Orioles have Smith, Trumbo, Adam Jones, Hyun Soo Kim, Joey Rickard and Craig Gentry in the outfield, as well as rookie Trey Mancini, who is also trying to learn the position, it will be hard for Alvarez to come north with the Orioles.
"If Mark's doing a lot of DHing, and depending on where we are with Seth in the outfield, it's going to be tough, and Pete knows that," Showalter said.
"We explained the good things about being here, what could happen, the worst-case scenario, the best-case scenario. The best-case scenario for him personally is if something happens, a trade or injury, and he makes the club. It's going to be tough without that. I wish we would have known this was a possibility two months ago."
With just more than two weeks of Grapefruit League games remaining, Alvarez knows that he's short on time to prove himself.
"The only thing that's going to get me there is the experience and the game reps. It's my job to take as much as possible from each situation, each repetition and learn from it. That'll be on me," Alvarez said.
If it turns out there's no place on the Orioles for Alvarez, he could be traded. If Alvarez is placed on the 40-man roster, he is guaranteed $2 million, and he has incentive bonuses that could add another $3.5 million.
"He's also going to be seen by 10 or 15 scouts every day that are going to be looking for his skill set. We're going to present that for him," Showalter said.
Rich Dubroff is a contributor to MLB.com.