Strop feeling 'really good,' nearing return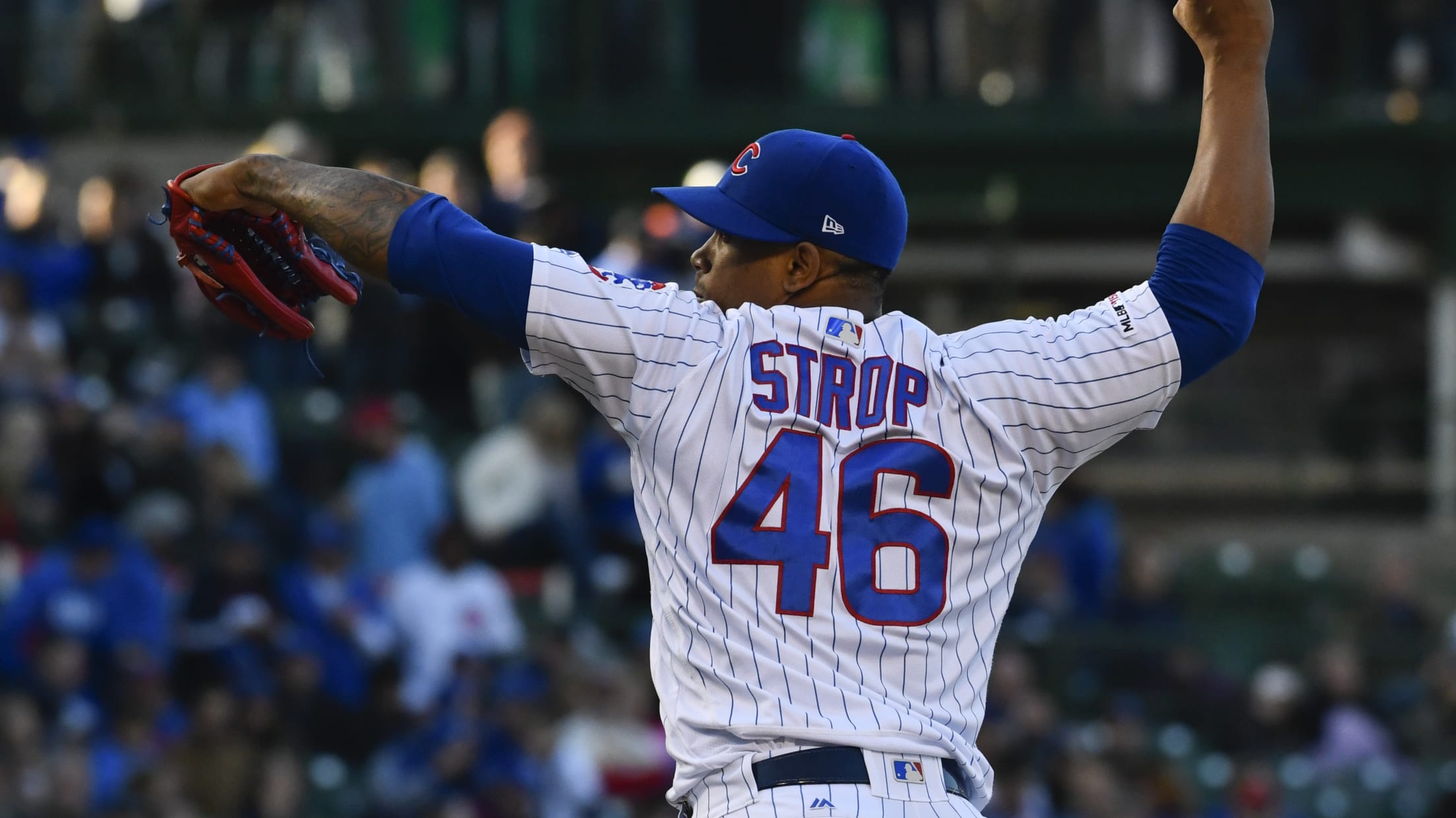 CHICAGO -- There was a clear sign on Thursday morning that Cubs reliever Pedro Strop is feeling healthy and primed to return to the bullpen. When Strop was asked if he needed to head out on a Minor League rehab assignment to test his left hamstring, he let out a
CHICAGO -- There was a clear sign on Thursday morning that Cubs reliever Pedro Strop is feeling healthy and primed to return to the bullpen. When Strop was asked if he needed to head out on a Minor League rehab assignment to test his left hamstring, he let out a laugh.
"You know me. If they ask me, I'm going to say no," Strop said. "They'll make their decision by themselves without asking me, because if they ask me, I'm not going to say I need it."
One day after completing a 25-pitch bullpen session, Strop said he was feeling "really good," adding that he has felt pain-free for about a week now. Pitching without pain is not the whole goal, though. The Cubs want Strop to be in a position to avoid a setback, considering the right-hander has had problems with both hamstrings dating back to late last season.
The current plan calls for Strop to throw off a mound again on Saturday at Wrigley Field, then the Cubs will determine whether a Minor League rehab stint is necessary.
Pedro Strop, one day after his bullpen session, said: "I'm ready." Will have another mound workout this weekend and potentially a brief Minor League rehab assignment, but he says the hamstring is feeling great.

— Jordan Bastian (@MLBastian) May 23, 2019
"That's what we had talked about. Typically, I'm wide open," Cubs manager Joe Maddon said. "We have not finalized any of that. All I've heard is how well he's been throwing in the bullpen. Just walking by him, I mean, you can tell -- I've said this a thousand times -- when a guy is feeling pretty good. He's feeling pretty good right now. I think we're just being overly cautious, because you don't want this to happen again."
Strop, who has been on the 10-day injured list since May 8, echoed that sentiment.
"We want to make sure that nothing more happens again," Strop said. "So we're building strength and we're working hard to make it stronger, instead of just, 'OK, pain-free, let's do it again,' and then you risk having it happen again. We're just taking care of it and making that thing stronger, so we don't have that issue coming around."
Baez called his walk-off
Cubs shortstop Javier Báez was out of the lineup on Tuesday night due to a heel issue and was in the clubhouse with Strop during the later innings of the team's game against the Phillies. As the ninth approached, the pair of teammates began to head to the dugout. Strop had an entertaining story about that moment, which came shortly before Baez delivered a first-pitch, pinch-hit, walk-off single for Chicago.
"Oh my God, it was crazy," Strop said. "So we're just sitting here watching the game and we were getting ready to go to the dugout to support the boys. I was like, 'Hey, let's go there, because we don't want to do any extra innings.' He was like, 'That's all right. I'm going to end this game right now.' And he started putting his shoes on and everything. And I was like, 'Javy, you're not playing today.' And then all of a sudden, I heard on the TV, 'Joe Maddon is going with his ace. Javy Baez is pinch-hitting.' And I was like, 'What?' So then, let's see what's going to happen. First pitch, it happened. Oh my God. It was crazy. I started running like crazy in here. It was unbelievable."
Worth noting
• Right-hander Tyler Chatwood worked four innings in relief on Wednesday and has logged multi-inning outings in each of his past four appearances. Over his past five games, Chatwood has a 1.38 ERA with 12 strikeouts and eight walks in 13 innings. Maddon plans on continuing to use the righty in a variety of roles, but is not sure Chatwood is an option to close games quite yet.
"The last three outs, those are just different," Maddon said. "He hasn't done that. I would say that, if he were to get a chance with us, the first time would be because maybe the other guys aren't available that night. That would be why I would give him that opportunity, I think. He definitely has the stuff to do it. Absolutely, the stuff to do it. Then again, it's just different. It's just a different role to be in."
• Ian Happ went 4-for-4 with two doubles and a home run in the second game of a doubleheader for Triple-A Iowa on Wednesday and now has an .882 OPS in his past 18 games. That stretch includes 20 strikeouts against 15 walks in 77 plate appearances. Maddon said he has been watching Happ's at-bats and feels more continued success is what will lead to further conversations about a return to the Cubs.
"With some sustained stuff like that, you would have to start really listening," Maddon said. "It's hard. You would want to do [offer him regular at-bats], but, if you could morph him in there in a platoon, that's worthwhile. You can do that also. But part of him being there right now on a consistent basis is to get these kind of at-bats to get this all worked out."
• Maddon and Kris Bryant decided to use Thursday as a scheduled day off for the star third baseman. Bryant was batting .347 with a 1.214 OPS in 20 games in May, entering Thursday's action.
• Maddon said there remains no timetable for return for veteran Ben Zobrist, who has been on MLB's restricted list since May 8 in order to tend to a family situation.