Bullpen solid, but Bryant's miscue costs Cubs
Rare throwing error precedes Brewers' walk-off single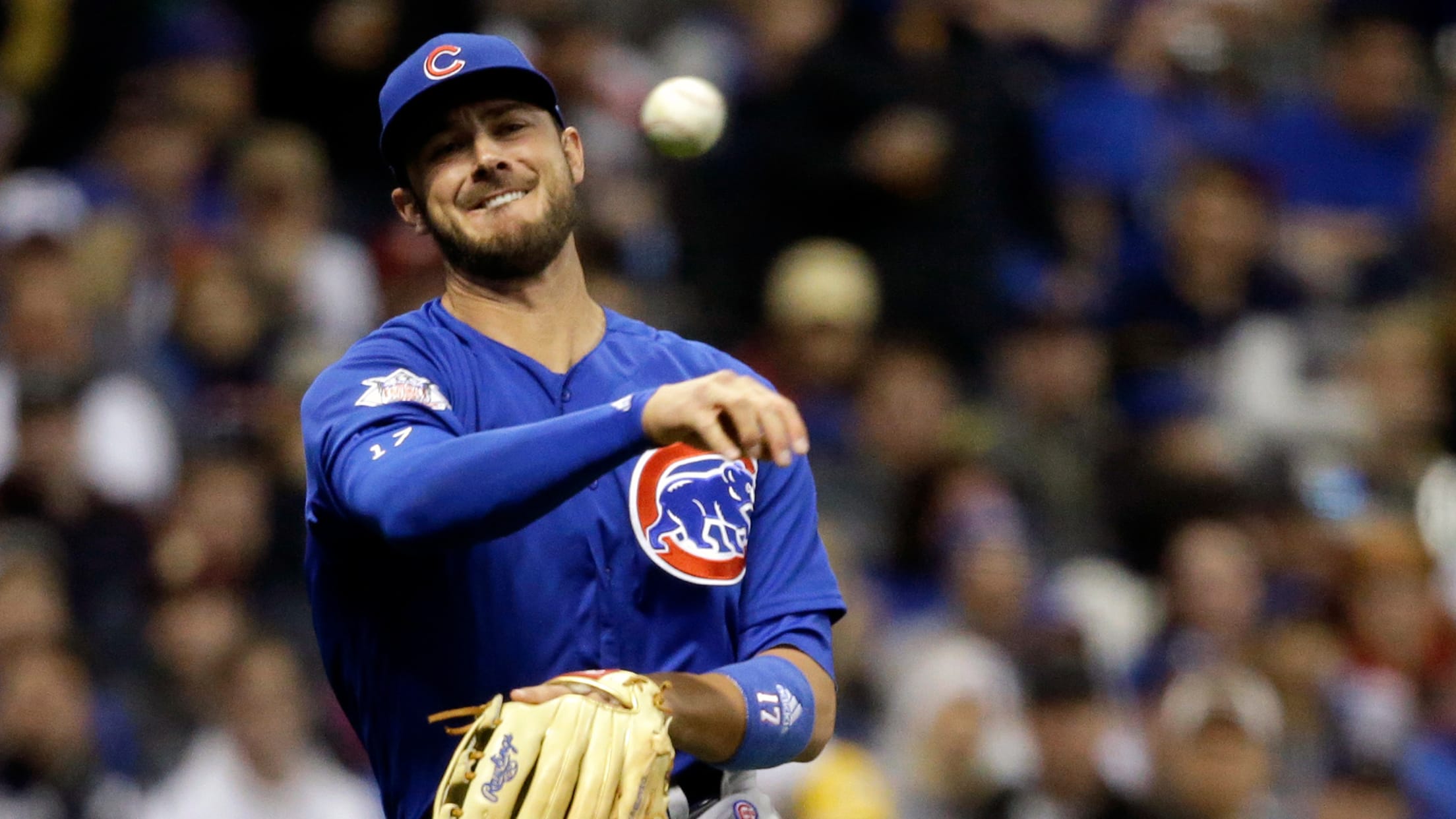 MILWAUKEE -- If he could do it over again, Cubs third baseman Kristopher Bryant would've held on to the ball hit by Brewers pinch-hitter Hernan Perez in the ninth inning. But Bryant's error led to the game-winning run in the Brewers' 5-4 victory Friday night at Miller Park over the
MILWAUKEE -- If he could do it over again, Cubs third baseman Kristopher Bryant would've held on to the ball hit by Brewers pinch-hitter Hernan Perez in the ninth inning. But Bryant's error led to the game-winning run in the Brewers' 5-4 victory Friday night at Miller Park over the Cubs.
It was one of only a few mistakes in a game in which the Cubs had opportunities. With the score tied at 4 and one out in the Brewers' ninth against Mike Montgomery, Manny Pina walked and reached third after an infield single by pinch-hitter Perez and the miscue by Bryant, whose throw sailed past first baseman Victor Caratini.
"I honestly shouldn't have thrown it," Bryant said. "[Perez] was safe all the way. I was trying to make a play there. It didn't work out. Sometimes that's how it is. It's a little frustrating.
"I didn't really have a grip on it," he said. "I shouldn't have thrown it. There was no play there. He's a pretty quick runner, too. I had no chance and should not have thrown it. It's a tough one."
After one pitch from Montgomery to Orlando Arcia, the Cubs moved Benjamin Zobrist from left field to second for a five-man infield. Arcia then slapped a single to right to drive in Pina for the walk-off win. It was Milwaukee's second walk-off win in four days.
"Arcia, that ball was way outside, and he stuck it out there and gets the knock," Cubs manager Joe Maddon said. "Give them credit. They got us. It's a tough play for K.B. I thought we played well."
The Cubs opened a 2-0 lead in the first, which would seem like enough for starter Kyle Hendricks, who has had success against the Brewers and at Miller Park. But Eric Thames and Travis Shaw each hit two-run homers in the fifth off Hendricks and the Brewers opened a 4-2 lead.
"That doesn't happen very often for him, and both were really well struck," Maddon said. "[Hendricks] had really good stuff from the side. It looked like the location was outstanding. He was pitching great. I don't know if their pitcher [Josh Hader] getting a hit -- that normally doesn't happen against him, and that may have messed him up."
Hendricks blamed his choice of pitch against Thames and Shaw more than Hader's first big league hit, a leadoff single in the fifth that seemed to spark the Brewers, who ended a 22-inning scoreless streak with the runs.
Hader was feeling pretty fortunate.
"I just closed my eyes, and it happened to be a base hit," Hader said. "We came along today. Two big homers and we pulled through."
"They capitalized on two bad pitches," Hendricks said. "That was definitely two bad pitches, and you don't get away with either one of them. I thought [I was] making really good pitches early, getting some quick outs, a few hits but they were soft-contact hits. It was a couple bad pitches, and I didn't get away with it."
The Cubs' bullpen has carried most of the workload this season and did so again on Friday. Justin Wilson escaped a mess in the sixth when he struck out Shaw to end the inning and leave runners at second and third. Steve Cishek then picked up Wilson, who walked the bases loaded in the seventh. Cishek fanned Lorenzo Cain to end that inning.
Milwaukee's game-winning run was only the third earned run in 33 innings this season off Chicago's relievers.
"What our bullpen has been able to do, lights-out today, it's been fun to watch them lately," Hendricks said.
"We played really well," Maddon said. "We did a lot of things well. We just couldn't get a hit when we needed it, but we worked good at-bats, pitched really well. We did a lot of things well. We should've won that game and we didn't. Give them credit. They got the two two-run homers and then punched the last one across. But I'm here to tell you, man, we play that game consistently, I'll take it."
MOMENTS THAT MATTERED
Bad timing: The Brewers needed something to wake up an offense that had slumbered for 22 consecutive scoreless innings. Hader provided the hit off Hendricks that got them going. The reliever's first career hit was a single to open the fifth and set up Thames' game-tying home run. Two batters later, Shaw hit another two-run shot for a 4-2 Brewers lead.
"I think I went there too much too often -- he's a smart hitter," Hendricks said of Thames' homer. "The Shaw one was just middle-middle."
It's only the second time in Hendricks' career he has given up two homers in the same inning. He also did so Sept. 17, 2015, against the Pirates.
Baez on the run: Baez, the Cubs' spark plug in Thursday's series opener, tied the game in the sixth when he lined a two-out RBI triple and scored on Eric Sogard's relay throw, which bounced off Baez's head. Sogard was charged with an error, the Brewers' seventh in their last three games. It gave Baez three RBIs and three runs scored in his first seven plate appearances of the series. He now has two triples in seven games, tying his career high in a season, set last year in 145 games.
Houdini: The Brewers had runners at second and third with nobody out and Thames, Ryan Braun and Shaw coming up in the bottom of the sixth. Three Cubs relievers engineered an escape, with Braun striking out against Pedro Strop and Shaw striking out against Wilson. The Brewers were back in business in the seventh with a trio of two-out Wilson walks, and the Cubs escaped again. Cishek floated a two-strike breaking ball past Cain for a swinging strikeout to strand the bases loaded.
QUOTABLE
"We know they're going to be there all year. Top of this division with us, it's going to be a battle all year long. We know they're deep and a resilient bunch. What they did last year brought them together. We have to be on it, game in, game out, regardless of [which players] they lose." -- Hendricks, when asked if the Brewers will struggle without closer Corey Knebel
INJURY UPDATE
Cubs first baseman Anthony Rizzo was scratched from the starting lineup because of tightness in his lower back. His status was day to day, but Maddon said Rizzo may not be available on Saturday.
WHAT'S NEXT
Yu Darvish will make his second start of the season on Saturday in the third game of this four-game series. The right-hander didn't have good command of his fastball in his Cubs debut against the Marlins, giving up five runs on five hits over 4 1/3 innings. This will be his second career start against the Brewers, and first since last Aug. 27, when he gave up three runs over five innings. First pitch is scheduled for 3:05 p.m. CT from Miller Park.
Watch every out-of-market regular-season game live on MLB.TV.