Peralta, Piscotty close to rejoining Cards
Rehabbing players expected back for weekend series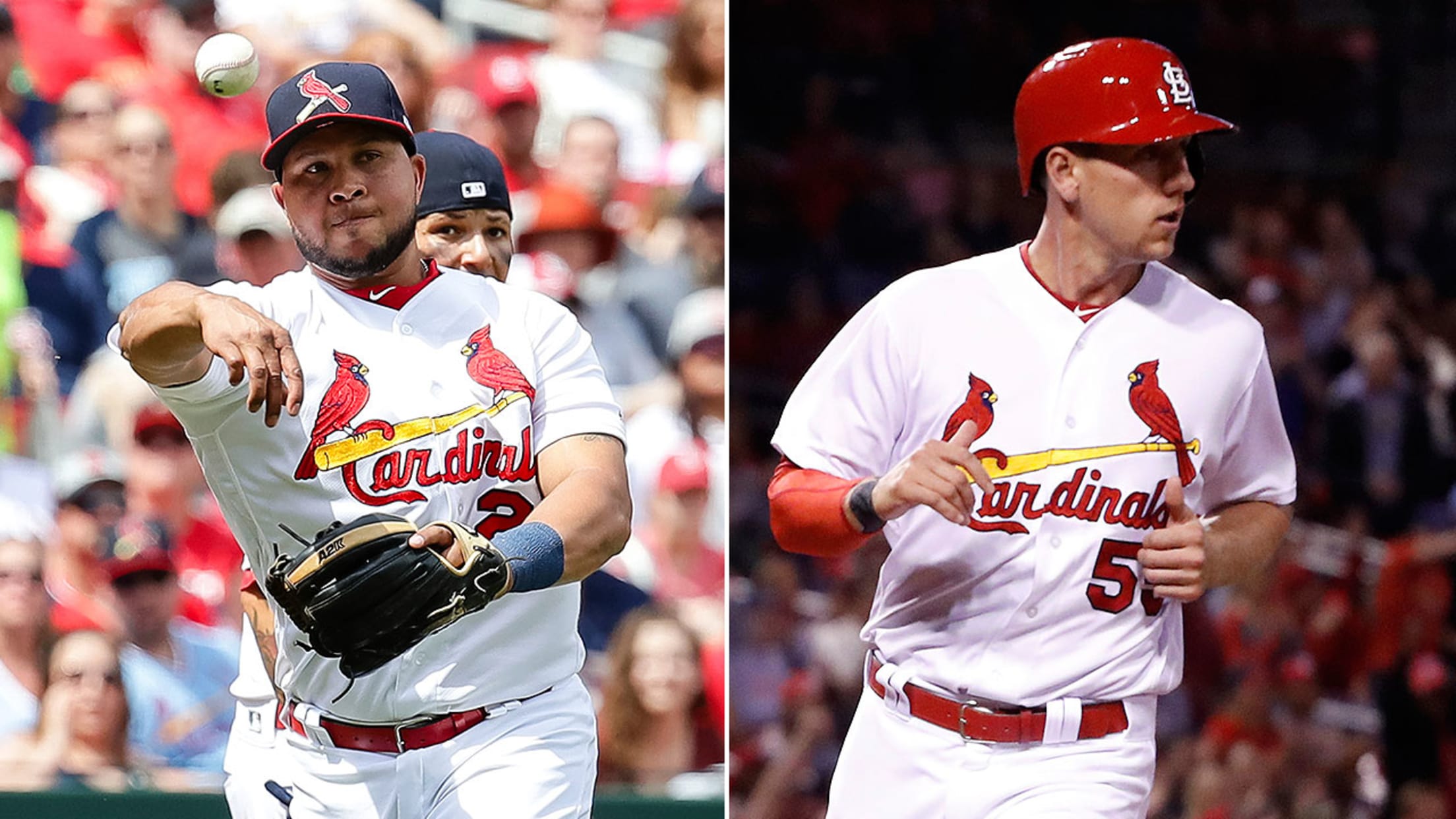 The Cardinals will be facing roster decisions when Jhonny Peralta (left) and Stephen Piscotty return from rehab assignments. (AP)
ST. LOUIS -- The Cardinals have a series of roster decisions looming, as they anticipate activating Jhonny Peralta (upper respiratory illness) and Stephen Piscotty (right hamstring strain) from the 10-day disabled list during the team's weekend series against the Giants.After appearing in three High A rehab games, Peralta transferred his
ST. LOUIS -- The Cardinals have a series of roster decisions looming, as they anticipate activating Jhonny Peralta (upper respiratory illness) and Stephen Piscotty (right hamstring strain) from the 10-day disabled list during the team's weekend series against the Giants.
After appearing in three High A rehab games, Peralta transferred his assignment to Triple-A Memphis, where he was 3-for-7 in his past two games. Peralta is expected to remain in Memphis through Wednesday, Cardinals general manager John Mozeliak said, and be activated Friday.
Piscotty opened a rehab assignment with Double-A Springfield on Tuesday and is projected to return to the Major League team on Saturday or Sunday.
It seems likely that the Cardinals will send down 21-year-old outfielder Magneuris Sierra and one of their eight relief pitchers to make room when the two rehabbing players are ready.
Tyler Lyons is inching closer to his DL return as well. He's slated to make one final Double-A rehab start on Saturday, after throwing 59 pitches in a 3 2/3-inning appearance Monday with Memphis. Lyons allowed three runs on six hits and one walk in that game.
"I think I fatigued a little as I went along, but overall, especially at the beginning, it was as good as I've felt in the last couple weeks," said Lyons, who went on the DL with a right intercostal strain on May 2. "A couple poor pitches cost me, but overall I was pleased with it."
Cards remain interested in top Cuban prospect
Cuban outfielder Luis Robert should find a landing spot soon, as the top international prospect will be eligible to sign with a big league team beginning Saturday. The Cardinals are among the clubs most interested in Robert, and Mozeliak recently traveled to have a face-to-face meeting with the 19-year-old.
Mozeliak would not go into the details of their conversations but noted that he feels "like our scouts and our international department have done a good job" in evaluating a player who one American League international scouting director described to MLB.com's Jesse Sanchez as "the best player on the planet."
Robert is expected to sign before June 15 so that clubs who have already exceeded their international bonus pool, like the Cardinals, can still be in play.
World Series reunion on tap
Fourteen members of the Cardinals' 1967 World Series team are expected to attend a 50th anniversary celebration of that championship club before Wednesday's game against the Red Sox.
The ceremony is scheduled to begin at 6:35 p.m. CT and will feature a motorcade parade and appearance by the Budweiser Clydesdales. Those scheduled to attend include Red Schoendienst, Bob Gibson, Lou Brock, Tim McCarver, Mike Shannon, Orlando Cepeda, Steve Carlton, Dick Hughes, Julian Javier, Ray Washburn, Larry Jaster, Bobby Tolan, Ed Spiezio and Ted Savage.
Busch Stadium will open early (5:15 p.m.) to accommodate fans who want to be in their seats for the ceremony. Fox Sports Midwest will televise the pregame celebration live.
Worth noting
• The Cardinals activated John Gant (right groin tightness) from the DL on Tuesday and optioned him to Memphis, where he'll make his season debut Wednesday.
• A week after being struck in the head by a line drive and undergoing brain surgery, Minor League pitcher Daniel Poncedeleon remains in an Iowa hospital. Mozeliak said Poncedeleon likely won't be released for another week and then will be transferred to a rehab facility.