Magowan left memorable impression on Giants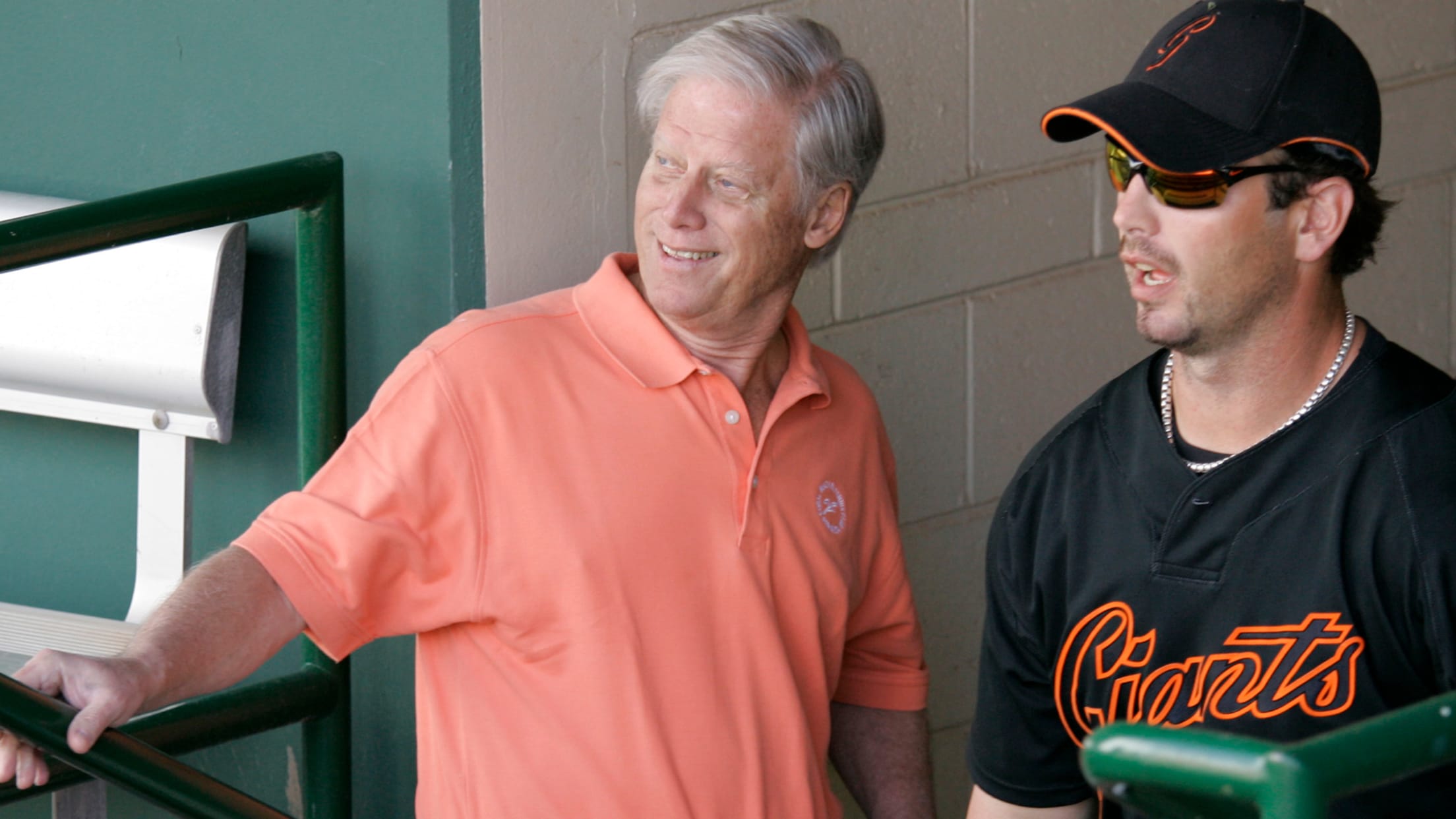 SAN FRANCISCO -- Peter Magowan's Giants were exactly that. They were his Giants, men upon whom he tried to leave a positive imprint.Several former Giants players reached by MLB.com recalled the warm and caring nature of Magowan, the team's managing general partner from 1993-2008 who died on Sunday at age
SAN FRANCISCO -- Peter Magowan's Giants were exactly that. They were his Giants, men upon whom he tried to leave a positive imprint.
Several former Giants players reached by MLB.com recalled the warm and caring nature of Magowan, the team's managing general partner from 1993-2008 who died on Sunday at age 76 after a long battle with cancer.
First baseman J.T. Snow recalled being invited, along with his family, by Magowan and his wife, Debby, to spend some time with them at their second home in the St. Helena wine country.
"Just a first-class guy," Snow said. "I don't think many owners would invite players to their vacation home. He and Debby were tremendous to us. I loved Peter. I always thought he was a great guy."
The Magowans were vacationing in Europe when the Giants obtained Robb Nen from the Marlins on Nov. 18, 1997, in a four-player trade. Though it was the middle of the night where Magowan was, he considered it essential to welcome San Francisco's new right-handed relief ace by telephone.
"It's something I've never forgotten, and it meant a lot to us," Nen said. "He was awesome. He truly cared for the players and was out for their best interests."
Describing who Magowan was can be accomplished by defining what he wasn't, as catcher Christopher Johnson pointed out.
"When I was with the Yankees in the Minor Leagues and George Steinbrenner would come to town, he'd fly his helicopter over the complex and all the administrative staff and coaches would have their walkie-talkies on and say, 'He's coming. He's coming.' And so everybody would be on edge," Johnson said. "It would be tense. [Guys] would have to tighten their neckties if they were wearing a tie, and ladies would have to fix up their desks. Everybody was on edge because you never knew what this guy was going to say, and he was an authoritarian kind of guy. Peter Magowan was completely the opposite of that. He was kind of one of the guys. He was very humble."
Former outfielder Randy Winn agreed that Magowan put people at ease.
"He was always around, he was always engaged and he was always there to greet you with a handshake and a smile and a few warm words," Winn said. "I felt like he was around and available in a non-obtrusive way."
Magowan was a gentleman, but he wanted to win. And by hiring people such as Dusty Baker, Brian Sabean and Bruce Bochy, the Giants did just that.
"We should not forget that had it not been for Peter, the San Francisco Giants would still have zero World Series championships," left-hander Barry Zito said.
Chris Haft has covered the Major Leagues since 1991 and has worked for MLB.com since 2007. Follow him on Twitter at @sfgiantsbeat.