Philly outslugs KC in Commissioner's Cup
Young players squared off Monday at Nationals Youth Baseball Academy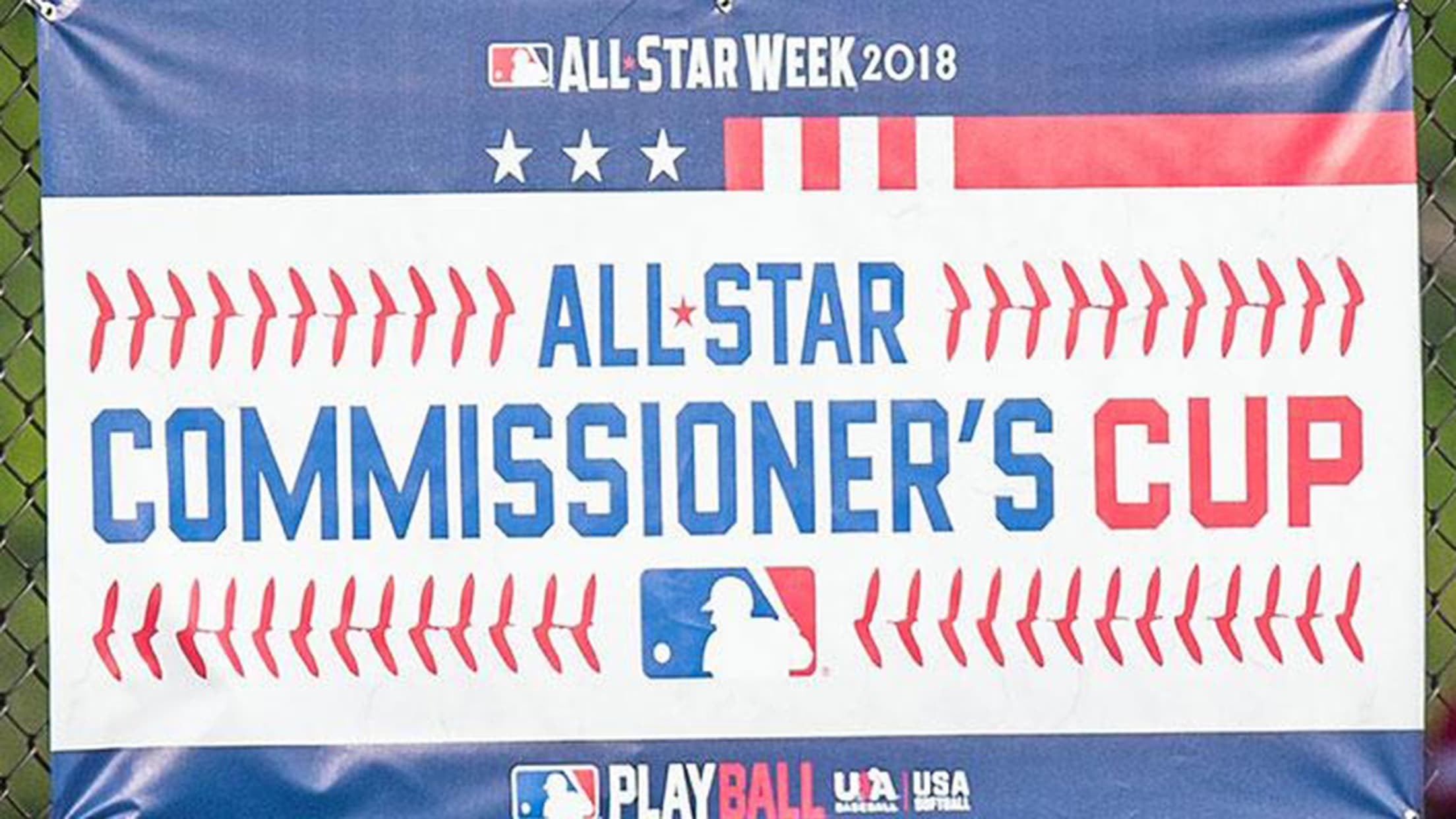 WASHINGTON -- After the Philadelphia Youth Academy's 10-6 win in the Commissioner's Cup championship game Monday afternoon at the Nationals Youth Baseball Academy, the team huddled together for a photo.After posing for about five shots, Steve Bandura, who runs the Philadelphia Youth Academy, wanted to savor the moment, so he
WASHINGTON -- After the Philadelphia Youth Academy's 10-6 win in the Commissioner's Cup championship game Monday afternoon at the Nationals Youth Baseball Academy, the team huddled together for a photo.
After posing for about five shots, Steve Bandura, who runs the Philadelphia Youth Academy, wanted to savor the moment, so he asked the photographer to send him the picture.
Monday afternoon wasn't Philadelphia's last chance to pose for photos, though. With Philadelphia's victory over the Kansas City Youth Academy in seven innings, MLB Commissioner Rob Manfred will present the squad with a championship trophy on the field at Nationals Park before the T-Mobile Home Run Derby on Monday night, so Bandura is already brainstorming all the photos and videos his team will take.
• TUNE IN: T-Mobile Home Run Derby (8 ET, ESPN)
The inaugural Commissioner's Cup, which took place throughout this weekend, is a tournament made up of 10 teams for players ages 17 and under from MLB Youth Academies. Philadelphia and Kansas City finished round-robin play with the best records in the National League and American League, respectively, to face off in the title game.
"I've been involved with [Reviving Baseball In Inner Cities, another youth baseball program] since the early '90s, when we started," Bandura said. "This tournament has been one of the best I've been in, with the camaraderie. No trash talking or anything like that. They respect each other as ballplayers. With this much talent, you have to respect each other."
Bandura said the Commissioner's Cup featured more talent than some college showcases he's attended.
Kansas City broke out first Monday with a six-run fifth inning, during which teammates yelled, gave each other chest bumps and chanted "KC!" But Philadelphia responded with seven runs in the bottom of the fifth frame while performing less dramatic celebrations. Many of Philadelphia's batters reached base via walks, but shortstop Jared Sprague-Lott handed his team an 8-6 lead with a two-run single.
Many of Philadelphia's players have known each other through the Academy since they were about 10 years old, so they've come back from large deficits together before. Plus, the players have developed chemistry on the field over the years -- and by eating at some of their favorite restaurants in Philadelphia.
The Philadelphia players came out to home plate and congratulated right-hander Jonathan Bautista in the seventh inning, after the 16-year-old hit the game's lone home run, which sailed more than 326 feet, to give Philly a 10-6 lead. Bautista, who said that was his first dinger of the tournament, is the youngest player on Philadelphia's roster.
"It definitely boosted my confidence," Bautista said. "When it went out, my emotions just took over. I was just pumped up and excited because that was just insurance runs."
Those emotions were on display when Bautista closed the seventh inning. He shook his head up-and-down to Cardi B's "I Like It" while warming up before recording the final three outs and pumping his fist.
Sprague-Lott's favorite part of the tournament has been visiting Washington and learning about its culture. The players' most exciting experience is still to come, though.
"Just being on the [Nationals Park] field, hearing everybody loud," Sprague-Lott said. "I'm super excited."
Kyle Melnick is a reporter for MLB.com based in Washington.