Here are the Phillies' 2019 Top 30 Prospects
The Phillies ended the 2017 season in last place in the NL East, with 96 losses, but as 2018 loomed, there was hope on the horizon. The organization was in rebuilding mode and last year's introduction to the Top 30 prospects list stated the team would be fun to watch
The Phillies ended the 2017 season in last place in the NL East, with 96 losses, but as 2018 loomed, there was hope on the horizon. The organization was in rebuilding mode and last year's introduction to the Top 30 prospects list stated the team would be fun to watch in 2018, competitive in 2019 and really ready to win in 2020.
It appears the big league club is a bit ahead of that trajectory. The Phillies were in or near first place in the NL East for much of the 2018 season and though they finished two games under .500, in third place, it has sped up the expectations to reach the postseason for the first time since 2011.
Top 30 Prospects lists
| | |
| --- | --- |
| AL East | BAL, BOS, NYY, TB, TOR |
| NL East | ATL, MIA, NYM, PHI, WSH |
| AL Central | CLE, CWS, DET, KC, MIN |
| NL Central | CHC, CIN, MIL, PIT, STL |
| AL West | HOU, LAA, OAK, SEA, TEX |
| NL West | ARI, COL, LAD, SD, SF |
| Division | Team |
Help has come from the farm system in more than one way. There have been homegrown hitters like Maikel Franco and Rhys Hoskins, as well as former ranked prospects like Aaron Nola and Zach Eflin (acquired as a prospect via trade in Dec. 2014) leading the way in the big leagues. Former prospects have been used in trades, with J.P. Crawford now a Mariner, a deal that brought Jean Segura to the Phillies for 2019.
Then there was the big, recent trade, the one that has the Phillies feeling they're ready to compete for the postseason. They brought in All-Star catcher J.T. Realmuto, sending their top prospect, right-hander Sixto Sanchez, and a former prospect, Jorge Alfaro (along with lefty Will Stewart, who would have been in this Top 30) to Miami.
Any time a team trades its top prospect, especially one as highly regarded as Sanchez, the farm system takes a hit. So the Phillies list isn't quite as strong as it once was because of the Realmuto deal, not to mention other deals made from last Trade Deadline on, and some graduations to the big leagues. There's still some very good talent at the top and some exciting players on the rise to go along with some young guys on the 25-man roster, a roster that could be playing meaningful baseball in October.
Here's a look at the Phillies' top prospects:
1) Alec Bohm, 3B
2) Adonis Medina, RHP
3) Adam Haseley, OF
4) Luis García, SS
5) Spencer Howard, RHP
Biggest jump/fall
Here are the players whose ranks changed the most from the 2018 preseason list to the 2019 preseason list:
Jump: Luis Garcia, SS (2018: 23 | 2019: 4) -- Made a big splash in his pro debut by winning the GCL batting title.
Fall: Tom Eshelman, RHP (2018: 16 | 2019: NR) -- The command/control artist really struggled in his return to Triple-A.
Best tools
Players are graded on a 20-80 scouting scale for future tools -- 20-30 is well below average, 40 is below average, 50 is average, 60 is above average and 70-80 is well above average. Players in parentheses have the same grade.
Hit: 55 -- Adam Haseley (Alec Bohm, Luis Garcia)
Power: 60 -- Jhailyn Ortiz
Run: 60 -- Luis Garcia (Arquimedes Gamboa)
Arm: 60 -- Luis Garcia (Arquimedes Gamboa)
Defense: 55 -- Arquimedes Gamboa (Luis Garcia, Mickey Moniak, Simon Muzziotti, Adam Haseley, Rafael Marchan, Daniel Brito)
Fastball: 65 -- Spencer Howard
Curveball: 50 -- Spencer Howard (JoJo Romero, Ranger Suárez, Cole Irvin, Kyle Young, David Parkinson, Jhordany Mezquita, Connor Seabold)
Slider: 60 -- Kyle Dohy (Edgar Garcia)
Changeup: 60 -- Ranger Suarez
Control: 60 -- Kyle Young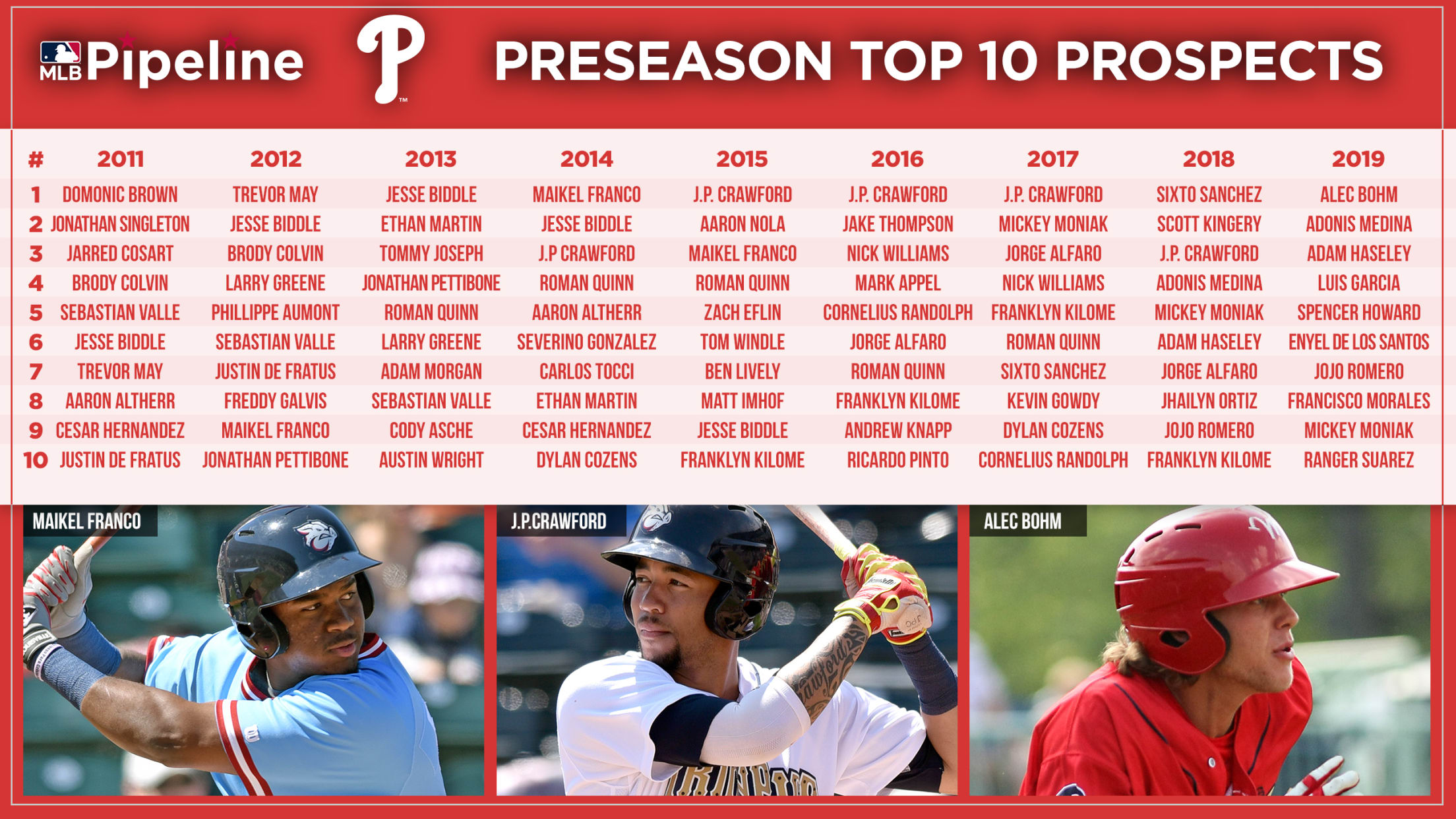 .
How they were built
International: 15 | Draft: 14 | Trade: 1
Breakdown by ETA
2019: 7 | 2020: 8 | 2021: 7 | 2022: 7 | 2023: 1
Breakdown by position
C: 2 | 1B: 0 | 2B: 1 | 3B: 1 | SS: 3 | OF: 5 | RHP: 10 | LHP: 8