Predicting Phillies' 2021 Opening Day roster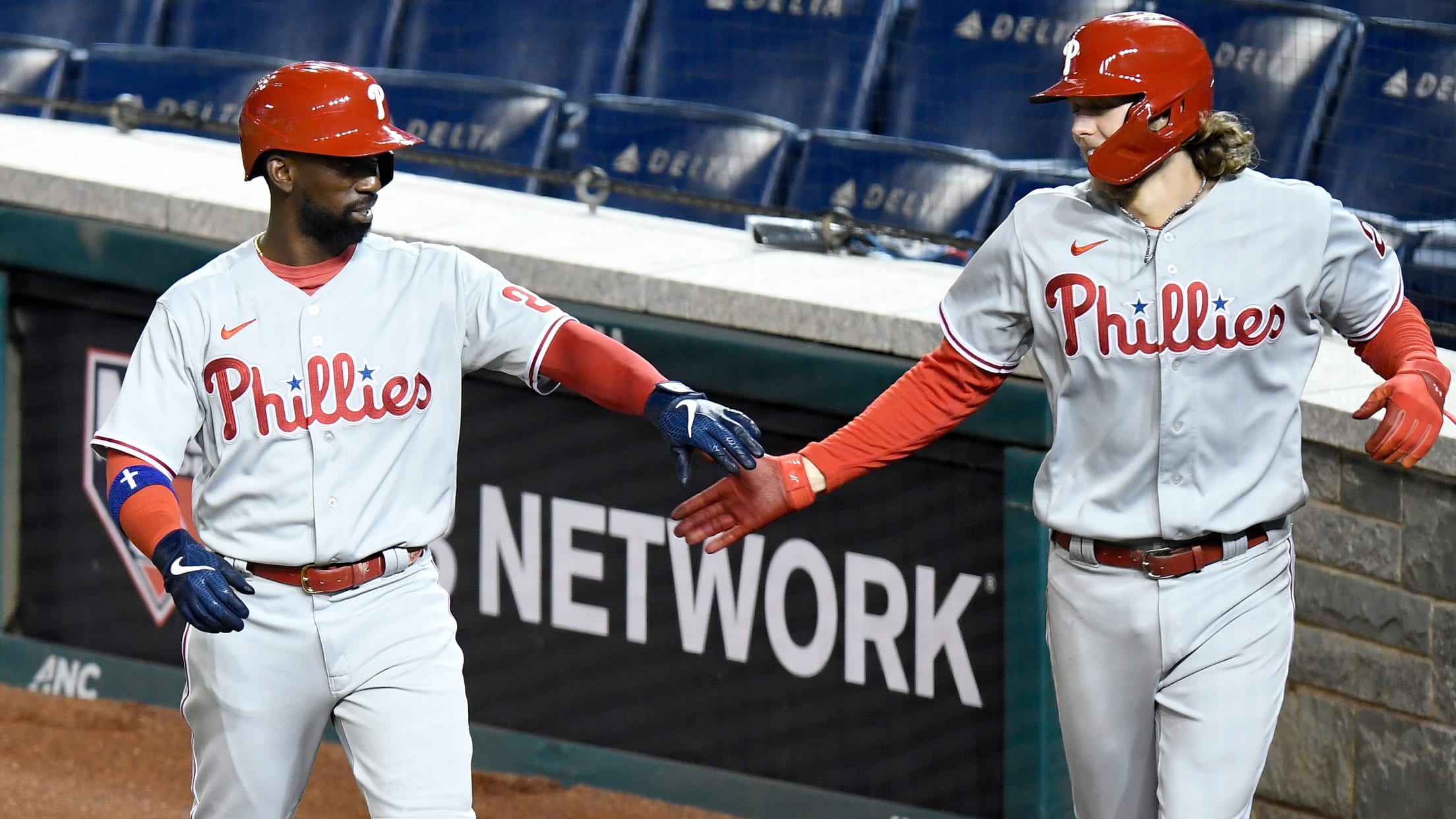 PHILADELPHIA -- So much is going to happen before the Phillies are scheduled to begin Spring Training in February. All we truly know is that Philadelphia will have a new pitching coach and bullpen coach. New head of baseball operations? Possibly, although the Phils appear to be in no rush
PHILADELPHIA -- So much is going to happen before the Phillies are scheduled to begin Spring Training in February.
All we truly know is that Philadelphia will have a new pitching coach and bullpen coach. New head of baseball operations? Possibly, although the Phils appear to be in no rush to hire one. Will J.T. Realmuto be back? Didi Gregorius? How many starters will they bring in? How in the world will they assemble their bullpen? The Phillies already had numerous variables entering the offseason. Now add a slow-moving market on top of that and it's anybody guess how it shakes out.
Here is a very early crack at how the 26-man roster might look next year:
Catcher (2): J.T. Realmuto and Andrew Knapp
Don't get too excited, folks. MLB.com is only guessing that Realmuto will re-sign with the Phillies because they have too much to lose if he signs elsewhere. Based on the current feel of the market and recent comments from president Andy MacPhail, it is not crazy to think the parties will find common ground this winter.
First base (1): Rhys Hoskins
Hoskins had surgery Oct. 2 to repair the ulnar collateral ligament in his left elbow. The Phillies said Hoskins is expected to be ready to play in four to six months, which puts his return sometime between early February and early April. He slashed .245/.384/.503 with 10 home runs in 185 plate appearances in 2020.
Second base (1): Scott Kingery
The Phillies expected big things from Kingery when they signed him to a six-year, $24 million contract in March 2018. He has showed flashes at times, but he slashed just .159/.228/.283 in 124 plate appearances in '20. The Phils are hoping Kingery's performance might have been tied to lingering effects from his bout with COVID-19 last summer.
Third base (1): Alec Bohm
Bohm looks like a future star. The rookie batted .338 with four home runs, 23 RBIs, an .881 OPS and a 136 OPS+ in 180 plate appearances. He had a walk-off sacrifice fly to beat the Nationals on Sept. 3 and a walk-off single to beat the Red Sox on Sept. 8. He hit .452 (19-for-42) with runners in scoring position. Bohm ranked fourth among all players in the Majors in Wins Probability Added, which measures the change in win probability caused by a batter during a game. Only the Giants' Mike Yastrzemski (2.9), the Braves' Freddie Freeman (2.7) and the Rays' Brandon Lowe (2.4) ranked ahead of Bohm (2.3).
Shortstop (1): Jean Segura
Didi Gregorius fans should not panic. The Phillies could still re-sign him, but based on the way the Phils and the rest of baseball are behaving, it is difficult to see the club bringing back both Realmuto and Gregorius. If Realmuto returns, it is possible Philadelphia will move Segura back to shortstop and hope for better from Kingery at second.
Outfield (5): Bryce Harper, Andrew McCutchen, Odúbel Herrera, Roman Quinn and Adam Haseley
The name that jumps out here is Herrera, who has not played for the Phillies since his May 2019 arrest in Atlantic City, N.J., for simple assault of his girlfriend. Charges were dismissed, but MLB suspended him for 85 games in '19. Philadelphia outrighted Herrera to Triple-A Lehigh Valley in January. He never joined the club in '20, even as part of its 60-man player pool in Allentown, Pa. But it seems Herrera's status has come to a crossroads. Either the Phils will finally release him or they will play him. Regardless, he will make $10 million in '21.
Utility (2): Phil Gosselin and TBD
The Phillies outrighted Gosselin from the 40-man roster and he elected free agency, but he could still return on a Minor League deal. He is from West Chester, Pa., and he played well in limited action. It just makes sense. The Phils will need another utility player, too. It could be anybody at this point.
Rotation (5): Aaron Nola, Zack Wheeler, Zach Eflin, Spencer Howard and TBD
The Phillies probably need to acquire at least two starting pitchers this offseason, if only because Howard has missed time each of the past two years with shoulder issues. Is Vince Velasquez an option? Perhaps, but he could be non-tendered. There is no question Philadelphia needs to find a way to make up for its lack of organizational starting pitching depth.
Relievers (8): Connor Brogdon, Héctor Neris, JoJo Romero, Ranger Suárez and four TBD
Major changes are needed to improve the second-worst bullpen in baseball in 90 years, but how will the Phillies do it? MacPhail acknowledged their analytics department has not done a good job of finding diamonds in the rough, like the Rays and other teams. Remember the days when Pat Gillick and Ruben Amaro Jr. brought in J.C. Romero, Scott Eyre, Chad Durbin, Clay Condrey and successfully converted Brett Myers from a starter to a closer, etc.? Philadelphia needs to find a couple of those guys, plus acquire an elite reliever or two to make significant gains.