Where are they now? Bobby Wine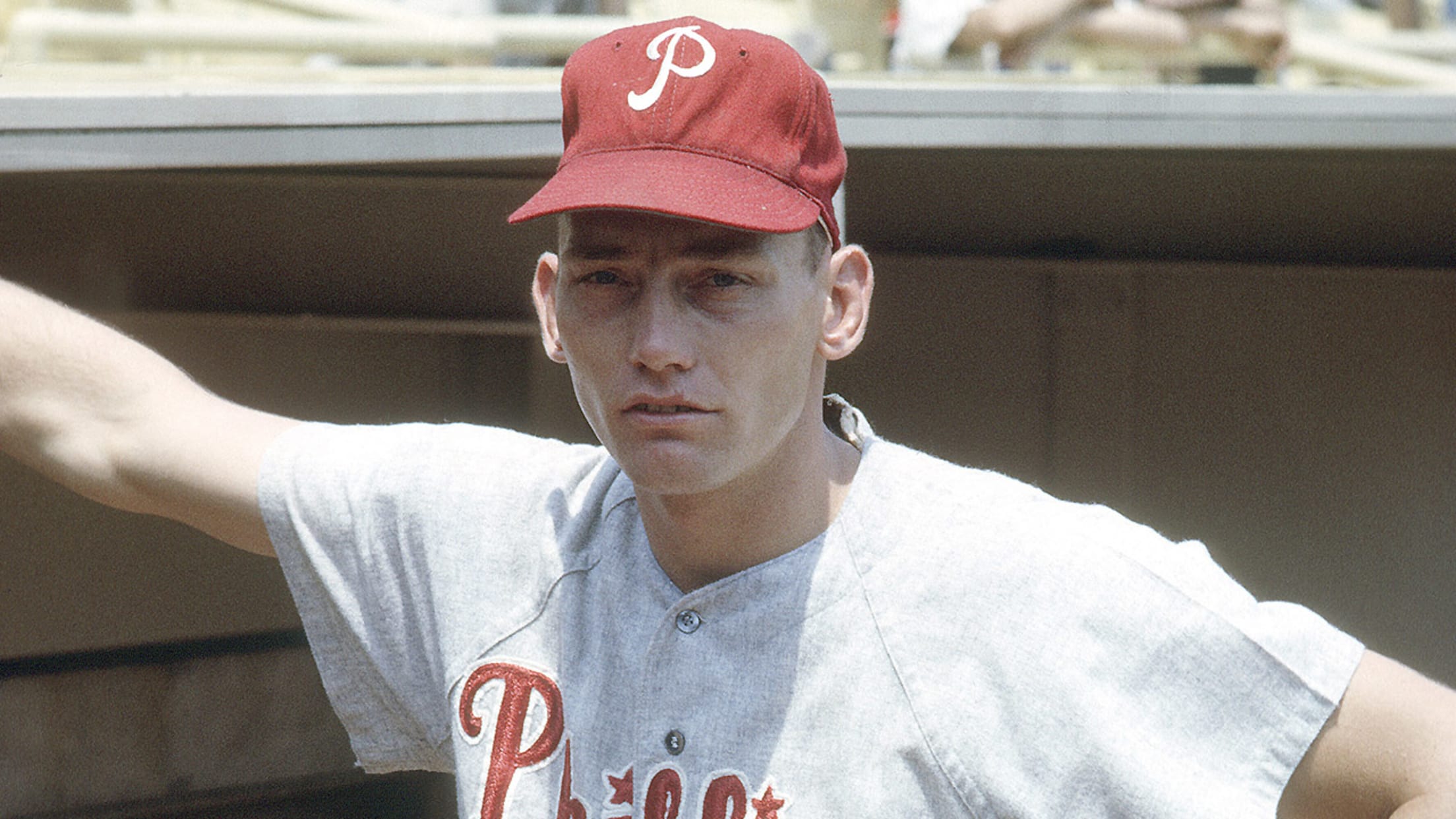 (Focus On Sport/Getty Images)
When the Phillies won the World Series for the first time in 1980, it released a century of pent-up frustration. Some of that angst came from '64, when the Phils missed the postseason after being unable to hold onto a 6 1/2-game lead with just 12 games to play.The only
When the Phillies won the World Series for the first time in 1980, it released a century of pent-up frustration. Some of that angst came from '64, when the Phils missed the postseason after being unable to hold onto a 6 1/2-game lead with just 12 games to play.
The only living human being* who was in uniform for both those watershed moments is Bobby Wine. He was the shortstop during the collapse that has defined collapses since. And Wine was Dallas Green's bench coach when Tug McGraw struck out Willie Wilson of the Royals to win it all in 1980.
So Wine was part of what may well have been the highest and lowest moments the Phillies have experienced as an organization. But he has a different take.
• Phillies Alumni
"Actually, '64 was a high," Wine insisted recently after watching a game at Citizens Bank Park. "We didn't win, of course. But I don't know if anybody ever gave us a chance to win at the start of the year. I don't know if anybody thought we had a chance to get as far as we did.
"We honestly played so good with two regular players. We had [Dick] Allen and we had [Johnny] Callison, and everybody else was a so-called part-time player. Whatever [manager Gene Mauch] felt like for that given day, those players were going to play."
Wine, who turns 79 in September, still lives in the Philadelphia area with his wife, Fran. He spent the first eight years of his big league career with the Phillies before going to Montreal in the 1969 expansion draft. After being released by the Expos in July 1972, Wine almost immediately returned to the Phils as a coach.
And Wine was still there when the Phillies finally broke through in 1980, making it to the World Series for the first time in 30 years and capturing the first championship in franchise history. Again, he looks at that in a slightly different context.
As memorable as winning the World Series was, Wine recalls the final regular-season series, coincidentally at Olympic Stadium in Montreal, and the dramatic National League Championship Series against the Astros being just as significant. Maybe even more impactful.
The Phils didn't clinch a postseason spot that year until Mike Schmidt's two-run homer in the top of the 11th on the next-to-last day of the season. And they didn't punch their ticket for the World Series until getting past Houston in a best-of-five series in which four of the games were decided in extra innings. And to win the clincher, they had to surmount a three-run deficit against Hall of Famer Nolan Ryan in the eighth.
"You know, we had gotten close a couple times [losing the NLCS in 1976, '77 and '78], when Danny Ozark was the manager. And we couldn't pull it off," Wine said. "Then in '80, we had the series in Montreal where Schmitty hit the homer. That gets us to Houston. Then we're battling Nolan Ryan and he has the lead. And we knock him out wind up winning the thing [in 10 innings]. When Garry Maddox caught [the fly ball from Enos Cabell for the final out], it was like, 'Oh, my gosh. I can't believe we did it.'"
Especially since nobody involved was allowed to forget the history.
"Everybody who had been in Philly knew that. 'You never won, you never won, you never won,'" Wine said. "But I don't think the guys ever really thought about not winning. I don't think there was ever a doubt. I think they were pumped and the two series ahead of that gave them the momentum. We had a great team, too. It wasn't like we had a bad team. And it just carried over."
Which isn't to downplay what getting the ring meant, of course.
"There's no question that the World Series is the big one," Wine said. "If you don't win the World Series, you're still not a winner. But when we got there, it was calm and relaxing after Montreal and Houston. I'm not saying the World Series was a letdown, but there was a little less pressure, I think."
Wine left the Phillies to become a bench coach for the Braves in 1985, and he was named interim manager from Aug. 26 through the end of the season after Eddie Haas was dismissed. Wine coached for the Mets from 1993-96 and then became an advance scout for the Braves. Before retiring, it was said that his reports played a role in Atlanta stretching its streak of consecutive division titles to 14.
As a player, Wine had a .215 career batting average, but he spent a dozen seasons in the big leagues because of his defense, winning a Gold Glove Award in 1963. When Jim Bunning pitched a perfect game against the Mets at Shea Stadium on Father's Day in 1964, Wine came in to play shortstop in the bottom of the sixth.
In 2007, Wine was inducted into the Pennsylvania Sports Hall of Fame. His son, Robbie, spent parts of the 1986 and '87 seasons in the Major Leagues as a catcher for the Astros, and he went on to become head baseball coach at Penn State. Bobby's grandson, Cory, was drafted by the Phils in the 38th round in 2009.
Wine was with the Phillies in 1964 when the team hit a slump at the worst possible time. And he was in the dugout 16 years later when they got hot at the end and went all the way to a parade down Broad Street. And no matter how you choose to define those seasons, nobody else can say that.
* Green, then a right-handed pitcher, and shortstop Ruben Amaro Sr. both appeared down the stretch in 1964 and participated in the celebration of 1980. Both passed away in March. Amaro, like Wine, was a coach that season.
Paul Hagen is a reporter for MLB.com.