Harper hears crowd's venom: 'It's just not right'
Phillies fall to .500 with four games left in season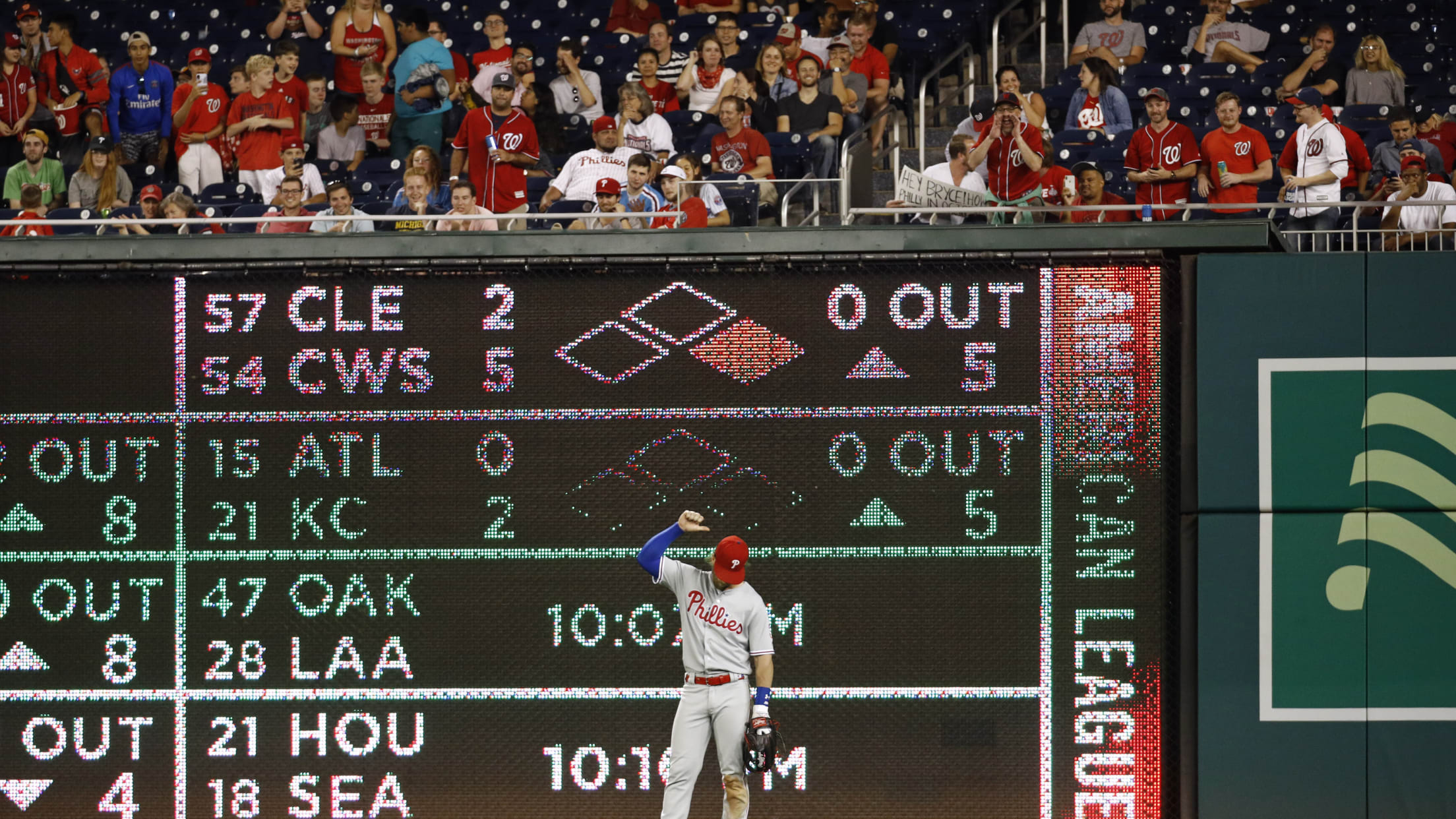 WASHINGTON -- Bryce Harper's effort cannot be questioned as the Phillies limp into the final weekend of the season. He is fighting. He is playing hard. He is motivated, especially after he said a smattering of Nationals fans crossed the line with their comments as he stood in right field
WASHINGTON -- Bryce Harper's effort cannot be questioned as the Phillies limp into the final weekend of the season.
He is fighting. He is playing hard. He is motivated, especially after he said a smattering of Nationals fans crossed the line with their comments as he stood in right field in the bottom of the eighth inning Wednesday night at Nationals Park.
"I mean, I get it everywhere I go," Harper said following a 5-2 loss. "It's nothing new, but the last inning -- it's just not right. It's just not right."
Phillies manager Gabe Kapler said the rest of his team is fighting, too. It just continues to lose.
The Phillies have lost five consecutive games, seven of their last eight and 14 of their last 21 to fall to .500 (79-79) for the first time this season. They need to win three of their remaining four games to finish with a winning record for the first time since 2011. If the Phillies cannot beat Nationals right-hander Stephen Strasburg in the series finale Thursday, they will need to sweep the Marlins this weekend at Citizens Bank Park to finish above .500.
The Phillies are 18-34 (.346) the past two Septembers, which is the fifth-worst record in baseball.
"It's important to me," Kapler said about finishing his second season with a winning record. "It's important to this ballclub. We're going to keep doing everything in our power to make that happen by preparing hard, by grinding every day, by playing the type of baseball that Bryce Harper played tonight. By making the kind of turn Jean Segura made in the last inning tonight. By battling in every single at-bat."
Is he seeing that fight as the season nears the end?
"You tell me what you saw from Bryce Harper tonight and Jean Segura's turn in the last inning," he said. "Yeah, certainly. You guys see it, too."
Rhys Hoskins snapped a 0-for-26 skid with a single to center field in the fourth inning to score Harper from second base to give the Phillies a 1-0 lead. Harper reached second on a hustle double. He took an extra base on another base hit in the eighth. He is batting .260 with 35 doubles, 34 home runs, 109 RBIs and an .882 OPS. He is hitting .260 for the first time since April 23.
He is finishing strong.
"I just want to play," he said.
So what exactly happened in the eighth? Only 22,091 fans showed up to watch the playoff-bound Nationals play Wednesday. But the few in right field picked up their jeers in the eighth.
Harper seemed to be pointing at his back and maybe even waving them on. He declined to say what they said.
"Individually, you go out there and don't really worry about what they're saying, but there are times it's just not good and just not right," he said. "Everybody has a platform now, whether it's Twitter, Instagram or in the stands. They kind of say whatever they want, and that's just how it is. You kind of have to live with it. You see it in the NBA, you see it in the NFL and you see it here now. And I guess it is just part of sports now."​
Harper said he would be OK. He has backup.
"I've got 60,000 fans up in Philly that appreciate me as a player and appreciate me as an individual and my family, as well," Harper said. "I owe a lot to those people up there in Philly because they show up for me every single night and they are there to cheer us on and boo us and keep us going as a team and as individuals, as well, and I'm looking forward to the next 12 years. Can't wait."
Maybe next season things will be better. But who knows who will be in the dugout then? There almost certainly will be some new players. There could be a new manager and pitching coach. It remains to be seen.
Phillies left-hander Drew Smyly allowed four hits and two runs in 6 1/3 innings in his final start of the season. He struck out 10. It was his first double-digit strikeout game since Aug. 4, 2016. He went 3-2 with a 4.45 ERA in 12 starts with the Phillies.
"I've had more fun playing on this team than I've had in a long time," Smyly said. "There's a great group of guys here. The Phillies are definitely going in the right direction. We didn't get it done this season, but this team faced a lot of adversity with a lot of injuries, and the guys they have in this locker room, they're definitely going to be good down the road."