Morton works 5 1/3, restless to do better
Righty needed 94 pitches in outing versus Astros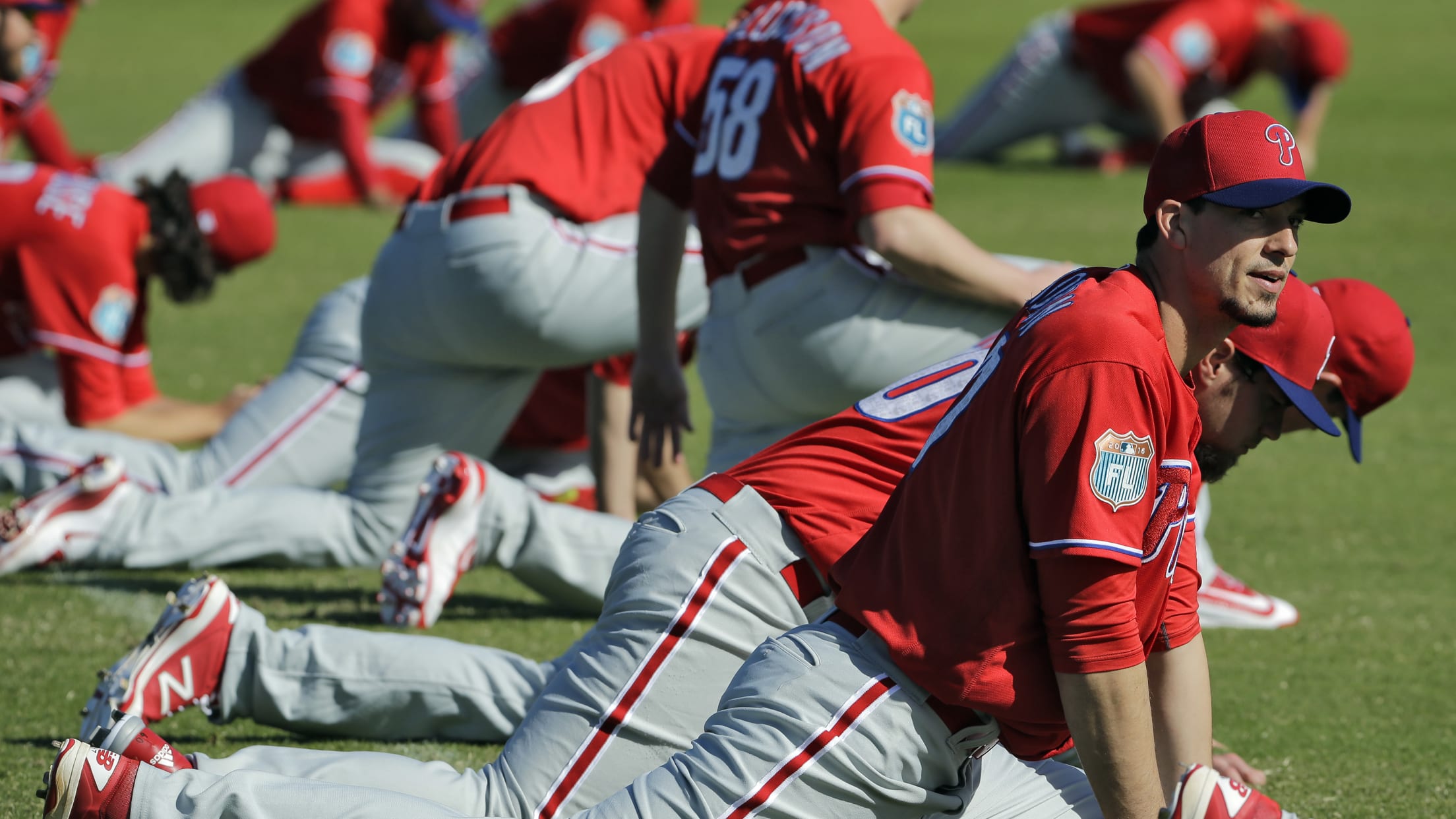 Charlie Morton's sinker was working over 5 1/3 innings in Wednesday's loss to the Astros, but the right-hander still wants to work on getting ahead in the count. (AP) (Chris O'Meara)
KISSIMMEE, Fla. -- Charlie Morton felt better physically and had his sinker working, but the Phillies' right-hander wasn't exactly thrilled with his outing Wednesday evening in his team's 2-1 loss to the Astros at Osceola County Stadium.Morton, whom manager Pete Mackanin announced earlier in the day would start the third
KISSIMMEE, Fla. -- Charlie Morton felt better physically and had his sinker working, but the Phillies' right-hander wasn't exactly thrilled with his outing Wednesday evening in his team's 2-1 loss to the Astros at Osceola County Stadium.
Morton, whom manager Pete Mackanin announced earlier in the day would start the third game of the regular season, allowed two unearned runs in 5 1/3 innings -- but needed 94 pitches to get there.
• Phillies Spring Training info
Morton said he felt like he had good stuff, but he still struggled to get ahead. Only 58 of his 94 pitches were for strikes.
"The goal was to go out there for six ups; get into the sixth inning," Morton said. "And the way you do that is by getting outs, and you can't get to the sixth inning if you're not getting outs. When you see where we are in spring, that's a requirement. You have to be able to go out there and throw deeper into games."
Morton's sinker was effective despite the high pitch count, as he recorded 10 of his 16 outs on the ground. He also struck out five and walked two.
"There are a couple things execution-wise I hope to get a little sharper, but I feel like I'm in a good spot," Morton said.
In other news from Wednesday:
Stumpf impresses again
Left-handed reliever Daniel Stumpf fanned both batters he faced Wednesday and now has made three straight scoreless appearances. Stumpf, a Rule 5 draft pick, seems to be on the verge of locking up a bullpen role.
"He's making it a little easier after tonight," Mackanin said the club's looming decision. "He threw some real sharp sliders and a couple good changeups. Went right after them, and he made a good impression tonight."
Worth noting
• The Phillies reassigned catcher Gabriel Lino to Minor League camp before Wednesday's game. Lino, 22, went hitless in eight at-bats over six Grapefruit League games. The Phillies now have 47 players in Major League camp.
• Outfielder Odubel Herrera (bruised finger) was a last-minute addition to Wednesday's travel roster and took batting practice but didn't play. Mackanin said Herrera will probably play Thursday if he has no pain.