Phils' McLaren talks Griffey's greatness
Catching coach was on Piniella's staff during HOFer's prime in Seattle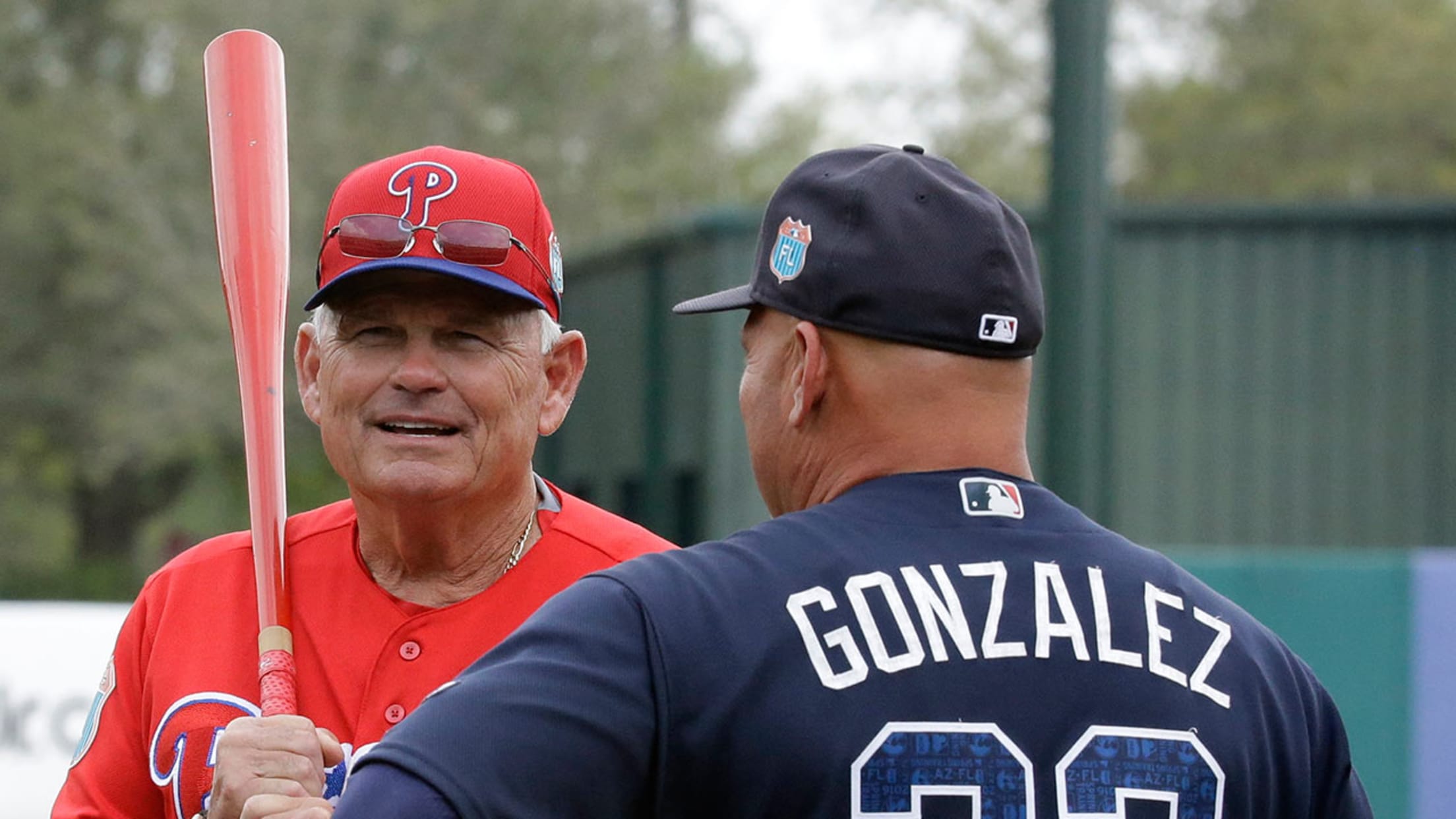 Phillies catching coach John McLaren was on Lou Piniella's coaching staff in Seattle from 1993-2002. (AP)
PHILADELPHIA -- John McLaren hadn't presided over a pro diamond in five years before signing on to be the Phillies' catching coach last October, ahead of his 45th year in the game and 25th in a Major League stadium. The stars have aligned for McLaren in more ways than a
PHILADELPHIA -- John McLaren hadn't presided over a pro diamond in five years before signing on to be the Phillies' catching coach last October, ahead of his 45th year in the game and 25th in a Major League stadium. The stars have aligned for McLaren in more ways than a happy 25th anniversary.
"I'm enjoying this year back in the big leagues on the field," McLaren said last week before watching Ichiro get his 2,995th and 2,996th hits. "I feel good about that. Kenny [Griffey Jr.]'s going into the Hall of Fame this weekend, Ichiro's gonna get 3,000. And this is my 25th year in the big leagues, so this is a special year for me. It just seems like everything just came together."
After entering the Major Leagues as a coach with the Blue Jays and Red Sox, McLaren joined Lou Piniella's coaching staff in Cincinnati in 1992, then followed the manager to Seattle in 1993, where he acted as Piniella's bench coach until 2002. McLaren was also in tow when Piniella left Seattle to manage the Tampa Bay Devil Rays in 2003. His seasons in Seattle included the only four playoff appearances in the Mariners' 39-year history, with rosters including Griffey, Randy Johnson, Alex Rodriguez and later Suzuki.
Griffey has spent the week in Cooperstown, preparing to be inducted to the National Baseball Hall of Fame in a 1:30 p.m. ET ceremony on Sunday. The Mariners are giving broadcaster Rick Rizzs, trainer Rick Griffin, hitting coach Edgar Martinez and longtime radio producer Kevin Cremin a day off from their series finale in Toronto to go see Griffey's induction. But McLaren will be in Pittsburgh with the Phillies.
"Just talking to one of the Japanese reporters yesterday about Griffey going into the Hall of Fame, I was sorry I wasn't going to be able to be there. It'd mean a lot to me, being around Kenny," McLaren said. "Such a special person and player and everything. I wish the world I could be there."
Fifteen and 21 years, respectively, removed from the Mariners' magic but tragic 2001 and 1995 seasons, McLaren sometimes catches himself thinking about what could have been.
"Just if Ichiro and Griffey and A-Rod and Randy Johnson could have all played in their prime together," McLaren said. "It would've been spectacular."
About half an hour before Griffey's ceremony gets underway in Cooperstown, the first pitch will be thrown in the Marlins' series finale with the Mets at Marlins Park, with Ichiro four hits away from 3,000.
"I caught myself. I said I'd like to be there for Ichiro," McLaren said, continuing to describe his conversation with the Japanese reporter. "But I said, 'Ah, I'm not so sure about this now. He might play another 10 years.' Then it takes another five years on top of that."
Evan Webeck is a reporter for MLB.com based in Philadelphia.