Eflin surprises kids at annual CBP sleepover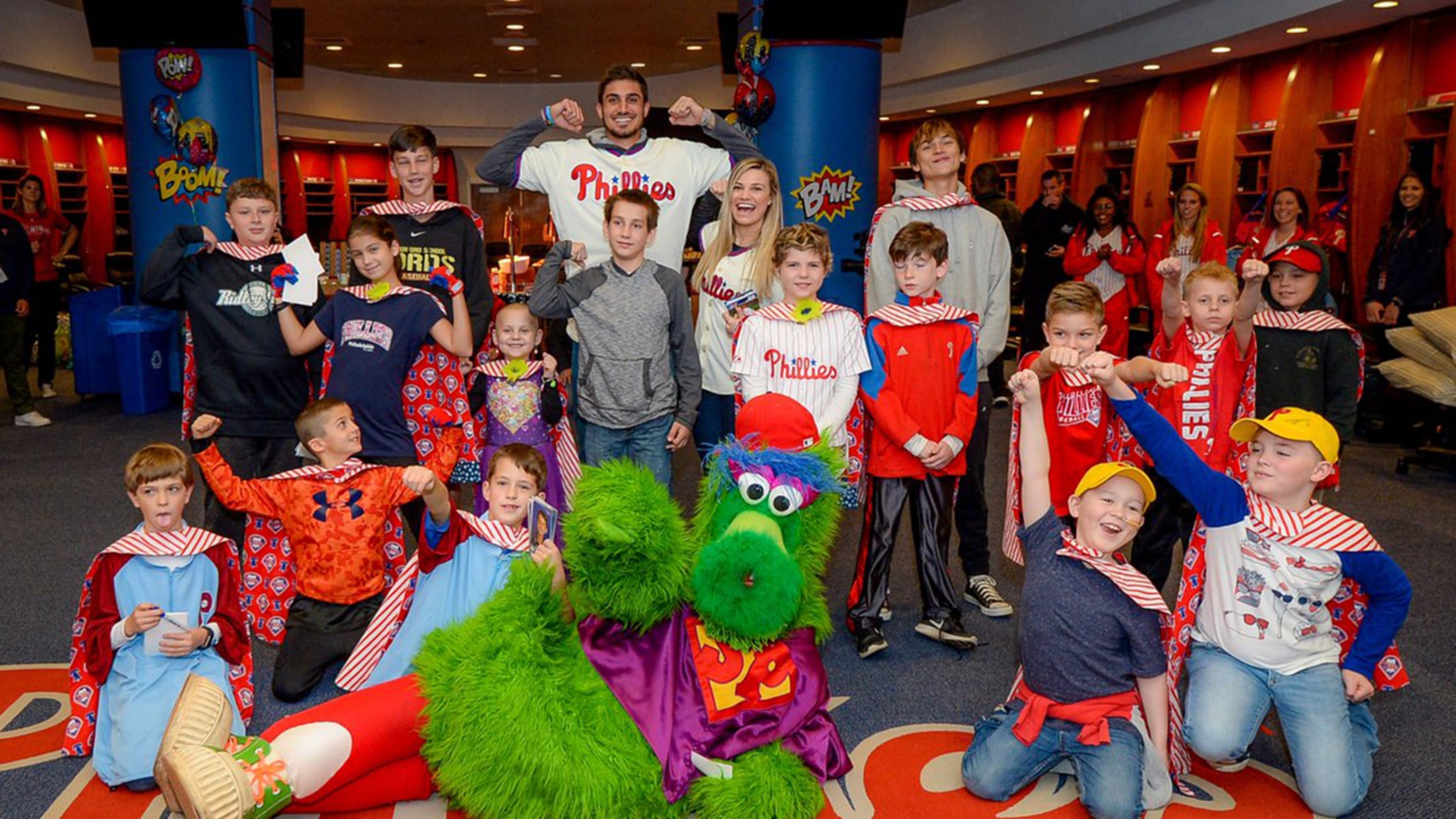 Zach Eflin poses with kids inside the home clubhouse at Citizens Bank Park. (Phillies)
PHILADELPHIA -- Zach Eflin, Gabe Kapler and Matt Klentak surprised eight children taking a break from their cancer treatments and other illnesses with family and friends to attend the annual sleepover Friday night at Citizens Bank Park.The children came from area hospitals, including Nemours, CHOP and St. Christopher's, or were
PHILADELPHIA -- Zach Eflin, Gabe Kapler and Matt Klentak surprised eight children taking a break from their cancer treatments and other illnesses with family and friends to attend the annual sleepover Friday night at Citizens Bank Park.
The children came from area hospitals, including Nemours, CHOP and St. Christopher's, or were part of the Kisses for Kyle organization. The event started in 2014 when a Phillies Charities auction winner donated a sleepover in the clubhouse to children in area hospitals.
Kapler, the Phillies' new manager, put the children on his lineup card. Right-hander Eflin, his girlfriend Lauren Dennen and general manager Klentak met and hung out with the children, who each got a locker in the clubhouse. They hit in the batting cages before enjoying a pizza party with the Phanatic, watched movies, played miniature golf and had a scavenger hunt.
Last night, several children got a much-needed break from their cancer treatments and other ailments by having a sleepover in the Phillies Clubhouse with their best friends and family members! #PhilliesHolidays pic.twitter.com/55DCYv6988

— Philadelphia Phillies (@Phillies) November 18, 2017
"Pediatric cancer runs throughout my family a little bit," said Eflin, whose sister Ashley battled leukemia before dying of pneumocystis pneumonia. "It's very near and dear to my heart. It's just a feeling that I have that I need to honor my sister and be there for these kids."
The Phillies also handed out superhero capes inspired by Brooke Mulford, who attended the first sleepover in 2014. Her leukemia progressed last spring, so the Phillies invited her to help plan this year's sleepover. Sadly, Brooke died in June at 12 years old.
"I was told at a very young age that life obviously in the hospital is not easy," Eflin said. "Sometimes these kids don't even get to see the light of day for a couple weeks at a time. Any smile counts, in my opinion. I just want to deliver as many smiles as I can and get those hearts beating."