What to know: Phillies 2020 offseason FAQ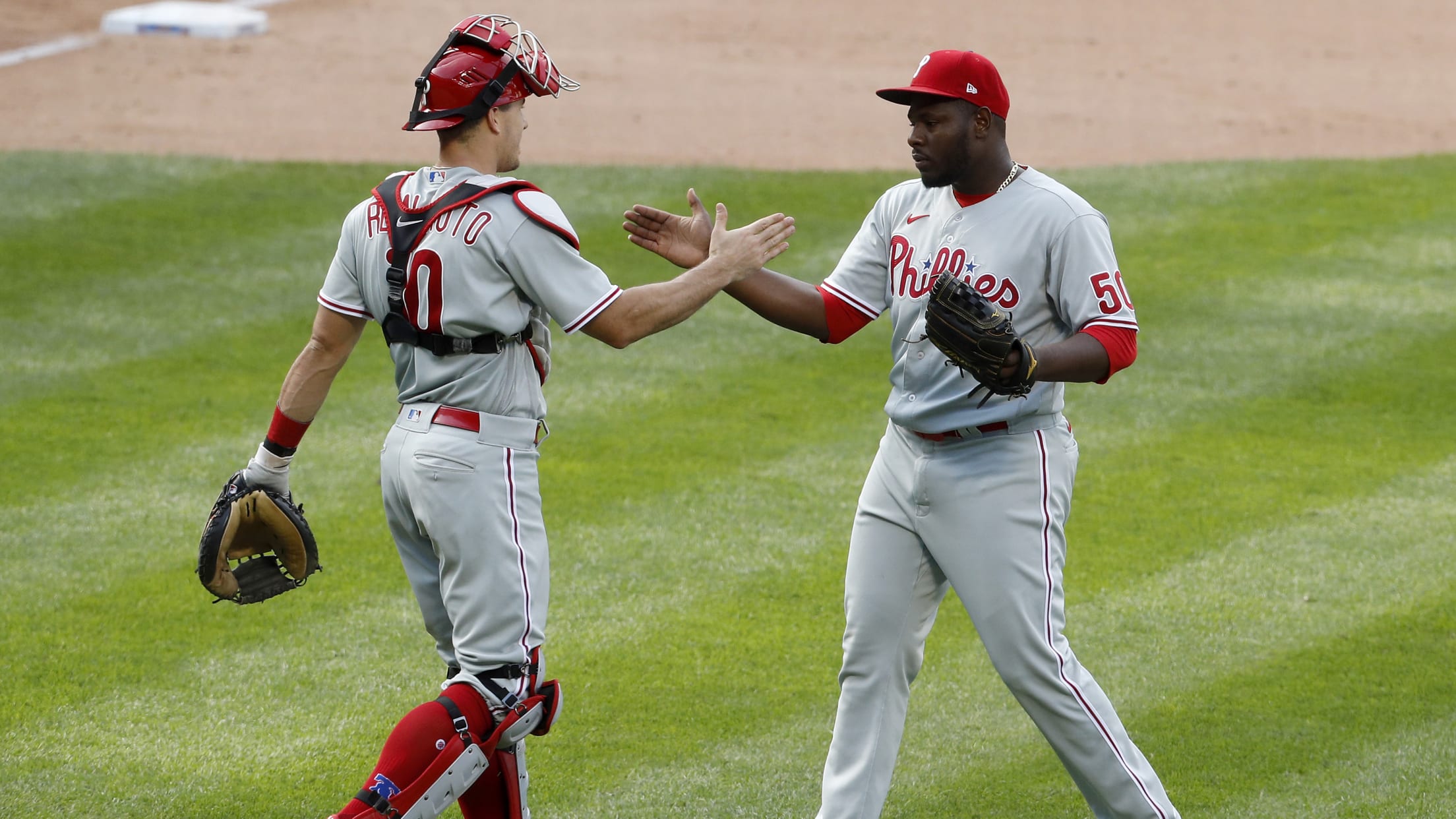 PHILADELPHIA -- If you watched the Braves play the Marlins in the National League Division Series, you might have wondered how the Phillies can make enough improvements to pass them next season in the NL East standings. They have plenty of work to do this offseason. Here are some things
PHILADELPHIA -- If you watched the Braves play the Marlins in the National League Division Series, you might have wondered how the Phillies can make enough improvements to pass them next season in the NL East standings.
They have plenty of work to do this offseason. Here are some things to know before it begins:
Which players are free agents?
The Phillies have nine players eligible for free agency: Jake Arrieta, Jay Bruce, David Phelps, Tommy Hunter, José Álvarez, David Robertson, Brandon Workman, Didi Gregorius and J.T. Realmuto.
Philadelphia has a $12 million club option on Robertson (with a $2 million buyout) and a $4.5 million club option on Phelps (with a $250,000 buyout). It will exercise the buyout on Robertson. It probably should take the buyout on Phelps. After joining the club at this year's Trade Deadline, he had a 12.91 ERA in 10 appearances. But even acknowledging that Phelps is much, much better than that, he signed free-agent deals for $2.5 million in 2019 and $1.5 million in '20. It is hard to imagine he gets $4.5 million from somebody else, especially in this market.
Are any of them likely to receive qualifying offers? When is the deadline?
Realmuto is a lock to receive a one-year, $18.9 million qualifying offer, which must be made no later than five days following the final game of the World Series. Realmuto has 10 days to accept or reject the offer.
He will reject it. If he accepts it, he is no longer a free agent and is signed to a one-year deal with the Phillies. Realmuto is eyeing a record-shattering contract for a catcher, perhaps in the $200 million range. If he rejects the qualifying offer and signs elsewhere, the Phils will receive Draft pick compensation. It will be a small consolation prize, especially if they watch Miami's Sixto Sánchez pitch against them for the next several years.
Regardless, the club is not optimistic that Realmuto will return.
"Can you tell me what the governor and the mayor of Philadelphia are going to allow us to have next year in the way of fans?" Phillies managing partner John Middleton said. "Because if you do, you know something that I don't. So I have no idea what we're going to be allowed. Obviously, that will determine our revenues, and revenues determine what you can do and what you can't do."
In normal times, the Phillies could make a qualifying offer to Gregorius, but they might not believe he will get more than $18.9 million on the open market. They could roll the dice and try to re-sign him for less. Every dollar counts this offseason.
Which players are eligible for salary arbitration?
The Phillies have 11 players eligible for salary arbitration: Blake Parker, Heath Hembree, Vince Velasquez, Héctor Neris, Adam Morgan, Phil Gosselin, Zach Eflin, Andrew Knapp, David Hale, Rhys Hoskins and Seranthony Domínguez.
Who might be non-tender candidates, and when do the Phillies have to make that decision?
It might be better to ask: Who are the best bets to be tendered contracts before the Dec. 2 deadline?
Eflin and Hoskins are locks. Neris, Knapp and Domínguez are safe bets. The Phillies have a $7 million club option on Neris. They could decline it and try to re-sign him for less.
Velasquez might be on the bubble. He made $3.6 million this season, but the Phils could go in another direction, even though they are remarkably short on starting pitching depth. Hale made only $800,000 this season, so he might be somebody to consider as a relatively inexpensive option to provide bullpen depth. But Hale was a long man this season in Philadelphia. Perhaps its money would be better spent elsewhere.
Left-hander Morgan just had surgery to repair the flexor tendon in his left elbow. He will be sidelined for six to nine months, making him a likely non-tender. Parker, Hembree and Gosselin fit in that category, too.
When is the deadline to add players to the 40-man roster to protect them from the Rule 5 Draft?
Nov. 20.
What kind of help do they need, and will they be active in free agency? Who might they target?
The Phillies need a lot of help and they probably will not be spending as much as they did last season, when they had the highest payroll in franchise history and one of the top five payrolls in baseball.
Everything seems to start and end with Realmuto, right?
But consider this: Say the Phillies break the bank to keep Realmuto. Then what? They still need a shortstop, one or two starters, an entirely reconstructed bullpen and an outfielder or two. It would take an excellent offseason from their front office to find the correct pieces at the right price.
But who will be making those decisions for Philadelphia? Will it be a new president of baseball operations? Interim general manager Ned Rice with the help of former GM Matt Klentak, who remains with the organization as an advisor? Is team president Andy MacPhail going to be more involved, as Middleton suggested? Will owner Pat Gillick, special assistant Terry Ryan and others be asked to share their opinions? Gillick always had a knack for finding diamonds in the rough. His input should be sought. Ryan made the postseason several times working for the small-market Twins. His input should be sought, too.