Offseason checklist: Phillies' needs and moves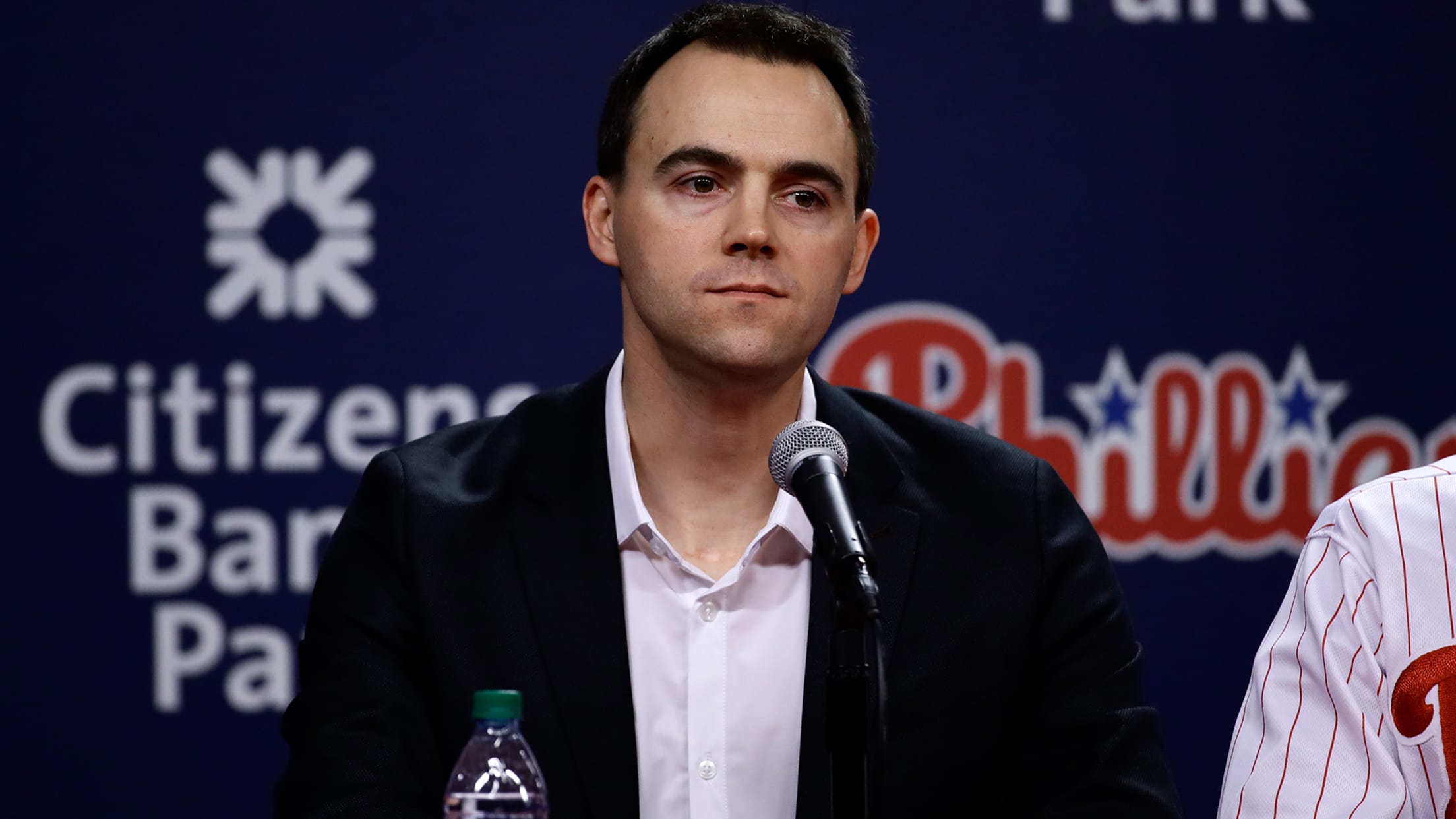 PHILADELPHIA -- The pressure is on the Phillies in 2020. They not only need to win, they need to make the postseason. They fell short in 2018 (80-82) and '19 (81-81). Two consecutive late-season collapses cost former manager Gabe Kapler his job. New manager Joe Girardi will be tasked with
PHILADELPHIA -- The pressure is on the Phillies in 2020.
They not only need to win, they need to make the postseason. They fell short in 2018 (80-82) and '19 (81-81). Two consecutive late-season collapses cost former manager Gabe Kapler his job. New manager Joe Girardi will be tasked with taking the Phillies to the postseason for the first time since 2011. But Girardi cannot do it alone. He needs help.
So what are the Phils' biggest needs entering 2020, and what moves must they make to address them? MLB.com is keeping track here. As the offseason continues, be sure to check back for updates:
NEEDS ADDRESSED
Starting pitching
The Phillies and Zack Wheeler agreed to a five-year, $118 million contract on Dec. 4. Aaron Nola and Wheeler become the Phillies' 1-2 punch atop the rotation with Jake Arrieta sliding behind them. Zach Eflin, Vince Velasquez and Nick Pivetta will compete for the remaining two jobs in the rotation with Eflin the presumed favorite for one of those two jobs.
The Phillies could sign a free-agent starter before Spring Training, but anybody would be on a low-end, short-term deal.
Infield
The Phillies and shortstop Didi Gregorius agreed to a one-year, $14 million contract, settling their infield situation. Gregorius will play shortstop. Jean Segura and Scott Kingery will play second and third base, although who plays where remains to be seen. But the Phillies believe their infield will be better next year, regardless of how it lines up.
NEEDS LEFT TO FILL
The bullpen
The Phillies suffered a rash of injuries to their bullpen in 2019, leaving them with few locks to make the 'pen on Opening Day. (Héctor Neris and José Álvarez could be the only two.) Vìctor Arano, Seranthony Domínguez, Adam Morgan and David Robertson each finished the season with injured elbows. The Phils believe Arano, Domínguez and Morgan will be ready by the spring. Robertson, however, could miss the entire season following Tommy John surgery. In short, Philadelphia probably cannot find enough bullpen help this offseason. Somebody like Velasquez or Pivetta could move to the bullpen, if they're not in the rotation.
The bench
The Phillies said they might try to add a bench player or two before Spring Training. They probably need at least one infielder.
MOVES MADE
Dec. 20: Phillies announce Mahtook invited to camp
The Phillies announced that outfielder Mikie Mahtook signed a Minor League contract with an invite to Spring Training. Mahtook, 30, spent most of last season with Triple-A Toledo (Detroit), where he slashed .260/.357/.492. He has spent parts of five seasons with the Rays and Tigers.
Dec. 13: Phillies sign Gregorius
The Phillies targeted Didi Gregorius at the beginning of the offseason, and they like what they got. He struggled last season with the Yankees following Tommy John surgery, slashing .238/.276/.441 with 16 home runs and 61 RBIs in 344 plate appearances. But Gregorius posted a combined .812 OPS with a 114 OPS+ over the previous two seasons in New York. The Phillies believe he will return to form in 2020.
Dec. 13: Szczur invited to camp
Villanova alumnus Matt Szczur signed a Minor League contract with an invite to big league camp. He can play all three outfield positions.
Dec. 12: Phillies bring back Gosselin
The Phillies are looking for utility players, and they brought back West Chester, Pa., native Phil Gosselin. He signed a Minor League contract with an invite to big league camp. He hit .262 in 68 plate appearances last season for the Phillies.
Dec. 4: Phillies sign Wheeler
Wheeler, 29, went 11-8 with a 3.96 ERA in 31 starts last season with the Mets. In 60 starts over the past two seasons, he had a 3.65 ERA and a 3.37 FIP. Based on FanGraphs and Baseball Reference, Wheeler's WAR either made him the 10th or 19th most valuable pitcher in that span.
Teams love Wheeler's stuff and upside. His four-seam fastball averaged 96.8 mph last season, which ranked fourth among starters (minimum 750 four-seam fastballs thrown). Only Noah Syndergaard (97.8 mph), Gerrit Cole (97.1) and Jacob deGrom (96.9) threw harder. Wheeler's slider averaged 91.2 mph. Only deGrom's slider (92.5 mph) was harder. Both pitches are effective, but Wheeler's curveball was a remarkable weapon last season. The .250 expected slugging percentage (xSLG) against the pitch ranked 14th out of 91 starters (minimum 250 curveballs thrown).
Dec: 2: Hernández and Franco non-tendered
César Hernández and Maikel Franco, two longtime Phillies, were cut loose due to a combination of past performance and projected salaries. It cleared room for the Phillies to sign Gregorius.
Dec. 2: Kelley claimed off waivers from Red Sox
Reliever Trevor Kelley, 26, posted an 8.64 ERA in 10 appearances with Boston in 2019. He compiled a 1.79 ERA in 52 appearances with Triple-A Pawtucket, striking out 63 and walking 21 in 65 1/3 innings. He provides the Phillies bullpen depth for '20.
Nov. 26: Harrison signed to Minor League deal
The Phillies signed veteran utility player Josh Harrison to a Minor League deal with an invitation to Spring Training. A two-time All-Star, Harrison played just 36 games last season with the Tigers because of injuries. He missed two weeks early in the season with a bruised left shoulder before returning on May 13. Harrison strained his left hamstring two weeks later to keep him on the IL for two and a half months.
The 32-year-old has played second base, third base, shortstop and both corner-outfield spots over his nine-year career. Now that rosters have expanded to 26 players, Harrison has a legit chance to make the team coming out of camp.
Nov. 20: Rule 5 protections made
The Phillies added four pitchers -- left-handers JoJo Romero, Garrett Cleavinger and Cristopher Sanchez, as well as right-hander Mauricio Llovera -- to the 40-man roster to protect them from December's Rule 5 Draft.
Romero is the organization's No. 10 prospect, according to MLB Pipeline. Llovera is ranked No. 15, while Cleavinger and Sanchez are not ranked among the Phillies' top 30 prospects. Sanchez was added to the 40-man roster shortly after being acquired from the Rays in exchange for Rookie-level infielder Curtis Mead.
Nov. 4: Arrieta returns, Phils decline options on relievers
Jake Arrieta exercised his $20 million player option to return to the Phillies in 2020. The decision was not a surprising one after Arrieta struggled to a 4.64 ERA over 24 injury-plagued starts before undergoing season-ending surgery to remove a bone spur in his right elbow.
In the bullpen, meanwhile, the Phils declined team options for right-handers Jared Hughes ($250,000 buyout) and Pat Neshek ($750,000 buyout), as well as left-hander Jason Vargas ($2 million buyout).
Oct. 30: Stock claimed off waivers
Right-hander Robert Stock, 29, is a relief pitcher with upside. He had a 2.50 ERA in 32 appearances in 2018 with San Diego. He posted a 10.13 ERA in 10 appearances in 2019 before missing the final three months with a strained right biceps. Stock struck out 53 and walked 21 in 50 1/3 innings over the past two years.
Stock throws a four-seam fastball, slider and changeup. His fastball averaged 97.9 mph last season.