Phillies respond to New Jersey governor
Social media account addresses Christie's comments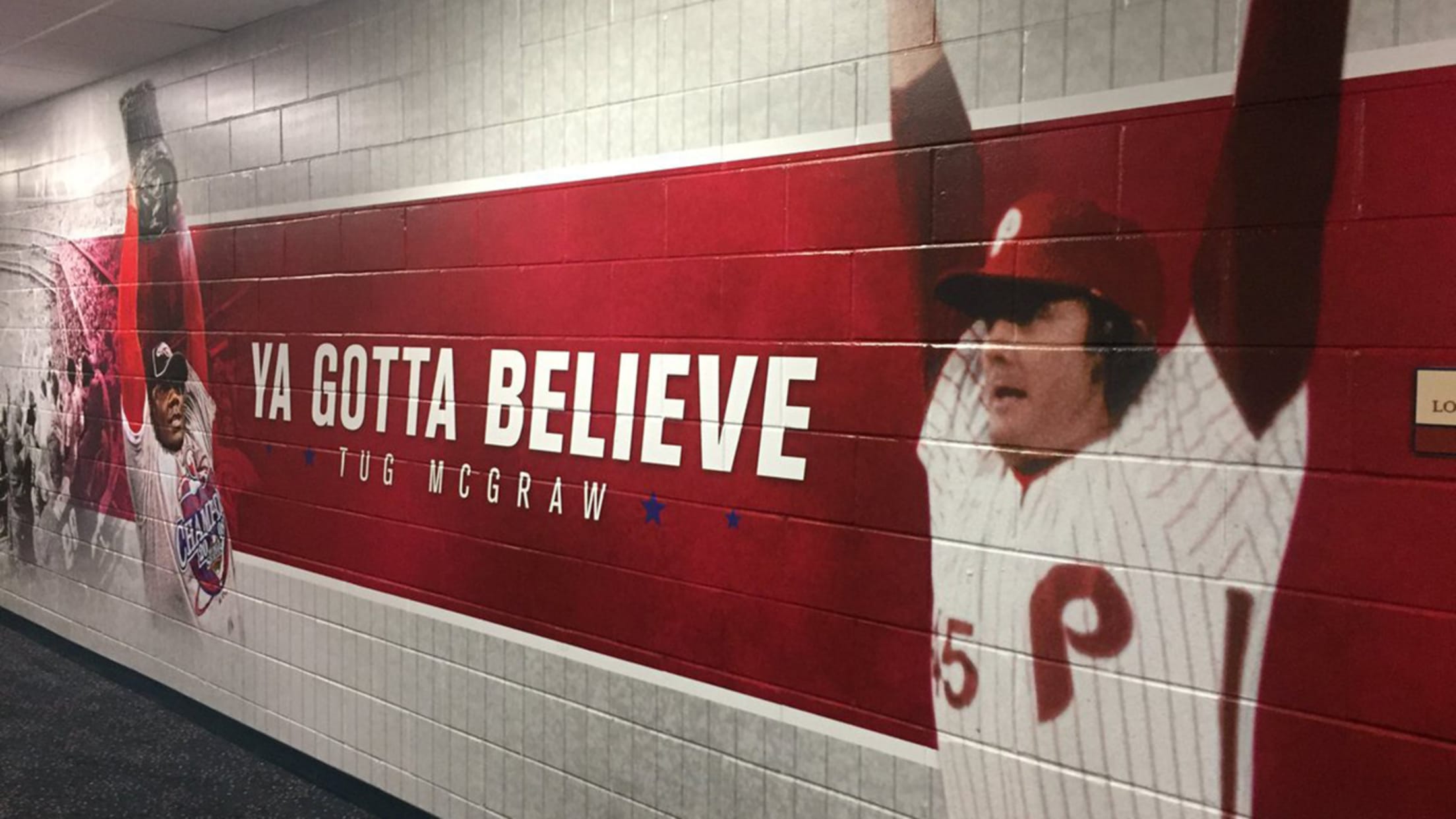 An image of Tug McGraw recording the final out of the 1980 World Series is on a wall near the Phillies' clubhouse. (Todd Zolecki/MLB.com)
CLEARWATER, Fla. -- This is out of control, isn't it?MLB.com tweeted a few photos on Tuesday of the Phillies' upgraded décor at Spectrum Field, their Spring Training venue. In one image, on a wall leading into Philadelphia's clubhouse, are photos of Ryan Howard holding up the 2008 World Series championship
CLEARWATER, Fla. -- This is out of control, isn't it?
MLB.com tweeted a few photos on Tuesday of the Phillies' upgraded décor at Spectrum Field, their Spring Training venue. In one image, on a wall leading into Philadelphia's clubhouse, are photos of Ryan Howard holding up the 2008 World Series championship trophy and Tug McGraw, who recorded the final out of the 1980 Fall Classic, raising his arms in the air.
In between is McGraw's famous quote, "Ya Gotta Believe."
Phillies redecorated the hallway leading into the clubhouse at Spectrum Field. pic.twitter.com/7KN8i5CVq0

— Todd Zolecki (@ToddZolecki) February 14, 2017
Mets fans freaked. The Mets got irked, too, tweeting a response. This is their phrase, they howled.
.@ToddZolecki @Phillies Ya Gotta be Kidding. 🤔

— New York Mets (@Mets) February 14, 2017
National outlets picked up on the fake-news controversy, and New Jersey governor Chris Christie -- a lifelong Mets fan -- took some shots at the Phillies and their fans on a New York sports television show on Wednesday.
"The Phillies [stink]. Let's just start with that," said Christie, who has attended Phillies games at Citizens Bank Park in the past, presumably without incident. "They're from Philadelphia. They're an awful team. They're an angry, bitter fan base and it's not safe for civilized people to go to Citizens Bank Park if you want to root for the other team. Ya gotta believe what? Ya gotta believe we're awful people. That's what ya gotta believe."
The Phillies responded on Thursday, most certainly referring to Christie's Fort Lee bridge scandal.
We love our fans and appreciate their unwavering support as we "bridge" to a bright future!

— Philadelphia Phillies (@Phillies) February 16, 2017
McGraw's "Ya gotta believe!" became the rallying cry for the 1973 Mets, who improbably reached the World Series. The Mets and their fans continue to have a strong affinity for the phrase, although the Tug McGraw Foundation copyrighted it.
On ❤️ Day 85 Tug retired we remember he wanted his YGB spirit 2 lift others His message remains universal on & off the field #YaGottaBelieve pic.twitter.com/aRVS9CWwPE

— TugMcGrawFoundation (@tugmcgraw) February 15, 2017
The Mets traded McGraw to the Phillies in 1974, ending his nine-year career in New York. McGraw played the next 10 seasons in Philadelphia, continuing to say "Ya Gotta Believe!" along the way.
McGraw loved Philly. In fact, during the Phillies' 1980 World Series championship parade, he memorably (and good-naturedly) said, "All through baseball history, Philadelphia has taken a back seat to New York City. Well, New York City can take this world championship and stick it!"
McGraw retired in 1985 and remained in Philadelphia, where he worked in local TV. He also served as a guest instructor for a few years during Phillies Spring Training before he died of brain cancer in 2004. His memoir, published after his death, is titled "Ya Gotta Believe!"
The Phillies memorialized McGraw's contributions to the organization by placing a plaque of him with "Ya Gotta Believe!" in the Phillies' bullpen at Citizens Bank Park.