Ervin trying to make OF decision difficult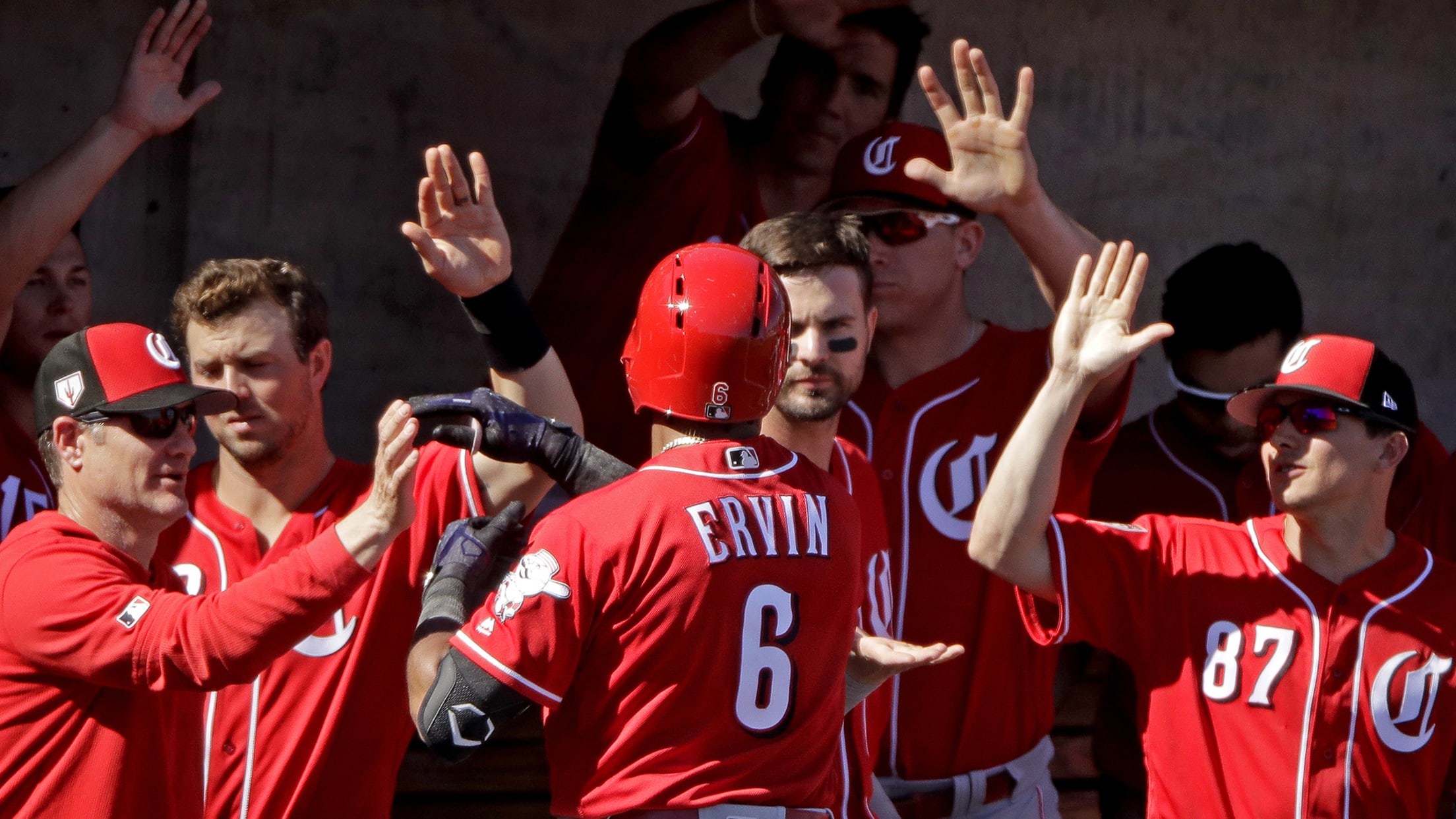 SCOTTSDALE, Ariz. -- Phillip Ervin knows he is making the roster puzzle of Reds' outfielders harder to solve, and he doesn't mind that one bit. "I really would hope so," Ervin said on Monday. "I just came here to try to prove I can play here. That's what I'm doing."
SCOTTSDALE, Ariz. -- Phillip Ervin knows he is making the roster puzzle of Reds' outfielders harder to solve, and he doesn't mind that one bit.
"I really would hope so," Ervin said on Monday. "I just came here to try to prove I can play here. That's what I'm doing."
Ervin, 26, leads the Cactus League with five spring home runs and his 31 total bases leads the team. After he went 2-for-4 with a sharply hit double down the left-field line during Monday's outing to the Rockies, he is batting .361 with eight RBIs.
Cincinnati made Ervin's path to making the club much more difficult after December's seven-player trade that brought All-Star corner outfielders Yasiel Puig and Matt Kemp from the Dodgers. Add in left fielder Jesse Winker while Nick Senzel and Scott Schebler compete to win the starting center fielder's job, and that's a really crowded outfield.
"It makes the team better, and that's what I'm for," Ervin said of the trade. "I feel like it makes me be better because I have to compete and obviously get better to make the team. I'm not really worried about it. [I felt] if I come here and do what I'm supposed to do, everything will fall into place."
How it all falls into place with one week remaining in Spring Training remains a mystery, but Reds manager David Bell has been very impressed.
"Not only the spring he's had, but he's been a part of this team in years past," Bell said. "We know what he can do. He's only helped his cause by the spring he's had. We've liked everything we've seen. He's certainly in the mix."
Ervin batted .252/.324/.404 with seven homers and 31 RBIs in 78 big league games over three stints with the Reds last season. Under the direction of new hitting coach Turner Ward and assistant hitting coach Donnie Ecker, he's been able to access his power during camp like he hadn't before.
"What is different is they helped me with my stance and understanding my hips a little better," Ervin said. "I'm staying through the ball a little more. I guess my [swing] path is a little cleaner."
Ervin's biggest shortcoming last season was defensively in both left and right field. He often took poor routes to balls and missed the cutoff man with his throws. He's dedicated himself to improving, and it showed in the 6-3 loss against Rockies on Monday with a nice catch at the left-field wall to take a hit from Charlie Blackmon in the fourth inning. Blackmon settled for a sacrifice fly.
"I put myself in difficult situations in practice that may be more difficult than game situations," Ervin said. "I play extra shallow during BP so I can try work on my range. I might get burned on some balls in BP, but I am trying to learn my range and work on my routes.
"I'm using a smaller infield glove when shagging. It makes me focus on the ball more. There's less room for error. I have to catch it with the really small pocket. Hopefully, when I use my big glove, it's easier."
The paths for Ervin to make the team – short of an injury – would be for the club to carry five outfielders or go with a five-man bench. Ervin's chances would also improve if Senzel – the organization's No. 1 prospect – did not make the club with Schebler named the center fielder. With Kemp also lacking a defined role, the Reds could also explore moving the left fielder in a trade to an outfield-deprived club after the very nice Spring Training he's had.
"He's here. We know him. We like him a lot," Bell said of Ervin. "He's had a great spring. It's tough decisions, but it's a good place to be having the depth and the really solid options that we have in the outfield."
Mark Sheldon has covered the Reds for MLB.com since 2006, and previously covered the Twins from 2001-05. Follow him on Twitter @m_sheldon and Facebook.