Pipeline preview: Benintendi starting to heat up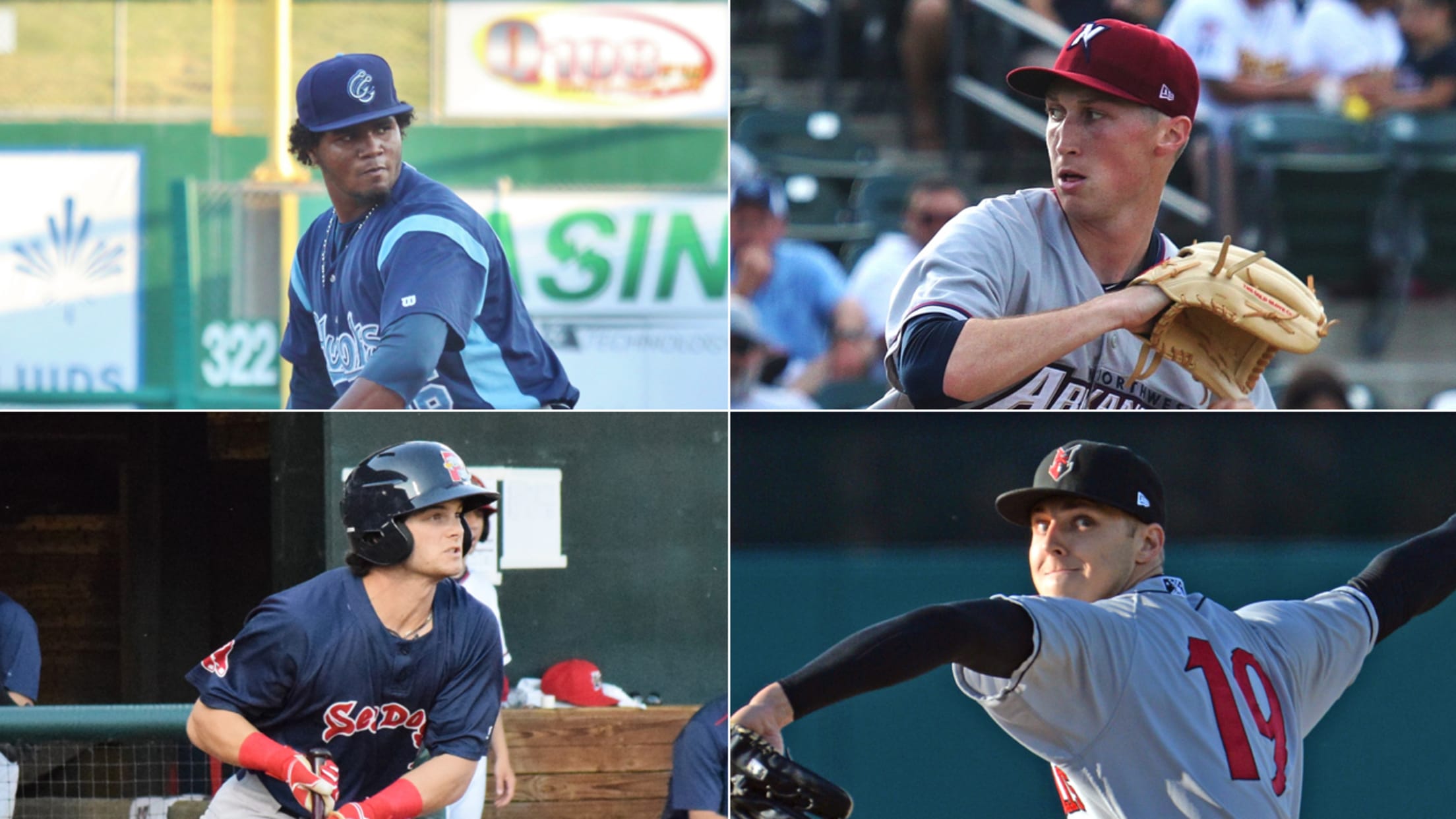 Here's a look at top prospects to watch in today's Minor League action:Hitter to watch: Andrew Benintendi (Red Sox's No. 3)Benintendi, No. 21 on the Top 100, had a remarkable professional debut last summer and then continued to rake at Class A-Advanced Salem to begin 2016, hitting .341/.413/.563 with 21
Here's a look at top prospects to watch in today's Minor League action:
Hitter to watch: Andrew Benintendi (Red Sox's No. 3)
Benintendi, No. 21 on the Top 100, had a remarkable professional debut last summer and then continued to rake at Class A-Advanced Salem to begin 2016, hitting .341/.413/.563 with 21 extra-base hits and 32 RBIs in his first 34 games. But the 2015 No. 7 overall Draft pick's dangerous bat cooled off with a promotion to Double-A Portland in mid-May, as he's hit just .214 (12-for-56) with two extra-base knocks in his first 14 games for the Sea Dogs. The 21-year-old has shown signs of heating up of late, though, collecting multiple hits in three of his past six games, and he'll look to keep it going when Portland squares off against Hartford at 6:05 p.m. ET.
MILB Video - Title: Benintendi drives in two - Url: http://www.milb.com/r/video?content_id=762680583
Pitcher to watch:Jameson Taillon (Pirates' No. 4)
After he missed all of the 2014 and '15 seasons, Taillon has been one of the better pitchers in the Minors this year. The No. 49 overall prospect leads the Triple-A International League in WHIP (0.80) and ranks fifth in ERA (1.79), and he's held opposing hitters to a .194 average while posting a 54:5 strikeout-to-walk ratio in 55 1/3 innings. More so, the 24-year-old right-hander has completed at least six innings in eight of his nine starts and has yet to allow more than three earned runs in any outing. Taillon will look to improve upon those numbers when he takes the mound for Indianapolis against Toledo at 7:05 p.m. ET on MiLB.TV.
MILB Video - Title: Taillon records a strikeout - Url: http://www.milb.com/r/video?content_id=753798783
Duel of the day: Francis Martes (Astros' No. 3) vs. Matt Strahm (Royals' No. 10), Corpus Christi at Northwest Arkansas (8:05 p.m. ET on MiLB.TV)
Martes, 20, got off to a slow start in his return to Double-A Corpus Christi, but the No. 36 overall prospect has started to turn the corner during his past three turns for the Hooks, during which he's allowed three earned runs while striking out eight hitters in 9 2/3 innings. Overall, the right-hander owns a 5.74 ERA and 25:20 strikeout-to-walk ratio in 31 1/3 frames.
MILB Video - Title: Martes finishes six innings - Url: http://www.milb.com/r/video?content_id=582275583
Strahm, meanwhile, will attempt to bounce back after he matched his season-high by allowing four earned runs in six innings against the Hooks in his latest start on May 28. The 24-year-old righty is having a strong showing in his first Double-A exposure, with a 3.00 ERA and a 54:13 strikeout-to-walk ratio in 57 innings (10 starts).
MILB Video - Title: Strahm notches sixth strikeout - Url: http://www.milb.com/r/video?content_id=667437383
Friday's Top 100 prospect probables

No. 31 Dillon Tate (Rangers' No. 3), Hickory at Lakewood (A)
No. 57 Grant Holmes (Dodgers' No. 3), Rancho Cucamonga vs. Lake Elsinore (A-Advanced)
No. 61 Cody Reed (Reds' No. 3), Louisville vs. Rochester (7:05 p.m. ET on MiLB.TV)
No. 74 Jack Flaherty (Cardinals' No. 2), Palm Beach vs. Dunedin (A-Advanced)
More top prospect probables

Beau Burrows (Tigers' No. 2), West Michigan at South Bend (A)
Nate Smith (Angels' No. 3), Salt Lake at Tacoma (AAA)
Reynaldo Lopez (Nationals' No. 5) vs. Kyle Crick (Giants' No. 17), Harrisburg at Richmond (AA)
Taylor Guerrieri (Rays' No. 6), Montgomery at Jacksonville (AA)
Nick Neidert (Mariners' No. 7), Clinton at Beloit (A)
Jharel Cotton (Dodgers' No. 8), Oklahoma City vs. Iowa (AAA)
Casey Meisner (A's No. 9), Stockton vs. Bakersfield (A-Advanced)
Foster Griffin (Royals' No. 9), Wilmington vs. Lynchburg (A-Advanced)
Manny Banuelos (Braves' No. 9), Gwinnett at Durham (AAA)
Nick Travieso (Reds' No. 9), Pensacola at Mobile (AA)
Antonio Senzatela (Rockies' No. 10), Hartford vs. Portland (AA)
Dillon Overton (A's No. 10), Nashville vs. Round Rock (AAA)
Max Fried (Braves' No. 10), Rome at Lexington (A)
Ricardo Pinto (Phillies' No. 10), Reading vs. New Hampshire (AA)
Enyel De Los Santos (Padres' No. 11), Fort Wayne vs. Dayton (A)
Jairo Labourt (Tigers' No. 11), Lakeland vs. Bradenton (A-Advanced)
Travis Lakins (Red Sox's No. 11), Salem vs. Myrtle Beach (A-Advanced)
Zach Eflin (Phillies' No. 13), Lehigh Valley at Charlotte (AAA)
Yohander Mendez (Rangers' No. 13), Frisco vs. Springfield (AA)
Jordan Holloway (Marlins' No. 14), Greensboro vs. Delmarva (A)
Adam Plutko (Indians' No. 15), Akron at Bowie (AA)
Joe Gunkel (Orioles' No. 18), Norfolk vs. Pawtucket (AAA)
Jordan Montgomery (Yankees' No. 19), Trenton vs. Erie (AA)
Elniery Garcia (Phillies' No. 21) vs. Michael Mader (Marlins' No. 24), Clearwater vs. Jupiter (A-Advanced)
Thad Lowry (White Sox No. 21), Winston-Salem vs. Carolina (A-Advanced)
Michael Santos (Giants' No. 22), Augusta vs. West Virginia (A)
Angel Perdomo (Blue Jays' No. 23) vs. Jose Mujica (Rays' No. 26), Lansing vs. Bowling Green (A)
Imani Abdullah (Dodgers' No. 23), Great Lakes vs. Lake County (A)
Sam Howard (Rockies' No. 24), Modesto at High Desert (A-Advanced)
Josh Taylor (D-backs' No. 25), Visalia at San Jose (A-Advanced)
Rob Whalen (Braves' No. 26), Mississippi at Biloxi (AA)
Miguel Diaz (Brewers' No. 27), Wisconsin vs. Kane County (A)