Pipeline preview: Adams toes rubber for Double-A Birmingham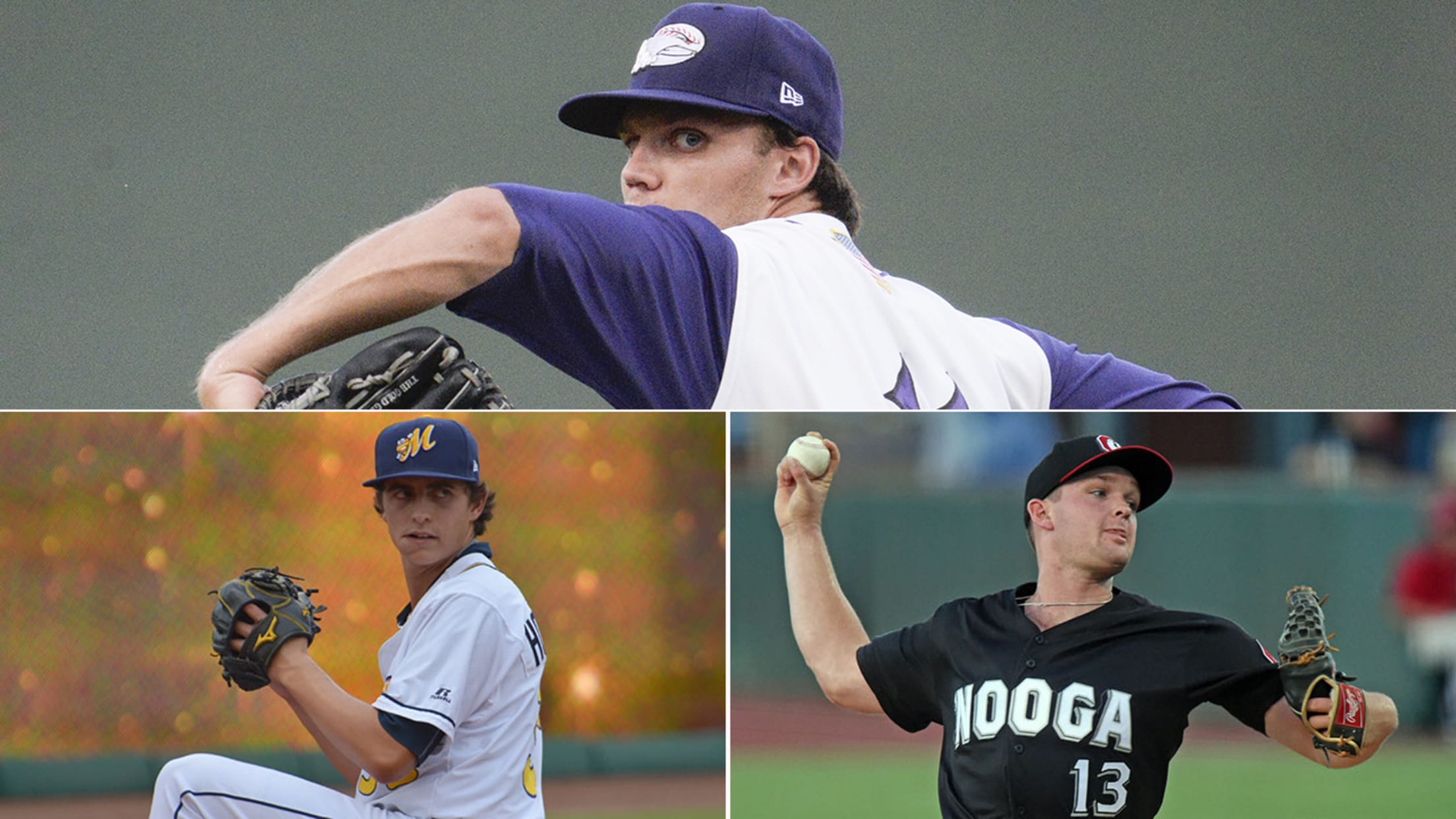 Here's a look at top prospects to watch Friday in Minor League action:Pitcher to watch: Spencer Adams (White Sox No. 3), Birmingham vs. Jackson (8:05 p.m. ET on MiLB.TV)Adams got off to a bit of a shaky start once he was promoted to Double-A, but he appears to have settled
Here's a look at top prospects to watch Friday in Minor League action:
Pitcher to watch: Spencer Adams (White Sox No. 3), Birmingham vs. Jackson (8:05 p.m. ET on MiLB.TV)
Adams got off to a bit of a shaky start once he was promoted to Double-A, but he appears to have settled down. Over his past two starts, the 20-year-old has surrendered two earned runs across 13 innings. Adams picked up his first win with Birmingham in his last start, giving up just an unearned run on four hits in seven frames.
Duel of the Day: Brent Honeywell (Rays' No. 2) vs. Kohl Stewart (Twins' No. 5), Montgomery vs. Chattanooga (7:55 p.m. ET)
Honeywell, the No. 46 overall prospect, got off to a fast start in Double-A, allowing two earned runs or fewer in each of his first five starts. However, the right-hander has been tagged for a total of seven runs over his past two starts (11 total innings). Honeywell has an ERA of 4.00 in three August starts, his highest of any month this season, but that's hardly cause for concern as the right-hander has posted a 2.43 ERA across 17 total starts and two levels this season.
Stewart struggled with command in his last start, walking five in 4 2/3 innings, but prior to that he'd gone five consecutive starts allowing two earned runs or fewer. The Twins' prospect has posted a 3.25 ERA in 72 innings since he was promoted to Double-A and a 2.98 ERA in 123 2/3 innings overall this year.
Friday's Top 100 probables:

No. 40 Josh Hader (Brewers' No. 4), Colorado Springs vs. El Paso (Triple-A)
No. 46 Brent Honeywell (Rays' No. 2), Montgomery vs. Chattanooga (Double-A)
More top prospect probables:

Jaime Schultz (Rays' No. 11), Durham vs. Norfolk (Triple-A)
Shawn Morimando (Indians' No. 13), Columbus vs. Toledo (Triple-A)
Matt Koch (D-backs' No. 20), Reno vs. Memphis (Triple-A)
Zach Lee (Mariners' No. 28), Tacoma vs. Nashville (Triple-A)
Chris Stratton (Giants' No. 26), Sacramento vs. Iowa (Triple-A)
Rob Kaminsky (Indians' No. 19), Akron vs. Bowie (Double-A)
Jason García (Orioles' No. 15), Bowie vs. Akron (Double-A)
Kohl Stewart (Twins' No. 5), Chattanooga vs. Montgomery (Double-A)
Sal Romano (Reds' No. 17), Pensacola vs. Mississippi (Double-A)
Max Povse (Braves' No. 20), Misissippi vs. Pensacola (Double-A)
Daniel Gossett (Athletics' No. 20), Midland vs. Springfield (Double-A)
Brandon Woodruff (Brewers' No. 25), Biloxi vs. Mobile (Double-A)
Ryan Yarbrough (Mariners' No. 13), Jackson vs. Birmingham (Double-A)
Spencer Adams (White Sox No. 3), Birmingham vs. Jackson (Double-A)
Matt Hall (Tigers' No. 22), Lakeland vs. Dunedin (Class A Advanced)
Elniery Garcia (Phillies' No. 20), Clearwater vs. Daytona (Class A Advanced)
Jack Flaherty (Cardinals' No. 4), Palm Beach vs. St. Lucie (Class A Advanced)
Stephen Tarpley (Pirates' No. 17), Bradenton vs. Charlotte (Class A Advanced)
Zach Thompson (White Sox No. 23), Winston-Salem vs. Salem (Class A Advanced)
Alberto Tirado (Phillies' No. 29), Lakewood vs. Delmarva (Class A)
Mike Soroka (Braves' No. 6), Rome vs. Asheville (Class A)
Justin Steele (Cubs' No. 23), South Bend vs. Lansing (Class A)
Miguel Diaz (Brewers' No. 20), Wisconsin vs. Beloit (Class A)
Tyler Phillips (Rangers' No. 27), Spokane vs. Vancouver (Class A Short Season)
Dane Dunning (Nationals' No. 6), Auburn vs. Hudson Valley (Class A Short Season)
Aaron Civale (Indians' No. 18), Mahoning Valley vs. Batavia (Class A Short Season)
Logan Shore (Athletics' No. 14), Vermont vs. West Virginia (Class A Short Season)
Matt Krook (Giants' No. 20), Salem-Keizer vs. Hillsboro (Class A Short Season)
Hansel Rodriguez (Padres' No. 19), Tri-City vs. Everett (Class A Short Season)
Brandon Miller (Mariners' No. 29), Everett vs. Tri-City (Class A Short Season)
Garrett Davila (Royals' No. 20), Burlington vs. Elizabethton (Rookie)
Joey Wentz (Braves' No. 7), Danville vs. Greenville (Rookie)