Pipeline preview: Adams looks to go 14-0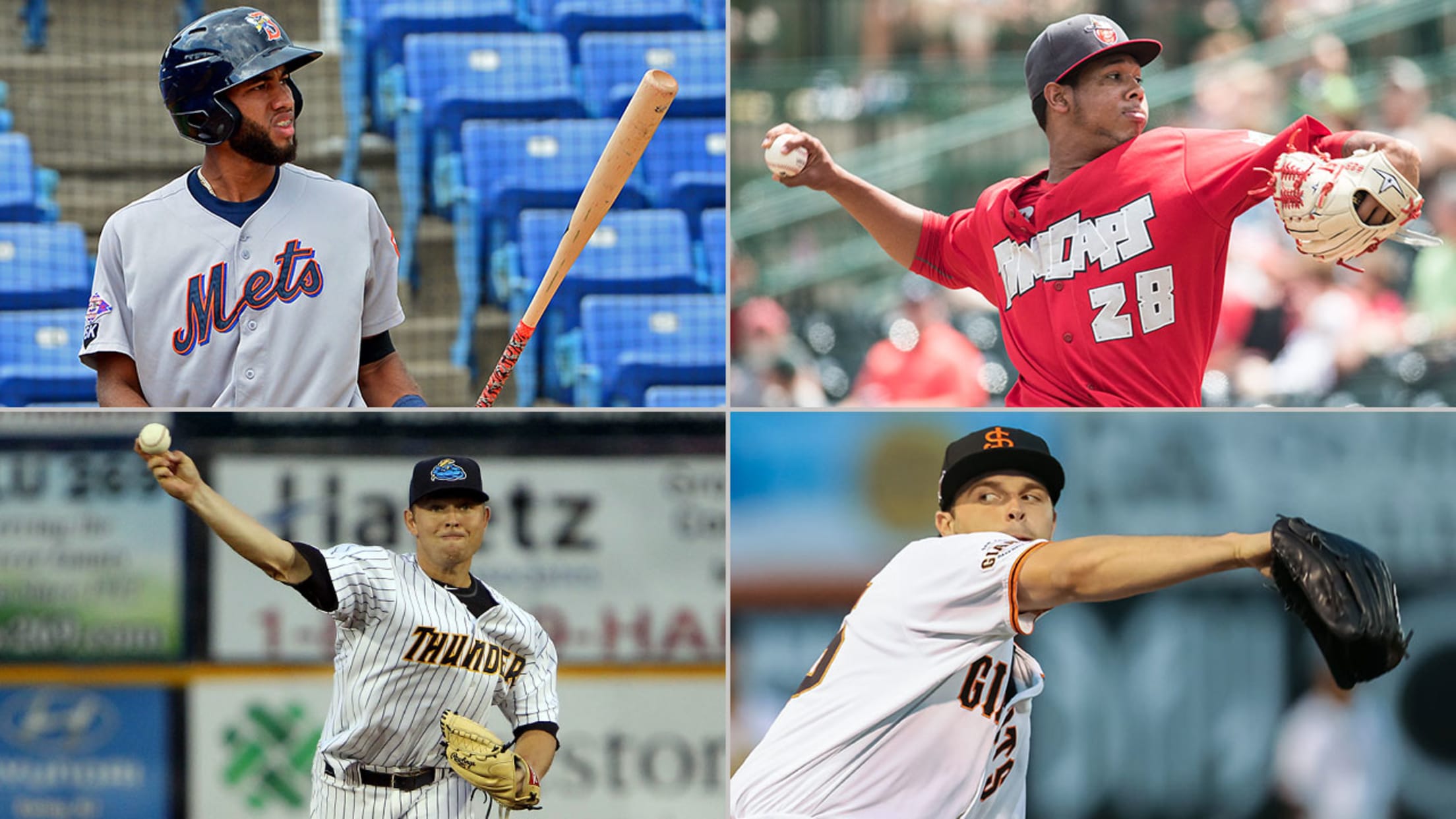 Here's a look at top prospects to watch Thursday in Minor League action:Hitter to watch: Amed Rosario (Mets' No. 1), Binghamton vs. Reading (6:35 p.m. ET on MiLB.TV)The No. 16 overall prospect continues to rake since his promotion to Double-A. Rosario is hitting .364 in 31 games with Binghamton and
Here's a look at top prospects to watch Thursday in Minor League action:
Hitter to watch: Amed Rosario (Mets' No. 1), Binghamton vs. Reading (6:35 p.m. ET on MiLB.TV)
The No. 16 overall prospect continues to rake since his promotion to Double-A. Rosario is hitting .364 in 31 games with Binghamton and went 3-for-4 on Wednesday, marking his 11th three-hit game of the season across two levels.
Pitcher to watch: Anderson Espinoza (Padres' No. 1), Fort Wayne vs. Bowling Green (7:05 p.m. ET)
The No. 19 overall prospect looks to extend his scoreless streak after throwing five clean frames in his last trip to the mound. The 18-year-old is 0-1 with a 4.26 ERA through three starts since being traded to the Padres' organization, but he is trending in the right direction. Espinoza has pitched deeper into games, and allowed fewer hits, in each subsequent start.
Duel of the Day: Chance Adams (Yankees' No. 14) vs. Andrew Suarez (Giants' No. 8), Trenton vs. Richmond (7 p.m. ET on MiLB.TV)
Adams just keeps on winning. The Yankees' prospect is 13-0 this season and hasn't given up a run in either of his past two starts. Even aside from that pair of outings, offenses have had a tough time scoring against the 22-year-old in general. Adams has posted a 1.91 ERA in 10 starts since he was promoted to Double-A and has a 2.28 ERA through 22 starts across two levels this year.
Like Adams, Suarez has made winning a habit as well. The 23-year-old lefty has won each of his past three decisions and hasn't lost since July 2. Over his past two starts, Suarez has given up just two earned runs over 13 innings.
Thursday's Top 100 probables:

No. 19 Anderson Espinoza (Padres' No. 1), Fort Wayne vs. Bowling Green (Class A)
No. 55 Sean Newcomb (Braves' No. 3), Mississippi vs. Jacksonville (Double-A)
More top prospect probables:

Jacob Faria (Rays' No. 5), Durham vs. Pawtucket (Triple-A)
Rookie Davis (Reds' No. 7), Louisville vs. Charlotte (Triple-A)
A.J. Cole (Nationals' No. 14), New Hampshire vs. Bowie (Double-A)
Tyler Alexander (Tigers' No. 7), Erie vs. Portland (Double-A)
Chance Adams (Yankees' No. 14), Trenton vs. Richmond (Double-A)
Andrew Suarez (Giants' No. 8), Richmond vs. Trenton (Double-A)
Tyler Mahle (Reds' No. 6), Pensacola vs. Tennessee (Double-A)
Jordan Guerrero (White Sox No. 10), Birmingham vs. Chattanooga (Double-A)
Heath Fillmyer (Athletics' No. 19), Mobile vs. Montgomery (Double-A)
Garrett Whitley (Rays' No. 8), Montgomery vs. Mobile (Double-A)
Josh Staumont (Royals' No. 11), Northwest vs. Corpus Christi (Double-A)
Chris Flexen (Mets' No. 30), St. Lucie vs. Bradenton (Class A Advanced)
Foster Griffin (Royals' No. 16), Wilmington vs. Frederick (Class A Advanced)
Enyel De Los Santos (Padres' No. 16), Lake Elsinore vs. Rancho Cucamonga (Class A Advanced)
Jake Jewell (Angels' No. 14), Inland Empire vs. Lancaster (Class A Advanced)
Ryan Borucki (Blue Jays' No. 17), Lansing vs. West Michigan (Class A)
Sandy Baez (Tigers' No. 16), West Michigan vs. Lansing (Class A)
Mike Soroka (Braves' No. 6), Rome vs. Hickory (Class A)
Oscar De La Cruz (Cubs' No. 7), South Bend vs. Dayton (Class A)
Jesus Tinoco (Rockies' No. 23), Asheville vs. Hagerstown (Class A)
Ofelky Peralta (Orioles' No. 13), Delmarva vs. West Virginia (Class A)
Gage Hinsz (Pirates' No. 20), West Virginia vs. Delmarva (Class A)
Triston McKenzie (Indians' No. 7), Lake County vs. Great Lakes (Class A)
Yadier Alvarez (Dodgers' No. 7), Great Lakes vs. Lake County (Class A)
Nick Neidert (Mariners' No. 4), Clinton vs. Burlington (Class A)
Dakota Chalmers (Athletics' No. 10), Vermont vs. Brooklyn (Class A Short Season)
Aaron Civale (Indians' No. 18), Mahoning Valley vs. Batavia (Class A Short Season)
Kyle Funkhouser (Tigers' No. 6), Connecticut vs. Auburn (Class A Short Season)
Mike Shawaryn (Red Sox No. 22), Lowell vs. Tri-City (Class A Short Season)
Dylan Cease (Cubs' No. 4), Eugene vs. Salem-Keizer (Class A Short Season)
Eric Lauer (Padres' No. 9), Tri-City vs. Lowell (Class A Short Season)
Jose Espada (Blue Jays' No. 20), Bluefield vs. Pulaski (Rookie)