Pipeline preview: Dahl ready for more Triple-A exposure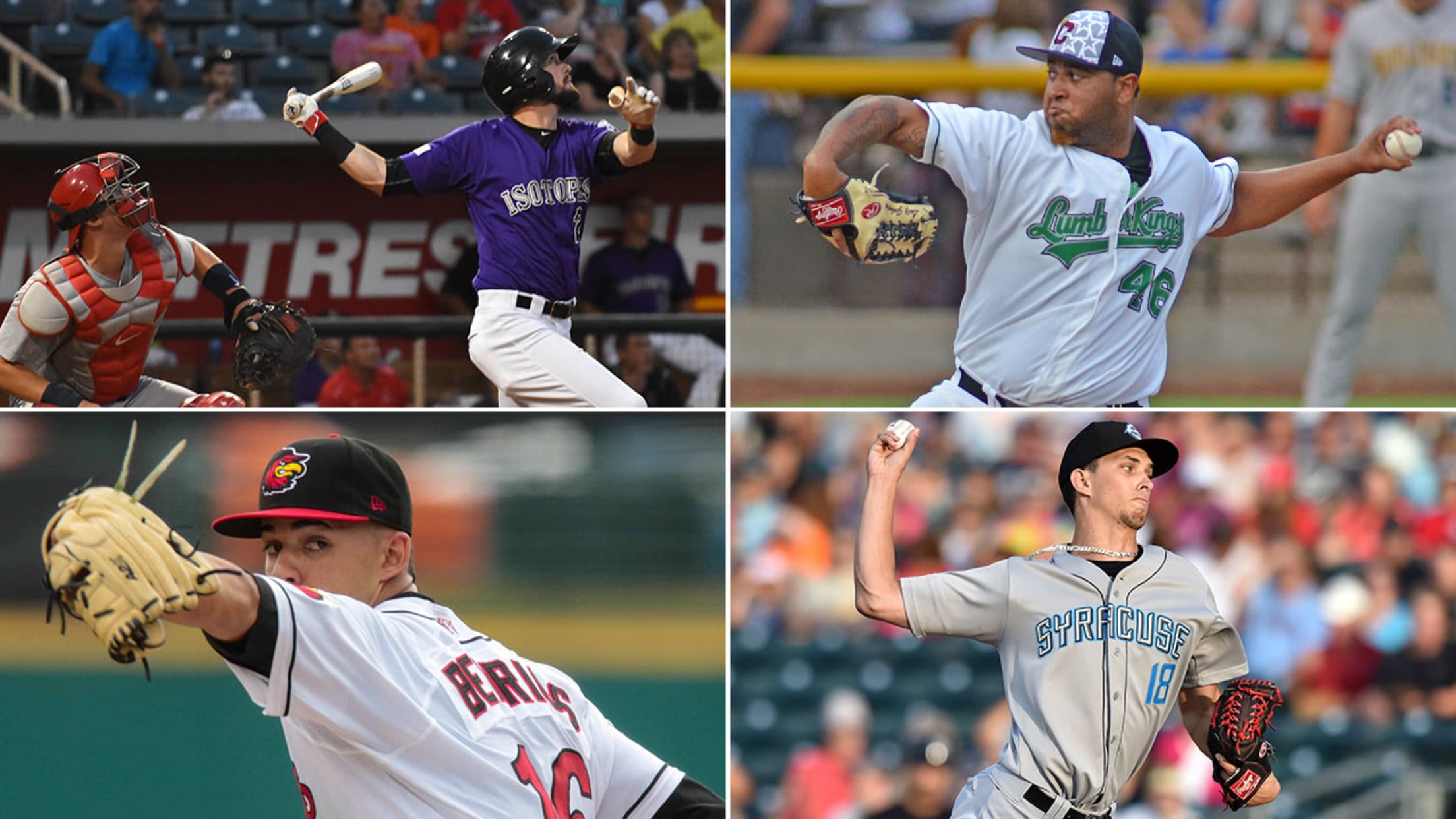 Here's a look at top prospects to watch in Friday's Minor League action:Hitter to watch: David Dahl (Rockies No. 2, Albuquerque at Fresno (10:05 p.m. ET on MiLB.TV)Dahl, the No. 40 overall prospect, has torn up the Pacific Coast League over his first 14 games at Triple-A. The lefty-batting center
Here's a look at top prospects to watch in Friday's Minor League action:
Hitter to watch: David Dahl (Rockies No. 2, Albuquerque at Fresno (10:05 p.m. ET on MiLB.TV)
Dahl, the No. 40 overall prospect, has torn up the Pacific Coast League over his first 14 games at Triple-A. The lefty-batting center fielder has picked up at least one hit in every contest since his promotion from Double-A Hartford, posting a robust line of .491/.542/.943 with five doubles, two triples, five home runs and 16 RBIs. The 10th overall pick of the 2012 Draft, Dahl enters Friday with a .962 OPS and 18 homers on the season. He is scheduled to face Grizzlies righty Mike Hauschild, who owns a 2.81 ERA in 17 starts.
Pitcher to watch: Luiz Gohara (Mariners No. 4), Clinton at Lansing (7:05 p.m. ET)
Gohara has been dominant in six starts this season, three with short-season Class A Everett and three with Class A Clinton. Overall, the 6-foot-3 lefty owns a 1.69 ERA and a 41-to-9 strikeout-to-walk ratio in 32 innings. Gohara, a native of Brazil, tied a season and career high with nine strikeouts over six innings in his last outing and will take the mound on Friday nine days shy of his 20th birthday.
Duel of the day: José Berríos (Twins' No. 1) vs. A.J. Cole (Nationals' No. 7), Rochester vs. Syracuse (7:05 p.m. on MiLB.TV)
Berrios, the No. 15 overall prospect, hasn't pouted about returning to Triple-A after a four-start stint with the Twins. In 11 outings since then, the 22-year-old righty has posted a 2.74 ERA, striking out more than a batter per inning and holding opponents to a .207 average. Berrios is coming off a gem against Norfolk, in which he allowed four hits and racked up nine K's over six scoreless frames.
Cole's ERA stands at 4.53 through 18 starts at Syracuse, but that number would drop by more than a run if not for two particularly rocky outings. One of those came on July 6 at Durham (3 2/3 innings, seven earned runs), but Cole bounced back last Saturday in a home rematch against the Bulls. The 24-year-old righty allowed only a pair of unearned runs over six frames, walked one and struck out six.
Friday's Top 100 prospect probables

No. 38 Brent Honeywell (Rays' No. 2), Montgomery at Birmingham (8:05 p.m. ET on MiLB.TV)
No. 77 Kolby Allard (Braves' No. 4), Rome vs. Lexington (7 p.m. ET on MiLB.TV)
More top prospect probables
Beau Burrows (Tigers' No. 1) vs. Derian Gonzalez (Cardinals' No. 30), Peoria at West Michigan (Class A)
Nate Smith (Angels' No. 3), Salt Lake vs. Tacoma (Triple-A)
Luiz Gohara (Mariners' No. 4), Clinton at Lansing (Class A)
Kyle Freeland (Rockies' No. 7), Albuquerque at Fresno (Triple-A)
Manny Bañuelos (Braves' No. 8), Mississippi at Tennessee (Double-A)
Stephen Tarpley (Pirates' No. 9), Bradenton vs. Daytona (Class A Advanced)
Andrew Moore (Mariners' No. 9), Jackson vs. Chattanooga (Double-A)
Ricardo Pinto (Phillies' No. 10) vs. Sam Howard (Rockies' No. 23), Hartford at Reading (Double-A)
Mike Nikorak (Rockies' No. 11), Grand Junction vs. Billings (Rookie)
Chris Flexen (Mets' No. 12), St. Lucie at Lakeland (Class A Advanced)
Roniel Raudes (Red Sox's No. 12) vs. Cody Poteet (Marlins' No. 17), Greenville at Greensboro (Class A)
Jordan Stephens (White Sox No. 12), Winston-Salem at Potomac (Class A Advanced)
Zack Littell (Mariners' No. 12), Bakersfield at Modesto (Class A Advanced)
Jordan Johnson (Giants' No. 14), San Jose vs. Inland Empire (Class A Advanced)
Anthony Banda (D-backs' No. 14), Reno at Las Vegas (Triple-A)
Andrew Thurman (Braves' No. 16), Carolina at Lynchburg (Class A Advanced)
Max Wotell (Mets' No. 16), Kingsport at Pulaski (Rookie)
Chase De Jong (Dodgers' No. 17), Tulsa at Arkansas (Double-A)
Steven Brault (Pirates' No. 17), Indianapolis vs. Charlotte (Triple-A)
Matt Koch (D-backs' No. 17), Mobile vs. Jacksonville (Double-A)
Josh Staumont (Royals' No. 17), NW Arkansas vs. Springfield (Double-A)
Hansel Rodriguez (Blue Jays' No. 18), Bluefield vs. Burlington (Rookie)
Joan Baez (Nationals' No. 18), Hagerstown vs. Columbia (Class A)
Jaime Schultz (Rays' No. 18), Durham at Scranton/Wilkes-Barre (Triple-A)
Joe Gunkel (Orioles' No. 18), Norfolk vs. Toledo (Triple-A)
Joan Gregorio (Giants' No. 19), Sacramento vs. El Paso (Triple-A)
Trevor Clifton (Cubs' No. 21), Myrtle Beach vs. Wilmington (Class A Advanced)
Rob Whalen (Braves' No. 26), Gwinnett at Buffalo (Triple-A)
Josh Pennington (Red Sox's No. 29), Lowell at Mahoning Valley (Class A Short Season)
Ben Lively (Phillies' No. 30), Lehigh Valley at Louisville (Triple-A)
Jackson Stephens (Reds' No. 30), Pensacola vs. Biloxi (Double-A)