Pipeline preview: Newman set to shine in FSL All-Star Game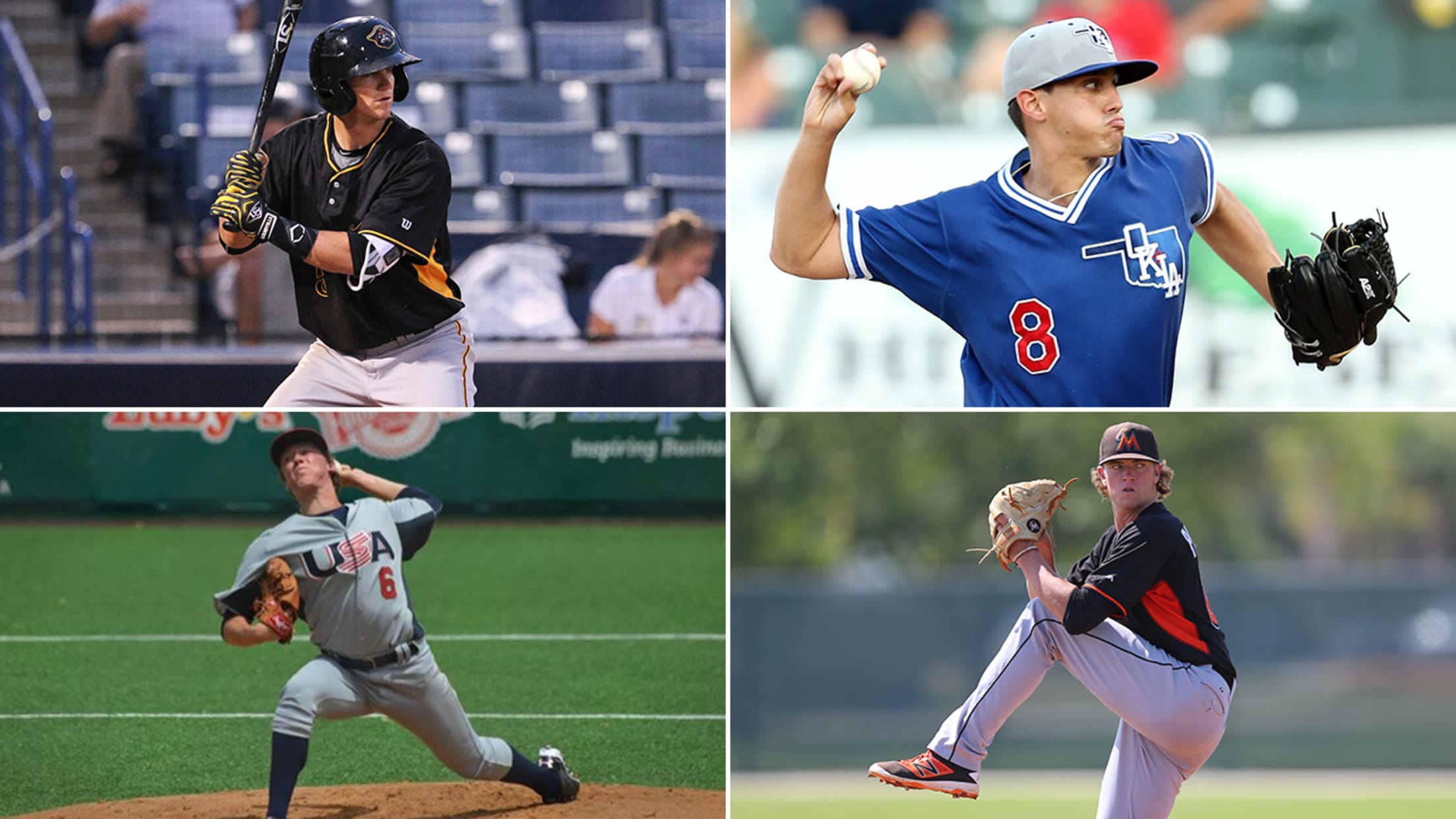 Here's a look at top prospects to watch in today's Minor League action:Hitter to watch: Kevin Newman (Pirates' No. 11), Florida State League All-Star Game (7:05 p.m. ET)Newman was billed as one of the more advanced college hitters in the 2015 Draft class, and he's lived up to that reputation
Here's a look at top prospects to watch in today's Minor League action:
Hitter to watch: Kevin Newman (Pirates' No. 11), Florida State League All-Star Game (7:05 p.m. ET)
Newman was billed as one of the more advanced college hitters in the 2015 Draft class, and he's lived up to that reputation this year in his first full pro campaign by pacing the Florida State League in average (.366), on-base percentage (.428) and OPS (.922) through 41 games at Class A Advanced Bradenton. The 22-year-old shortstop recently was sidelined for a little more than two weeks as the result of a left orbital fracture suffered on May 27, but he returned this week to go 7-for-11 with three extra-base hits and six RBIs in three games ahead of the FSL All-Star break.
Pitcher to watch: Jose De Leon (Dodgers' No. 2), Oklahoma City at New Orleans (7 p.m. ET on MiLB.TV)
Injuries have limited De Leon to just three starts this season for Triple-A Oklahoma City, but the No. 20 overall prospect has been sharp overall, posting a 2.45 ERA and a 0.64 WHIP. Equally impressive is the 23-year-old righty's 21-3 strikeout-to-walk ratio in that span, and he's fanned at least six hitters in each of his three turns for Oklahoma City. On Saturday, De Leon will take on New Orleans for a second time after he racked up nine strikeouts over five scoreless innings against them in his season debut on May 3.
Duel of the day: Kolby Allard (Braves' No. 5) vs. Chris Paddack (Marlins' No. 17), Rome vs. Greensboro (6 p.m. ET on MiLB.TV)
Allard (No. 81 overall) has struggled to begin his full-season debut, allowing 11 earned runs on 13 hits in seven innings (14.14 ERA) between his first two starts for Rome. Paddack, on the other hand, is coming off one of the better performances by any Minor League hurler this season after he struck out a career-high 11 hitters over five no-hit frames for Greensboro on June 12. He's posted a 1.47 ERA and a 31-2 strikeout-to-walk ratio across 18 1/3 innings (four starts) for the Grasshoppers, giving the 2015 eighth-rounder an impressive 70-9 strikeout-to-walk ratio in 63 2/3 innings to begin his career.
Saturday's Top 100 prospect probables

No. 11 Alex Reyes (Cardinals' No. 1), Memphis vs. Iowa (7:35 p.m. ET on MiLB.TV)
No. 17 Sean Newcomb (Braves' No. 2), Mississippi at Birmingham (7:30 p.m. ET on MiLB.TV)
No. 96 Justus Sheffield (Indians' No. 5), Lynchburg at Frederick (A-Advanced)
No. 99 David Paulino (Astros' No. 7) vs. Connor Sadzeck (Rangers' No. 26), Corpus Christi at Frisco (8:05 p.m. ET on MiLB.TV)
More top prospect probables

Jon Harris (Blue Jays' No. 4) vs. Sandy Baez (Tigers' No. 19), Lansing vs. West Michigan (A)
Luiz Gohara* (Mariners' No. 5), Everett at Tri-City (Short Season)
Joe Gatto (Angels' No. 6), Burlington at Peoria (A)
Sam Coonrod (Giants' No. 6) vs. Josh Sborz (Dodgers' No. 18), San Jose vs. Rancho Cucamonga (A-Advanced)
Scott Blewett (Royals' No. 6), Lexington at Augusta (A)
Triston McKenzie* (Indians' No. 6), Mahoning Valley vs. West Virginia (Short Season)
Austin Voth (Nationals' No. 9) vs. Austin Voth (Nationals' No. 9), Syracuse vs. Columbus (AAA)
Jacob Faria (Rays' No. 9), Montgomery vs. Chattanooga (AA)
Adalberto Mejia (Giants' No. 10), Richmond vs. Portland (AA)
Albert Abreu (Astros' No. 10), Quad Cities vs. Cedar Rapids (A)
Dakota Chalmers* (A's No. 10), Vermont at Lowell (Short Season)
German Marquez (Rockies' No. 12), Hartford at Altoona (AA)
Rookie Davis (Reds' No. 12), Pensacola vs. Mobile (AA)
Bryan Hudson* (Cubs' No. 13), Eugene vs. Boise (Short Season)
Chris Ellis (Braves' No. 13), Gwinnett at Scranton/Wilkes-Barre (AAA)
Gabriel Ynoa (Mets' No. 13), Las Vegas at Salt Lake (AAA)
Raul Alcantara (A's No. 15), Midland vs. San Antonio (AA)
Drew Finley* (Yankees' No. 16), Staten Island vs. Brooklyn (Short Season)
Josh Staumont (Royals' No. 17) vs. Max Povse (Braves' No. 26), Wilmington at Carolina (A-Advanced)
Heath Fillmyer (A's No. 18), Stockton at High Desert (A-Advanced)
Jeremy Rhoades (Angels' No. 18), Inland Empire at Modesto (A-Advanced)
Trey Ball (Red Sox's No. 19), Salem at Winston-Salem (A-Advanced)
Trevor Clifton (Cubs' No. 21), Myrtle Beach at Potomac (A-Advanced)
Carson Sands (Cubs' No. 23), South Bend vs. Lake County (A)
Trey Nielsen (Cardinals' No. 23) vs. Eric Skoglund (Royals' No. 27), Springfield at Northwest Arkansas (AA)
Trevor Williams (Pirates' No. 24), Indianapolis at Charlotte (AAA)
Tyler Mark* (D-backs' No. 26), Hillsboro at Salem-Keizer (Short Season)
David Hill (Rockies' No. 27), Asheville vs. Columbia (A)
Pedro Payano (Rangers' No. 28), Hickory vs. Delmarva (A)
Tyler Phillips* (Rangers' No. 30), Spokane vs. Vancouver (Short Season)
*Making 2016 debut.