Pipeline preview: Reno's O'Brien to keep slugging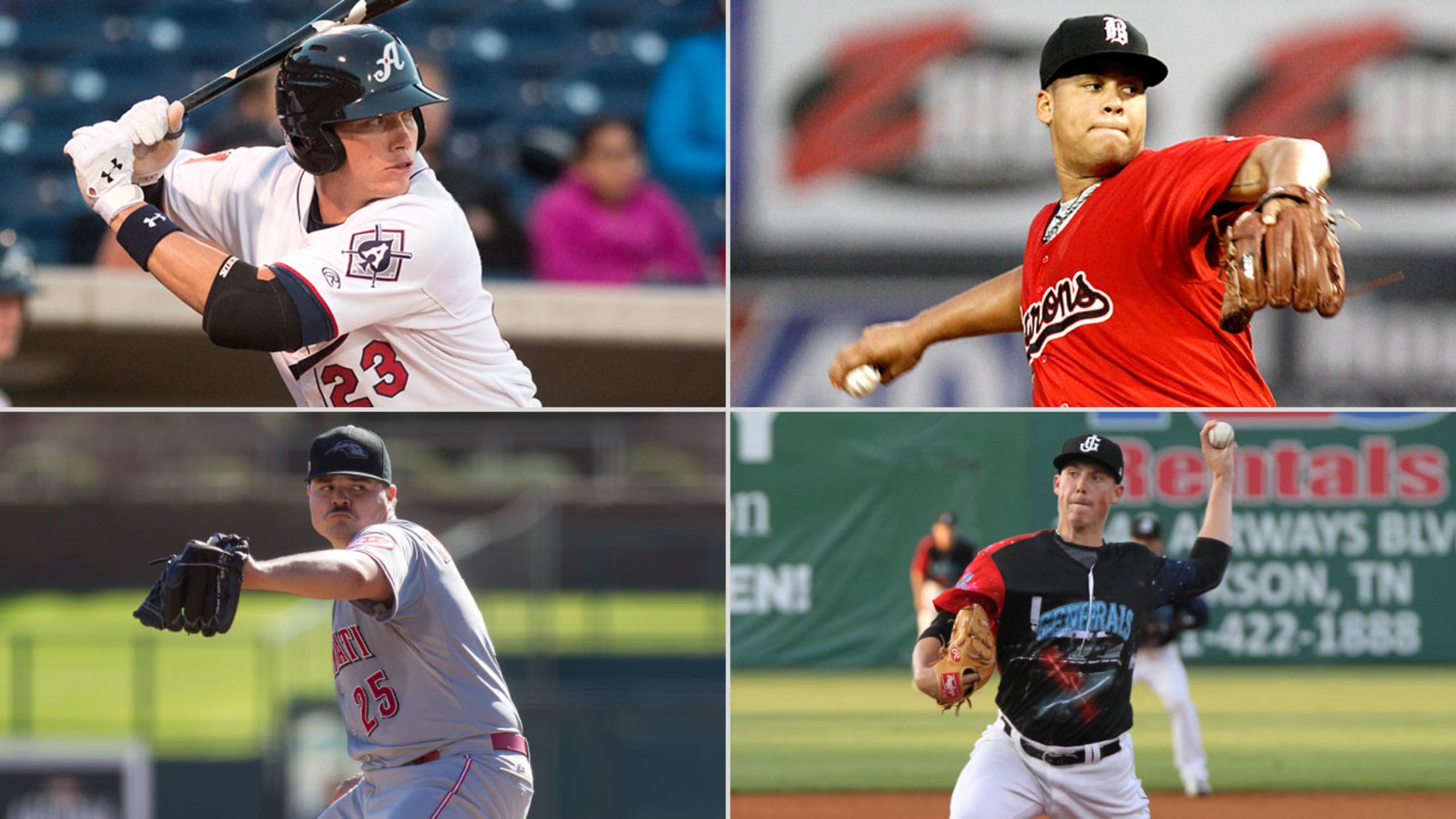 Here's a look at top prospects to watch Thursday in Minor League action:Hitter to watch: Peter O'Brien (D-backs' No. 7) Reno vs. Tacoma (10:05 p.m. ET on MiLB.TV)O'Brien has been driving in runs at a torrid pace over his last nine games. The outfielder had a brief stint with the
Here's a look at top prospects to watch Thursday in Minor League action:
Hitter to watch: Peter O'Brien (D-backs' No. 7)
Reno vs. Tacoma (10:05 p.m. ET on MiLB.TV)
O'Brien has been driving in runs at a torrid pace over his last nine games. The outfielder had a brief stint with the Major League club at the end of May, but since returning to Reno, he's been on fire. O'Brien has at least one RBI in each of his last nine Triple-A games and has driven in 21 runs during that span. The D-backs prospect is also in the middle of a nine-game hitting streak, during which he has seven multi-hit games.
Pitcher to watch: Frankie Montas (Dodgers' No. 4)
Oklahoma City vs. Nashville (Game 2 of doubleheader on MiLB.TV)
Montas continues to work his way back after undergoing surgery in mid-February, and so far the results have been promising. The 23-year-old has given up one earned run over eight innings, a span of five appearances. The highly touted right-hander threw a season-high 39 pitches -- 24 strikes -- in his last start and will look to take another step forward tonight.
Duel of the day: Nick Travieso (Reds' No. 9) vs. Ryan Yarbrough (Mariners' No. 12)
Pensacola vs. Jackson (7:05 p.m. ET on MiLB.TV)
Travieso has shown promise, but adjusting to the Southern League has been a bit tough. The former first-round pick has struggled a bit with command this season and walked seven across four innings in his last start.
Yarbrough has adapted to his first taste of the Double-A level with relative ease. The left-hander is 6-2 with a 2.42 ERA through 11 starts and has gone at least six innings, while allowing two runs or fewer, in six of his past seven starts.
Thursday's Top 100 probables:
No. 33 Carson Fulmer (White Sox No. 3) Birmingham vs. Mobile (AA)
No. 36 Francis Martes (Astros' No. 3) Corpus Christi vs. Midland (AA)
No. 47 Jeff Hoffman (Rockies' No. 4) Albuquerque vs. Las Vegas (AAA)
No. 89 Frankie Montas (Dodgers' No. 4) Oklahoma City vs. Nashville (AAA)
More top prospect probables:
Mike Clevinger (Indians' No. 7) Columbus vs. Indianapolis (AAA)
Jharel Cotton (Dodgers' No. 8) Oklahoma City vs. Nashville (AAA)
Brady Lail (Yankees' No. 18) Scranton/Wilkes-Barre vs. Charlotte (AAA)
Joe Gunkel (Orioles' No. 18) Norfolk vs. Durham (AAA)
Joan Gregorio (Giants' No. 21) Sacramento vs. El Paso (AAA)
Nate Smith (Angels' No. 3) Salt Lake vs. Fresno (AAA)
Kohl Stewart (Twins' No. 7) Chattanooga vs. Jacksonville (AA)
Jordan Montgomery (Yankees' No. 19) Trenton vs. Binghampton (AA)
Antonio Sezatela (Rockies' No. 10) Hartford vs. Harrisburg (AA)
Tyler Eppler (Pirates' No. 28) Altoona vs. Erie (AA)
Rob Kaminsky (Indians' No. 10) Akron vs. Reading (AA)
Tyler Beede (Giants' No. 2) Richmond vs. New Hampshire (AA)
Brad Markey (Cubs' No. 29) Tennessee vs. Mississippi (AA)
Rob Whalen (Braves' No. 26) Mississippi vs. Tennessee (AA)
Taylor Guerrieri (Rays' No. 6) Montgomery vs. Biloxi (AA)
Nick Travieso (Reds' No. 9) Pensacola vs. Jackson (AA)
Ryan Yarbrough (Mariners' No. 12) Jackson vs. Pensacola (AA)
Andrew Morales (Cardinals' No. 30) Springfield vs. Arkansas (AA)
Artie Lewicki (Tigers' No. 21) Lakeland vs. Jupiter (A-Advanced)
Jake Stinnett (Cubs' No. 22) Myrtle Beach vs. Lynchburg (A-Advanced)
Ian Clarkin (Yankees' No. 10) Tampa vs. Bradenton (A-Advanced)
Travis Lakins (Red Sox No. 11) Salem vs. Wilmington (A-Advanced)
Foster Griffin (Royals' No. 9) Wilmington vs. Salem (A-Advanced)
Thad Lowry (White Sox No. 21) Winston-Salem vs. Carolina (A-Advanced)
Keury Mella (Reds' No. 6) Daytona vs. Palm Beach (A-Advanced)
Casey Meisner (Athletics' No. 9) Stockton vs. Bakersfield (A-Advanced)
Beau Burrows (Tigers' No. 2) West Michigan vs. Great Lakes (A)
Angel Perdomo (Blue Jays' No. 23) Lansing vs. Lake County (A)
Jordan Holloway (Marlins' No. 14) Greensboro vs. Rome (A)
Franklyn Kilome (Phillies' No. 8) Lakewood vs. Delmarva (A)
Ofelky Peralta (Orioles' No. 14) Delmarva vs. Lakewood (A)
Gage Hinsz (Pirates' No. 23) West Virginia vs. Columbia (A)
Jaime Barria (Angels' No. 13) Burlington vs. Peoria (A)
Austin Smith (Padres' No. 6) Fort Wayne vs. Bowling Green (A)