Here are the Pirates' 2019 Top 30 Prospects
The 2018 season was supposed to be a rebuilding one for the Pittsburgh Pirates. Or so it seemed after stars Gerrit Cole and Andrew McCutchen were traded away to bring in young talent. It didn't exactly follow that script. While the Pirates ended up in fourth place in the NL
The 2018 season was supposed to be a rebuilding one for the Pittsburgh Pirates. Or so it seemed after stars Gerrit Cole and Andrew McCutchen were traded away to bring in young talent.
It didn't exactly follow that script. While the Pirates ended up in fourth place in the NL Central, they finished three games over .500, the first winning record the team posted since their 98-win season in 2015. And the farm system played a big part in it.
Top 30 Prospects lists
| | |
| --- | --- |
| AL East | BAL, BOS, NYY, TB, TOR |
| NL East | ATL, MIA, NYM, PHI, WSH |
| AL Central | CLE, CWS, DET, KC, MIN |
| NL Central | CHC, CIN, MIL, PIT, STL |
| AL West | HOU, LAA, OAK, SEA, TEX |
| NL West | ARI, COL, LAD, SD, SF |
| Division | Team |
Several players graduated off the Pirates' Top 30 Prospects list and were major parts of the big league roster. Others made it up to help out late in the season. Austin Meadows and Tyler Glasnow, once top prospects in the system, were used to acquire Chris Archer at the Trade Deadline, with former first-round pick Shane Baz later heading to Tampa as the player to be named later. Lefty prospect Taylor Hearn was sent to Texas for reliever Keone Kela as the Pirates thought they had a chance to compete.
While these trades weakened the system, one outside evaluator said he feels it is still "sneaky good." There is a good amount of talent stacked at the upper levels, especially in terms of infield prospects, and fans can dream of Ke'Bryan Hayes and Cole Tucker on the left side of the infield to back up right-hander Mitch Keller, who is the organization's No. 1 prospect for the second year in a row.
A majority (20) of the system's top prospects come from the Draft, but one who came via trade might be the most exciting to watch. Acquired as something of a lottery ticket in the 2017 deal for Tony Watson with the Dodgers, Oneil Cruz's power potential and athleticism in a 6-foot-6 frame make him one of the most interesting prospects to watch in 2019.
Here's a look at the Pirates' top prospects:
1) Mitch Keller, RHP
2) Ke'Bryan Hayes, 3B
3) Travis Swaggerty, OF
4) Oneil Cruz, SS
5) Cole Tucker, SS
Biggest jump/fall
Here are the players whose ranks changed the most from the 2018 preseason list to the 2019 preseason list:
Jump: Pablo Reyes, UTIL (2018: NR | 2019: 18) -- Reyes is a high-energy utilityman who opened eyes in his big league debut, and could be a Josh Harrison redux.
Fall: Gage Hinsz, RHP (2018: 21 | 2019: 30) -- Hinsz missed the 2018 season because of heart surgery and needs to stay healthy and on the mound.
Best tools
Players are graded on a 20-80 scouting scale for future tools -- 20-30 is well below average, 40 is below average, 50 is average, 60 is above average and 70-80 is well above average. Players in parentheses have the same grade.
Hit: 60 -- Ke'Bryan Hayes
Power: 60 - Oneil Cruz
Run: 65 -- Ji-Hwan Bae
Arm: 70 -- Oneil Cruz
Defense: 60 -- Ke'Bryan Hayes (Stephen Alemais)
Fastball: 80 -- Nick Burdi
Curveball: 60 -- Nick Burdi
Slider: 55 -- Braxton Ashcraft (Steven Jennings, Tahnaj Thomas, J.T. Brubaker)
Changeup: 50 -- Luis Escobar (Mitch Keller, Steven Jennings, Braxton Ashcraft, Travis MacGregor, Clay Holmes, Cody Bolton)
Control: 55 -- Mitch Keller (Steven Jennings)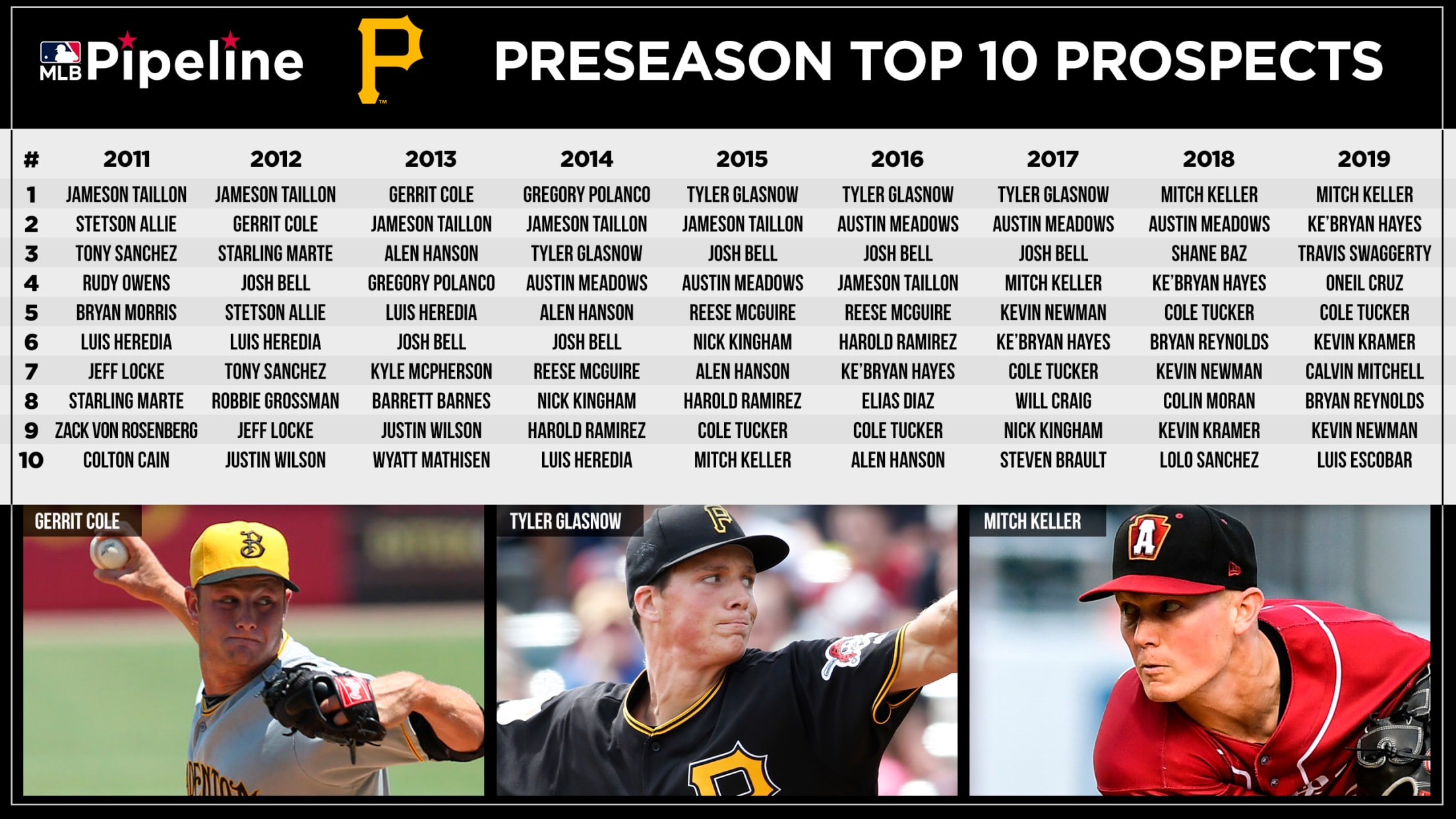 .
How they were built
Draft: 20 | International: 5 | Trade: 3 | Free agent: 1 | Rule 5: 1
Breakdown by ETA
2019: 13 | 2020: 1 | 2021: 9 | 2022: 6 | 2023: 1
Breakdown by position
C: 0 | 1B: 1 | 2B: 2 | 3B: 1 | SS: 4 | UTIL: 1 | OF: 8 | RHP: 13 | LHP: 0