Bucs activate Stratton from IL, option Ramirez
Williams slated to start Interleague series finale against Tigers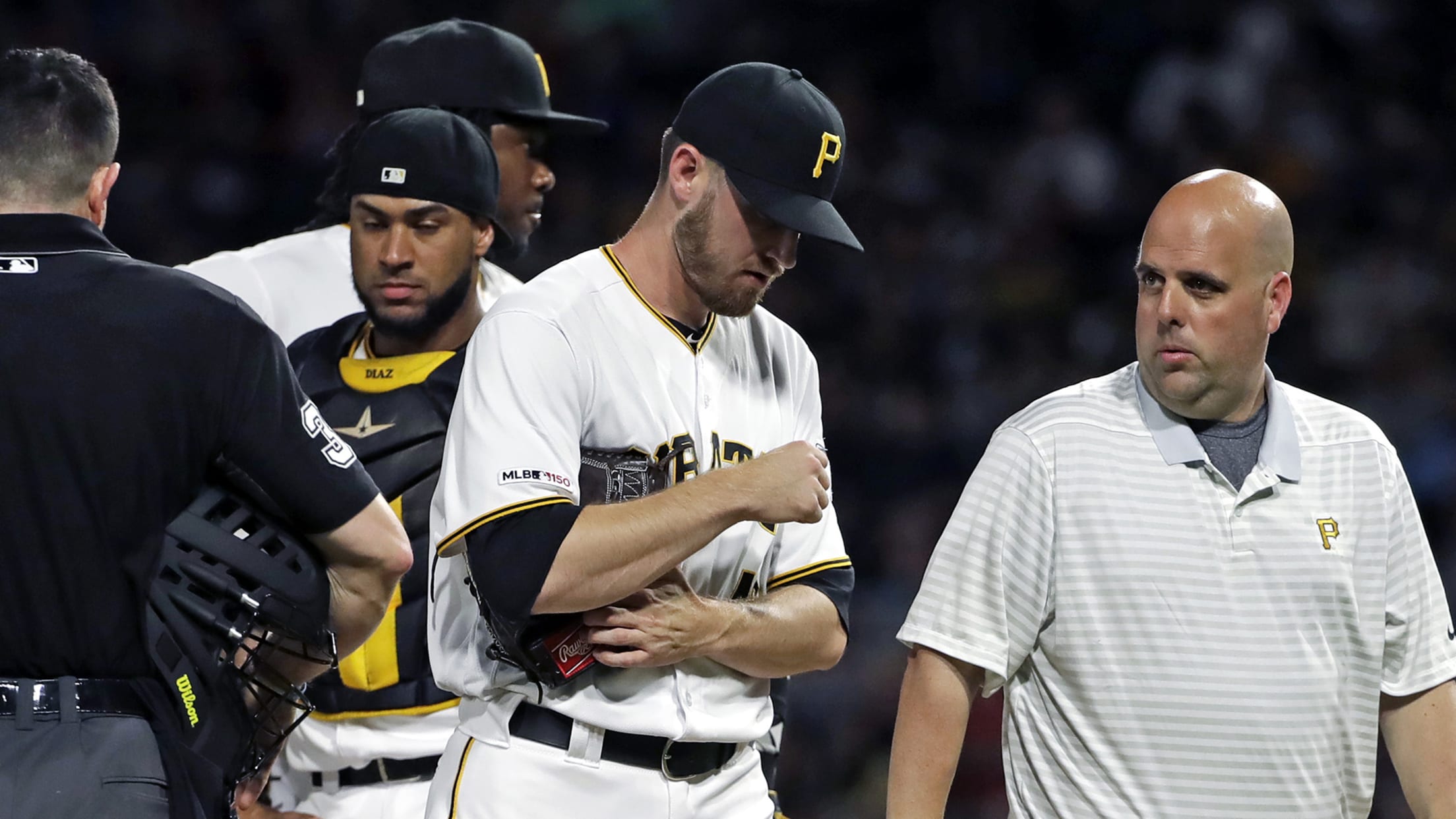 PITTSBURGH -- The Pirates' pitching staff is starting to get healthy. Before Tuesday night's series opener against the Tigers at PNC Park, the Bucs activated right-handed reliever Chris Stratton from the 10-day injured list and optioned reliever Yefry Ramírez to Triple-A Indianapolis. On Wednesday, the Bucs will activate Trevor Williams
PITTSBURGH -- The Pirates' pitching staff is starting to get healthy.
Before Tuesday night's series opener against the Tigers at PNC Park, the Bucs activated right-handed reliever Chris Stratton from the 10-day injured list and optioned reliever Yefry Ramírez to Triple-A Indianapolis. On Wednesday, the Bucs will activate Trevor Williams to start the Interleague series finale against Detroit.
Right-hander Jordan Lyles (left hamstring tightness) might not be far behind after throwing a four-inning simulated game on Tuesday afternoon.
"There's a lot to look forward to. It's nice coming home after a 10-day road trip and being at home, being here over a week," Williams said. "It's going to be fun for everybody to be together on this squad."
The Pirates are far from whole. Even after Williams and Lyles return, the club will be without Opening Day starter Jameson Taillon, setup man Keone Kela, catcher Francisco Cervelli, shortstop Erik Gonzalez, rookie reliever Nick Burdi and swingman Rookie Davis -- not to mention outfielder Lonnie Chisenhall, and right-handers Chad Kuhl and Edgar Santana, who haven't played all season.
But after a turbulent stretch for the pitching staff, with injuries and inexperience in the bullpen exacerbated by short starts from the rotation, there's some stability on the horizon.
Stratton brings a veteran arm capable of working multiple innings to the bullpen. He gave up five runs in 8 1/3 innings over four appearances for Pittsburgh before hitting the injured list due to right side discomfort. The Pirates acquired Stratton in May after he was designated for assignment by the Angels.
The Bucs have missed Williams as much as any player. The right-hander has been out with a right side strain since May 16, when he exited his start in San Diego after 3 2/3 innings. In his first eight starts of the season, Williams posted a 3.40 ERA while pitching at least six innings each time out.
"Being on the bench and not being able to help the team was tough. It was my first time on the IL, and hopefully it's my last," Williams said. "I'm just excited to get back out there and help the team as much as I can."
The Pirates have Joe Musgrove and Chris Archer lined up to start the first two games of their weekend series against the Padres, but they haven't settled on a Sunday starter. The Bucs' options include top prospect Mitch Keller, who started on Tuesday night; left-hander Steven Brault, who has pitched well over the last month; and Lyles, if he is deemed ready for Major League competition a little more than two weeks after his last start.
Presumably, Pittsburgh will wait to see how Lyles responds to Tuesday's simulated game before making a decision. Manager Clint Hurdle said it was "to be determined" whether Lyles will need to pitch in a Minor League rehabilitation game before rejoining the Pirates' rotation.
"We like having Lyles in the rotation. We all saw what he could do when he was healthy the first six, seven weeks of the season," Hurdle said. "He tried to pitch through some challenges physically, and it wasn't the same for him or for us."
Even the Bucs' pitching depth is showing signs of improved health.
Triple-A right-hander J.T. Brubaker, ranked as the club's No. 18 prospect by MLB Pipeline, made a rehab start on Tuesday for Class A West Virginia. Brubaker, the Bucs' Minor League Pitcher of the Year last season, likely would have made his Major League debut by now if he hadn't been sidelined since late April due to a strained forearm.
Reliever Brandon Maurer, signed to a Minor League deal in the offseason, also began a rehab assignment on Tuesday with West Virginia. The 28-year-old right-hander, who has closing experience in the Majors, has also been out since late April due to a knee surgery.
Around the horn
• Cervelli, out since May 26 with a concussion, has resumed light baseball activities, Hurdle said. There is no timetable for the catcher's return.
• The Pirates promoted lefty relief prospect Blake Weiman from Double-A Altoona to Indianapolis. Weiman put together a 1.86 ERA and 0.78 WHIP with 24 strikeouts in 19 1/3 innings over 16 appearances for Altoona this season. In a corresponding move, the Bucs demoted lefty Brandon Waddell to Double-A.
• Pittsburgh signed the following four Draft picks: outfielder Will Matthiessen (sixth round), right-hander Alex Roth (21st round), catcher Dylan Shockley (34th round) and right-hander CJ Dandeneau (37th round). The Pirates have signed 29 of their 42 picks from this month's MLB Draft.