Frazier takes advantage of playing time
Pirates utility player filling in all over while swinging a hot bat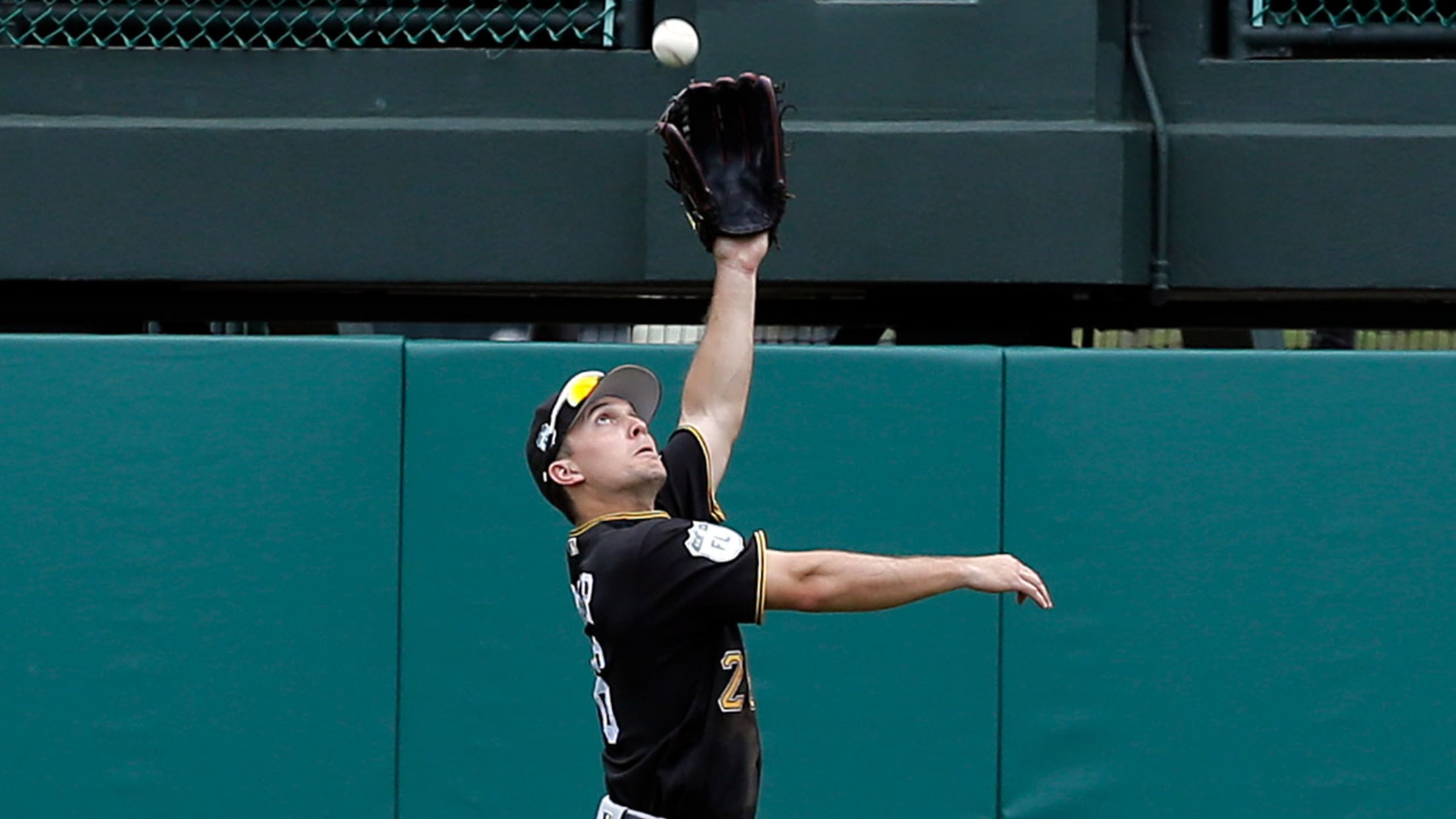 Adam Frazier played center field Monday against the Braves. (AP)
LAKE BUENA VISTA, Fla. -- Adam Frazier is playing almost every day somewhere, and the 25-year-old Pittsburgh Pirate is as hot as anyone in Spring Training.Four more hits in Monday's 7-6 loss to the Atlanta Braves left Frazier with a .462 batting average."I'm trying to get a hit every time
LAKE BUENA VISTA, Fla. -- Adam Frazier is playing almost every day somewhere, and the 25-year-old Pittsburgh Pirate is as hot as anyone in Spring Training.
Four more hits in Monday's 7-6 loss to the Atlanta Braves left Frazier with a .462 batting average.
"I'm trying to get a hit every time up. It's not like I'm trying to be a fast starter or a slow starter," he said. "I feel good. We get a day off every couple days so my legs are fresh."
Getting regular at-bats while filling in for the Pirates who are away at the World Baseball Classic, Frazier has reached base in 10 of his last 14 plate appearances.
Could he hit his way into the Opening Day lineup?
"No," said manager Clint Hurdle. "I mean, he's going to get to play, but who are you going to move out? He's a good player. We like what he's doing. But you're not going to take a guy that got invited to the World Baseball Classic and move him out because a guy hit .400 in Spring Training."
Frazier played center field Monday and made a very good catch over his shoulder that probably saved a couple of runs.
"I just go out there and react," he said. "You get something like that in [batting practice] every now and then, and that's where I try and get my reps. They posted the lineup [Sunday] so I get a day to get mentally prepared."
He was a shortstop until a year ago when the Pirates started moving him around during Spring Training. For now, that's what he does.
"It's not bad. Anyway to get on the field," he said. "That's the role I have on this team, I believe. It's definitely an adjustment each day. You're not getting a ton of reps at one spot; you've just got to bounce around and stay ready."
Frazier didn't make the team last spring, but came up in late June and hit .301 in 66 games as a utility player.
All he needs now is a position.
"When you look at it, Adam's put himself on this ballclub and he's getting at-bats, and it'll make a difference throughout the season I believe," Hurdle said. "He's going to get at-bats anyway based on what he did last year, but he's getting extra [because of the WBC].
"The position he's played the most [shortstop] is probably the one we've used him at the least, but we're going to be looking at him there, too," Hurdle added. "He's covered five positions already this spring, I think."
Six actually, including center field.
Dick Scanlon is a contributor to MLB.com and covered the Pirates on Monday.