Hurdle's path to managing has Seattle roots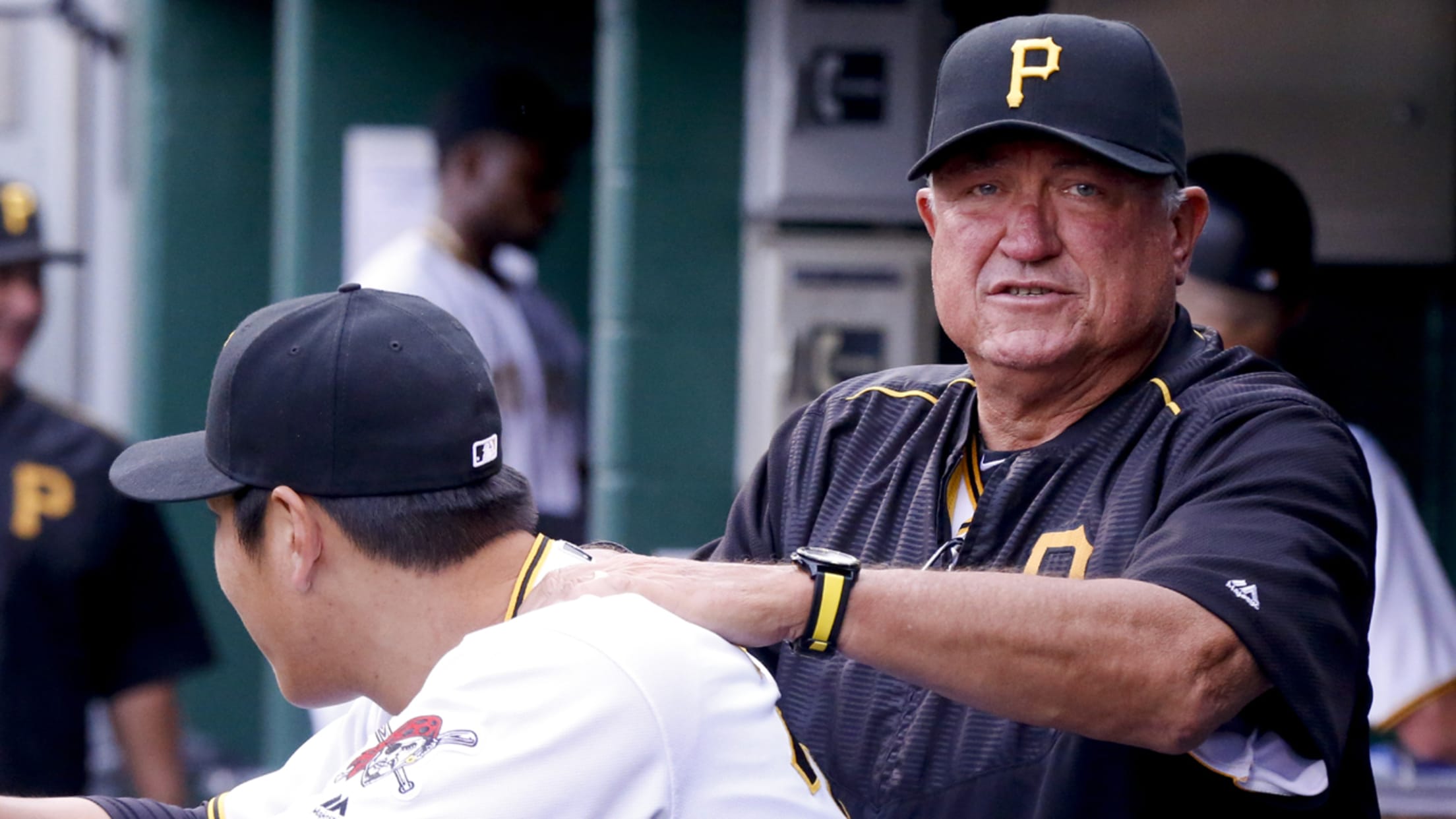 Clint Hurdle has welcomed challenges his entire baseball career. (Getty Images)
SEATTLE -- Five days removed from becoming the sixth active manager -- and 61st all-time -- to fill out a lineup card for 1,000 big league victories, Pirates skipper Clint Hurdle was sitting on the bench at Safeco Field on Wednesday afternoon when the irony of the situation hit.Thirty-three years,
SEATTLE -- Five days removed from becoming the sixth active manager -- and 61st all-time -- to fill out a lineup card for 1,000 big league victories, Pirates skipper Clint Hurdle was sitting on the bench at Safeco Field on Wednesday afternoon when the irony of the situation hit.
Thirty-three years, two months, three weeks and one day earlier, across the street in the Kingdome, which has since been demolished, Hurdle reached a critical juncture in his baseball life.
At the end of Spring Training in 1983, Mariners manager Rene Lachemann told the 25-year-old Hurdle he had made the Opening Day roster.
As the workout in Seattle the night before the season opener was beginning, however, Mariners general manager Dan O'Brien walked into Lachemann's office and told him to call in Hurdle, who was going to be released to make room on the roster for Ken Phelps.
Hurdle's first reaction was to find a way to track down his father, who was driving Hurdle's pickup truck, loaded with Hurdle's personal items, from their Florida home to Seattle. Once Hurdle was informed the Highway Patrol found his father on I-70 in Missouri, reality set in.
A first-round Draft choice of the Royals in 1975 -- the seventh player taken overall, and the cover boy of a 1978 Sports Illustrated baseball issue that called him "This Year's Phenom" -- Hurdle thought he was done.
"I had hit bottom," he said. "I had a good spring, and then … I had my pity party."
While thinking back on that moment, Hurdle paused, shaking his head, and smiled. It was one of those life-changing moments.
Hurdle could have given up and slipped into oblivion. He, however, refused to quit.
"Lach told me I could still play, and I had the coaching staff saying I could play, too," he said. "They gave me the confidence to keep going."
Hurdle hooked up with the Mets, playing five more years, spending parts of four of those seasons in the big leagues with the Mets and Cardinals. More importantly, "I became associated with Davey Johnson. My world changed."
By the time he was 30, his true calling started to become clear.
"I became that guy: 'Hey, if you ever think about not playing, would you consider coaching or managing?''' Hurdle said. "Obviously, they don't ask you that question when you're on top of your game, so that already starts the wheels spinning a little bit."
Hurdle, however, wasn't going to jump at the first opportunity.
"I kept threatening them with playing," Hurdle said. "[Mets farm director] Steve Schryver called and offered me a Rookie-ball job. They were building the [complex for Spring Training and a Florida State League team] in St. Lucie, and I said, 'I live in Palm Bay. I'm an hour away. That would be a job I'd have interest in.' Steve said it wasn't going to happen. 'That's High-A. You have no managerial experience.' I told them, 'OK, I'm going to play.'
"About two weeks later, he called me back and said, 'We thought about it, and we think we can bump you a level.' It might have been Lynchburg. I go, 'Wow, that's a nice offer. Thank you, but no. You're still building that place in Port St. Lucie. I'm going to play.' Steve said, 'That's not going to happen, Clint. We have people that have put time in.' I said, 'I get it, but that's what I got.'
"Then a couple more weeks later, he called me up and said, 'So you're saying if you had an opportunity to manage the team in St. Lucie, you would do that?' I said, 'Yeah, that's what I've been saying for four weeks.' He goes, 'Well, I'm going to offer you the opportunity to manage the team in St. Lucie.' I said, 'Sounds like I'm not playing anymore.'"
After five seasons managing in the Mets' system, Hurdle became the Minor League hitting coach with the Rockies in 1993. He then was promoted to the big league job in 1997, and early in the 2002, season he replaced Buddy Bell as the team manager. Hurdle's seven-year managerial tenure was highlighted by the Rockies' late-season rally to claim the National League Wild Card berth in 2007, which led to the team's only World Series appearance.
Hurdle's run in Denver ended early in the 2009 season, leaving him with some career decisions to make. He was offered a front-office job with the Rockies. MLB Network had interest in him becoming an analyst. Several teams contacted Hurdle about being a third-base coach or bench coach. Finally, the Rangers called. They wanted him as a hitting coach. Hurdle couldn't resist.
A year later, the managerial opportunities returned. Hurdle interviewed with the Mets and the Pirates.
Hurdle didn't wait for the Mets to make a decision. He accepted an offer from the Bucs for reasons that extended beyond the playing field. Late in the 2002 season, his wife gave birth to a daughter, Madison, who was diagnosed with Prader-Willi Syndrome. In doing research, Hurdle found that the The Children's Institute of Pittsburgh had the only in-patient treatment for the condition.
"I had been going and visiting kids there whenever I came in with the Rockies [since 2004], thinking there might be a need in our family someday," Hurdle said. "They [admit children for] a six-week period to help reorganize their lives and help families put their lives back together. The entire fourth floor is geared for Prader-Willi kids, teens and adults."
It turned out it was a good fit for Hurdle, his family and the Pirates.
The first two seasons, 2011 and '12, were disappointing, the Bucs showing signs of contending but then fading in the second halves.
"It's kind of like the first time you get kicked off the playground and beat up," said Hurdle. "You go home and tell your dad. You go home and get big and strong. And you get back on the playground because it's the only one there."
In 2013, however, the Pirates claimed the first of three consecutive NL Wild Card berths, ending a 20-year postseason drought in which the Bucs never even had a winning record.
"The 2013 season came around and we met a lot of those same challenges," said Hurdle. "There were opportunities for us to go the wrong way again, and we never did. We pushed through it. It was fantastic."
This season has been another challenge. After a decent start, the Pirates won for only the 10th time in 32 games on Wednesday night. They have fallen into third place in the NL Central, 14 games behind the Cubs, and they trail the Dodgers, Cardinals, Marlins and Mets in the battle for one of the two NL Wild Card spots.
It is a challenge that Hurdle welcomes.
"I'm fortunate I have had others believe in me at times when I might not have believed in myself," he said. "Those times have given me the strength, the confidence and the courage to go on, and dream big. Hopefully stories like mine give other people the opportunity to dream big, and not be cut out and pasted on a cardboard box, and feel 'This is what I am, this is what I am always going to be.' It doesn't have to be that way. We all have a chance to grow.
"You use your eyes and your ears. You learn. You ask others for help along the way. You get a couple of nice strong doses of humility. You kick your ego to the curb. You let that go for good. You get a chance."
Hurdle got his chance. He has taken advantage of it.
Tracy Ringolsby is a columnist for MLB.com.