4 years later, Luebke back on hill
Bucs reliever debuts after long rehab road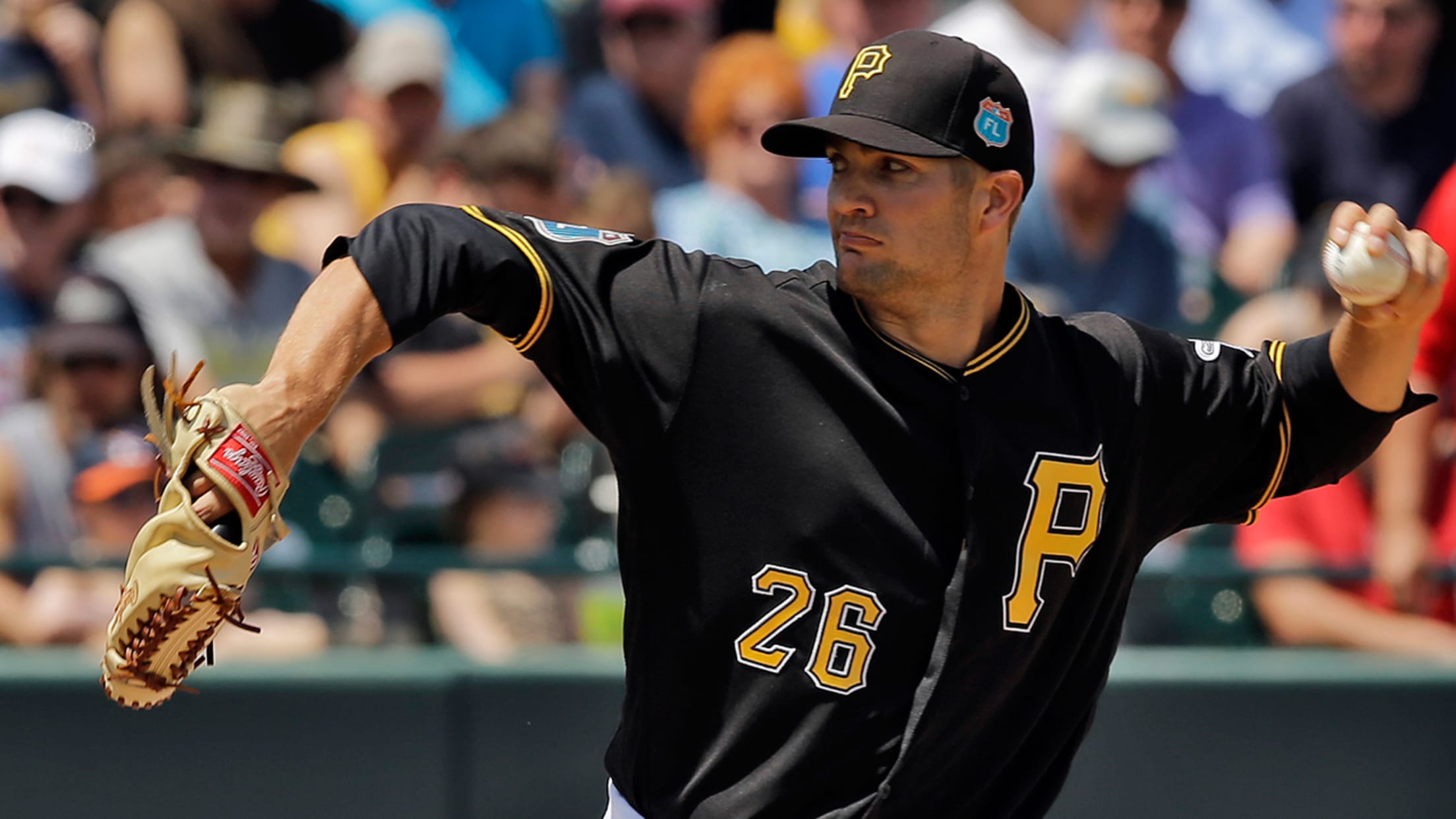 Cory Luebke pitched in a big league game Wednesday for the first time in nearly four years after multiple injuries. (AP)
PITTSBURGH -- Cory Luebke is still getting used to being a reliever, still a little jumpy whenever the bullpen phone rings, even if it's not for him. But the call came for him Wednesday night, and Luebke was ready.Luebke warmed up in the Pirates' bullpen out in left-center field at
PITTSBURGH -- Cory Luebke is still getting used to being a reliever, still a little jumpy whenever the bullpen phone rings, even if it's not for him. But the call came for him Wednesday night, and Luebke was ready.
Luebke warmed up in the Pirates' bullpen out in left-center field at PNC Park, battling jitters. It felt like a debut, Luebke said, and it might as well have been. The 31-year-old left-hander began the ninth inning of the Pirates' 5-1 win over the Cardinals, pitching in a Major League game for the first time in nearly four years.
It was the end of a long road back from multiple frustrating injuries and years of grueling rehabilitation work. It was the beginning of what Luebke hopes will be the next chapter of his career.
"I don't think it's set in yet. I'm just excited," Luebke said afterward. "There's been a lot of days where you didn't know if something like this was going to happen again. You don't plan on things to go this way.
"I try to look at it a different way. I've got a chance to do something special. Not many guys can get through the injury bug and be able to get back to this level. It's just fun for me to get back out there again."
Luebke would have preferred a cleaner return to the mound. He got Stephen Piscotty to pop out, then walked Matt Holliday. He struck out Randal Grichuk but served up a single to Yadier Molina. That brought the tying run on deck, so manager Clint Hurdle called on closer Mark Melancon, who picked up his first save by retiring the next batter, Kolten Wong.
"Good to get him out there and get that part of it over with and now move forward with it," Hurdle said.
It's been a long time since Luebke could worry about competing. His last appearance in the Majors came for the Padres on April 27, 2012.
He had Tommy John surgery in May 2012, but the graft didn't take properly. So he had to undergo another operation in February 2014. He had loose bodies removed around a nerve in his forearm last year, and a staph infection six weeks after surgery ended his season.
Even this spring, injuries threatened to once again set him back. He strained his right hamstring during fielding drills the first week of workouts. But he has a strong track record when healthy, and he impressed the Pirates enough to earn an Opening Day roster spot.
Luebke said he's only recently begun working with pitching coach Ray Searage and bullpen coach Euclides Rojas, trying to unlearn the bad mechanical habits he picked up while rehabbing over the last three years.
There's plenty of time to fine-tune. On Wednesday, Luebke was just happy to be back where he belongs.
"I think this is a step in the right direction. I'm a long ways from being back to where I want to be," Luebke said. "It's been good working with Ray and Eucy. I know I'm in good hands. They've been good for me to get through this process."