Inbox: Should Bucs pursue free-agent infielders?
Beat reporter Adam Berry answers fans' questions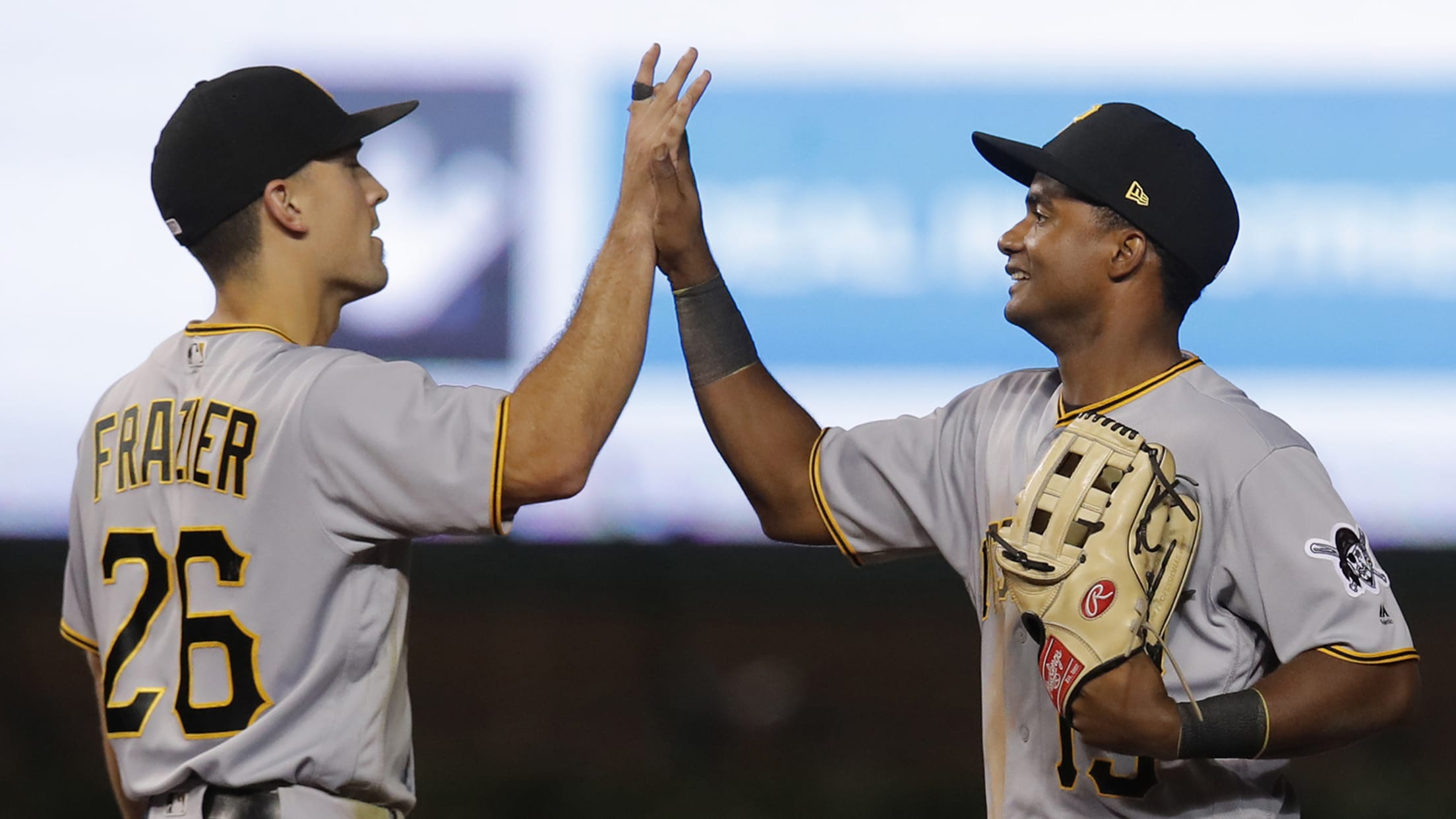 Pittsburgh Pirates' Adam Frazier, left, and Pablo Reyes celebrate the team's 6-0 win against the Chicago Cubs in a baseball game Tuesday, Sept. 25, 2018, in Chicago. (AP Photo/Jim Young) (Jim Young/AP)
I like the second basemen on the market more than I like the outfielders who will probably be in the Pirates' price range (a.k.a. not Andrew McCutchen). Could they get an infielder and move Adam Frazier to the outfield until Gregory Polanco is ready, then play Adam every day if
I like the second basemen on the market more than I like the outfielders who will probably be in the Pirates' price range (a.k.a. not Andrew McCutchen). Could they get an infielder and move Adam Frazier to the outfield until Gregory Polanco is ready, then play Adam every day if he deserves it?
-- Jeff L., Pittsburgh
Sure, that's something I touched on in a recent story about Frazier. His versatility gives the Pirates some flexibility this offseason.
There is indeed a pretty deep class of interesting free agents at second base, including veterans with bounce-back potential like James Dozier or Pittsburgh's own Neil Walker. Someone like Asdrubal Cabrera or Daniel Descalso could fill that spot at second or bounce around the infield in a utility role.
• Submit a question to the Pirates Inbox
The Pirates have internal options beyond Frazier at second base, too. If they add a shortstop this offseason, Kevin Newman and Kevin Kramer -- both bound to improve after shaky debuts -- could hold down second, then eventually move around the infield. Kramer could claim second for himself, really, if he hits the way he did at Triple-A Indianapolis (.856 OPS).
In either of those scenarios, Frazier would be freed up to play right field, while Polanco finishes his recovery from left shoulder surgery. Frazier could then return to second base on an everyday basis or play that 2014 Josh Harrison, everyday-player-without-an-everyday-position role.
Frazier hit well enough to earn a spot in the lineup every day. He improved at second base last season, and perhaps he'll settle in there eventually. But for now, given the uncertainty with Polanco's recovery and the number of infield options available this offseason, his versatility is an asset.
Polanco's timetable is still up in the air, too. (As Neal Huntington joked at the GM Meetings, Polanco will be ready in April as soon as they say June, and it'll be June as soon as they say April.) If he's going to be good to go within a few weeks of Opening Day, it seems more realistic to think they could get by with what they have and dedicate those resources to improving elsewhere. Time will tell.
Glad to see Corey Dickerson win the Gold Glove. He worked so hard. Will he be back in left field next season?
-- Jerry S., Columbus, Ohio
Dickerson certainly earned it, Jerry. He is a thoughtful, hard-working player -- and there's no doubt he was fueled by the constant doubts about his defense and the Rays' decision to designate him for assignment. Dickerson made an effort to improve his defense and cut down on his strikeouts, and he nailed both.
Anyway, yes, you can expect to see Dickerson back in left field and batting somewhere prominent in the Pirates' lineup next season. He is eligible for arbitration for the final time this offseason and projected by MLB Trade Rumors to earn approximately $8.4 million through that process.
The Pirates could try to extend Dickerson's contract, perhaps guaranteeing his salary for next season and a few years into the future, but that's the kind of deal that would require concessions from both sides. If Dickerson puts together a 2019 season like his '18, he'll be an in-demand free agent next winter.
Will the new hitting coach help Josh Bell hit more home runs? We need a power hitter at first base and third base, too.
-- Ron W., Sarasota, Fla.
I think Rick Eckstein was an interesting hire, especially for a hitter like Bell. Something manager Clint Hurdle said down the stretch about Bell, as he was repeatedly asked about his decreasing power (and rising on-base percentage), is that he'll have to decide what kind of hitter he's going to be.
Huntington was asked a similar question on the last day of the season and offered a familiar answer, saying the Pirates believe Bell will be "a good hitter with power." In other words, an all-around threat instead of a one-dimensional slugger. You didn't think of McCutchen as just a power hitter, right? At his best in Pittsburgh, he was an elite hitter with power.
"He's shown at times he's a good hitter. He's shown at times he's a power hitter, last year approaching 30 home runs," Huntington said of Bell on Sept. 30. "We still believe there's a quality batting average in there, a quality offensive player. Candidly, that's what we need him to be."
It's a little early for Eckstein to speak with authority on specific players like Bell or Colin Moran -- he hasn't worked with them yet -- but I asked him generally about the idea of hitters sacrificing power in favor of contact and vice versa. The Pirates didn't hit for much power last season, but one of their strengths was their refusal to strike out.
"You shouldn't have to sacrifice solid contact to try to do the all-or-nothing home run. There's nothing wrong with good, hard, solid contact, right?" Eckstein said. "Over time, when you learn how to make consistent solid contact -- the adage, 'learn how to hit' -- you start to understand that if I put my body in a better position, I can create better leverage, I can create better angles into the baseball that create more of a launch."
In other words, Eckstein wants that "good hitter with power." Given his focus on individualized coaching, he seems like a good choice to help the Pirates, especially the younger players, figure out what kind of hitters they're going to be going forward.