Inbox: Who'll be Pirates' next star player?
Beat reporter Adam Berry answers questions from fans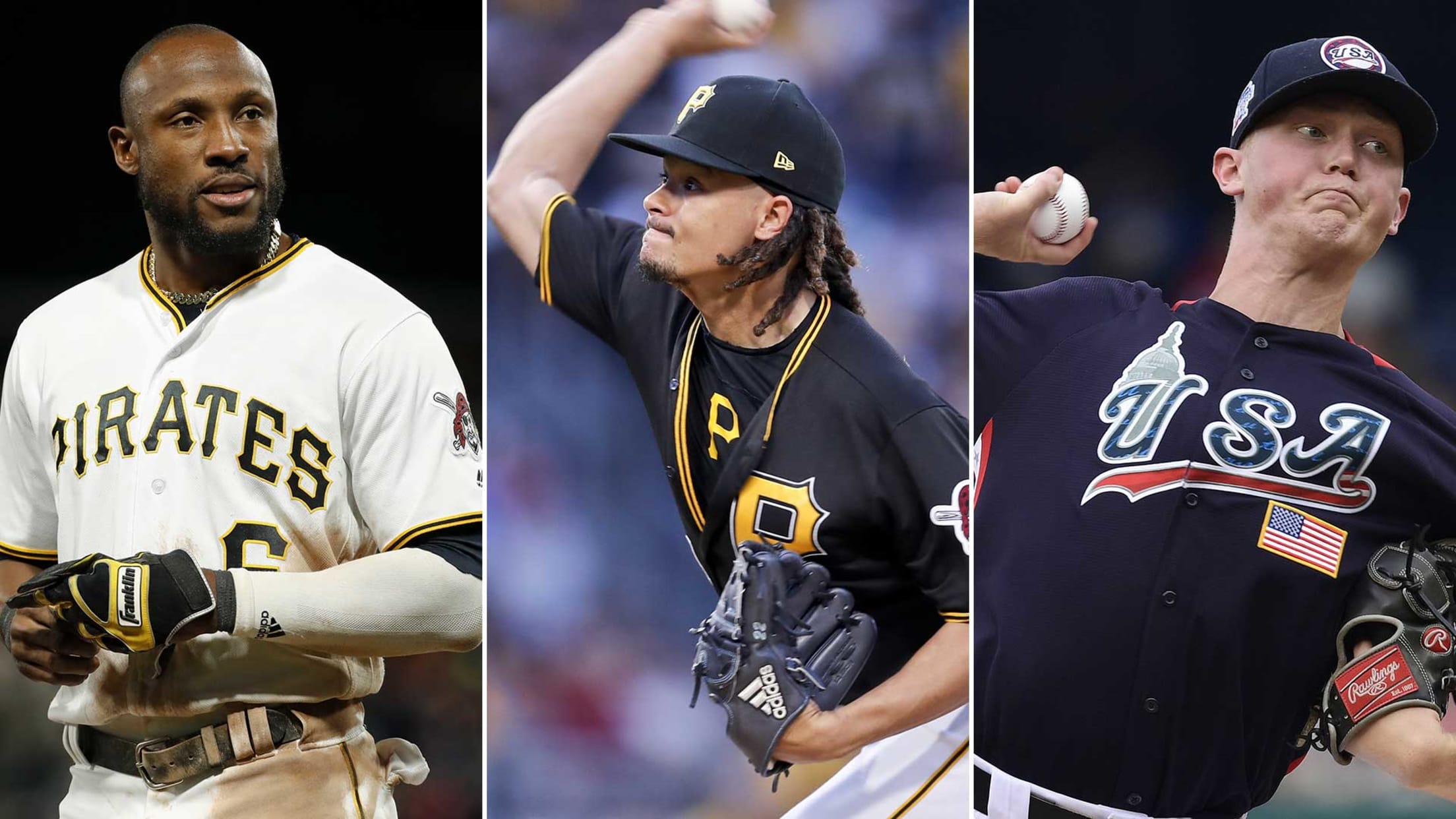 I see the Cardinals get Paul Goldschmidt and the Brewers get Christian Yelich and the Cubs have all their guys, and it makes me miss when we had a STAR player like Andrew McCutchen. Who do you think could be our next star player? -- Matt M., New Castle, Pa.That's
I see the Cardinals get Paul Goldschmidt and the Brewers get Christian Yelich and the Cubs have all their guys, and it makes me miss when we had a STAR player like Andrew McCutchen. Who do you think could be our next star player?
-- Matt M., New Castle, Pa.
That's a great question, Matt, and it's something I've touched on the past few years. Everyone has an explanation for the Pirates' step back since 2013-15, but I'll point to a pretty obvious one: They're not getting that all-caps STAR-level production like they did during that run.
Over the last three years, the Pirates have had two players put together a 4-Wins Above Replacement season, per Baseball Reference: Starling Marte in 2016 (4.9) and Jameson Taillon (4.4) last year. Trevor Williams (3.8), Corey Dickerson (3.8) and Marte (3.7) were all close last season, for what it's worth. From 2013-15, they had 11 different 4-bWAR seasons -- three in 2013, four in '14 and '15. And I don't need to remind anyone that McCutchen was one of the best players in baseball before 2016.
Look at last year's postseason teams, and you'll see stars on every roster -- from Mookie Betts, Chris Sale and J.D. Martinez with the Red Sox to Freddie Freeman and Ronald Acuna Jr. with the Braves. It's not all about star power, obviously. You need a deep roster to get through a 162-game season. The best teams have both.
So, I think this is an important question to answer on the field, and it matters off the field as well in a face-of-the-franchise sense -- a player who creates excitement and an identity. Maybe someone will step up and be that guy this year. For now, I'd bet on the guys who have played at that level here before: Taillon and Marte.
:: Submit a question to the Pirates Inbox ::
Chris Archer is their most recognizable player and most experienced starter, but my colleague Matt Kelly recently made the case for Taillon as an emerging ace. He improved last season with a newly developed slider and some pitch-usage tweaks -- in a year finally uninterrupted by physical issues -- and I won't be surprised if he takes another step forward in 2019.
I share the Pirates' belief that Marte can be the best player on the field any given night, but he'll be 30 years old this season and inconsistency remains an issue. He has that kind of talent, though, and it showed as he averaged 5 bWAR from 2013-16.
I don't want to slap the "star" label on anyone who hasn't reached the Majors yet, but the biggest names on the farm are Mitch Keller and Ke'Bryan Hayes. Keller is one of the top pitching prospects in the Minors (No. 16 overall, per MLB Pipeline), and Hayes' bat started catching up to his phenomenal glove last season. Cole Tucker has the pedigree and personality of a star. And I am fascinated by the unique upside of Oneil Cruz, a towering 20-year-old who played shortstop in Class A last year.
We've been waiting all offseason for the Pirates to do something at shortstop. Will they?
-- Ron G., Pittsburgh
I think they're waiting out the market. Their belief in Erik Gonzalez and Kevin Newman is real, and they seem to be comfortable with that duo if nothing else works out. But we've also seen them do their due diligence in pursuit of an upgrade. They asked about Nick Ahmed, who remains in Arizona, and they were interested in Troy Tulowitzki before he chose the Yankees.
Jose Iglesias, Freddy Galvis and Adeiny Hechavarria remain unsigned, and there aren't many teams in need of a shortstop. The New York Post reported that the Pirates have interest in the durable Galvis, and we know they liked Hechavarria enough to claim him last August.
I think they could use more certainty there, but I also wouldn't panic if they report to Pirate City without making a move. They signed Matt Joyce to a Minor League deal early in Spring Training in 2016, and obviously they landed Dickerson (after acquiring a handful of other outfielders) during Spring Training last year.
Lot of big lefty bats in the division. Do we have a left-handed relief pitcher, besides the closer, who can get them out?
-- Will V., Upper St. Clair, Pa.
We'll see how the spring plays out, but the Pirates have a few left-handed options in front of Felipe Vazquez. The first one is Steven Brault, if he doesn't crack the rotation. Last season, Brault held lefties to a .213/.344/.296 slash line; the on-base percentage is certainly higher than you'd like, but the average and slugging percentage are encouraging.
There's also non-roster veteran Tyler Lyons, who will have to prove that he's healthy and back to his old form in Spring Training. If he does, the Pirates can add a quality left-hander to their bullpen. In his career, Lyons has limited lefty hitters to a .203/.286/.320 slash line. That'll play.
I've pointed this out before, but it's worth repeating: Right-hander Richard Rodriguez held lefties to a .155/.233/.207 slash line last season. If there's a high-leverage inning with a couple lefty hitters due up, manager Clint Hurdle could call on Rodriguez to handle it.