Suchy makes most of at-bat with solo homer
Florida native called up from Minor League camp for road game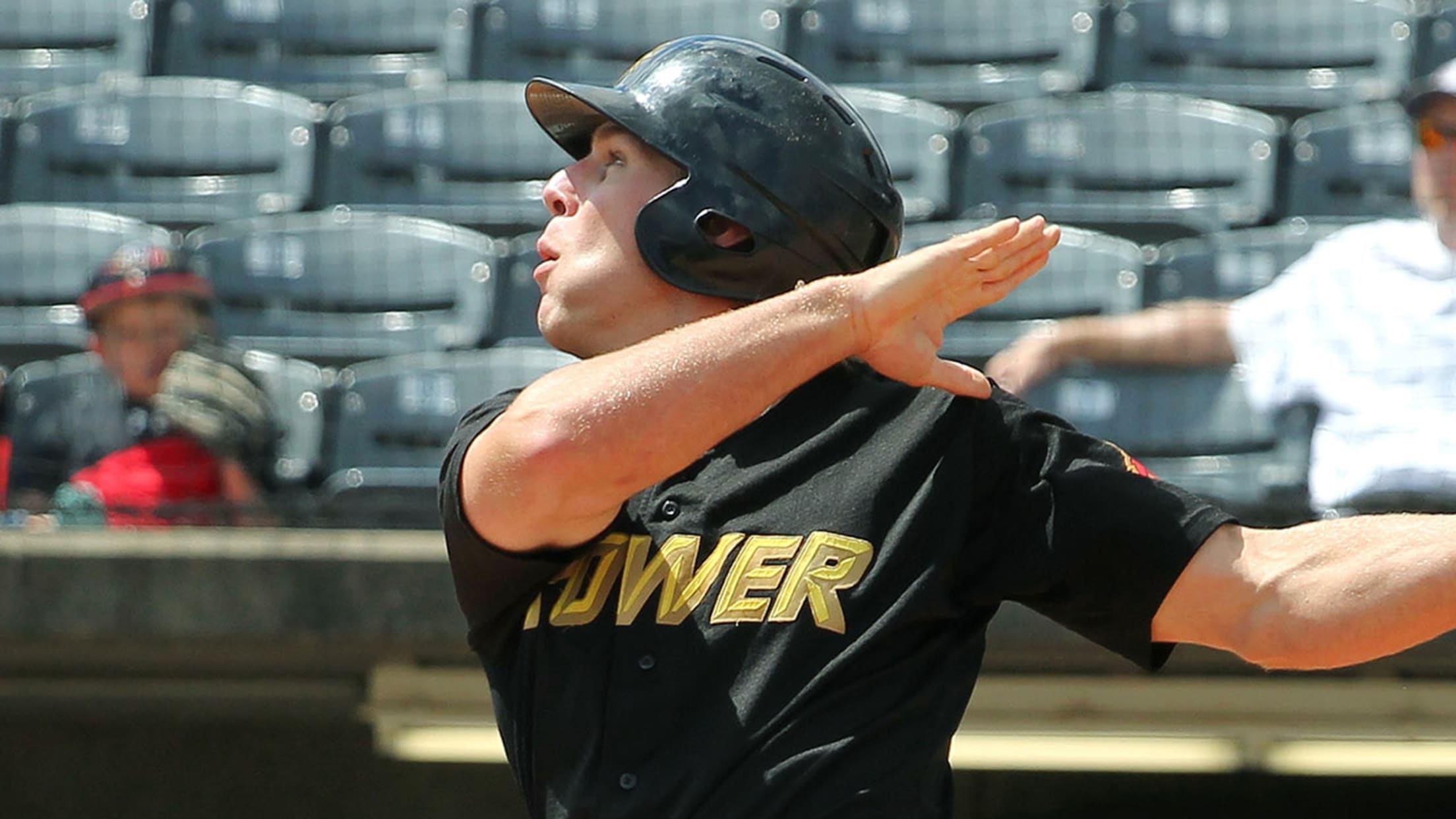 Michael Suchy, pictured here with the Class A West Virginia Power, homered against the Rays. (MiLB.com)
PORT CHARLOTTE, Fla. -- Michael Suchy ran out to right field in the bottom of the sixth inning wearing a black No. 80 Pirates jersey with no name on the back.He took his place in the outfield, replacing Matt Joyce as part of a wave of mass substitutions. Two innings
PORT CHARLOTTE, Fla. -- Michael Suchy ran out to right field in the bottom of the sixth inning wearing a black No. 80 Pirates jersey with no name on the back.
He took his place in the outfield, replacing Matt Joyce as part of a wave of mass substitutions. Two innings later, the 22-year-old plucked out of Minor League camp for the day crushed a solo home run off Adam Wilk down the left-field line, the Pirates' only run in a 5-1 loss to the Rays on Thursday at Charlotte Sports Park.
• Spring Training: Schedule | Tickets | More info
Suchy, Pittsburgh's fifth-round Draft pick in 2014, was one of eight players called up from Minor League camp and sent down Interstate 75 with the Bucs' big league team on Thursday. Each day in Spring Training, clubs call up a handful of Minor Leaguers to run through drills and round out their roster. The players are called up based on recommendations from the Pirates' player development staff, manager Clint Hurdle said.
A large portion of their Spring Training roster played a "B" game against the Orioles at 10 a.m., so the Pirates needed additional reinforcements on Thursday. Suchy, a Bradenton, Fla., native, played last year for Class A West Virginia, posting a .275/.362/.441 slash line with 10 home runs and 76 RBIs.
"They just look for those opportunities for certain guys to come up," Hurdle said. "They're not faces that are unfamiliar. Suchy's been up doing some drill work with us. We get him on the field today, and it's got to be a big kick for him, a thrill for him."
It was a thrill for Hurdle, too.
"I take none of this for granted," Hurdle said. "When a kid comes up here and throws that at-bat up and hits the home run, I'm just as gassed for him probably as his folks are."
Around the horn
• The Pirates have been sending out lineups without a designated hitter since Monday, and there's a reason for the timing. As their starting pitchers make their second starts of the spring, they start throwing three innings or more, usually giving them the opportunity to go to the plate. In their first run through the rotation in spring, starters typically only throw two innings.
Last spring, the Pirates focused on improving their pitchers' hitting, hoping to deepen their lineup with the ability to get a hit, put down a bunt or at least move over a baserunner. Left-hander Francisco Liriano bunted into a double play in the third inning Thursday.
"I didn't do my job there. That's why we're here," Liriano said. "We need to keep practicing every day and try to get better."
• Right-hander Jameson Taillon held the Rays to one run on four hits and a walk over two innings.
"I think Taillon is trending in a good way. He continues to improve," Hurdle said. "He's getting better. He just needs to keep pitching."
• Non-roster right-hander Curtis Partch made his fourth straight scoreless appearance, throwing a perfect eighth inning with a strikeout and two groundouts.