Kuhl (forearm) placed on DL; Moroff recalled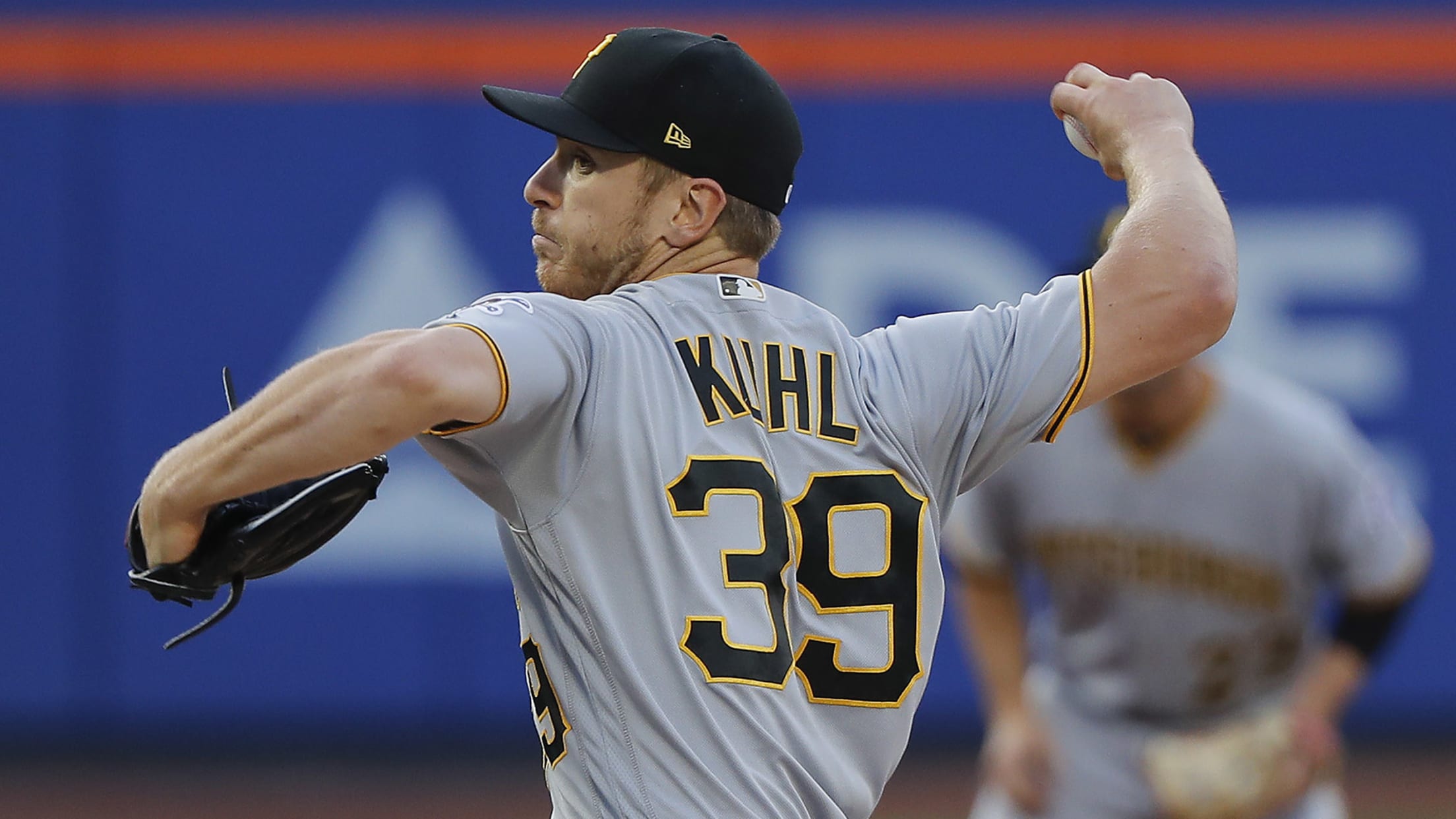 Pittsburgh Pirates starting pitcher Chad Kuhl delivers against the New York Mets during the first inning of a baseball game Tuesday, June 26, 2018, in New York. (AP Photo/Julie Jacobson) (Julie Jacobson/AP)
SAN DIEGO -- Right-hander Chad Kuhl went on the disabled list only once during the first five years of his career, missing two weeks immediately after making his professional debut in 2013 for a Minor League affiliate in Jamestown, N.Y., that no longer exists.But Kuhl landed on the disabled list for
SAN DIEGO -- Right-hander Chad Kuhl went on the disabled list only once during the first five years of his career, missing two weeks immediately after making his professional debut in 2013 for a Minor League affiliate in Jamestown, N.Y., that no longer exists.
But Kuhl landed on the disabled list for the first time in his Major League career on Friday. After leaving his start on Tuesday after only four innings, Kuhl was diagnosed with a right forearm strain. The Pirates recalled infielder Max Moroff from Triple-A Indianapolis to take Kuhl's spot on the roster.
Kuhl did not address the injury in New York after the Pirates wrapped up a three-game set vs. the Mets, and he was not with the team before Friday's series opener at Petco Park. Manager Clint Hurdle said Kuhl, whose DL stint was made retroactive to Wednesday, will rest for a few days before the Pirates determine what comes next.
"It's one step at a time," Hurdle said.
Kuhl's absence leaves a hole in Pittsburgh's rotation that will likely be filled by right-hander Nick Kingham early next week at Dodger Stadium. Kingham last pitched for Indianapolis on Monday, allowing two runs on three hits while striking out nine in 5 2/3 innings.
Until the Pirates add another starter, they will carry a five-man bench and an eight-man bullpen that includes recent callups Clay Holmes and Tanner Anderson. Moroff rejoined the club on Friday, giving Pittsburgh a backup middle infielder while Sean Rodriguez is on the disabled list.
Moroff hit just .216 in 16 games for the Pirates earlier this season, but he believes his time in Triple-A was well-spent. He expanded his defensive repertoire by playing left and right field for the first time in his career. Moroff also made a minor adjustment to his batting stance, bending his back knee toward the mound like he did while hitting .293 for Double-A Altoona in 2015.
"That's when I felt my best. I was using the whole field," Moroff said. "Didn't matter who was pitching, what they were throwing. I was just barreling the ball up."
Trying to regain that feeling at the plate, Moroff requested video of every hit he recorded three years ago in Double-A and stayed up for hours one night in Indianapolis as he watched all 153 on his iPad. He asked Triple-A hitting coach Ryan Long to review the video as well, then they went to work together in the batting cage to get Moroff's back knee in place. Over the last two weeks, Moroff went 15-for-41 with two homers, six walks and only seven strikeouts for Indianapolis.
"It felt comfortable again," Moroff said. "It felt like the same old Altoona swing."
Around the horn
• The Pirates reinstated left-hander Nik Turley from the restricted list and placed him on the 60-day disabled list with a left elbow sprain. On Jan. 27, Turley received an 80-game suspension without pay after testing positive for Ipamorelin, a performance-enhancing substance in violation of Major League Baseball's Joint Drug Prevention and Treatment Program.
Pittsburgh claimed Turley, 28, off waivers from the Twins on Nov. 6. He did not participate in Major League Spring Training, occupy a spot on the 40-man roster while suspended and does not require a roster spot while on the 60-day DL. Turley posted an 11.21 ERA and 2.15 WHIP in 10 appearances for Minnesota last season.
• Top prospect Mitch Keller is scheduled to make his first Triple-A start on Saturday. Outfield prospect Jason Martin joined the Indianapolis lineup on Friday, batting second and starting in center field.
• Pirates prospects Ke'Bryan Hayes, Will Craig, Taylor Hearn and Sean Keselica were chosen on Friday to play in the Eastern League All-Star Game.