Pirates 'very proud' of Altoona's title, sweep
Hurdle on Double-A squad: 'Everybody showed up. Everybody threw something in'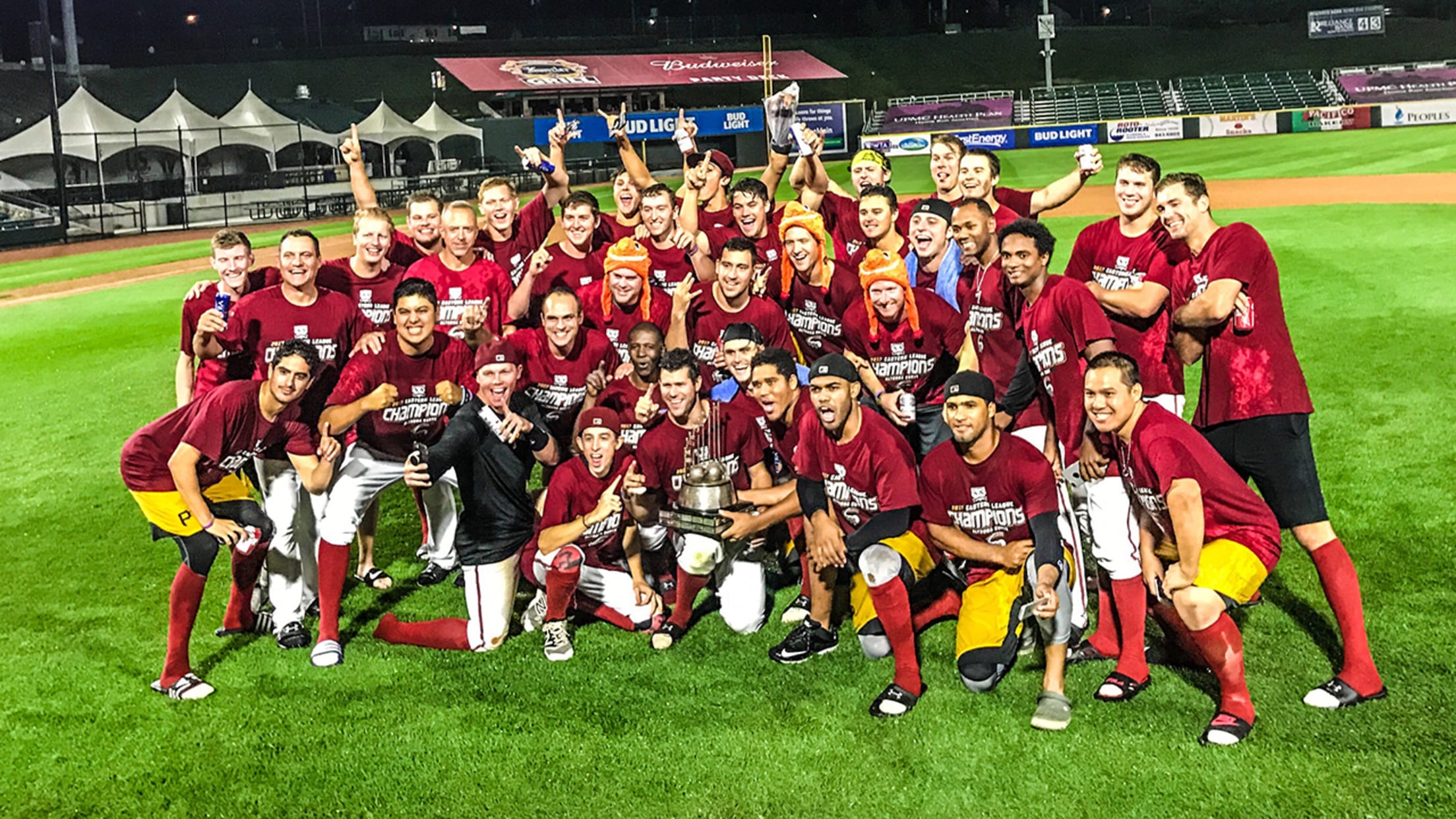 Double-A Altoona won all six of its postseason games en route to an Eastern League title. (Trey Wilson/Altoona Curve)
CINCINNATI -- As he ate dinner Thursday night, Pirates outfielder Jordan Luplow was locked in on his phone. After starting this season with Double-A Altoona, he wanted to catch the end of the club's championship run.The Altoona Curve beat the Trenton Thunder, 4-2, on Thursday to sweep the Eastern League
CINCINNATI -- As he ate dinner Thursday night, Pirates outfielder Jordan Luplow was locked in on his phone. After starting this season with Double-A Altoona, he wanted to catch the end of the club's championship run.
The Altoona Curve beat the Trenton Thunder, 4-2, on Thursday to sweep the Eastern League championship series and complete a perfect postseason. Altoona became the third Eastern League team to sweep all six of its playoff games since 1983.
Pirates manager Clint Hurdle made a congratulatory phone call to Altoona manager Michael Ryan, who also led Class A Advanced Bradenton to a Florida State League title last year.
"We're very proud of them. Very happy for them. It's a strong finish to a very good season," Hurdle said. "As Michael would tell you, everybody showed up. Everybody threw something in. Even with all the change [on the roster] they had in the second half of the season, it was a wonderful team accomplishment."
• Pirates Top 30 Prospects
Top Pirates pitching prospect Mitch Keller, the Eastern League's postseason MVP, led the way on the mound. Keller threw a one-hit shutout in Game 1 of the Western Division Series then held Trenton to two runs on four hits while striking out eight over 7 1/3 innings in the clincher.
Catcher Jin-De Jhang, who began the year in big league Spring Training camp, delivered the key hit Thursday night, a three-run triple in the fifth inning that gave Altoona the lead. Watching from Cincinnati, Luplow kept his eyes on the live stream until Tate Scioneaux recorded the final out.
About 20 minutes later, Luplow texted shortstop prospect Cole Tucker: "FaceTime me right now." Tucker called Luplow, who got to celebrate his former teammates' championship from afar.
"Every guy that came in, they just fit," Luplow said. "There were a lot of guys moving up and down, but every guy that came in plugged right in and kept going."
Cervelli working to return
Catcher Francisco Cervelli, on the disabled list with left quadriceps soreness, did some squatting exercises Friday afternoon and said he is "very close" to coming back. The Pirates only have 14 games remaining after Friday, but Cervelli hopes to play before the end of the season.
"I never had it in my mind to quit. We're going to keep trying," Cervelli said. "There's a lot of young guys here. I want to help. I think we've got something special for next year. A lot of people see what happened this year as something bad, but we've got to take a lot of positive things. I can see it."
Rotation remains fluid
The Pirates have not announced their probable starting pitchers past Sunday's series finale, but Hurdle said he met with pitching coach Ray Searage to sketch out a schedule for the final 12 games.
Chad Kuhl started Friday and may have his next turn skipped. Ivan Nova will start Saturday, and Gerrit Cole will pitch Sunday. Jameson Taillon and Trevor Williams will rejoin the rotation at some point after sitting out a start.
The Pirates want Steven Brault to start again soon after an impressive outing in Milwaukee and would like to see Tyler Glasnow make another start. Glasnow may pitch in relief between starts, Hurdle said. It won't be a true seven-man rotation, but the Pirates will use all seven starters on their roster down the stretch.
"We'll try to plug and unplug," Hurdle said.