Scahill among 7 Bucs sent to Minor Leagues
Right-hander had been competing for spot in Pirates' bullpen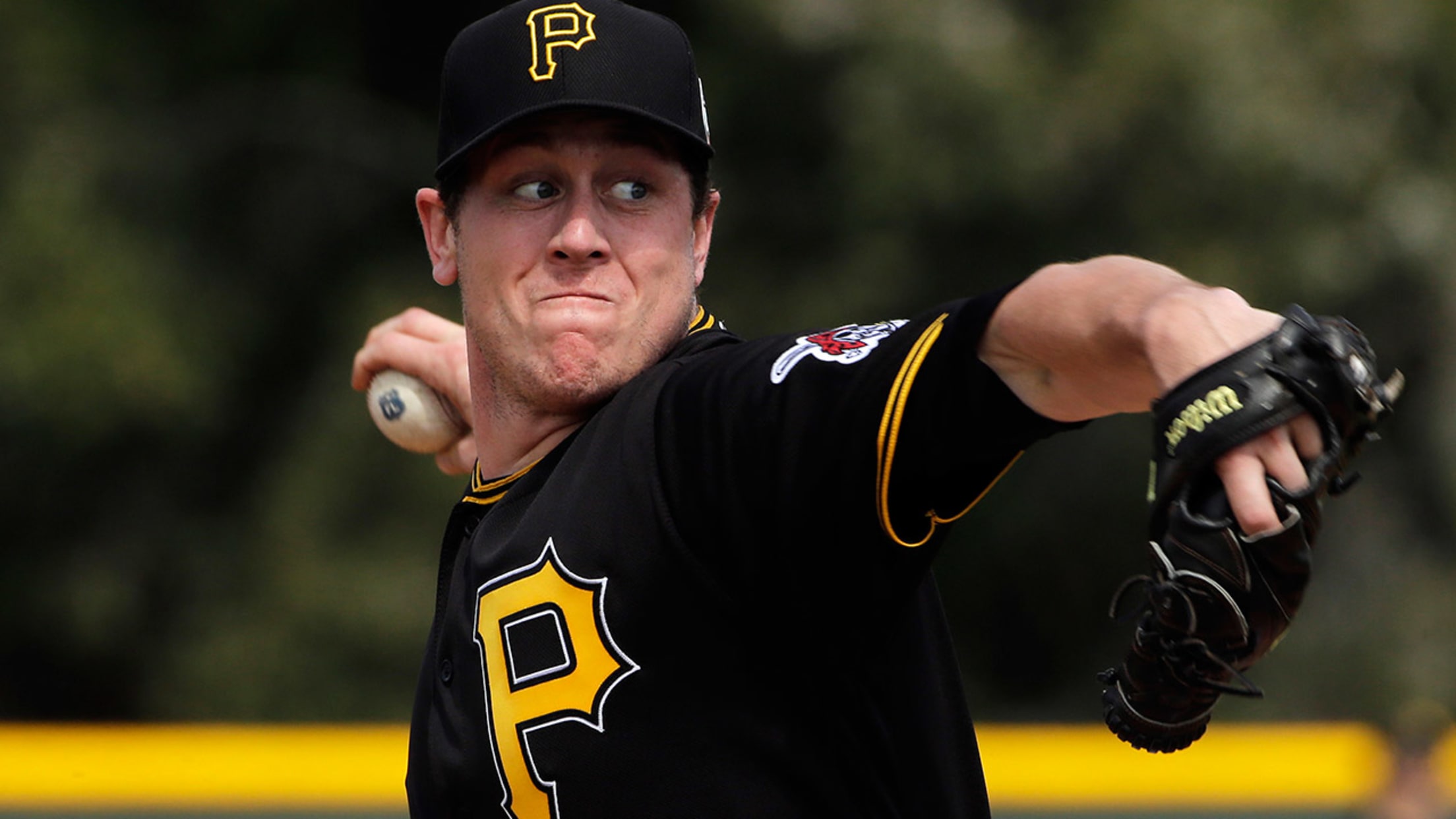 Rob Scahill went 2-4 with a 2.64 ERA in 28 appearances with Pittsburgh last season. (AP)
TAMPA, Fla. -- The Pirates trimmed their Spring Training roster on Tuesday by sending seven players to Minor League camp.Pittsburgh optioned infielder Jake Goebbert and right-handers Trey Haley and Rob Scahill to Triple-A Indianapolis. Outfielders Danny Ortiz and Antoan Richardson, along with right-hander Curtis Partch and left-hander Robert Zarate, were
TAMPA, Fla. -- The Pirates trimmed their Spring Training roster on Tuesday by sending seven players to Minor League camp.
Pittsburgh optioned infielder Jake Goebbert and right-handers Trey Haley and Rob Scahill to Triple-A Indianapolis. Outfielders Danny Ortiz and Antoan Richardson, along with right-hander Curtis Partch and left-hander Robert Zarate, were re-assigned to Minor League camp.
The Pirates now have 35 players in Major League camp.
Scahill was fighting for a spot in the Opening Day bullpen, and it appears there are now two available jobs, with reliever Jared Hughes likely headed to the disabled list with a strained left lat.
"The reality is, it's going to be very difficult for [Hughes] to open the season on the active roster," general manager Neal Huntington said. "We'll take the time we need to take to get him 100 percent healthy.
"[The rest of] those guys are still in competition. How do we configure the 'pen, length versus ceiling? We've still got some decisions to make and some discussions to go through."
Scahill put together a 2.64 ERA in 28 games last season. In seven games this spring, he allowed four runs on nine hits in 8 1/3 innings.
"He's got quality Major League stuff. It's just the application and being aggressive and using both halves of the plate and maybe simplifying his approach a little bit," Huntington said. "I think Rob will help us again at some point earlier than later this season."
Haley and Goebbert were Minor League free agents signed to Major League deals this offseason. Haley, 25, has little experience above Double-A but impressed the Bucs this spring with his power arm.
Haley wound up with a 6.23 ERA in nine appearances this spring, but that number is misleading. Eight of his outings were scoreless; in the other he allowed six runs and recorded two outs.
"You've got to love Trey Haley's arm," Huntington said. "We told him we fully expect to have him back with us this summer. We'll continue to refine some things with him."
Goebbert, who last played in the Majors in 2014, hit .194/.342/.258 with four RBIs in 18 spring games.
"We wanted him to come in here and compete to make this club," Huntington said. "Jake even admitted it wasn't the spring we expected, but there are still things we like with the bat, and we still feel there were quality reasons why we signed him."
Around the horn
• Shortstop Jordy Mercer was scratched from Tuesday's lineup due to pink eye.
• David Freese made his spring debut at first base in the Pirates' rain-shortened, 5-4 loss to the Yankees. Freese, expected to play some first base after third baseman Jung Ho Kang's return, committed an error in the third inning.
"We're just reintroducing it to him," Hurdle said about Freese, who has appeared at first base in nine big league games. "Probably going to try to get him out there one more time before camp's over."