Bosio telecommuting while on medical leave
Pitching coach working on scouting reports, video, analytics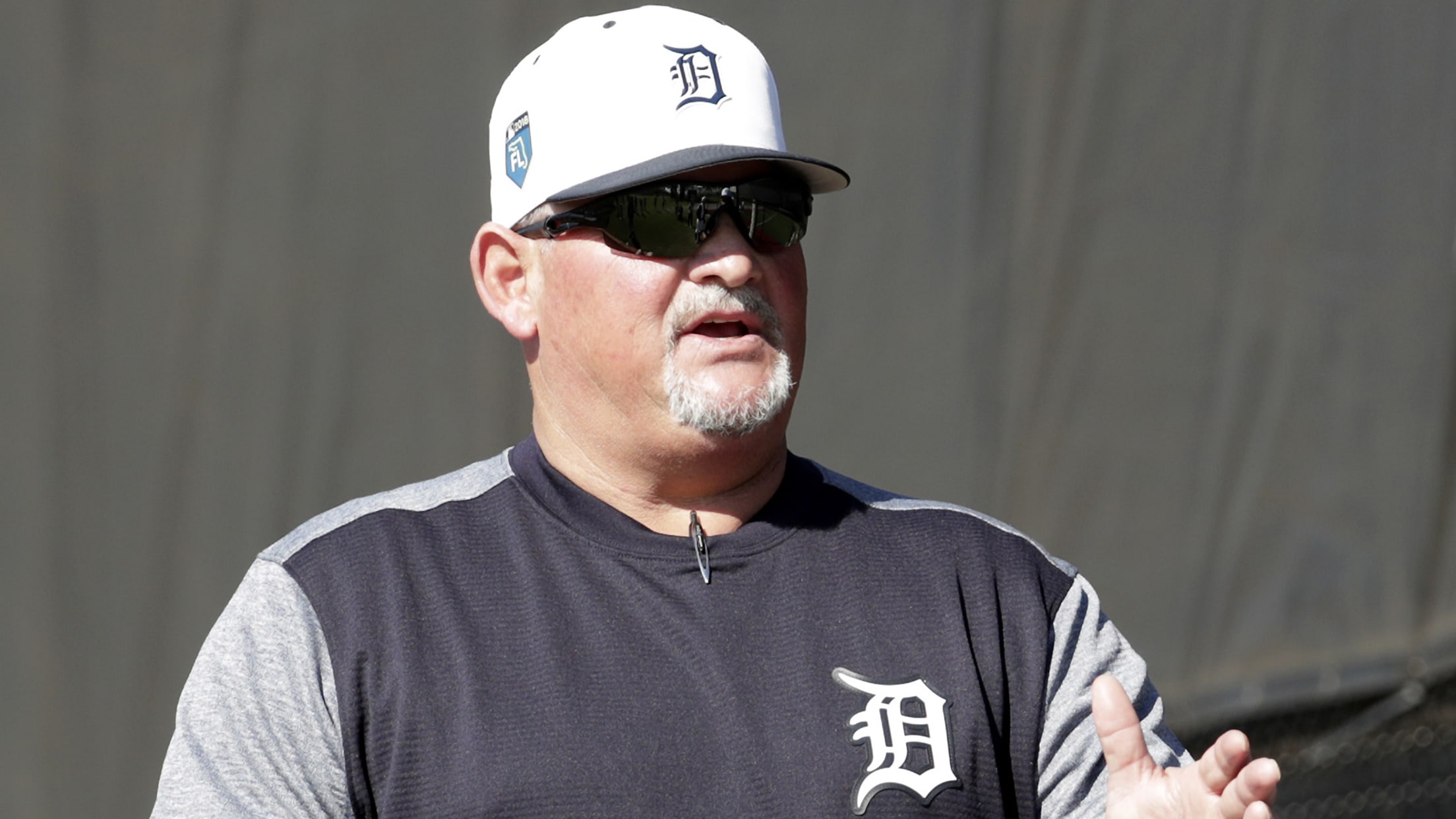 Detroit Tigers pitching coach Chris Bosio, left, talks with starting pitcher Michael Fulmer (32) in the bullpen at baseball spring training camp, Friday, Feb. 16, 2018, in Lakeland, Fla. (AP Photo/Lynne Sladky) (Lynne Sladky/AP)
DETROIT -- The Tigers returned to work at Comerica Park on Friday without the architect of their pitching plan. While pitching coach Chris Bosio rests at home for the next couple of weeks under doctors' orders with an undisclosed medical issue, the Tigers play on with bullpen coach Rick Anderson
DETROIT -- The Tigers returned to work at Comerica Park on Friday without the architect of their pitching plan. While pitching coach Chris Bosio rests at home for the next couple of weeks under doctors' orders with an undisclosed medical issue, the Tigers play on with bullpen coach Rick Anderson serving in the role.
It's not so much a complete break for Bosio as it is a switch to telecommuting. Under the arrangement, Bosio will work on scouting reports, video analysis and analytics input from home on his computer and send everything to the staff. Bosio wanted to do it, said manager Ron Gardenhire, who likes the work Bosio was doing.
In that sense, Bosio still has an influence. Still, the individual work he was doing with pitchers is largely on hold.
"We're still talking. He's doing reports," Gardenhire said on Friday. "We just have to make the adjustments until we get him back."
Bosio is in his first year as the Tigers' pitching coach after spending the previous six seasons in the same role with the Cubs. Although the Tigers retained a few coaches from Brad Ausmus' old staff, the pitching side is all new, including Anderson.
While Anderson fills the pitching coach role, longtime Tigers Minor League pitching coordinator A.J. Sager will serve as bullpen coach.
Jones getting his chance
While Michael Mahtook made his debut for Triple-A Toledo on Friday, JaCoby Jones made his second consecutive start for the Tigers in left field. After several stints as Detroit's center fielder last season, Jones appears to be in line to get an extended look in left, at the very least until Mahtook returns.
Gardenhire has said that both Jones and Rule 5 pick Victor Reyes will get starts in left. Given Jones' previous experience and Reyes' relative inexperience, having not played a game above the Double-A level until this year, this would seem to be a bigger opportunity for Jones.
Jones isn't making a big deal out of it.
"Just keep playing my game, playing hard," Jones said.
No tipping
Though the Indians' success off Tigers ace Michael Fulmer's fastball on Thursday led to questions whether he might be tipping his pitches, the Tigers are proceeding under the belief that Fulmer simply paid the price for an ineffective heater. Fulmer and catcher John Hicks had a postgame discussion, but Hicks said they believe it was simply an off night.
Fulmer threw 34 fastballs against Indians hitters, who took just four of them for strikes, and didn't swing and miss at any. The fastballs they put in play had an average exit velocity of 100 mph, according to Statcast™.
Quick hits
• Jose Cabrera acknowledged that on Thursday he was letting pitches travel more and taking them to the opposite field, including a ground ball through the right side for a single that set up the Tigers' second run of the game in the seventh inning.
• The Tigers unveiled a new-look bullpen cart, painted black with flames on the front, sponsored by Motor City Casino. Tigers relievers did not use the previous bullpen cart during the five-game season-opening homestand.
• New Detroit Lions head coach Matt Patricia was among those in attendance for Friday's game. He took in batting practice from the field, chatting with Gardenhire, Yankees manager Aaron Boone and Tigers senior director of analytics Jay Sartori, among others.
• After right fielder Nicholas Castellanos missed a cutoff man throwing in on a base hit to right field, missing a chance at an out at second base as a result in Thursday's loss, Gardenhire said they'll reposition their infielders. Cabrera will stay in the infield on hits to the right-field corner, while Dixon Machado will cover his territory. That will leave Castellanos with a longer throw, but more territory will be covered with his strong arm.