Pitt's Conner set for first pitch at Bucs' opener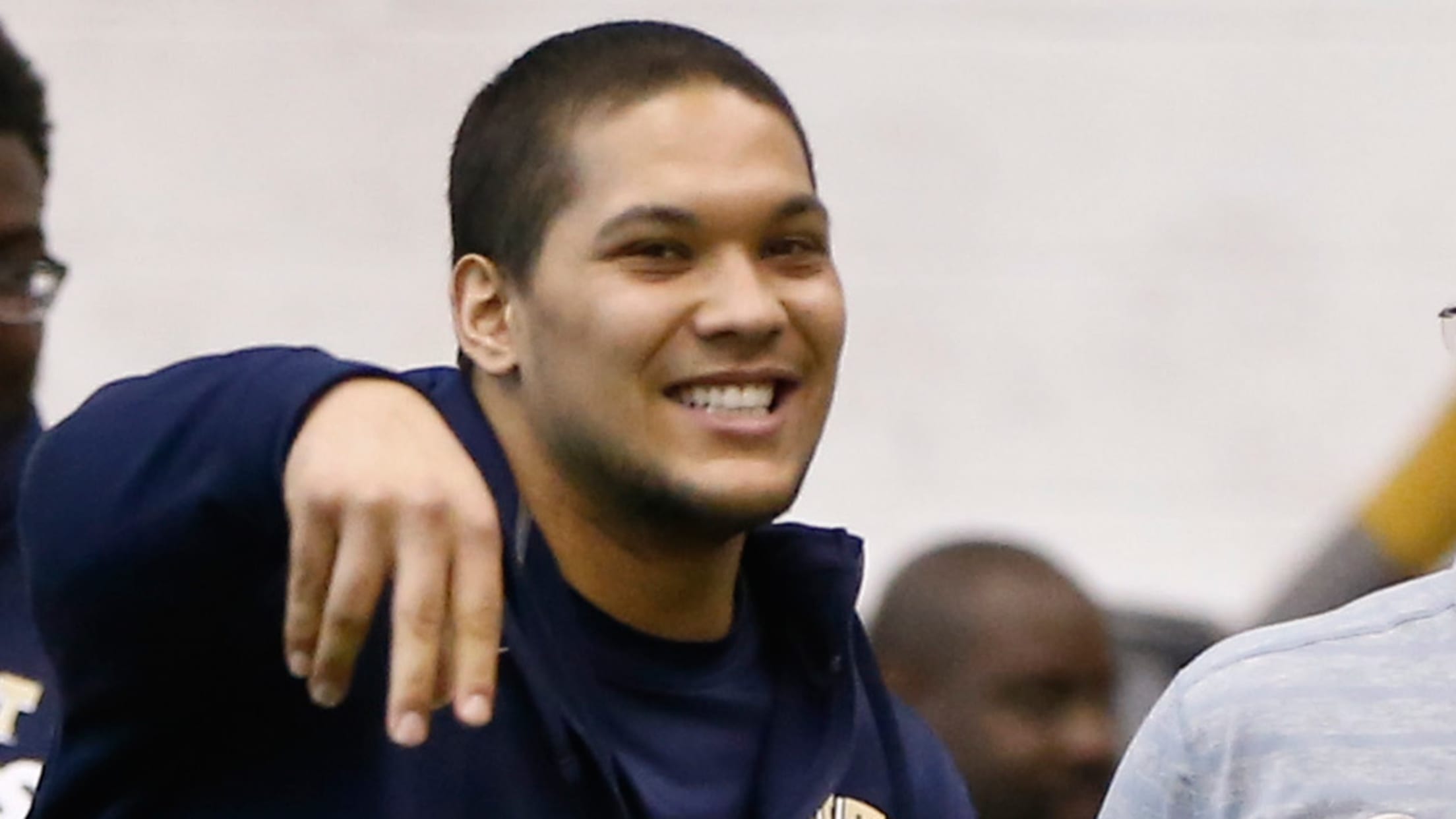 "I'm honored and thrilled to throw out the first pitch for the Pirates' season opener," said James Conner. (AP)
BRADENTON, Fla. -- University of Pittsburgh running back James Conner, diagnosed last season with Hodgkin lymphoma, will throw out the first pitch on Opening Day at PNC Park.Conner, a native of Erie, Pa., was the Atlantic Coast Conference Player of the Year in 2014 and has been recognized on the
BRADENTON, Fla. -- University of Pittsburgh running back James Conner, diagnosed last season with Hodgkin lymphoma, will throw out the first pitch on Opening Day at PNC Park.
Conner, a native of Erie, Pa., was the Atlantic Coast Conference Player of the Year in 2014 and has been recognized on the Allstate AFCA Good Works Team, a group of players who have made a positive impact off the field.
Conner announced his cancer diagnosis in December but has continued to participate in the Panthers' offseason workouts.
"I'm honored and thrilled to throw out the first pitch for the Pirates' season opener, and I want to thank everyone in the organization for this incredible invitation," Conner said in a statement. "It has been a long time since I played baseball but I'll make sure my arm is ready to throw a strike on Sunday. The Bucs' road to the World Series begins this weekend and I can't wait to be at PNC Park."
The Pirates' pregame ceremonies are expected to begin at 12:30 p.m. ET on Sunday, before they play the first game of the regular season against the Cardinals. Pittsburgh native Jackie Evancho will sing the national anthem.
Andrew McCutchen (Silver Slugger), Starling Marte (Gold Glove) and Mark Melancon (Trevor Hoffman National League Reliever of the Year) will receive their respective 2015 awards, and Pirates executives will take part in a pregame ceremony as the club is recognized by Baseball America as the 2015 Organization of the Year.
Injury updates
Pirates third baseman Jung Ho Kang took another step forward in his rehabilitation from left leg surgery on Wednesday. Kang was scheduled to play defense, hit and run to first base in a Minor League game at the team's Pirate City complex.
This is the first time Kang has run the bases in a game, and the first time he's hit and played defense in the same game. Kang's baserunning is still limited -- "no hard left turns," as head athletic trainer Todd Tomczyk said -- with one exception.
"As we joked, when he hits a home run, he's cleared to trot around the bases," Tomczyk said.
Shortstop Jordy Mercer, out of the lineup for the second straight day, was sent home with an eye infection. He is expected to return Thursday and should be ready to play Opening Day.
Reliever Jared Hughes (left lat strain) is still not throwing, making it even more likely he begins the season on the disabled list. Catching prospect Elias Diaz (right elbow discomfort) isn't throwing yet, either.
Gregory Polanco (sore right shoulder) was back in the lineup Wednesday.
Around the horn
• The Pirates announced their regular-season television and radio broadcast schedule. ROOT SPORTS will air 150 games. All 162 regular-season games will air on KDKA-FM (93.7 The Fan).
• McKechnie Field, the Pirates' spring home, was named the top ballpark in the Grapefruit League in Ballpark Digest's "Best of the Ballparks" competition.