Here is MLB's All-Second Half team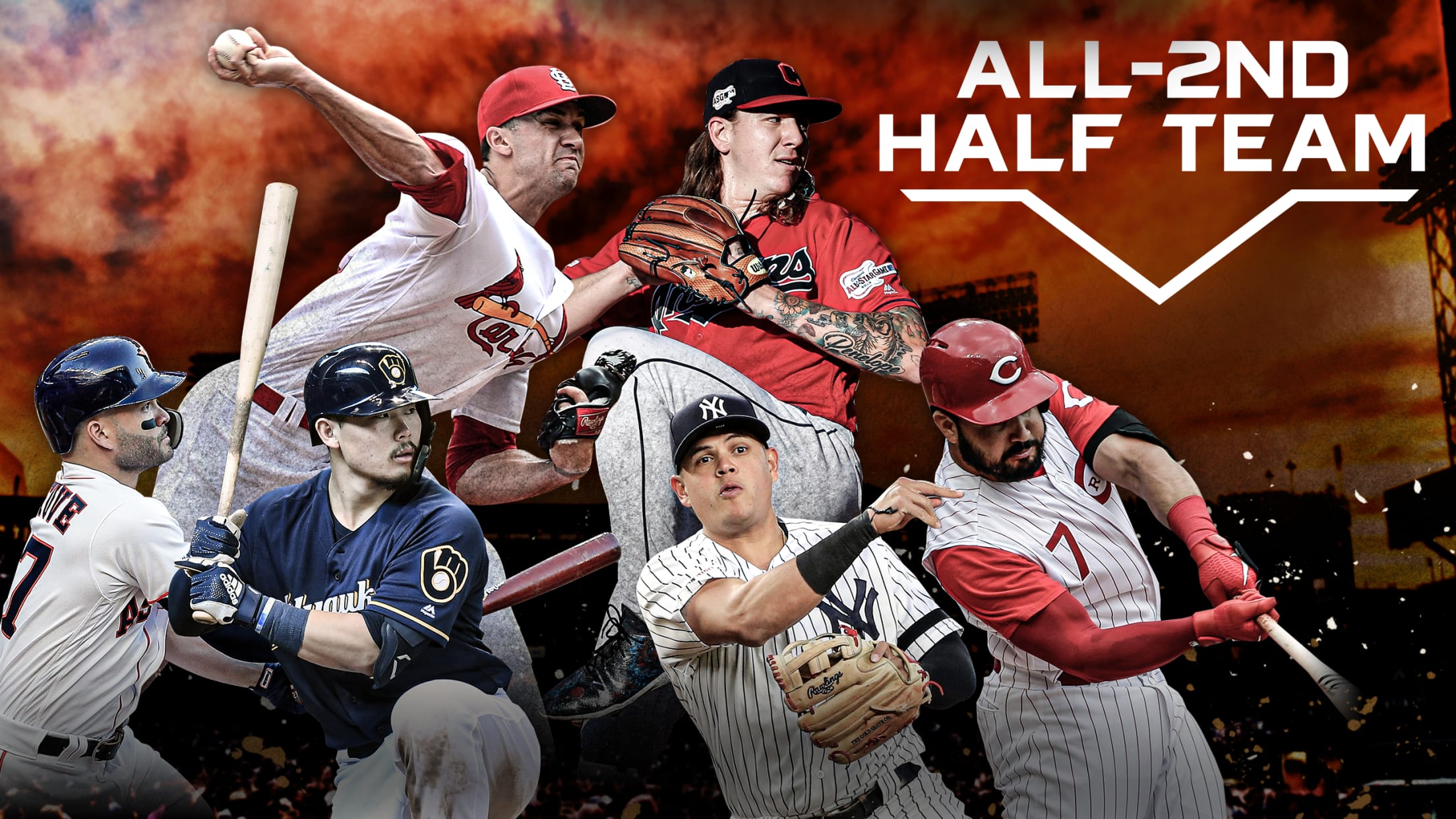 Because an All-Star Game staged in the winter months would be odd and unsettling, the Midsummer Classic we know and love is a celebration of a half-baked season. You get to the game mostly on the might of numbers not yet fully formed. That means the second-half surgers -- the
Because an All-Star Game staged in the winter months would be odd and unsettling, the Midsummer Classic we know and love is a celebration of a half-baked season. You get to the game mostly on the might of numbers not yet fully formed.
That means the second-half surgers -- the heroes of the home stretch -- don't always get to enjoy the fruits of their labor (unless they've propelled their club to the postseason, which is a fine perk). Those are the guys we seek to salute in this space, with the All-Second Half Team.
The rule here is simple: Pick a player from each league at each position whose post-break stats have stood out, while eliminating (just for the sake of variety) all the players who were already selected to the actual All-Star Game from contention.
To repeat (because this is bound to come up in my Twitter mentions otherwise): NO 2019 ALL-STARS WILL BE ON THESE TEAMS!
Get it? Got it? Good. Unless otherwise noted, all the stats in this piece are from the second half, entering this weekend's games.
CATCHER
American League: Mitch Garver, Twins
The Mariners' Tom Murphy (.944 OPS) and the Rays' Travis d'Arnaud (.825) both fit the spirit of this squad, but Garver gets the edge for not only proving his first-half power explosion was no fluke, but for bettering it after the break with a 1.053 OPS and 18 homers -- none bigger than this one.
National League: Will Smith, Dodgers
J.T. Realmuto has enjoyed the biggest offensive surge of any player at this position in the second half, but he was already an All-Star. Non-All-Star Wilson Ramos also improved. But the rookie Smith, despite his September struggles, deserves to be highlighted here for seizing the starting job behind the dish for one of the best teams in baseball after his July 26 re-promotion to the big leagues. He has a .528 SLG since then.
FIRST BASE
AL: Yuli Gurriel, Astros
The A's Matt Olson has been nearly as absurd (.289/.376/.560), amid high stakes in Oakland. But Gurriel's .346 average, 1.064 OPS and 178 weighted runs created plus mark (78 percent better than league average) are all among the best of any player at any position since the break. His on-base percentage (.401) is 87 points higher than it was in the first half, and his slugging percentage (.664) is 182 points higher.
NL: Anthony Rizzo, Cubs
Division rival Paul Goldschmidt has also seen an uptick in output (.537 SLG in the second half vs. .426 in the first) to help push the Cardinals to the top spot in the NL Central. But Rizzo has seen a 46-point jump in his average and a 52-point jump in his OBP, with the highest wRC+ (153) of any first baseman in the NL in the second half. He also hopped off his medical scooter to hit a homer Thursday, making a stirring return from what had looked to be a season-ending ankle injury.
SECOND BASE
AL: José Altuve, Astros
Now this is the Altuve we know and love. Injuries limited his effectiveness last season and the first two months of '19, but the real Altuve has stood up with a .335/.384/.638 slash, 19 homers, 14 doubles and three triples since the break. Not that the Astros lineup really needed the boost …
NL: Keston Hiura, Brewers
A hamstring injury has held him out for half of this month, but we're not holding that against Hiura, because he's been one of the most productive rookies in baseball in the second half. His .326/.394/.629 slash helped the Brewers stay afloat in the NL playoff picture, and his return this past week is vital with Christian Yelich on the shelf. Kolten Wong of the division-rival Cardinals would be a worthy inclusion here, too.
SHORTSTOP
AL: Marcus Semien, A's
With a 115 wRC+ and great defense, Semien would have been a deserving All-Star this season, but the proliferation of talent at his position made that difficult. In the second half, though, he's been on another level -- a 162 wRC+ and 17 homers. That's enough to give him the edge here even over Blue Jays rookie sensation Bo Bichette, who has 29 extra-base hits in only 46 games.
NL: Amed Rosario, Mets
Even if the Mets' Wild Card bid comes up short, they've learned they have a cornerstone in the 23-year-old Rosario, who has improved his defense and come through with a .323 average and .356 OBP since the break.
THIRD BASE
AL: Gio Urshela, Yankees
Alex Bregman (193 wRC+) has been otherworldly. But because we're saluting non-All-Stars, let's celebrate Urshela for not only not falling off a cliff after his out-of-nowhere offensive emergence in the first half but actually improving. Though he missed some time with a groin injury, Urshela has a .345/.374/.635 slash. Also, a shout-out here to Jose Ramirez for resurrecting his season (32 extra-base hits) before fracturing his hamate bone on Aug. 24.
NL: Eugenio Suárez, Reds
Anthony Rendon might sneak away with the NL MVP with his furious finish, but he was an All-Star (even though he didn't actually go to the game). So, the spotlight is on Suarez, who is vying for the Major League home run title in the midst of a furious finish of his own (.307/.392/.720 slash, 28 homers). The only higher second-half slugging percentages this decade belong to 2018 Christian Yelich (.770) and 2017 J.D. Martinez (.751).
OUTFIELD
AL: Jorge Soler, Royals
Though most of his time has been spent at DH, we need Soler in the outfield both to ensure his selection to this squad and, as you'll see, make room for another monster masher who we'll get to in a bit. Soler is not only the first Royal with a 40-homer season, but with Mike Trout on the shelf, he will almost certainly become the first member of the club to win the home run title. Soler has a .281/.396/.638 slash.
Mark Canha, A's
Another undeservedly anonymous Athletic, Canha has slashed .299/.413/.516 to help push his club toward its second consecutive Wild Card spot. After filling in for injured players at various positions, he has solidified his everyday role in the Oakland outfield.
Mike Tauchman, Yankees
Though he suffered what is likely to be a season-ending calf injury on Sept. 8, Tauchman was one of the great stories of 2019, seizing an unexpected opportunity and posting a .315/.395/.582 slash with nine homers and 10 doubles in 45 games.
NL: Juan Soto, Nationals
Wait, remind us how was this kid was not an All-Star already this season? It's not like he snuck up on anybody after one of the great age-19 seasons of all-time. Anyway, Soto has kept doing his thing in the second half -- .282/.396/.608 slash, 19 homers, 15 doubles and nearly as many walks (44) as strikeouts (49).
Nicholas Castellanos, Cubs
Teammate Kyle Schwarber (19 homers, .958 OPS) is equally deserving of a spot here, but there might not be a bigger Trade Deadline pickup than Castellanos, who could become the first player since 1936 to log 60 doubles in a season. He wasn't doing a whole lot at the plate in the weeks leading up to the July 31 deal from Detroit, but he has a .330/.365/.665 slash (and 19 doubles) since Aug. 1, upping his free-agent value along the way.
J.D. Davis, Mets
This low-profile trade acquisition played a major role in the Mets putting themselves in the NL playoff race after the break. He's become a mainstay in left field and posted a .333/.396/.556 slash with 10 homers and 10 doubles, removing all doubt about his ability to be an everyday player in the big leagues.
DESIGNATED HITTER
AL: Yordan Alvarez, Astros
Did the Astros really need some kid to come up and have one of the greatest-ever offensive starts to a career? Not really, but they'll take it. Alvarez came up too late to get serious All-Star consideration, but all he's done since the break is slash .310/.420/.653 with 19 homers and 16 doubles.
By the way, the ageless Nelson Cruz (23 dingers, 1.116 OPS) and J.D. Martinez (17, .981) are also worth considering here, but at least those guys have been All-Stars in the past.
NL: Mike Yastrzemski, Giants
Might as well fill out a full lineup for the NL squad, and while there are various deserving bats to consider (including Schwarber and Bryce Harper), let's just say Yaz's grandson won us over with that fantastic Fenway homer in the midst of a tremendous second half overall (.281/.346/.561 with 30 extra-base hits).
STARTING PITCHER
AL: Mike Clevinger, Indians
As you've probably noticed, Justin Verlander and Gerrit Cole have been second to none in their simultaneous Cy Young bids, but were both All-Stars. So "Sunshine," as Clevinger is known, shines here. Though he dealt with injuries in the first half, he has a 10-1 record, 2.02 ERA and 115 strikeouts in 89 innings in his 14 starts since the break. Boston's Eduardo Rodriguez (2.23 ERA) would be an equally deserving selection here.
NL: Jack Flaherty, Cardinals
The Cubs' Yu Darvish and impact trade pickups Zac Gallen of the D-backs and Jordan Lyles of the Brewers are among those who have kicked it into high gear during the last couple of months. But Flaherty has been on an almost 2015 Jake Arrieta-like sizzle in the second half, with a 1.05 ERA, 0.76 WHIP, .457 opponents' OPS and 5.35 K/BB ratio in 85 1/3 innings across 13 starts.
Not half bad (pun intended).