6 stars who could become 1st-time MVP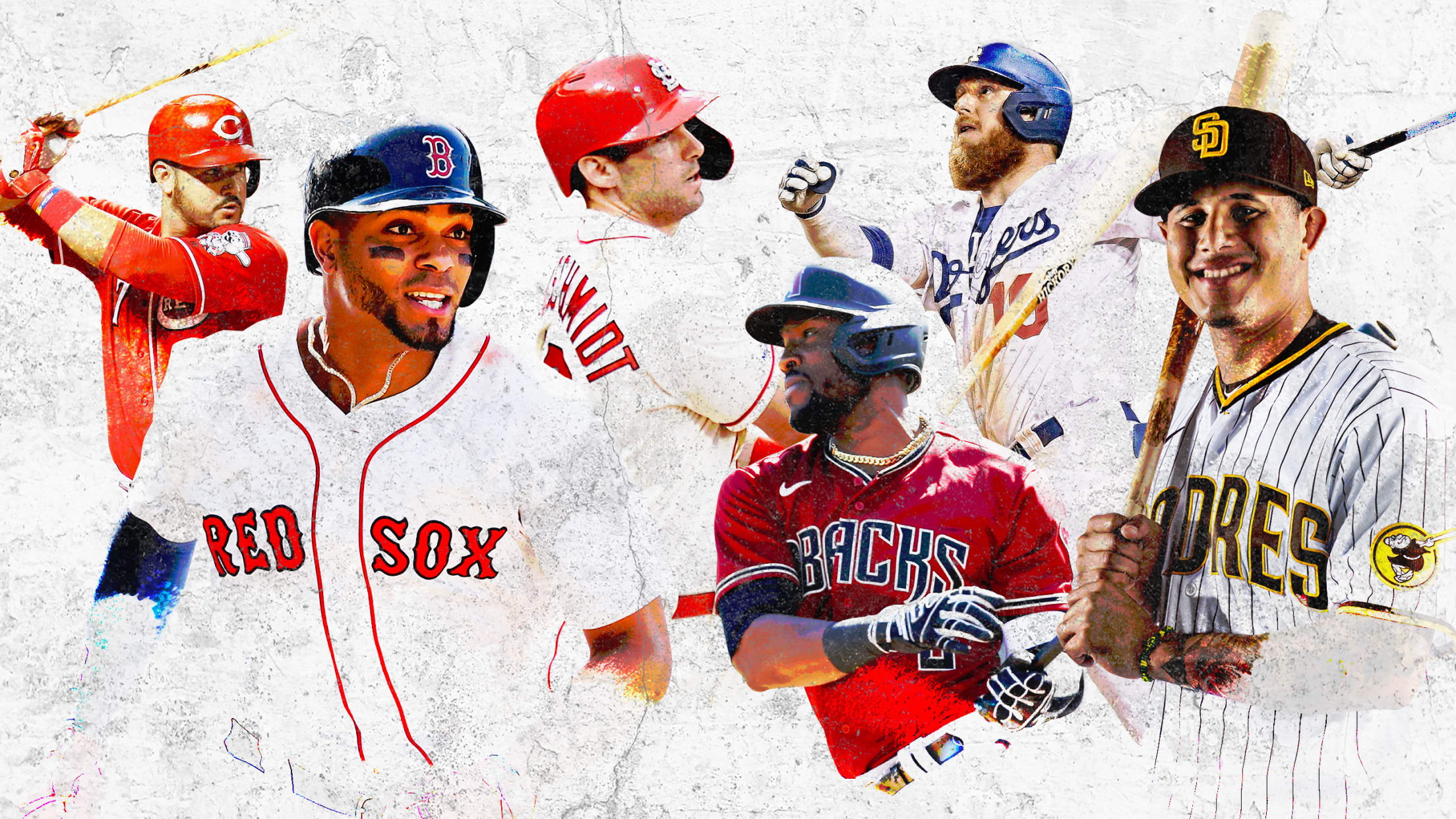 One of the more fascinating aspects of the MVP Award, particularly in a post-Barry Bonds age, is how many different people win one. Here's a fun fact: In the past 10 years of the National League, 10 different players have won the MVP. That's right, we've had no repeats in
One of the more fascinating aspects of the MVP Award, particularly in a post-Barry Bonds age, is how many different people win one.
Here's a fun fact: In the past 10 years of the National League, 10 different players have won the MVP. That's right, we've had no repeats in that time. The 10 are entirely different names:
2010: Joey Votto
2011: Ryan Braun
2012: Buster Posey
2013: Andrew McCutchen
2014: Clayton Kershaw
2015: Bryce Harper
2016: Kris Bryant
2017: Giancarlo Stanton
2018: Christian Yelich
2019: Cody Bellinger
It's a little less diffuse in the American League, where Mike Trout (three) and Miguel Cabrera (two) have hogged half the trophies. But the point is, MVP voters tend to spread the wealth. All it takes is one hot year (and maybe Trout having a down season). And having a "hot year" is going to be a little easier over two months of a season than it would be over a full one. Thus, today, we look at six veteran, accomplished players who have never won an MVP, but have an increased chance to do so this year. It's actually a little surprising none of these players has won an MVP already. Maybe this is the year.
1) Xander Bogaerts, SS, Red Sox
The Red Sox have the deck stacked against them a little bit this year, but they still have a ton of talent, not the least of which is Bogaerts, who had the best year of his career in 2019 and doesn't have Mookie Betts around to distract everybody this time. He was fifth in MVP voting last year, is right in his prime at 27 and has low expectations for his team potentially working for him. If the Red Sox surprise, particularly without Betts around, Bogaerts will be the guy everybody points to.
2) Paul Goldschmidt, 1B, Cardinals
It's surprising Goldy has never won one, no? He's finished in the top three three times, and even in a down year like he had in 2019 -- the first year he didn't make the All-Star Game since 2012 -- he still got some down-ballot votes. The extra rest seems to have gotten him fully healthy, and even though he has been a slow starter in the past, this would seem the ideal situation to get him returned to his MVP form. The Cardinals' offense is the main thing holding them back in the NL race this year; a bounceback from Goldschmidt could launch him toward his first trophy.
3) Manny Machado, 3B, Padres
Oh yeah, remember this guy? We spent about 18 months talking about Machado every single day -- his runs to first, his "attitude," his free agency, his massive contract -- and then he went to San Diego and we barely talked about him again. Well, he's still really good, and he just turned 28 years old. He has yet to have that mammoth year we've all been waiting on, but in Year 2 in San Diego, he should be more comfortable, more relaxed and more ready to lead a young team to the next level. If the Padres surprise this year, Machado will receive a lion's share of the credit.
4) Starling Marte, CF, D-backs
Marte's positive PED test in 2017 took a lot of shine off his rose, and he sort of has the reputation of an underachiever, at least offensively. (The defense has never been a question.) But with almost no one noticing -- he was playing for a bad Pirates team, after all -- he had the best season of his career in 2019, and now he'll be batting leadoff for a team that is a lot better than most of the baseball world seems to realize. (The D-backs traded Goldschmidt last year … and got a lot better!)
Marte is in a good lineup, for a good team, and he's the biggest non-Bumgarner addition to a team that could sneak into the playoffs this year. If he has a terrific year and the D-backs break through, he'll receive a lot of the credit. And he'll deserve it.
5) Eugenio Suárez, 3B, Reds
Suárez came within one home run from posting the 47th 50-homer season in MLB history last year. Did you realize that? That would have made him just the fifth player the whole decade to do that. (Pete Alonso was the fourth.) Suárez isn't going to hit 50 this year -- though if he does, I can absolutely guarantee you he will win the MVP -- but with the lineup improvements the Reds have made, leading the NL in both homers and RBIs is certainly not off the table. And considering the Reds are considered a legitimate NL Central contender after finishing a far-off-the-pace fourth in 2019, if they make the playoffs and have Suárez put up another big year, he might not just be an MVP contender: He might be the favorite.
6) Justin Turner, 3B, Dodgers
With the reigning NL MVP and a former AL MVP winner as teammates, Turner isn't one of the top two MVP contenders on his own club. (Though he is the top contender who hasn't won one yet.) But this is where I remind you that he was really good again last season, and he has basically been MVP-caliber since he arrived in Los Angeles. (Sorry, Mets fans.) It'll be tough for just about anyone to get enough at-bats in that lineup to compile numbers that are too huge, but if Turner gets hot, and the Dodgers run away with the NL West as they are likely to, he could be the recipient of all the voters' love. And hey: Who wouldn't love to see Justin Turner get an MVP?