Inbox: Who could replace J.T. if he's traded?
Beat reporter Joe Frisaro answers fans' questions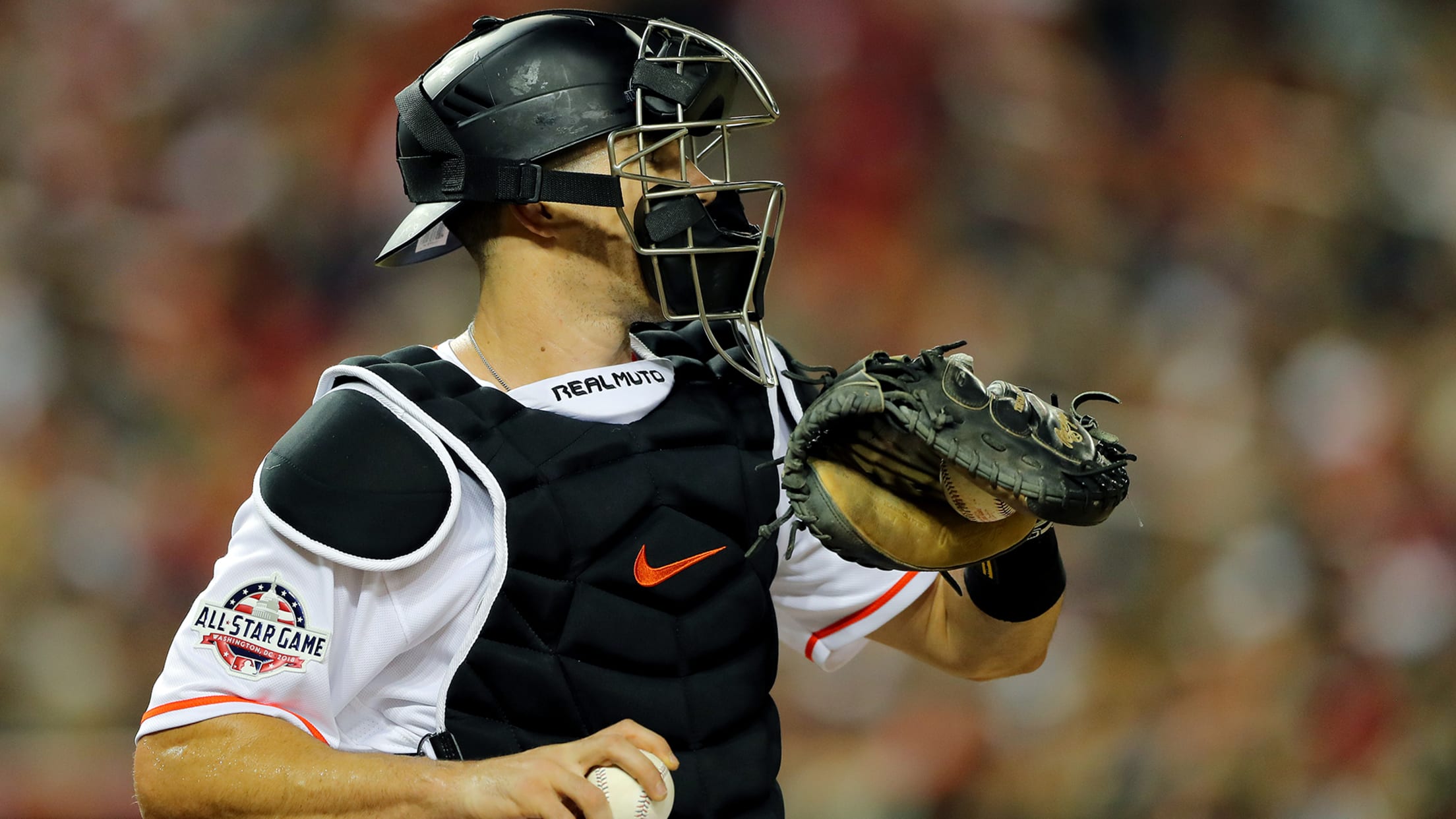 In the event the Marlins do trade J.T. Realmuto, what are some likely options to replace him? -- @StuckInJB772 via TwitterSince the beginning of the Hot Stove season, Realmuto's status has been the hottest topic for the Marlins. His agent, Jeff Berry of CAA, told MLB Network Radio in October
In the event the Marlins do trade J.T. Realmuto, what are some likely options to replace him?
-- @StuckInJB772 via Twitter
Since the beginning of the Hot Stove season, Realmuto's status has been the hottest topic for the Marlins. His agent, Jeff Berry of CAA, told MLB Network Radio in October that his client was not interested in signing a contract extension. Realmuto has two more seasons remaining in arbitration before reaching free agency in 2021, and MLB.com has learned Miami has been prepared to make an offer with an average annual value (AAV) of at least $16 million for his free-agent years. That would be part of a five- or six-year deal that would start in 2021. That AAV lines up closely to Russell Martin's deal with the Blue Jays ($16.4 million AAV). At this point, it appears doubtful Realmuto will have a change of heart, and the 27-year-old is hoping to be traded.
The fact remains the Marlins are open to trading Realmuto, and the odds are probably that they will find a suitor. There's been recent speculation that he could go to the Mets, but other teams are in the mix. The asking price for Realmuto is very high, and that has not changed since October.
:: Submit a question to the Marlins Inbox ::
Say Miami finds a match and Realmuto is traded. The organization would have to explore the market for a regular catcher or at least a veteran to split time at the position. John Holaday signed a Minor League deal on Monday, and he is a possibility to be the backup. But that isn't guaranteed either. Chad Wallach is on the 40-man roster, and he's a younger option who gained big league experience in 2018. There are plenty of veterans who could be available, but none of them are close to the level of Realmuto. A.J. Ellis, Martin Maldonado, Nick Hundley, Matt Wieters and Jonathan Lucroy are among the free agents.
Who are some possible options to help the offense that the Marlins can bring in this winter?
-- @kevinsantos1212 via Twitter
First base and corner outfield are positions that the club is exploring to fill. A potential depth option at first base was announced on Monday when Miami signed All-Star Pedro Alvarez to a Minor League deal. Matt Adams, Wilmer Flores and Logan Morrison are free agents to keep an eye on for first base. Flores was recently non-tendered by the Mets.
Jose Urena, Wei-Yin Chen, Pablo Lopez, Sandy Alcantara, Dan Straily, Trevor Richards and Caleb Smith make seven starting pitchers. How do you see the Marlins trimming this down to five by Opening Day? Will someone move to the bullpen?
-- @jason_beland via Twitter
On paper, it seems like potentially an easy decision. But so often the plans a team has entering Spring Training change course before Opening Day. Injuries and performances play a part. Assuming all are healthy, I anticipate Urena again being the Opening Day starter, and Straily probably being No. 2. As a lefty, Chen is a lock. Alcantara took strides late in the season, and he may be on the verge of cementing a spot, but that will be determined by his fastball command and progression of his secondary pitches. Richards showed promise as a rookie. Lopez was shut down at the end of the season due to a right shoulder issue, but he should be fine. Whether Smith will be ready is unclear. The left-hander had surgery to repair a torn left pectoral muscle. The good news is he is throwing, but there is a chance he won't be completely ready until Opening Day.
I don't see any of these starters moving to the bullpen. But I could see the club pursuing a veteran starter in free agency to help log innings, someone like Anibal Sanchez or Jeremy Hellickson.
Is Brian Anderson a guy who the Marlins can build around? In the first half, it seemed like yes, then it didn't.
-- Akivan, Miami Beach, Fla.
Anderson struggled in the second half, but he still had a very productive first full year in the big leagues. The 25-year-old finished fourth in the National League Rookie of the Year Award balloting. For the season, he hit .273 with 11 home runs and 65 RBIs. In 97 games before the All-Star break, Anderson hit .288/.363/.429, but after the break, his slash line was .245/.346/.349 in 59 games. Fatigue was an issue. That aside, Anderson is clearly a core player who may wind up playing either third base or right field. I wouldn't say he is a "face of the franchise" player, because that usually is an All-Star/MVP or Cy Young Award-caliber player. But I do think Anderson could be a 20-home run, 80-RBI player batting in the middle of the order.
I've heard great things about Victor Victor Mesa. If he does well in Spring Training, will he be given a chance to be in the Opening Day lineup, or will he need to go to the Minor Leagues, no matter what?
-- @aldo1229 via Twitter
The Marlins signed Mesa and his younger brother, Victor Mesa Jr., in October. Victor Victor, 22, is ranked by MLB Pipeline as Miami's No. 1 prospect. The Cuban-born outfielder has been invited to big league camp, but he is not expected to be competing for an Opening Day spot with the Marlins. Regardless of how he performs in Spring Training, it will be an opportunity for the organization to evaluate Mesa and help him adapt to pro ball. Keep in mind, he hasn't played regularly in game situations for about a year. Mesa is said to be Double-A ready, but that doesn't mean he automatically will open at Jacksonville. He could start off at Class A Advanced Jupiter.