President Clinton attends Caribbean Series
Former US leader defers first-pitch honors to local hero, superstar boxer Alvarez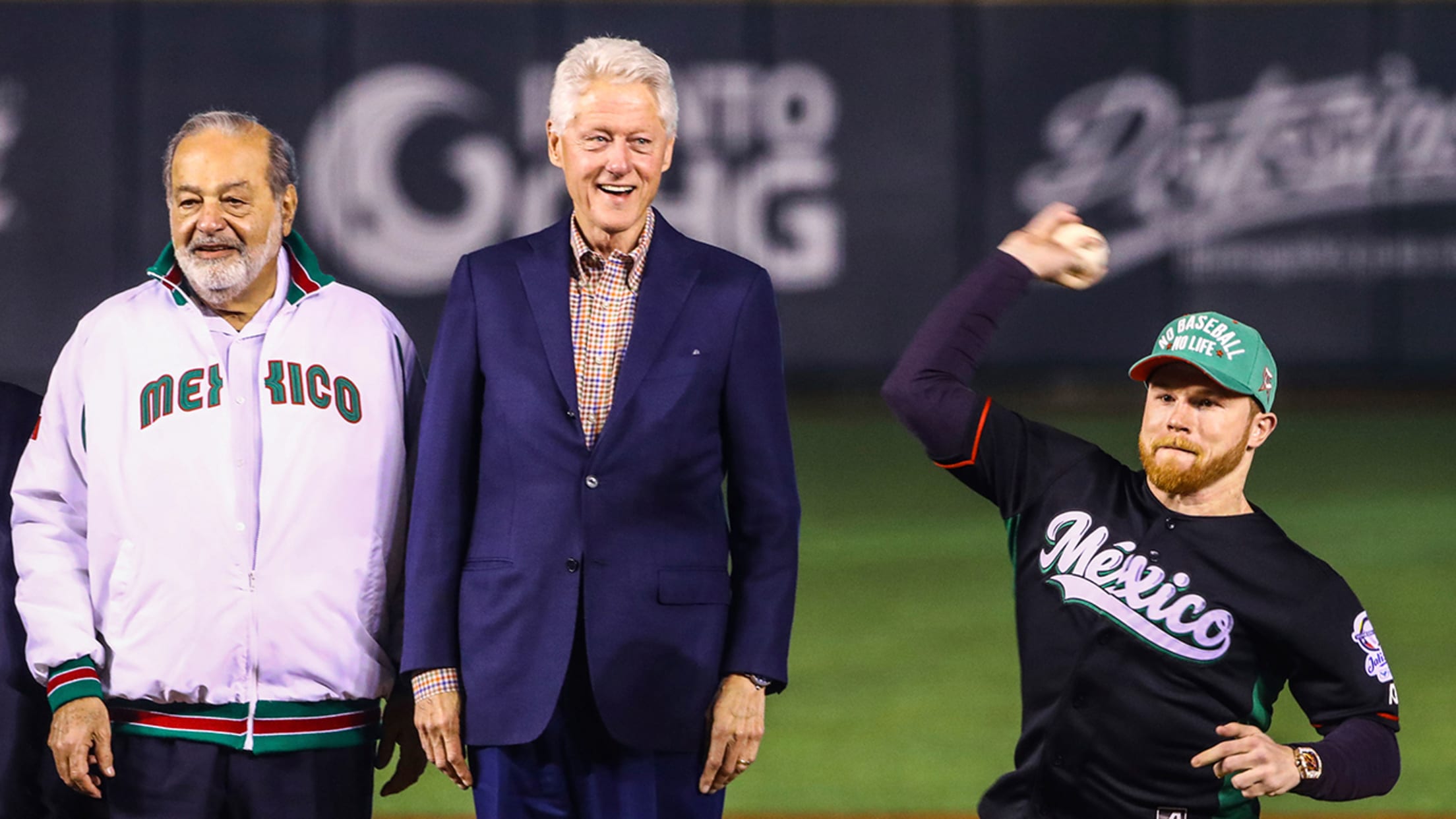 GUADALAJARA, Mexico -- Former President Bill Clinton was scheduled to toss the ceremonial first pitch before Friday night's Caribbean Series game between Puerto Rico and Mexico and he threw the soldout crowd at Estadio de Beisbol Charros de Jalisco a curveball.Clinton, who was at game as guest of Value Grupo
GUADALAJARA, Mexico -- Former President Bill Clinton was scheduled to toss the ceremonial first pitch before Friday night's Caribbean Series game between Puerto Rico and Mexico and he threw the soldout crowd at Estadio de Beisbol Charros de Jalisco a curveball.
Clinton, who was at game as guest of Value Grupo Financiero CEO Carlos Bremer, deferred to superstar boxer Saul "Canelo" Alvarez, who is from Guadalajara, because he wanted a local hero to hurl the first pitch.
• Cuba opens Caribbean Series with win
Value Grupo is the primary sponsor of this year's Caribbean Series.
"First, I'm glad to be here," Clinton said to the crowd from a podium on the field behind home plate. "I'm glad to be a friend of Mexico. I love baseball. And let's get on with the show. Thank you and bless you all."
Alvarez gladly accepted the offer as Clinton, Bremer, and billionaire business magnate Carlos Slim looked on from the field. The quartet also greeted also baseball officials from MLB, Venezuela, Cuba, Puerto Rico, Mexico and the Dominican Republic who were lined up on the first-base line. They later shook hands with players before retiring to a suite behind home plate to watch the game.
The Caribbean Series features the Winter League champion Tomateros de Culiacan from Mexico, Aguilas Cibaenas from the Dominican Republic, Criollos de Caguas from Puerto Rico and Venezuela's Caribes de Anzoategui. Alazanes de Granma, the Serie Nacional champion, is representing Cuba as a special guest for the second year in a row.
Cuba defeated Venezuela, 6-4, in the first game of the tournament Friday afternoon.