Epstein: Cubs still searching for edge, identity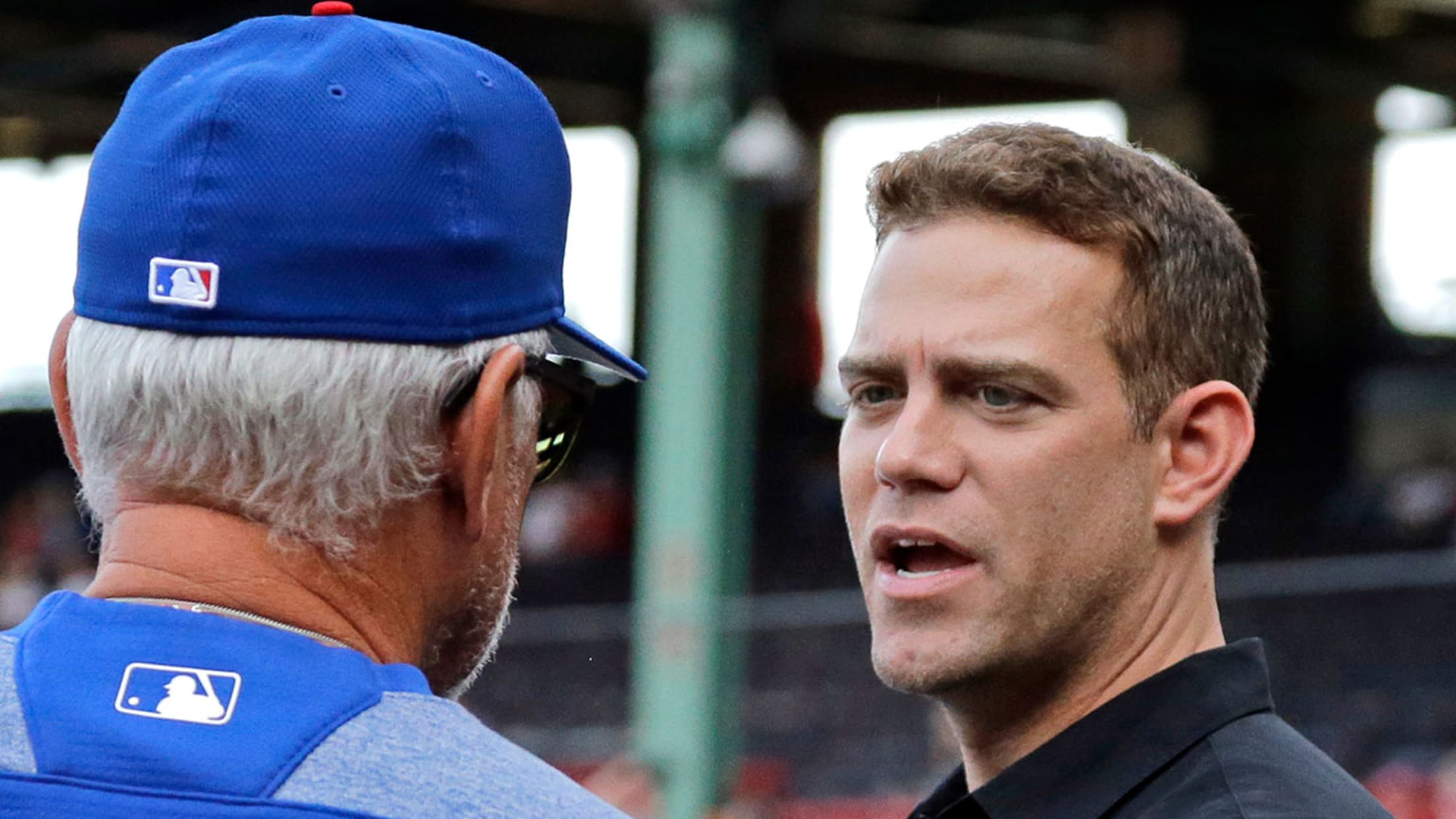 Cubs president of baseball operations Theo Epstein says the team is still looking for its identity this season, but is confident the Cubs will find it. (AP)
WASHINGTON -- It's one thing to try to find a leadoff hitter. The Cubs are trying to find their identity.Since taking over as the Cubs' president of baseball operations, Theo Epstein has stressed building a winning culture and that point was emphasized on Wednesday when Miguel Montero was designated for
WASHINGTON -- It's one thing to try to find a leadoff hitter. The Cubs are trying to find their identity.
Since taking over as the Cubs' president of baseball operations, Theo Epstein has stressed building a winning culture and that point was emphasized on Wednesday when Miguel Montero was designated for assignment after criticizing Jacob Arrieta. It's been a disjointed start to the season for the defending World Series champs, who have hovered around the .500 mark.
"I don't think we've established our identity yet. I don't think we've found our edge yet that we'll need to play with to win games," Epstein said. "Wins don't just happen because you're talented and you show up. You have to come to the park with an edge every day and come together as a team and play together to win and play with a certain edge. We're going to find it."
Montero wasn't the problem but Epstein feels the team's decision to act as it did reinforces the team concept. He hopes it pays off the remainder of the season.
"They did it last year -- it's in our guys, I think it's in their DNA," Epstein said. "The single best thing we ever did with this organization is turning it over to the players, to this group of players, because we believe in them. It has to manifest and it has to show up and we do have to find that identity. New year, new identity to a certain extent. I think this will be a step in us getting there."
So, how does a team find its identity?
"It's a hard thing to define," Epstein said. "It's like the Supreme Court said about pornography -- you know it when you see it. I think our identity last year was all our guys got to the point where they felt they were part of something bigger than themselves, they felt completely connected with one another, they felt they were on a mission to win the World Series for the first time in 108 years.
"Part of their identity [last year] was that they were keenly aware of how talented they were and what a special opportunity it was and how as long as they had each others' backs, things would work out really well for this group," Epstein said. "That meant maybe playing multiple positions or taking less playing time or backing up a teammate rather than playing a leading role.
"For the most part, we really did that and that was a huge part of this club's identity and nothing was going to get in the way of the group working together to make history and taking advantage of the special opportunity they had."
Cubs manager Joe Maddon has had to juggle lineups because of injuries to key players such as Jason Heyward, Benjamin Zobrist and Kyle Hendricks. The average age of Monday's lineup was 24, youngest in the Major Leagues for any game at that point.
"We're missing a lot of key components that drove us to the World Series last year," Maddon said, "and now we're building another group of components who can take us back there again."
Who expected Ian Happ to be playing a significant role this early? The Cubs are young but they're still in the race in the National League Central.
"It's unrealistic to think we'd be 15 games over .500 with this group right now -- c'mon," Maddon said. "These guys are finding their way. To be where we're at actually, to me, is kind of good. I like where we're at based on everything that's occurred to this moment.
"I think we're very skillful, we're very talented, we're good," he said. "We lack experience on the Major League level now. I'm still confident we can do this, very confident."