Projected 2019 lineups, rotations for every team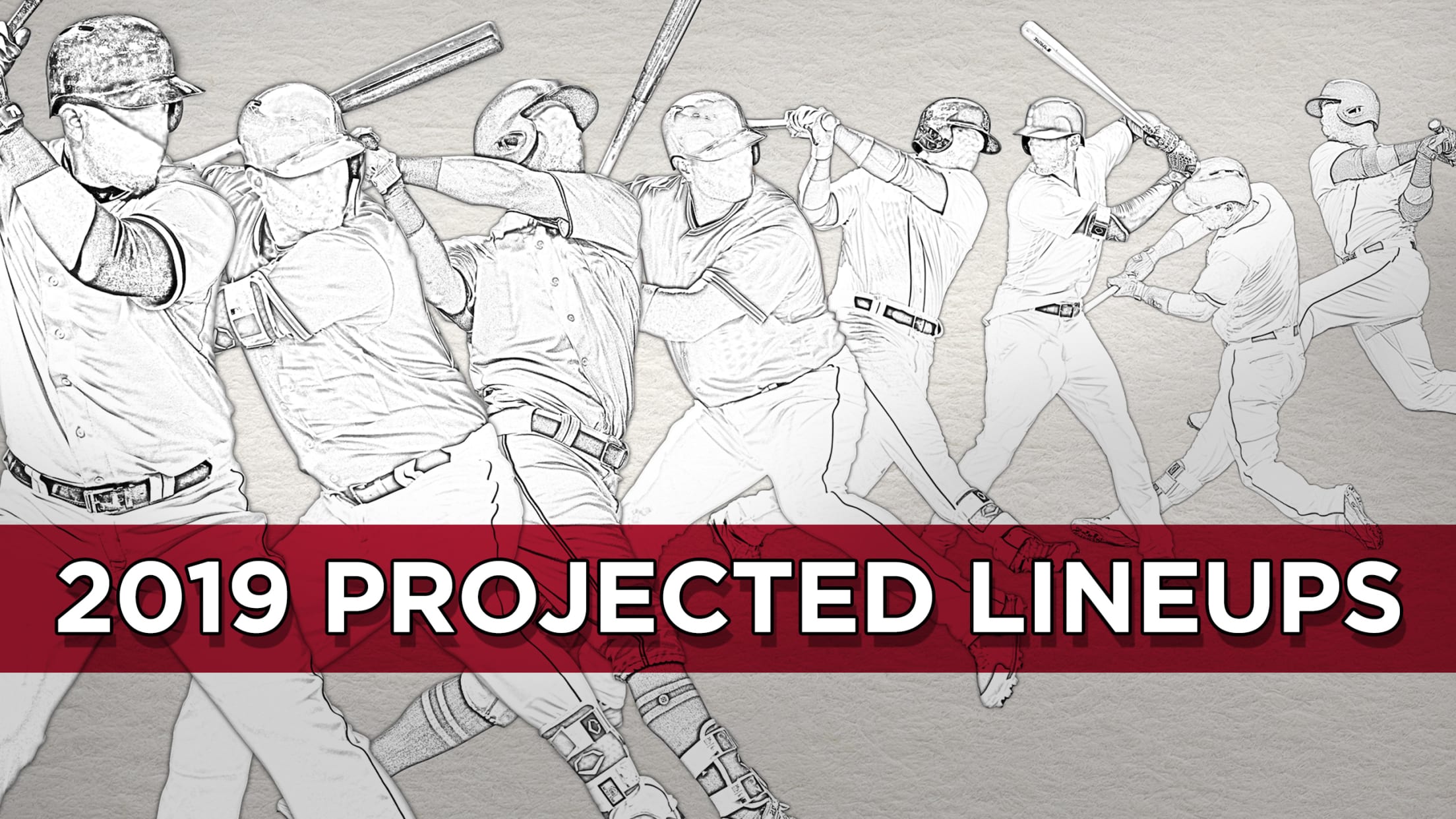 Spring Training is finally coming to an end and Opening Day is fast approaching. As teams put together lineups for their season opener, some include highly touted prospects, some feature players who won position battles in Spring Training and some are missing key stars to injury. In addition, there are
Spring Training is finally coming to an end and Opening Day is fast approaching.
As teams put together lineups for their season opener, some include highly touted prospects, some feature players who won position battles in Spring Training and some are missing key stars to injury. In addition, there are a lot of faces in new places.
With help from all 30 MLB.com beat writers, here's a look at what the Opening Day lineup and rotation will likely be for each club:
BLUE JAYS
Lineup:
1) Brandon Drury, 3B
2) Randal Grichuk, RF
3) Justin Smoak, 1B
4) Kendrys Morales, DH
5) Teoscar Hernandez, LF
6) Lourdes Gurriel Jr., 2B
7) Danny Jansen, C
8) Kevin Pillar, CF
9) Freddy Galvis, SS
Rotation and closer:
1) Marcus Stroman, RHP
2) Aaron Sanchez, RHP
3) Matt Shoemaker, RHP
4) Trent Thornton, RHP
5) Clayton Richard, LHP
Closer: Ken Giles, RHP
* Richard slots in for Ryan Borucki, who is dealing with left elbow soreness and is expected to begin the season on the injured list. Clay Buchholz, who was shut down by the D-backs late last season due to a flexor mass strain in his pitching elbow, should be ready to go in early April, according to general manager Ross Atkins.
ORIOLES
Lineup:
1) Cedric Mullins, CF
2) Jonathan Villar, 2B
3) Trey Mancini, LF
4) Chris Davis, 1B
5) Renato Nunez, DH
6) Rio Ruiz, 3B
7) Dwight Smith Jr., RF
8) Chance Sisco, C
9) Richie Martin, SS
*Mark Trumbo (right knee) will begin the season on the injured list.
Rotation and closer:
1) Dylan Bundy, RHP
2) Andrew Cashner, RHP
3) David Hess, RHP
4) Mike Wright, RHP
Closer: Mychal Givens, RHP
*Alex Cobb (groin soreness) will begin the season on the injured list.
RAYS
Lineup:
1) Austin Meadows, RF
2) Tommy Pham, LF
3) Ji-Man Choi, 1B
4) Yandy Diaz, 3B
5) Brandon Lowe, DH
6) Joey Wendle, 2B
7) Kevin Kiermaier, CF
8) Mike Zunino, C
9) Willy Adames, SS
*Matt Duffy (left hamstring strain) will begin the season on the injured list.
Rotation and closer:
1) Blake Snell, LHP
2) Charlie Morton, RHP
3) Opener
4) Tyler Glasnow, RHP
5) Opener
Closer: Jose Alvarado, LHP
RED SOX
Lineup:
1) Andrew Benintendi, LF
2) Mookie Betts, RF
3) Rafael Devers, 3B
4) J.D. Martinez, DH
5) Xander Bogaerts, SS
6) Mitch Moreland, 1B
7) Eduardo Nunez, 2B
8) Jackie Bradley Jr., CF
9) Christian Vazquez, C
*Dustin Pedroia (knee) will begin the season on the injured list but could return in early April.
Rotation and closer:
1) Chris Sale, LHP
2) David Price, LHP
3) Rick Porcello, RHP
4) Nathan Eovaldi, RHP
5) Eduardo Rodriguez, LHP
Closer: Matt Barnes, RHP
YANKEES
Lineup:
1) Brett Gardner, CF
2) Aaron Judge, RF
3) Giancarlo Stanton, LF
4) Gary Sanchez, C
5) Miguel Andujar, 3B
6) Luke Voit, DH
7) Greg Bird, 1B
8) Troy Tulowitzki, SS
9) Gleyber Torres, 2B
*Aaron Hicks (lower back stiffness) is expected back in early April.
Rotation and closer:
1) Masahiro Tanaka, RHP
2) James Paxton, LHP
3) J.A. Happ, LHP
4) Domingo German, RHP
5) CC Sabathia, LHP
Closer: Aroldis Chapman, LHP
* Sabathia (recovering from right knee surgery last October) will begin the season serving a five-game suspension, and may join the rotation in mid-April.
AMERICAN LEAGUE CENTRAL
INDIANS
Lineup:
1) Leonys Martin, CF
2) Jake Bauers, LF
3) Jose Ramirez, 3B
4) Carlos Santana, 1B
5) Hanley Ramirez, DH
6) Tyler Naquin, RF
7) Roberto Perez, C
8) Brad Miller, 2B
9) Eric Stamets, SS
*Francisco Lindor (right calf strain, left ankle sprain) will open the season on the injured list but may be back sometime in April. Jason Kipnis (right calf strain) may miss the first week of the season.
Rotation and closer:
1) Corey Kluber, RHP
2) Trevor Bauer, RHP
3) Carlos Carrasco, RHP
4) Mike Clevinger, RHP
5) Shane Bieber, RHP
Closer: Brad Hand, LHP
ROYALS
Lineup:
1) Whit Merrifield, 2B
2) Adalberto Mondesi, SS
3) Alex Gordon, LF
4) Jorge Soler, RF
5) Hunter Dozier, 3B
6) Ryan O'Hearn,1B
7) Frank Schwindel, DH
8) Martin Maldonado, C
9) Billy Hamilton, CF
Rotation and closer:
1) Brad Keller, RHP
2) Jakob Junis, RHP
3) Jorge Lopez, RHP
4) Homer Bailey, RHP
5) Danny Duffy, LHP
Closer: Brad Boxberger, RHP
* Duffy (left shoulder tightness) could return in early April.
TIGERS
Lineup:
1) Josh Harrison, 2B
2) Nicholas Castellanos, RF
3) Miguel Cabrera, DH
4) Niko Goodrum, 1B
5) Jeimer Candelario, 3B
6) Christin Stewart, LF
7) Mikie Mahtook, CF
8) Grayson Greiner, C
9) Jordy Mercer, SS
*JaCoby Jones (left shoulder sprain) is expected to open the season on the injured list.
Rotation and closer:
1) Jordan Zimmermann, RHP
2) Matthew Boyd, LHP
3) Matt Moore, LHP
4) Tyson Ross, RHP
5) Daniel Norris, LHP
Closer: Shane Greene, RHP
TWINS
Lineup:
1) Max Kepler, RF
2) Jorge Polanco, SS
3) Nelson Cruz, DH
4) Eddie Rosario, LF
5) C.J. Cron, 1B
6) Marwin Gonzalez, 3B
7) Jonathan Schoop, 2B
8) Jason Castro, C
9) Byron Buxton, CF
Rotation and closer:
1) Jose Berrios, RHP
2) Jake Odorizzi, RHP
3) Michael Pineda, RHP
4) Kyle Gibson, RHP
5) Martin Perez, LHP
Closer: Trevor May, RHP
WHITE SOX
Lineup:
1) Leury Garcia, CF
2) Yoan Moncada, 3B
3) Jose Abreu, DH
4) Yonder Alonso, 1B
5) Eloy Jimenez, LF
6) Daniel Palka, RF
7) James McCann, C
8) Tim Anderson, SS
9) Yolmer Sanchez, 2B
Rotation and closer:
1) Carlos Rodon, LHP
2) Reynaldo Lopez, RHP
3) Ivan Nova, RHP
4) Lucas Giolito, RHP
5) Manny Banuelos, LHP
Closer: Alex Colome, RHP
AMERICAN LEAGUE WEST
ANGELS
Lineup:
1) Zack Cozart, 3B
2) Mike Trout, CF
3) Justin Bour, 1B
4) Albert Pujols, DH
5) Andrelton Simmons, SS
6) Kole Calhoun, RF
7) David Fletcher, 2B
8) Jonathan Lucroy, C
9) Peter Bourjos, LF
*Justin Upton (turf toe) will begin the season on the injured list.
Rotation and closer:
1) Trevor Cahill, RHP
2) Matt Harvey, RHP
3) Felix Pena, RHP
4) Tyler Skaggs, LHP
5) Chris Stratton, RHP
Closer: Cody Allen, RHP
*Andrew Heaney (left elbow inflammation) is expected to begin the season on the injured list.
ASTROS
Lineup:
1) George Springer, CF
2) Alex Bregman, 3B
3) Jose Altuve, 2B
4) Carlos Correa, SS
5) Michael Brantley, LF
6) Yuli Gurriel, 1B
7) Tyler White, DH
8) Josh Reddick, RF
9) Robinson Chirinos, C
Rotation and closer:
1) Justin Verlander, RHP
2) Gerrit Cole, RHP
3) Wade Miley, LHP
4) Collin McHugh, RHP
5) Brad Peacock, RHP
Closer: Roberto Osuna, RHP
ATHLETICS
Lineup:
1) Robbie Grossman, LF
2) Matt Chapman, 3B
3) Stephen Piscotty, RF
4) Khris Davis, DH
5) Kendrys Morales, 1B
6) Jurickson Profar, 2B
7) Ramon Laureano, CF
8) Marcus Semien, SS
9) Nick Hundley, C
*Matt Olson (right hand surgery) could be out until early May.
Rotation and closer:
1) Mike Fiers, RHP
2) Marco Estrada, RHP
3) Brett Anderson, LHP
4) Daniel Mengden, RHP
5) Frankie Montas, RHP
Closer: Blake Treinen, RHP
MARINERS
Lineup:
1) Dee Gordon, 2B
2) Mitch Haniger, RF
3) Jay Bruce, 1B
4) Edwin Encarnacion, DH
5) Domingo Santana, LF
6) Omar Narvaez, C
7) Ryon Healy, 3B
8) Tim Beckham, SS
9) Mallex Smith, CF
* Smith missed Opening Day in Japan with a right elbow injury, but he is expected back shortly to hit leadoff, with Haniger moving to RF.
Rotation and closer:
1) Marco Gonzales, LHP
2) Yusei Kikuchi, LHP
3) Mike Leake, RHP
4) Wade LeBlanc, LHP
5) Felix Hernandez, RHP
Closer: Hunter Strickland, RHP
RANGERS
Lineup:
1) Shin-Soo Choo, DH
2) Rougned Odor, 2B
3) Elvis Andrus, SS
4) Nomar Mazara, RF
5) Joey Gallo, LF
6) Asdrubal Cabrera, 3B
7) Ronald Guzman, 1B
8) Jeff Mathis, C
9) Delino DeShields, CF
Rotation and closer:
1) Mike Minor, LHP
2) Lance Lynn, RHP
3) Edinson Volquez, RHP
4) Drew Smyly, LHP
5) Shelby Miller, RHP
Closer: Jose Leclerc, RHP
NATIONAL LEAGUE EAST
BRAVES
Lineup:
1) Ender Inciarte, CF
2) Josh Donaldson, 3B
3) Freddie Freeman, 1B
4) Ronald Acuna Jr., LF
5) Nick Markakis, RF
6) Ozzie Albies, 2B
7) Brian McCann, C
8) Dansby Swanson, SS
Rotation and closer:
1) Julio Teheran, RHP
2) Sean Newcomb, LHP
3) Kyle Wright, RHP
4) Bryse Wilson, RHP
5) Max Fried, LHP
Closer: Arodys Vizcaino, RHP
*Kevin Gausman (right shoulder discomfort) could be back in the first week of April. Mike Foltynewicz (right elbow tightness) will not be ready for Opening Day.
MARLINS
Lineup:
1) Curtis Granderson, LF
2) Brian Anderson, 3B
3) Neil Walker, 1B
4) Starlin Castro, 2B
5) Garrett Cooper, RF
6) Lewis Brinson, CF
7) Jorge Alfaro, C
8) Miguel Rojas, SS
Rotation and closer:
1) Jose Urena, RHP
2) Trevor Richards, RHP
3) Pablo Lopez, RHP
4) Sandy Alcantara RHP
5) Caleb Smith, LHP
Closer: Sergio Romo, RHP
METS
Lineup:
1) Brandon Nimmo, LF
2) Jeff McNeil, 3B
3) Robinson Cano, 2B
4) Wilson Ramos, C
5) Michael Conforto, RF
6) Pete Alonso, 1B
7) Juan Lagares, CF
8) Amed Rosario, SS
*3B Jed Lowrie (sprained left knee) and 1B/3B Todd Frazier (left oblique strain) both ruled out for Opening Day.
Rotation and closer:
1) Jacob deGrom, RHP
2) Noah Syndergaard, RHP
3) Zack Wheeler, RHP
4) Steven Matz, LHP
5) Jason Vargas, LHP
Closer: Edwin Diaz, RHP
NATIONALS
Lineup:
1) Adam Eaton, RF
2) Trea Turner, SS
3) Juan Soto, LF
4) Anthony Rendon, 3B
5) Ryan Zimmerman, 1B
6) Yan Gomes, C
7) Brian Dozier, 2B
8) Victor Robles, CF
Rotation and closer:
1) Max Scherzer, RHP
2) Stephen Strasburg, RHP
3) Patrick Corbin, LHP
4) Anibal Sanchez, RHP
5) Jeremy Hellickson, RHP
Closer: Sean Doolittle, LHP
PHILLIES
Lineup:
1) Andrew McCutchen, LF
2) Jean Segura, SS
3) Bryce Harper, RF
4) Rhys Hoskins, 1B
5) J.T. Realmuto, C
6) Odubel Herrera, CF
7) Cesar Hernandez, 2B
8) Maikel Franco, 3B
Rotation and closer:
1) Aaron Nola, RHP
2) Nick Pivetta, RHP
3) Jake Arrieta, RHP
4) Zach Eflin, RHP
5) Vince Velasquez, RHP
Closer: David Robertson, RHP, or Seranthony Dominguez, RHP
NATIONAL LEAGUE CENTRAL
BREWERS
Lineup:
1) Lorenzo Cain, CF
2) Christian Yelich, RF
3) Ryan Braun, LF
4) Travis Shaw, 3B
5) Jesus Aguilar, 1B
6) Yasmani Grandal, C
7) Mike Moustakas, 2B
8) Orlando Arcia, SS
Rotation and closer:
1) Jhoulys Chacin, RHP
2) Freddy Peralta, RHP
3) Brandon Woodruff, RHP
4) Corbin Burnes, RHP
5) Zach Davies, RHP
Closer: Josh Hader, LHP
CARDINALS
Lineup:
1) Matt Carpenter, 3B
2) Paul Goldschmidt, 1B
3) Paul DeJong, SS
4) Marcell Ozuna, LF
5) Yadier Molina, C
6) Dexter Fowler, RF
7) Kolten Wong, 2B
8) Harrison Bader, CF
Rotation and closer:
1) Miles Mikolas, RHP
2) Jack Flaherty, RHP
3) Dakota Hudson, RHP
4) Michael Wacha, RHP
5) Adam Wainwright, RHP
Closer: Andrew Miller, LHP, and Jordan Hicks, RHP
CUBS
Lineup:
1) Albert Almora Jr., CF
2) Kris Bryant, 3B
3) Anthony Rizzo, 1B
4) Javier Baez, SS
5) Ben Zobrist, DH
6) Kyle Schwarber, LF
7) Willson Contreras, C
8) Jason Heyward, RF
9) David Bote, 2B
Rotation and closer:
1) Jon Lester, LHP
2) Yu Darvish, RHP
3) Cole Hamels, LHP
4) Kyle Hendricks, RHP
5) Jose Quintana, LHP
Closer: Pedro Strop, RHP
PIRATES
Lineup:
1) Adam Frazier, 2B
2) Starling Marte, CF
3) Corey Dickerson, LF
4) Josh Bell, 1B
5) Francisco Cervelli, C
6) Jung Ho Kang, 3B
7) Lonnie Chisenhall, RF
8) Erik Gonzalez, SS
Rotation and closer:
1) Jameson Taillon, RHP
2) Chris Archer, RHP
3) Trevor Williams, RHP
4) Joe Musgrove, RHP
5) Jordan Lyles, RHP
Closer: Felipe Vazquez, LHP
REDS
Lineup:
1) Jesse Winker, LF
2) Joey Votto, 1B
3) Yasiel Puig, RF
4) Eugenio Suarez, 3B
5) Scott Schebler, CF
6) Jose Peraza, 2B
7) Tucker Barnhart, C
8) Jose Iglesias, SS
Rotation and closer:
1) Luis Castillo, RHP
2) Sonny Gray, RHP
3) Tanner Roark, RHP
4) Anthony DeSclafani, RHP
5) Alex Wood, LHP
Closer: Raisel Iglesias, RHP
NATIONAL LEAGUE WEST
D-BACKS
Lineup:
1) Adam Jones, RF
2) Eduardo Escobar, 3B
3) David Peralta, LF
4) Wilmer Flores, 2B
5) Jake Lamb, 1B
6) Ketel Marte, CF
7) Nick Ahmed, SS
8) Carson Kelly, C
Rotation and closer:
1) Zack Greinke, RHP
2) Robbie Ray, LHP
3) Zack Godley, RHP
4) Luke Weaver, RHP
5) Merrill Kelly, RHP
Closer: Greg Holland, RHP
DODGERS
Lineup:
1) Joc Pederson, LF
2) Justin Turner, 3B
3) Corey Seager, SS
4) Max Muncy, 1B
5) A.J. Pollock, CF
6) Cody Bellinger, RF
7) Enrique Hernandez, 2B
8) Austin Barnes, C
Rotation and closer:
1) Hyun-Jin Ryu, LHP
2) Ross Stripling, RHP
3) Kenta Maeda, RHP
4) Walker Buehler, RHP
5) Julio Urias, LHP
Closer: Kenley Jansen, RHP
*Clayton Kershaw (left shoulder) and Rich Hill (left knee strain) are expected to begin the season on the injured list.
GIANTS
Lineup:
1) Steven Duggar, CF
2) Joe Panik, 2B
3) Buster Posey, C
4) Brandon Belt, 1B
5) Evan Longoria, 3B
6) Brandon Crawford, SS
7) Gerardo Parra, RF
8) Mac Williamson, LF
Rotation and closer:
1) Madison Bumgarner, LHP
2) Derek Holland, LHP
3) Dereck Rodriguez, RHP
4) Drew Pomeranz, LHP
5) Jeff Samardzija, RHP
Closer: Will Smith, LHP
PADRES
Lineup:
1) Ian Kinsler, 2B
2) Eric Hosmer, 1B
3) Manny Machado, 3B
4) Franmil Reyes, RF
5) Wil Myers, LF
6) Fernando Tatis Jr., SS
7) Manuel Margot, CF
8) Austin Hedges, C
Rotation and closer:
1) Eric Lauer, LHP
2) Joey Lucchesi, LHP
3) Chris Paddack, RHP
4) Matt Strahm, LHP
5) Logan Allen, LHP
Closer: Kirby Yates, RHP
ROCKIES
Lineup:
1) Charlie Blackmon, RF
2) Daniel Murphy, 1B
3) Nolan Arenado, 3B
4) Trevor Story, SS
5) David Dahl, LF
6) Ian Desmond, CF
7) Ryan McMahon, 2B
8) Chris Iannetta, C
Rotation and closer:
1) Kyle Freeland, LHP
2) German Marquez, RHP
3) Tyler Anderson, LHP
4) Jon Gray, RHP
5) Chad Bettis, RHP
Closer: Wade Davis, RHP