25-man rosters for postseason clubs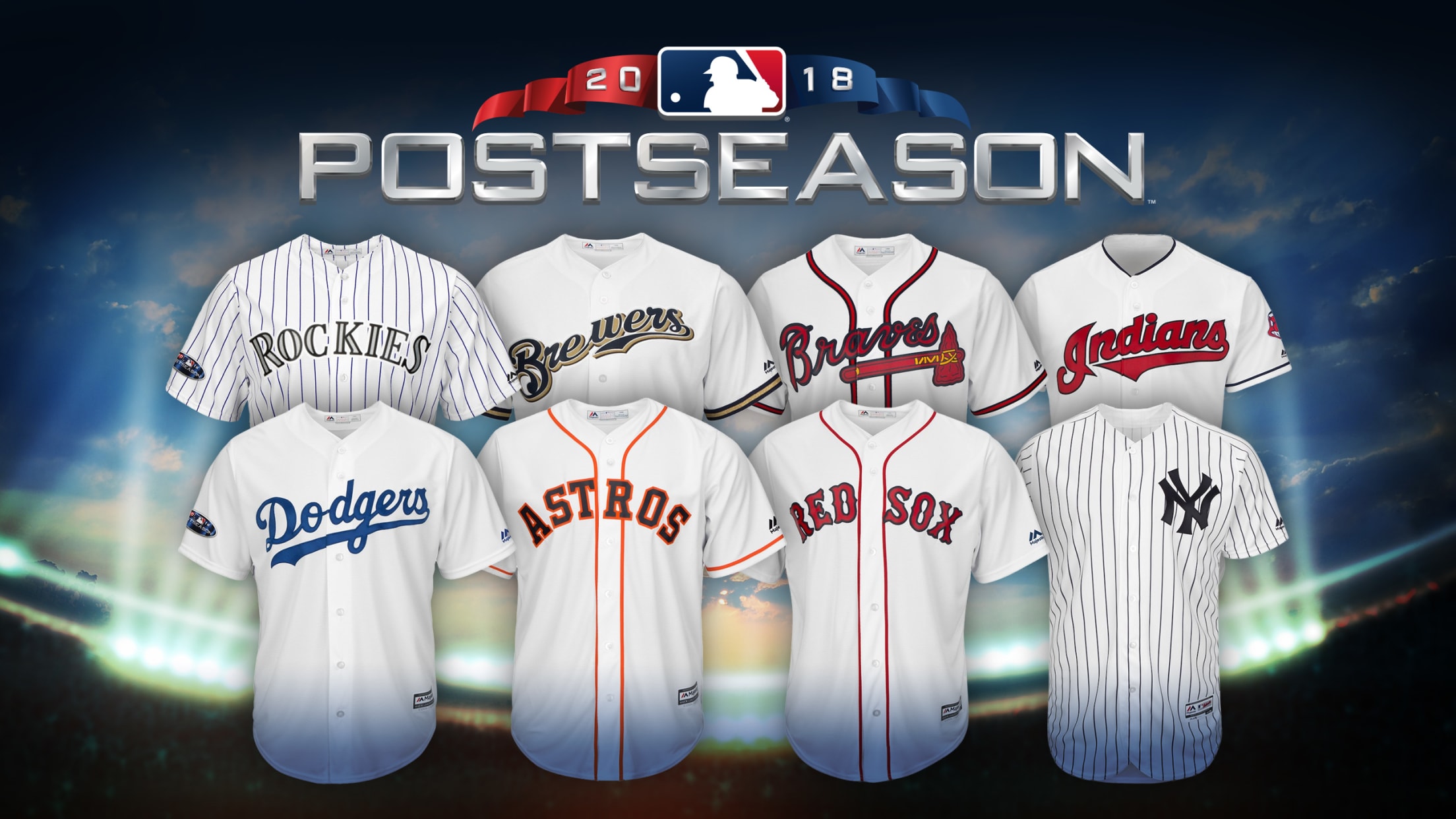 Below are the projected 25-man rosters for each postseason team's next round. Teams can adjust their roster for each round, and we will update these as they become official.NLDS: ATL-LADBRAVES ROSTER (OFFICIAL)Game 2 starting lineup
Ronald Acuna Jr., LF
Johan Camargo, 3B
Freddie Freeman, 1B
Nick
Below are the projected 25-man rosters for each postseason team's next round. Teams can adjust their roster for each round, and we will update these as they become official.
NLDS: ATL-LAD
BRAVES ROSTER (OFFICIAL)
Game 2 starting lineup

Ronald Acuna Jr., LF

Johan Camargo, 3B

Freddie Freeman, 1B

Nick Markakis, RF

Kurt Suzuki, C

Ozzie Albies, 2B

Ender Inciarte, CF

Charlie Culberson, SS
Bench
• Tyler Flowers, C
• Lucas Duda, 1B
• Lane Adams, OF
• Ryan Flaherty, INF
• Rene Rivera, C
Starting pitchers
• Mike Foltynewicz, RHP
• Anibal Sanchez, RHP
• Kevin Gausman, RHP
• Julio Teheran, RHP
Bullpen
• Arodys Vizcaino, RHP/CL
• A.J. Minter, LHP
• Chad Sobotka, RHP
• Jonny Venters, LHP
• Sean Newcomb, LHP
• Max Fried, LHP
• Touki Toussaint, RHP
• Brad Brach, RHP
Notes: Dansby Swanson (torn ligament in his left hand) isn't yet ready to return, but he's said he's hopeful he'll be able to play if the Braves make it past the NLDS. Fried and Toussaint provide two long relief options, but Fried may be used as a matchup/middle reliever. The Braves have elected to carry both Teheran and Newcomb on the roster. Teheran appears to be the likelier candidate to be the fourth starter, especially considering the Dodgers' late-season improvement against left-handed pitching. Newcomb could work out of the bullpen. Atlanta carrying a third catcher allows Flowers or Suzuki to be a right-handed pinch-hitting option.
DODGERS ROSTER (OFFICIAL)
Game 2 starting lineup

Joc Pederson, LF

Justin Turner, 3B

Player Page for Max Muncy, 1B

Manny Machado, SS

Yasiel Puig, RF

Cody Bellinger, CF

Enrique Hernandez, 2B

Yasmani Grandal, C
Bench
• Chris Taylor, UTIL
• David Freese, IF
• Austin Barnes, C/IF
• Matt Kemp, OF
• James Dozier, IF
Starting pitchers
• Hyun-Jin Ryu, LHP
• Clayton Kershaw, LHP
• Walker Buehler, RHP
• Rich Hill, LHP
Bullpen
• Kenley Jansen, RHP/CL
• Kenta Maeda, RHP
• Scott Alexander, LHP
• Alex Wood, LHP
• Pedro Baez, RHP
• Caleb Ferguson, LHP
• Ryan Madson, RHP
• Dylan Floro, RHP
Notes: The Dodgers will open the NLDS with a pair of left-handers against the Braves, as Ryu will start Game 1 on Thursday at Dodger Stadium, and Kershaw will start Game 2. With the luxury of a 40-man roster in September, the platoon lineup for the Dodgers against a left-handed starter has included Freese at first base, Taylor in left field, Kemp in right field and Dozier at second base. Among those on the bubble are Chase Utley, who will retire after the season.
NLDS: COL-MIL
ROCKIES ROSTER (OFFICIAL)
Game 2 starting lineup

Charlie Blackmon, CF

DJ LeMahieu, 2B

Nolan Arenado, 3B

Carlos Gonzalez, RF

Trevor Story, SS

Gerardo Parra, LF

Ian Desmond, 1B

Chris Iannetta, C
Bench
• Matthew Holliday, LF
• Garrett Hampson, INF
• Ryan McMahon, INF
• Tony Wolters, C
• David Dahl, OF
Starting Pitchers
• Antonio Senzatela, RHP
• Tyler Anderson, LHP
• German Marquez, RHP
• Kyle Freeland, LHP
Bullpen
• Wade Davis, RHP/CL
• Adam Ottavino, RHP
• Scott Oberg, RHP
• Seunghwan Oh, RHP
• Chris Rusin, LHP
• Harrison Musgrave, LHP
• Chad Bettis, RHP
• DJ Johnson, RHP
Notes: Senzatela will likely start Game 1 against the Brewers at Miller Park on Thursday, being ready to go on regular rest. The right-hander has only faced the Brewers once in his career, going five scoreless innings in a 2-1 Rockies victory on April 6, 2017. Over his final three starts of the regular season, Senzatela posted a 1.62 ERA over 16 2/3 innings. As far as the roster goes, the Rockies will not carry three catchers in the NLDS, with Andrew Butera left off the roster. Instead, they'll take an extra reliever in the 29-year-old rookie Johnson, who's made just seven big league appearances, all since September. That also means Jon Gray was left off the roster.
BREWERS ROSTER (OFFICIAL)
Game 2 starting lineup

Lorenzo Cain, CF

Christian Yelich, RF

Ryan Braun, LF

Jesus Aguilar, 1B

Mike Moustakas, 3B

Hernan Perez, SS

Travis Shaw, 2B

Erik Kratz, C
Bench
• Curtis Granderson, OF
• Jonathan Schoop, IF
• Orlando Arcia, IF
• Manny Pina, C
• Keon Broxton, OF
• Domingo Santana, OF
Starting pitchers
• Wade Miley, LHP
• Giovany Gonzalez, LHP
• Jhoulys Chacin, RHP
Bullpen
• Jeremy Jeffress, RHP/CL
• Josh Hader, LHP
• Corey Knebel, RHP
• Joakim Soria, RHP
• Corbin Burnes, RHP
• Brandon Woodruff, RHP
• Junior Guerra, RHP
• Freddy Peralta, RHP
Notes: The Brewers' rotation is different than most top-seeded teams, since it doesn't feature an ace. So they could opt to carry three starters and use a multi-inning arm that pitched out of the bullpen down the stretch, like Woodruff or Freddy Peralta or Junior Guerra, in a game. All of those players were starting pitchers for the bulk of this season. There's also Chase Anderson, who was the Opening Day starter, but he was removed from the rotation with one week to go.
• Postseason schedule
ALDS: CLE-HOU
INDIANS ROSTER (OFFICIAL)
Game 2 starting lineup

Francisco Lindor, SS

Michael Brantley, LF

Jose Ramirez, 2B

Edwin Encarnacion, DH

Josh Donaldson, 3B

Yonder Alonso, 1B

Melky Cabrera, RF

Yan Gomes, C

Jason Kipnis, CF
Bench
• Roberto Perez, C
• Rajai Davis, OF
• Greg Allen, OF
• Yandy Diaz, UTIL
• Brandon Guyer, OF
Starting pitchers
• Corey Kluber, RHP
• Carlos Carrasco, RHP
• Mike Clevinger, RHP
Bullpen
• Andrew Miller, LHP
• Cody Allen, RHP
• Brad Hand, LHP
• Oliver Perez, LHP
• Trevor Bauer, RHP
• Shane Bieber, RHP
• Adam Cimber, RHP
• Dan Otero, RHP
Notes: Bauer and Bieber will be available out of the bullpen in the early games. If the series reaches Game 4, one of the right-handers will start, depending on their usage in Games 1-3. Guyer (right shoulder) and Gomes (laceration on right thumb) have both been cleared for the ALDS. The last bench job went to Davis for his speed over utility man Erik Gonzalez.
ASTROS ROSTER (OFFICIAL)
Game 2 starting lineup

George Springer, CF

Jose Altuve, 2B

Alex Bregman, 3B

Yuli Gurriel, 1B

Marwin Gonzalez, LF

Carlos Correa, SS

Tyler White, DH

Josh Reddick, RF

Martin Maldonado, C
Bench
• Evan Gattis, DH
• Brian McCann, C
• Tony Kemp, OF
• Jake Marisnick, OF
• Myles Straw, OF
Starting pitchers
• Justin Verlander, RHP
• Gerrit Cole, RHP
• Dallas Keuchel, LHP
• Charlie Morton, RHP
Bullpen
• Roberto Osuna, RHP/CL
• Thomas Pressly, RHP
• Lance McCullers, RHP
• Collin McHugh, RHP
• Will Harris, RHP
• Josh James, RHP
• Tony Sipp, LHP
Notes: The Astros decided to carry the speedy outfielder Straw as a pinch-runner instead of Max Stassi as a third catcher. There were some tough bullpen decisions, too, with former All-Star Chris Devenski squeezed out. The hard-throwing rookie James provides length and a 100-mph fastball that makes him enticing.
ALDS: NYY-BOS
YANKEES ROSTER (OFFICIAL)
Game 1 starting lineup

Andrew McCutchen, LF

Aaron Judge, RF

Aaron Hicks, CF

Giancarlo Stanton, DH

Luke Voit, 1B

Didi Gregorius, SS

Miguel Andujar, 3B

Gary Sanchez, C

Gleyber Torres, 2B
Bench
• Austin Romine, C
• Adeiny Hechavarria, SS
• Neil Walker, IF
• Brett Gardner, OF
Starting Pitchers
• Luis Severino, RHP
• Masahiro Tanaka, RHP
• J.A. Happ, LHP
• Carsten Sabathia, LHP
Bullpen
• Lance Lynn, RHP
• Albertin Chapman, LHP/CL
• Dellin Betances, RHP
• Zach Britton, LHP
• Player Page for David Robertson, RHP
• Chad Green, RHP
• Stephen Tarpley, LHP
• Jonathan Holder, RHP
Notes: Sabathia wasn't on the Yankees' Wild Card Game roster, but he's been added for the ALDS against Boston. The same goes for Tarpley in the bullpen, who gives the Yankees an additional left-handed relief option. Not on the ALDS roster: Tyler Wade (a pinch-running/defensive option) and Kyle Higashioka (third catcher), who were both carried for the Wild Card Game. Instead, the Yankees have opted for an extra pitcher, so Holder keep his spot. Greg Bird is again an odd man out, as he was for the Wild Card Game.
RED SOX ROSTER (OFFICIAL)
Game 1 starting lineup

Mookie Betts, RF

Andrew Benintendi, LF

Steve Pearce, 1B

J.D. Martinez, DH

Xander Bogaerts, SS

Eduardo Nunez, 3B

Ian Kinsler, 2B

Sandy Leon, C

Jackie Bradley Jr., CF
Bench
• Mitch Moreland, 1B
• Rafael Devers, 3B
• Brock Holt, INF-OF
• Blake Swihart, C-UTILITY
• Christian Vazquez, C
Starting pitchers
• Chris Sale, LHP
• David Price, LHP
• Rick Porcello, RHP
• Nathan Eovaldi, RHP
Bullpen
• Craig Kimbrel, RHP/CL
• Matt Barnes, RHP
• Ryan Brasier, RHP
• Richard Hembree, RHP
• Eduardo Rodriguez, LHP
• Brandon Workman, RHP
• Joe Kelly, RHP
Notes: The Red Sox made a roster substitution Saturday afternoon, swapping Hembree in for right-hander Steven Wright, who was diagnosed with inflammation and loose body in his left knee. Wright is now ineligible for the remainder of the ALDS and the ALCS, should Boston advance. Manager Alex Cora could mix Pearce in at first base against lefties, and Nunez and Holt could see some time at third in place of the inconsistent Devers. Kelly and Workman got the last two bullpen spots, with Bobby Poyner not making the roster.