MLB Pipeline's Prospect Team of the Week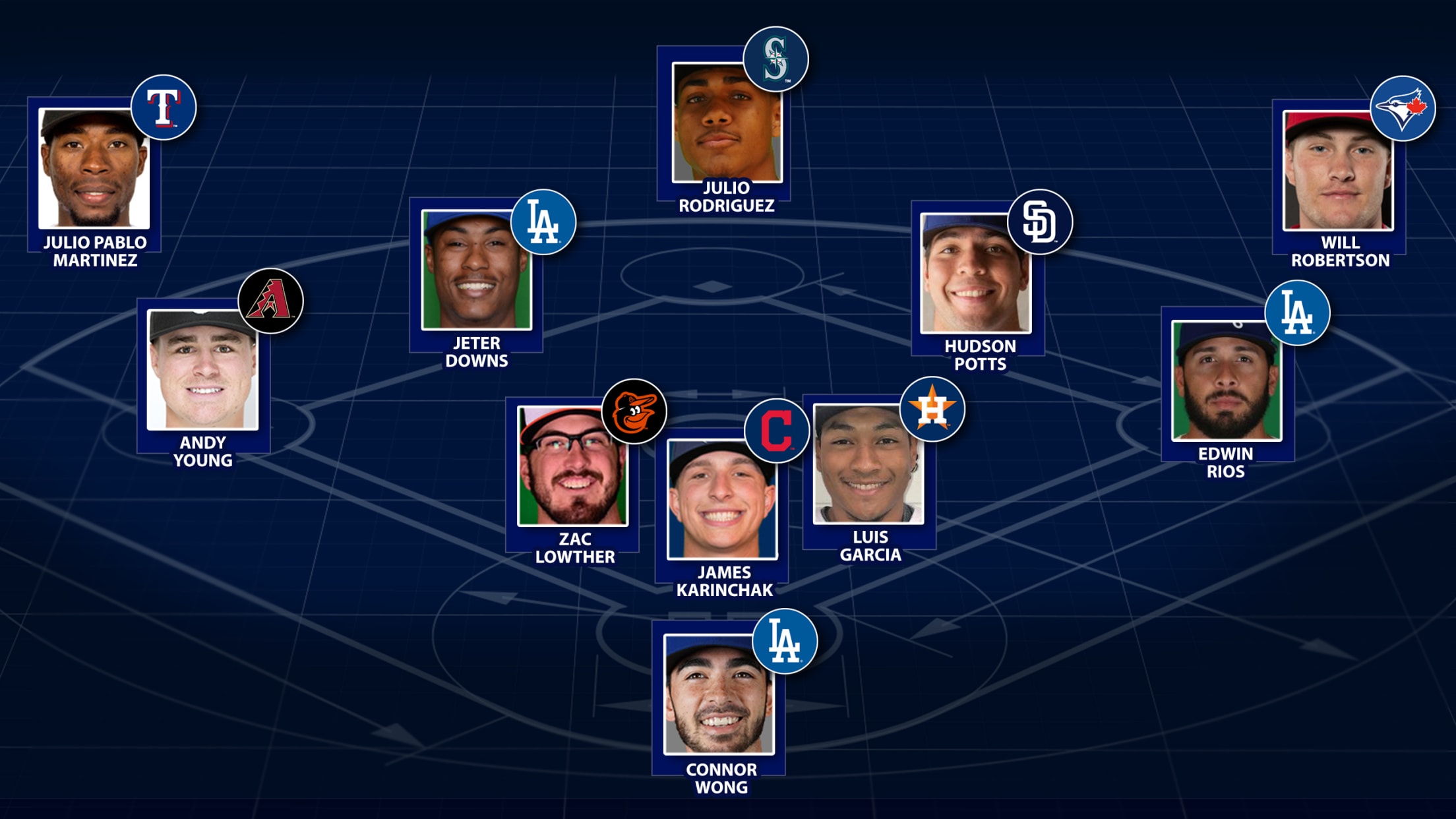 MLB Pipeline's Prospect Team of the Week honors the best performances in the Minors from the previous seven days. Any player on an organization's Top 30 Prospects list on our Prospect Watch is eligible. With the Minor League season coming to a close, this is the final Prospect Team of
MLB Pipeline's Prospect Team of the Week honors the best performances in the Minors from the previous seven days. Any player on an organization's Top 30 Prospects list on our Prospect Watch is eligible.
With the Minor League season coming to a close, this is the final Prospect Team of the Week for 2019. This week's squad has three Dodgers on it, giving the organization a total of 13 appearances on PTOW. It moves the Dodgers into a tie for third. The overall standings:
1) Astros, 17
2) Padres, 14
3-Tie) Mariners, 13, Dodgers, 13
5-Tie) Cardinals, Orioles, Indians, 11
In terms of individuals, no one caught AL Rookie of the Year candidate Yordan Alvarez, who was named to five PTOWs. After Alvarez, this week's reliever James Karinchak joined Astros outfielder Kyle Tucker and Angels first baseman Jared Walsh as four-timers.
Here is this week's Prospect Team of the Week, from games on Aug. 26-Sept. 1.
C: Connor Wong, Tulsa Drillers (Double-A)
(Dodgers No. 28 prospect)
5 G, .545/.583/1.182, 4 R, 2 2B, 4 HR, 11 RBI, 2 BB, 5 SO
Wong certainly has looked comfortable down the stretch in Double-A and he had four three-hit games this past week, homering in all of them and driving in five in Friday's game alone. He ended August with a .412/.463/.742 line with nine homers and 26 RBIs in 26 games.
1B: Edwin Rios, Oklahoma City Dodgers (Triple-A)
(Dodgers No. 18 prospect)
6 G, .381/.458/1.000, 10 R, 1 2B, 4 HR, 12 RBI, 2 BB, 6 SO
This is Rios' third selection to the PTOW after he homered in three straight games then finished with another homer and five RBIs on Sunday. The barrage allowed him to surpass the 30-homer plateau for the first time (He has 33 between Triple-A and his time in the big leagues) and he's put up a .317/.408/.805 line in the second half with Oklahoma City.
2B: Hudson Potts, Amarillo Sod Poodles (Double-A)
(Padres No. 11 prospect)
7 G, .355/.344/.613, 6 R, 2 2B, 2 HR, 4 RBI, 4 SO
Potts hit in all seven games this past week, finishing off with a homer on both Saturday and Sunday. He's been getting to his power much more consistently in the second half of the season, with 11 of his 16 homers coming after the break and a second-half slugging percentage (.469) far better than his first-half (.347).
3B: Andy Young, Reno Aces (Triple-A)
(D-backs No. 23 prospect)
7 G, .375/.516/.708, 7 R, 2 2B, 2 HR, 8 RBI, 6 BB, 4 SO
Young makes the PTOW for the third time, all coming within the last six weeks. The infielder slugged .663 in the second half, and .809 in August. He's certainly enjoyed Reno and the PCL, hitting 20 homers and slugging .603 in just 67 games.
SS: Jeter Downs, Tulsa Drillers (Double-A)
(Dodgers No. 6 prospect)
6 G, .310/.355/.759, 9 R, 1 2B, 4 HR, 6 RBI, 1 BB, 7 SO
The move to Double-A a couple of weeks ago hasn't fazed Downs a bit. In fact, he has an active eight-game hitting streak going and kicked off this past week with a trio of two-hit games, hitting four homers in the process. He's now hitting .333/.429/.688 in his 12 games with Tulsa and has put in a 24 homer-24 steal season overall.
OF: Will Robertson, Vancouver Canadians (Short-Season)
(Blue Jays No. 19 prospect)
6 G, .458/.552/.875, 7 R, 1 2B, 3 HR, 8 RBI, 5 BB, 3 SO
The Jays' fourth-round pick out of Creighton did most of his damage Thursday-Saturday, when he went 11-for-15 and homered in all three games, driving in all eight of his runs for the week. After struggling out of the gate (.146 in 13 June games), Robertson hit .305/.400/.495 in July and finished up August with a .309/.404/.469 line.
OF: Julio Pablo Martinez, Down East Wood Ducks (Class A Advanced)
(Rangers No. 25 prospect)
8 G, .406/.441/.719, 6 R, 1 2B, 3 HR, 6 RBI, 2 BB, 11 SO, 4 SB
While it's been a rough season for Martinez, he's definitely ending on a high note. He currently has a 10-game hitting streak going, and after hitting .191/.263/.365 in the first half with Down East, he's put up a solid .295/.365/.473 line in the second half.
OF: Julio Rodriguez, Modesto Nuts (Class A Advanced)
(Mariners No. 3 prospect; MLB No. 51)
7 G, .379/.438/.690, 7 R, 2 2B, 2 3B, 1 HR, 7 RBI, 3 BB, 6 SO
Rodriguez had three multi-hit games, highlighted by a 5-for-5, four-RBI performance on Wednesday. The 18-year-old has had no trouble making the move up a level to the California League, hitting .468/.507/.742 in 16 games since his promotion, earning his second spot on the PTOW in the last three weeks in the process.
LHP: Zac Lowther, Bowie Baysox (Double-A)
(Orioles No. 10 prospect)
0-0, 0.75 ERA, 2 GS, 12 IP, 8 H, 1 R, 1 ER, 2 BB, 17 SO, 0.83 WHIP
Lowther makes the PTOW for the second time this season after a pair of six-inning gems last week. He gave up a run on four hits while walking two and striking out eight on Tuesday, then tossed six shutout frames on Sunday, allowing just four hits and walking none, while fanning nine. He currently leads the Eastern League in strikeouts and is second in ERA.
RHP: Luis Garcia, Fayetteville Woodpeckers (Class A Adv)
(Astros No. 29 prospect)
1-0, 0.82 ERA, 2 GS, 11 IP, 3 H, 1 R, 1 ER, 7 BB, 22 SO, 0.91 WHIP
Garcia kicked off his week with five no-hit innings and struck out 10. He followed that up with six innings on Sunday, allowing one run on three hits, striking out 12. The right-hander has now recorded double-digit strikeouts in four of his last five starts to add to his 13.9 K/9 rate for the year.
RP: James Karinchak, Columbus Clippers (Triple-A)
(Indians No. 21 prospect)
0-0, 1 SV, 0.00 ERA, 3 G, 3 IP, 2 H, 0 R, 0 ER, 0 BB, 8 SO, 0.67 WHIP
This is PTOW appearance No. 4 for the right-handed reliever. He appeared in three games this past week, finishing two of them and picking up his eighth save of the year. He was extremely tough to hit in August (.154 batting average against), striking out 25 in 11 innings of work.