Prospects who just missed the Top 30 lists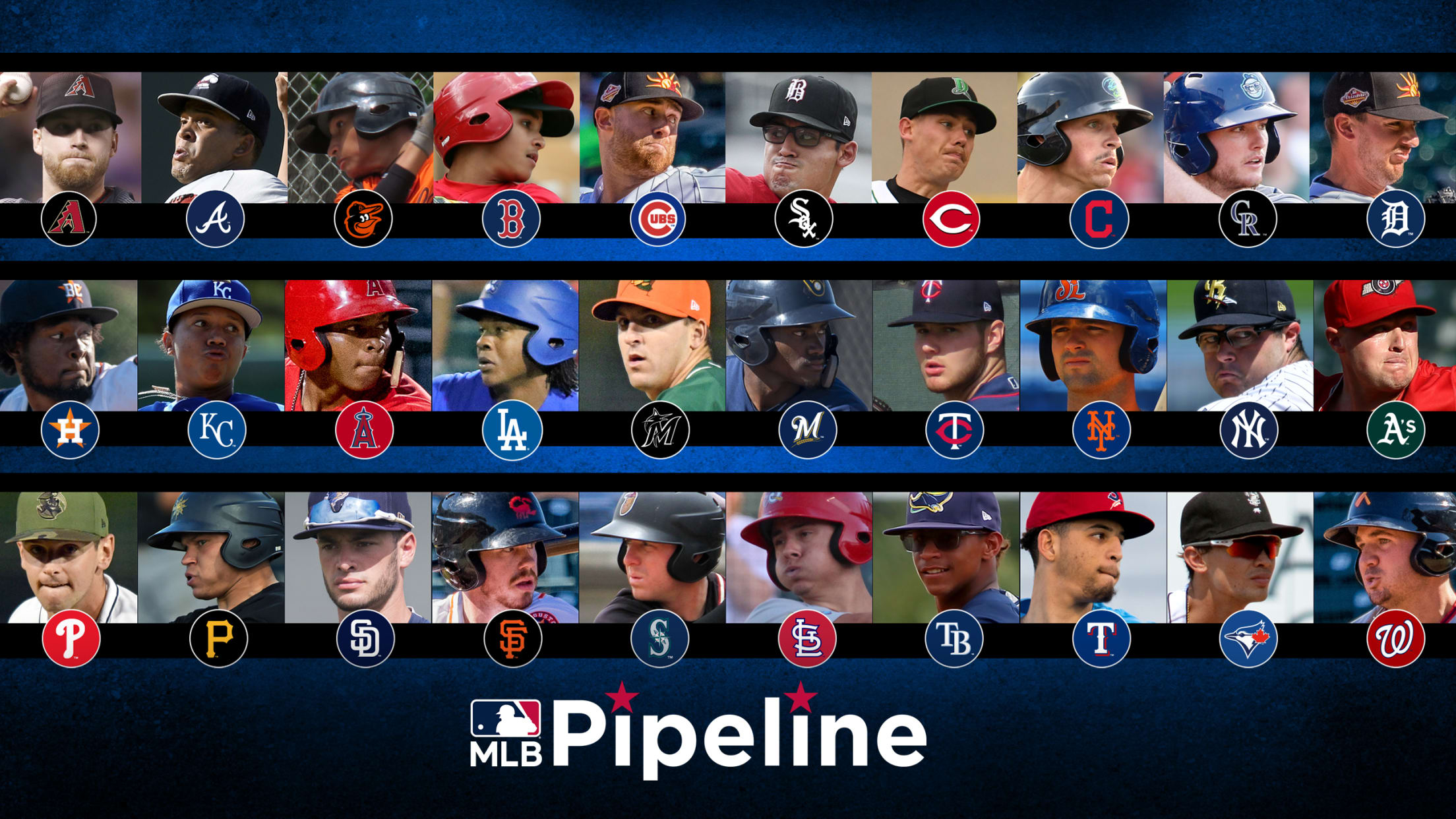 After releasing the last of our team Top 30 prospects lists and Top 10 farm system rankings last week, our MLB Pipeline crew has spent the last several days doing Q&As about each team's farm system on Twitter and Instagram. In doing so, we have fielded countless questions from people
After releasing the last of our team Top 30 prospects lists and Top 10 farm system rankings last week, our MLB Pipeline crew has spent the last several days doing Q&As about each team's farm system on Twitter and Instagram. In doing so, we have fielded countless questions from people wanting to know more about the players who landed just outside of their team's Top 30.
As a result, we've decided shed some light on some of those players this week with a look at each organization's No. 31 prospect.
Keep in mind that these players might not necessarily be the first to join their respective team's list when an opening finally arises. A lot can happen between now and then that has the potential to affect a prospect's ranking, and spots on our Top 30 lists only open up when there's a graduation to the big leagues or a player exits an organization.
Right now, however, these are the top-ranked prospects who just missed a Top 30 list.
Top 30 Prospects lists
| | |
| --- | --- |
| AL East | BAL, BOS, NYY, TB, TOR |
| NL East | ATL, MIA, NYM, PHI, WSH |
| AL Central | CLE, CWS, DET, KC, MIN |
| NL Central | CHC, CIN, MIL, PIT, STL |
| AL West | HOU, LAA, OAK, SEA, TEX |
| NL West | ARI, COL, LAD, SD, SF |
| Division | Team |
American League East
Kevin Vicuna, SS, Blue Jays | Top 30 Prospects
The slick-fielding shortstop receives plus grades for his defense and is regarded by some club officials as the organization's best overall defensive prospect. At the plate, the 21-year-old employs a contact-first approach but offers little in the way of power. It's the profile of a utility infielder, one who stands to achieve a regular role if he can surpass expectations with his hitting ability.
Lamar Sparks, OF, Orioles | Top 30 Prospects
The 2017 fifth-rounder suffered a torn right labrum last spring that wiped out his entire season, and it is yet to be seen how the injury has affected what once was plus arm strength. He had a promising pro debut after signing, posting a .703 OPS with 11 steals in the Rookie-level Gulf Coast League, and he still has time on his side because he'll play all of 2019 at age 20.
Jelfry Marte, SS, Rays | Top 30 Prospects
Marte's $3 million deal with the Twins in July 2017 was voided due to concerns about his vision, but he signed with the Rays less than a month later for $820,000. Making his pro debut in 2018, he posted a .281/.317/.314 line over 43 games in the Rookie-level Gulf Coast League. The 17-year-old shows feel to hit from the right side, with speed that flashes plus and defensive chops that are among the best in the system.
Eduardo Lopez, OF, Red Sox | Top 30 Prospects
Signed for $1.15 million out of the Dominican Republic in July, Lopez is a switch-hitter with promising bat-to-ball skills and a contact-oriented approach. Though he's an average runner, his advanced defensive instincts may allow him to stick in center field.
Joe Harvey, RHP, Yankees | Top 30 Prospects
One of many Yankees pitching prospects who has added velocity since turning pro, Harvey had a low-90s fastball when he came out of Pittsburgh as a redshirt junior in 2014 and now works in the mid-90s and can reach 99 mph. Using a hard curveball as his second pitch, he posted a 1.67 ERA, .165 opponent average and 68 strikeouts in 59 1/3 innings (mostly in Triple-A) last year.
American League Central
Mitch Longo, OF, Indians | Top 30 Prospects
Longo doesn't have any "wow" tools but he does have good feel for hitting and enough power, speed, arm strength and defensive ability to profile as a useful fourth outfielder. A 14th-round pick out of Ohio in 2016, he batted .275/.337/.410 with eight homers and 18 steals in Class A Advanced in 2018.
Janser Lara, RHP, Royals | Top 30 Prospects
He's started and relieved, but after posting a 1.98 ERA, .174 batting average against and a K/9 rate of 11.9 in 15 relief outings in the South Atlantic League in 2018, he'll be in the bullpen going forward. His super-quick arm that delivers fastballs up to 100 mph and power breaking ball should work very well in shorter stints.
John Schrieber, RHP, Tigers | Top 30 Prospects
The 6-foot-3, 215-pounder continued his climb of the Minors in 2018, logging 18 saves with a 2.48 ERA while averaging a strikeout-per-inning across 49 appearances in Double-A. His heater tops out around 92 mph because he works from a near-sidearm slot that also makes his slider highly effective against right-handed hitters.
Landon Leach, RHP, Twins | Top 30 Prospects
The Twins might have the best 1-2 Canadian punch in the Minors with Jordan Balazovic, their 2016 fifth-round pick, and Leach, who went in the second round in 2017. Leach had some shoulder issues slow him in 2018, but he's added strength to his 6-foot-4 frame and has the chance to have three average or better pitches.
Bernardo Flores, LHP, White Sox | Top 30 Prospects
Flores didn't pitch much in three seasons at Southern California but has developed into one of the better lefties in the White Sox system since they made him a seventh-round pick in 2016. His solid changeup stands out in an otherwise average repertoire, helping him log a 2.65 ERA and 105/31 K/BB ratio in 156 innings between Class A Advanced and Double-A last season.
American League West
J.B. Wendelken, RHP, A's | Top 30 Prospects
It hasn't been the straightest path for Wendelken. Drafted by the Red Sox in the 13th round of the 2012 Draft, he's been traded twice and had Tommy John surgery. But he bounced back with a strong 2018 that saw him get back to, and pitch well, in the big leagues. He has the stuff to be a big league reliever right now.
William English, OF/RHP, Angels | Top 30 Prospects
The Angels went above slot to sign English for $700,000 in the fifth round of last June's Draft. He only hit over the summer, but they're going to give the athletic right-hander and outfielder the chance to play both ways. He's projectable on the mound with plenty of arm strength, and he can really run and has some raw power to grow into at the plate.
Cristian Javier, RHP, Astros | Top 30 Prospects
Signed for just $10,000 out of the Dominican Republic in 2015, Javier succeeds with high spin rates on his 88-93 mph and nice shape on his downer curveball and sweeping slider. He split 2018 between two Class A stops, recording a 2.70 ERA, .185 opponent average and 146 strikeouts in 110 innings.
Donnie Walton, 2B/SS, Mariners | Top 30 Prospects
A senior sign in the fifth round of the 2016 Draft who got a below-slot bonus, Walton hit his way up to Double-A in 2018, though that was a rough adjustment. He's a "play above his tools" type with plus makeup and excellent instincts, with every chance to be a big league utiityman.
Yerry Rodriguez, RHP, Rangers | Top 30 Prospects
Rodriguez opened a lot of eyes while making his U.S. debut last summer, going 23 strikeouts between walks in the Rookie-level Arizona League and compiling a 2.86 ERA and an 82/8 K/BB ratio in 63 innings at the lower levels of the system. He gets good sink on his 91-96 mph fastball, while his slider and changeup are more works in progress.
MLB's Top 10 farm systems
National League East
Daysbel Hernandez, RHP, Braves | Top 30 Prospects
A Cuban defector who signed for $190,000 in September 2017, Hernandez made his professional debut after a two-year layoff by seeing time across two levels of A ball. The right-handed reliever throws his fastball in the 94-97 mph range with good ride and complements it with a decent power slider that has slurvy traits at times.
Colton Hock, RHP, Marlins | Top 30 Prospects
A 2017 fourth-round pick from Stanford, Hock split his time between the rotation and bullpen in his first full season, posting a 4.45 ERA with 77 strikeouts in 91 innings in Class A. He's probably better suited for relief, a role in which his fastball can range from 92-95 mph with heavy sink and his curveball will be sharper in shorter stints.
Quinn Brodey, OF, Mets | Top 30 Prospects
A third-round pick in 2017 out of Stanford, Brodey is entering his age-23 season but still has breakout potential with his power-speed combo from center field. His high-end exit velocities are among the best in the system and underscore his raw power, but he'll need to make gains in his approach -- he struck out in 27 percent of his 460 plate appearances in '18 -- in order to apply it at higher levels.
Jake Noll, INF, Nationals | Top 30 Prospects
A sum-of-all-parts player without a standout tool, Noll can do a little bit of everything on the field to help a team win. He has average hitting ability -- he slashed .291/.341/.412 with 11 home runs last season, logging 66 games apiece between Class A Advanced Potomac and Double-A Harrisburg -- and runs surprisingly well from the right side of the plate. Defensively, he can play either infield corner as well as second base, and the Nats are continuing to increase his versatility with reps in the outfield during spring training.
Zach Warren, LHP, Phillies | Top 30 Prospects
A rough junior season at Tennessee dropped Warren to the 14th round of the 2017 Draft and if his first full season is any indication, the Phillies got a steal. With a fastball up to the mid-90s and a power curve, he struck out 15.9 per nine innings in 2018.
National League Central
Korry Howell, SS, Brewers | Top 30 Prospects
Howell is one of the fastest runners in Milwaukee's system, with wheels that grade out as 70 or better. He can hit some, too, albeit with bottom-of-the-scale power, and holds his own defensively at shortstop. He has the range and arm strength for the left side of the infield, and there's a chance he ends up in center field on account of his speed.
Evan Mendoza, 3B, Cardinals | Top 30 Prospects
The North Carolina State product spent much of his first full season in Double-A, hitting .254/.315/.339 with five homers in 98 games after a red-hot start in the Florida State League. He has a hit-over-power profile as a third baseman, though scouts do believe he'll tap into more power as he gains experience. Mendoza is an above-average defender at the hot corner, with the strong arm and footwork for the position.
Bailey Clark, RHP, Cubs | Top 30 Prospects
The Cubs still aren't exactly sure what they have in Clark, a 2016 fifth-rounder from Duke who battled elbow fatigue last season while logging a 1.89 ERA with 63 strikeouts in 57 innings between three clubs from Rookie ball to Class A Advanced. When he's healthy and dialed in, he can sit in the mid-90s and reach 98 mph with his fastball and back it up with a mid-80s slider.
Deon Stafford, C, Pirates | Top 30 Prospects
The Pirates don't have much in terms of catching depth in the system, with Stafford the best of the bunch. He has some pop at the plate (11 homers in his first full season) and he's improved his receiving and throwing. The St. Joseph's product profiles best as an offensive-minded backup, but the Pirates do love his makeup and leadership behind the plate.
Jared Solomon, RHP, Reds | Top 30 Prospects
The Reds went over slot in the 11th round of the 2017 Draft to sign Solomon out of Lackawanna Junior College in Pennsylvania and he made it to full-season ball in his first full year. He has the potential to have at least a three-, if not four-pitch mix, but delivery and command issues makes him better suited for the bullpen, where his fastball-slider combination could play up.
National League West
Jimmie Sherfy, RHP, D-backs | Top 30 Prospects
Sherfy, 27, has pitched well during parts of two seasons in the big leagues, posting a 1.00 ERA with 26 strikeouts and a .144 BAA in 27 innings. Though he doesn't throw as hard as he did when he first came up, Sherfy fits well in a seventh-inning role with his ability to get results with a riding, low- to mid-90s fastball with a sweeping breaking ball in the upper 70s.
Carlos Rincon, OF, Dodgers | Top 30 Prospects
Part of the Dodgers' record $166.9 million spending spree in 2015-16, Rincon signed for $350,000 out of the Dominican Republic. Raw power is his carrying tool and he showed it off with 15 homers in his final 28 games last year, finishing at .254/.358/.485 with 22 homers in 110 games between two Class A stops.
Drew Ferguson, OF, Giants | Top 30 Prospects
An Astros 19th-round pick in 2015 out of Belmont, Ferguson came to the Giants via the Rule 5 Draft in December after batting .304/.432/.443 with four homers in 65 Triple-A games in 2018. He's a cerebral player with a high baseball IQ, not to mention on-base ability, solid speed and the capability of playing anywhere in the outfield.
Dylan Coleman, RHP, Padres | Top 30 Prospects
A fourth-round pick out of Missouri State last June, he reached full-season ball in his pro debut, posting a 3.24 ERA with 22 strikeouts in 16 2/3 frames out of Class A Fort Wayne's bullpen. A four-pitch mix gives Coleman a chance to stick as a starter, though many believe he'll end up in a high-leverage relief role, allowing his stuff to play up in short bursts.
Casey Golden, OF, Rockies | Top 30 Prospects
While Golden was a bit old for the South Atlantic League at age 23 in 2018, it's hard to ignore the 2017 20th-round pick's 34 homer-24 steal season. The power showed up away from hitter-friendly Asheville as well. The Rockies hope he keeps raking so they can move him more quickly through the system.